World Cup 2022: Breaking Down Spain's Blend of Youth and Experience
It seemed like just yesterday when Spain's golden generation was towering over the soccer world. Time stops for no nation, though, and many of those legends have moved on. La Roja will arrive in Qatar with some veterans — Sergio Busquets is still going strong — and a few bright young stars. Will that be enough to claim the 2022 World Cup?
On the balance, that will probably be a challenge. While anything can happen during a tournament, squads like Brazil and Argentina just seem a bit too deep for the Spaniards to take the title. That doesn't mean the World Cup will be a waste, though.
Let's break down a Spanish squad that's still worth watching.
Spain's 2022 World Cup squad
If you follow the big European league, this roster shouldn't be that much of a surprise. Spain, as always, boast plenty of recognizable names and some top-end talent.
Goalkeepers: Unai Simon (Athletic Club), Robert Sanchez (Brighton & Hove Albion), David Raya (Brentford)
Defenders: Cesar Azpilicueta (Chelsea), Dani Carvajal (Real Madrid), Eric Garcia (Barcelona), Hugo Guillamon (Valencia), Pau Torres (Villarreal), Aymeric Laporte (Manchester City), Jordi Alba (Barcelona), Jose Gaya (Valencia)
Midfielders: Sergio Busquets (Barcelona), Rodri (Manchester City), Gavi (FC Barcelona), Carlos Soler (PSG), Marcos Llorente (Atletico Madrid), Pedri (Barcelona), Koke Resurreccion (Atletico Madrid)
Forwards: Ferran Torres (Barcelona), Nico Williams (Athletic Club), Yeremi Pino (Villarreal), Alvaro Morata (Atletico Madrid), Marco Asensio (Real Madrid), Pablo Sarabia (PSG), Dani Olmo (RB Leipzig), Ansu Fati (Barcelona)
So, how do those players fit into Luis Enrique's starting 11? Let's put it all together.
David de Gea is no longer in the squad, but that shouldn't be a problem
If you haven't paid much attention to Spain since the last World Cup, you might be wondering where David de Gea has gone. The goalkeeper still starts for Manchester United but has slid down the Spanish pecking order. At this point, he's no longer in the squad.
Unai Simon has taken the gloves, and he's backed up by two Premier League netminders in Robert Sanchez and David Raya. They all largely fit the same mold — good shot-stoppers who are comfortable with the ball at their feet — but Simon gets the nod based on experience.
On the whole, there's not much to write home about. I don't think Simon will stand on his head and take home the Golden Gloves, but I don't think he'll be a liability, either.
2 of Spain's most established veterans are still standing strong on defense
Unsurprisingly, Sergio Ramos didn't make the final cut and won't be coming to Qatar. Even with him on the sidelines, though, Spain still has plenty of experience at the back.
That comes from La Roja's two full-backs, Dani Carvajal and Jordi Alba. Both are stronger going forward than they are defensively — Alba still profiles as an incredible attacking force — which could be a blessing and a curse. While that ability will help create more goal-scoring chances, it will also place an extra burden on Spain's central defenders and midfielders.
And, on the subject of those central defenders, it's safe to bank on seeing Aymeric Laporte and Pau Torres at the heart of the backline. They're both good on the ball and balance each other well. Laporte can be a bit more physical, and Torres is a more cerebral defender who excels at reading the game.
The midfield trio of Sergio Busquets, Gavi, and Pedri perfectly demonstrates the balance between youth and experience
During Spain's (modern) peak, Sergio Busquets was a given at the base of the midfield. While most of his peers have moved on, the Barcelona man is still an ever-present. He might not be the most athletic man around, but that hasn't affected his ability to read the game and control the tempo.
He'll be flanked by two of Spain's rising stars, Gavi and Pedri. The former is a bit more in the classic Iniesta/Xavi mold, while the latter plays with more attacking freedom. Expect to see them sitting outside of Busquets to help drive La Roja forward.
Options do exist beyond those three, though. Rodri can provide a sturdy defensive presence should Enrique want to play with two holding midfielders, and Marcos Llorente brings incredible versatility to the squad. Koke can also slot into the midfield, should his experience be needed.
It's also worth noting that having Thiago Alcantara would have made the squad better, but he'll be watching the World Cup from home.
Alvaro Morata could be Spain's biggest question mark
Thus far, Spain has looked pretty solid in each area of the pitch. The attacking third, however, could be where it all breaks down.
If all things were equal, I'd pencil in Ansu Fati, Alvaro Morata, and Ferran Torres as La Roja's front three. Things are complicated, however, by Fati's fitness. He hasn't played more than 500 league minutes since 2019-20 while grappling with injuries and, if the rumors are to be believed, could have been left out of the World Cup squad. He's on the plane, though, and that's enough for me to assume he's ready to play.
Should he be unable to make a major impact, though, Luis Enrique will have options. Yeremy Pino is an exciting prospect, and someone like Dani Olmo or Pablo Sarabia can deputize in a wide position. It is worth noting, though, that neither of those choices is ideal.
The real issue, however, could be Morata. While the striker has played for some major clubs and keeps earning appearances for Spain, his finishing can leave something to be desired. Major tournaments naturally create fine margins. Missing the net against Germany, for example, could make the difference between winning the group or finishing second. In the knockout round, the stakes only get higher.
What will Spain's lineup look like in Qatar?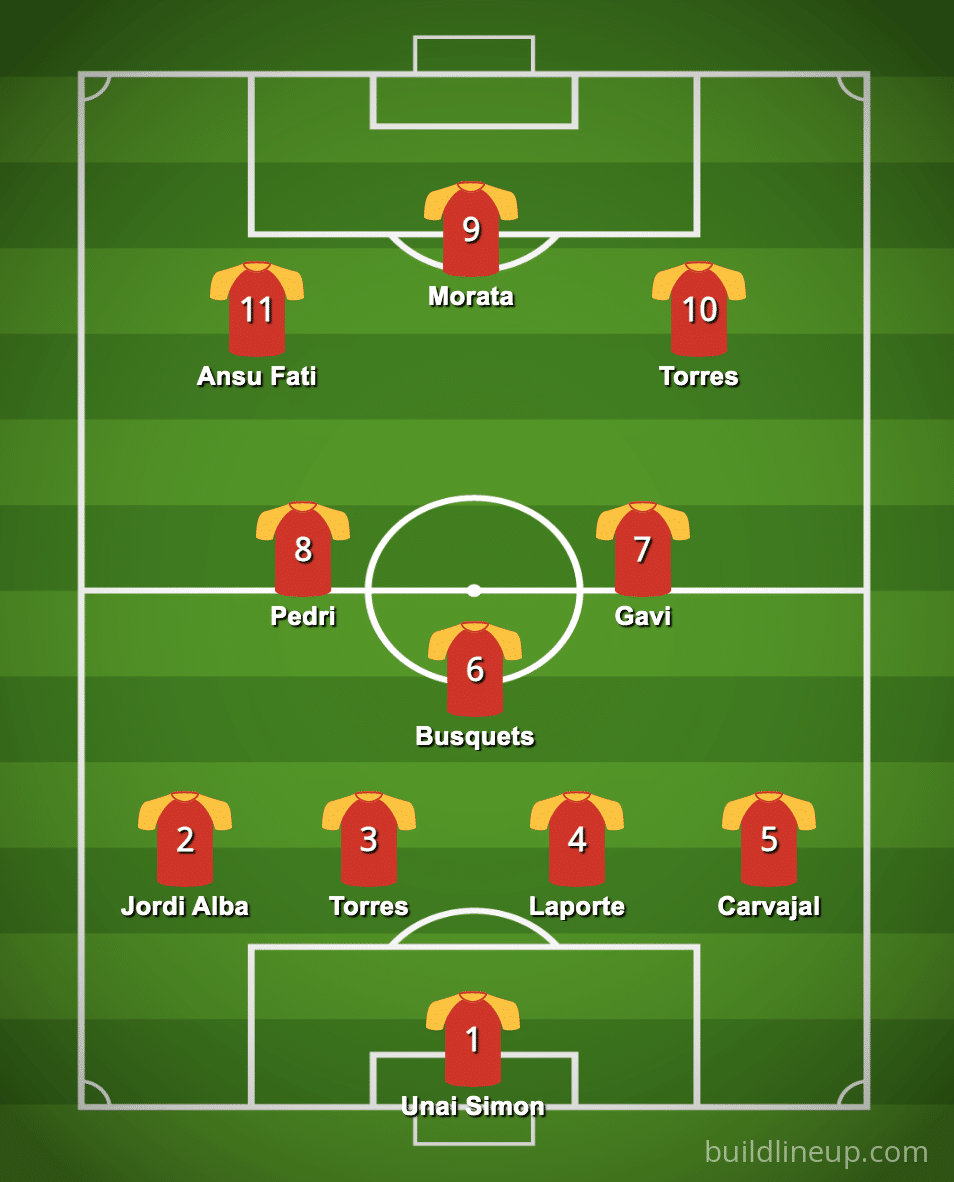 RELATED: World Cup 2022: Lionel Messi Headlines a Talented Argentina World Cup Squad
Unlike some other teams, Spain's lineup seems to be pretty stable. Barring a late Ansu Fati change — I'm assuming he's good to go unless I hear otherwise — the starting 11 should look like the graphic above. Beyond that, though, there are a few big-picture notes.
I'm a bit concerned about Spain's defensive structure, especially since Dani Carvajal and Jordi Alba are both rather attacking options. Pau Torres, Aymeric Laporte, and Sergio Busquets are all capable players in their own right, but leaving them as your three deepest players could be risky.
Similarly, I'm curious to see how the midfield balance works. Pedri and Gavi are both exceptional talents, and as a neutral, I want to see them play. It is possible, though, that Luis Enrique could want to play things more conservatively, especially as the tournament advances. That, theoretically, would be Rodri's time to shine.
As noted above, I'm not sold on Alvaro Morata's finishing ability. I'm curious to see if La Roja live and die with him up front, or if they cut bait relatively quickly and reshuffle the pack if he struggles out of the gate. Ferran Torres or Ansu Fati can theoretically play through the center, although that would prompt a reshuffle elsewhere.
Is the overall Spanish squad deep enough to answer those questions? At this point, we'll just have to wait and find out.