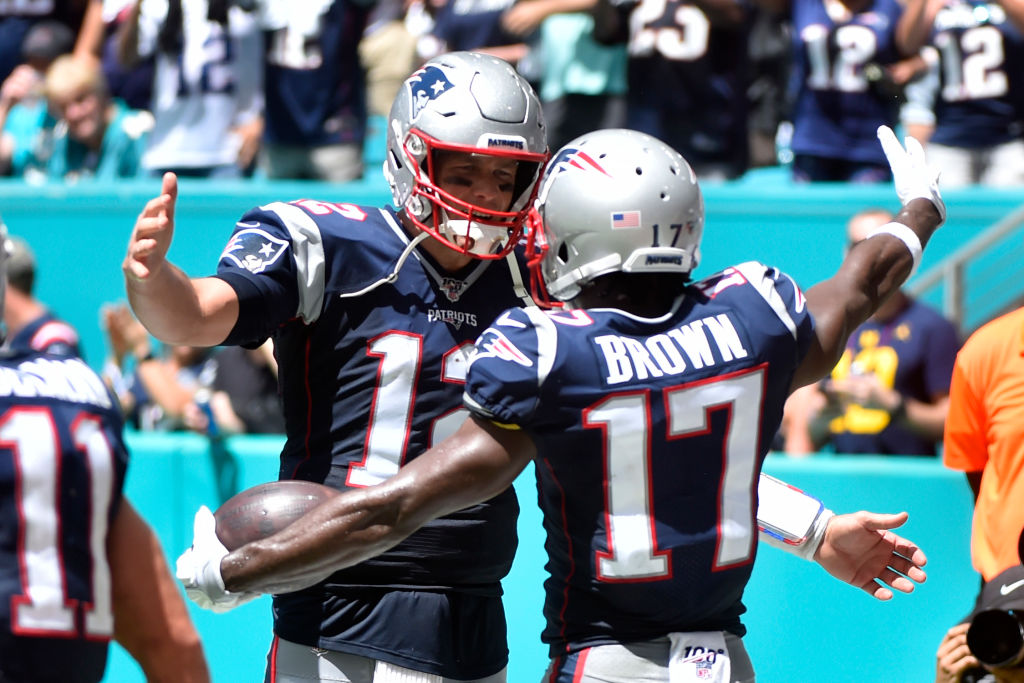 Would Antonio Brown Join Tom Brady With the Tampa Bay Buccaneers?
Would troubled wide receiver Antonio Brown join former Patriots quarterback Tom Brady with the Tampa Bay Buccaneers?
They were teammates for 11 days in New England. Could Tom Brady and Antonio Brown be reunited once again?
With Brady having announced he will not be returning to the Patriots in 2020, the legendary quarterback will take part in a new beginning, likely making his NFL home with the Tampa Bay Buccaneers. Is there a chance Brady could bring Brown to Florida with him?
Teams were 'under the impression' Brady wants to bring in Brown
Tom Pelissero of NFL Network reported that Tom Brady suitors were under the impression that the former Patriots quarterback wanted Antonio Brown to come with him wherever he wound up playing.
Ian Rapoport, also an NFL Insider at NFL Network, backed up Pelissero's report and added that Brady and Brown were close. He did say Brown was still under investigation by the league and it's still unknown when Brown would be able to return to the field.
Brady and Brown have reportedly remained in touch since their time in New England. Brown would love another crack at playing in the NFL and has said he would love to team up again with Brady.
Tom Brady and Antonio Brown's relationship in New England
Although their time in New England was short-lived, Tom Brady and Antonio Brown clicked. It was even reported that Brady invited the mercurial wide receiver to live with him as he got accustomed to life in New England. 
Prior to New England's season opener Sunday night, NBC's Al Michaels said he had spoken to Brown's agent, Drew Rosenhaus. Rosenhaus recounted how Brady said Brown was free to move in with him and his wife, Gisele Bundchen, before settling in New England.
It was also reported that Brady told Brown to remain in good physical and mental shape so they could reunite on the field in the near future. The report also stated that the two continue to remain in 'consistent contact.'
Brady and Brown also seemed to click on the field as well. In their only game together, the two hooked up for a touchdown pass in New England's win over the Miami Dolphins. Brown finished with four catches and 56 yards, including the touchdown reception, in the win.
Would the Buccaneers be willing to take a shot with Brown?
The Tampa Bay Buccaneers already boast one of the league's best wideout tandems in Mike Evans and Chris Godwin. Would the Bucs want to disrupt an already potent offense? Are there enough touches to go around if a third wide receiver, especially of Antonio Brown's caliber, is added to the team?
Would Tampa Bay head coach Bruce Arians want to even deal with Brown again? Arians and Brown have a history in Pittsburgh as Arians was the offensive coordinator for the Steelers from 2007-2011 when Brown played in Pittsburgh under Mike Tomlin.
On ESPN Insider Adam Schefter's podcast a year ago, Arians said Brown wasn't the same player the Steelers drafted. He referred to Brown as hard-working but also labeled him a diva.

"There's too much miscommunication, too much … diva. I've heard so many stories — I like Antonio — he plays as hard as anybody on Sunday, and he practices hard. He's just gotta make better decisions off the field, be on time, do some of those little things."

Bruce Arians
It will be interesting to see how much pull Brady has in Tampa if he really is determined to add Brown to the team.