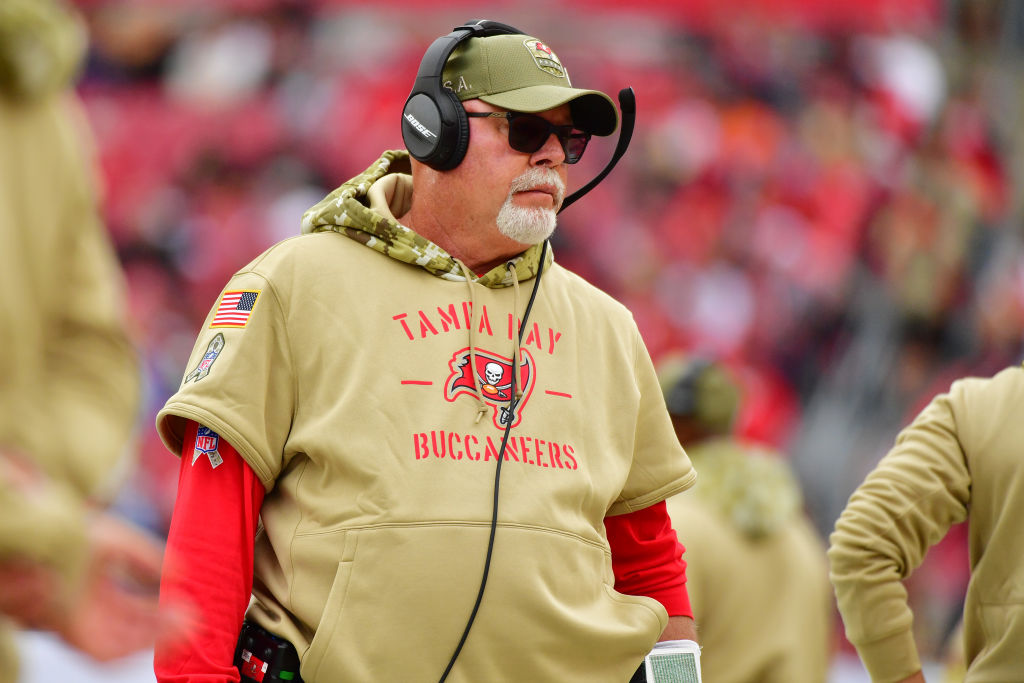 The Tampa Bay Buccaneers Are Ready to Go 'All In' On Tom Brady This Offseason
After one season with Jameis Winston, Bruce Arians has apparently seen enough. The Tampa Buccaneers are "all in" on signing Tom Brady.
When NFL free agency opens, there will be plenty of quarterbacks on the market. No one, however, will loom larger than Tom Brady. Although the veteran quarterback might only have a few seasons left in the tank, teams like the Las Vegas Raiders, the Tennessee Titans, or even the Dallas Cowboys could be interested in his services. The Tampa Bay Buccanneers, however, are apparently making a late push to curry the quarterback's favor.
Rather than sticking with Jameis Winston, Bruce Arians seems to have his sights set on Tom Brady. In fact, the Buccanneers are reportedly "going all" on signing the quarterback.
The Tampa Bay Buccaneers quarterback situation
While everyone wants different things from their quarterback, stability is essential. When the ball is in your hands on literally every offensive play, you can't afford to make too many mistakes. Unfortunately for the Tampa Bay Buccaneers, Jameis Winston struggled with that aspect of his game.
Although some though Byron Leftwich could bring the quarterback's performances to the next level, Winston was a boom or bust player. On one hand, he threw for 5,109 yards and 33 touchdowns; on the other, he finished the season with a 60.7% completion rate, 12 fumbles, and 30 interceptions.
Bruce Arians, it seems, wasn't too happy with his quarterback. "I loved him and I hated him," the Buccaneers head coach explained. "More love, I mean, you throw for 30-something touchdowns and 5,100 yards, there's a lot to love. The mistakes sometimes, you scratch your head. . . . He's one of those guys that wants to go out and win the game by himself sometimes. Let the other guys help you."
Arians also went on to say that Winston was personally responsible for roughly 20 of his 30 total interceptions. That's not what the quarterback wanted to hear as he's heading towards free agency.
The Tampa Bay Buccaneers are setting their sights on Tom Brady
Throughout his career, Bruce Arians has earned a reputation as someone who can get the most out of any quarterback. Now, he's apparently ready to work with arguably the greatest signal-caller of all-time.
According to Rick Stroud of the Tampa Bay Times, "the Bucs are going all in on Tom Brady." Beyond contractual terms, that could even include extra input when it comes to matters like roster decisions and play calling.
Arians has previously written that an ideal quarterback needs "the heart, the grit, the smarts, the ability to lead, to throw accurately, and to have just enough athleticism." While Brady's athleticism was never the best, you'd have to imagine the head coach could overlook that flaw.
Would Tom Brady really head to Florida?
While joining the Tampa Buccaneers after two decades with the New England Patriots might seem like a downgrade, Florida could be a decent landing spot for Tom Brady.
Last season in New England, Tom Brady became frustrated with his lack of offensive weapons; in Tampa, he'd be throwing to Mike Evans and Chris Godwin. The Buccaneers could also pay the quarterback virtually anything he wanted and offer him the prospect of playing most of his games in warm weather or inside domes.
The remaining question, however, is if Brady would view the Buccaneers as a place where he could chase another Super Bowl title. While the franchise has struggled in recent years, it's hard to imagine Brady landing with a true contender. Joining the Raiders would mean trying to beat out Kansas City for a divisional title; Dallas and New England could offer a better chance at postseason qualification, but neither club looks that close to lifting the Lombardi Trophy.
Unless anything changes, NFL free agency will officially begin in a matter of days. After months of speculation, we'll finally get some clarity on Tom Brady's future.