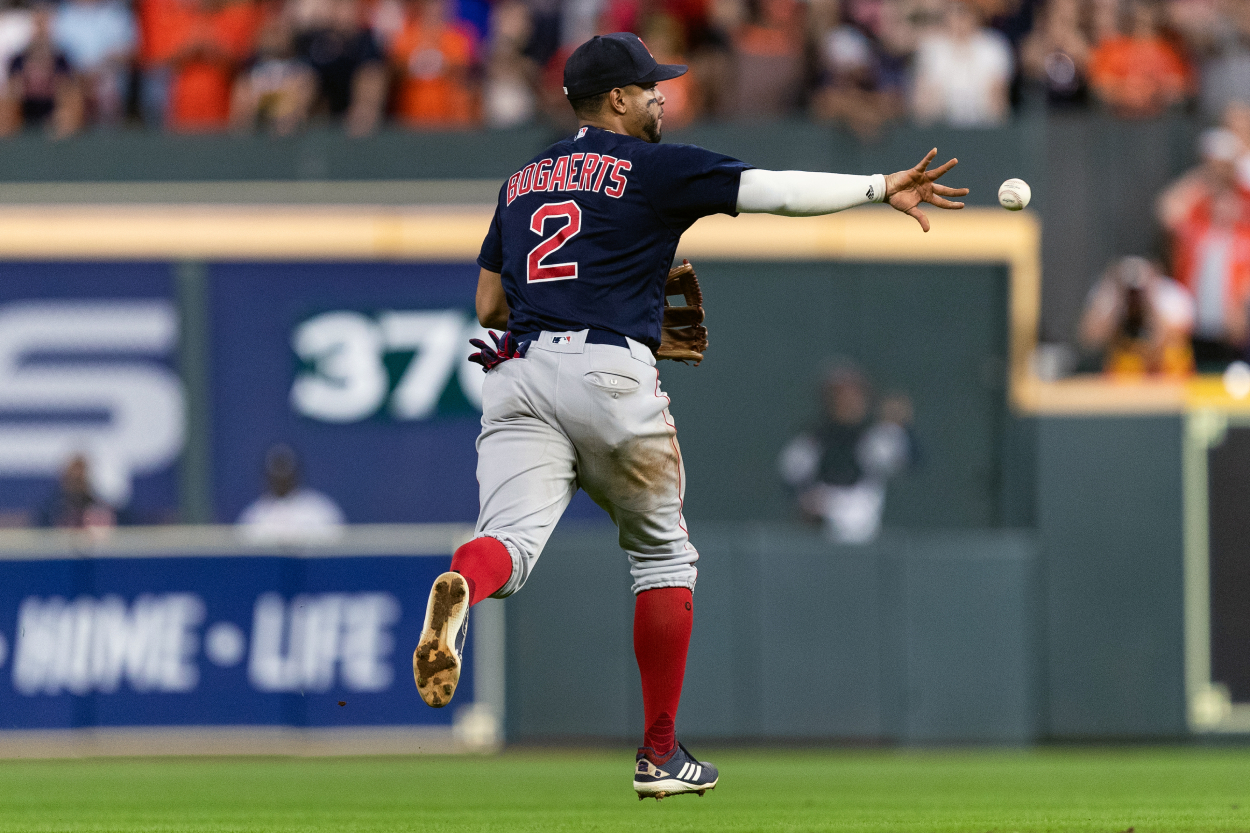 Xander Bogaerts Willing to Talk Red Sox Extension — With a Catch
Xander Bogaerts in entering the third year of his six-year extension, but this could be his final year with the Boston Red Sox.
It's no secret Boston Red Sox shortstop Xander Bogaerts is ready to cash in on a huge payday. The question is what team will be paying him?
It's also no secret Bogaerts loves playing in Boston. He can opt out of his current deal at the end of this season. Bogaerts recently said he's willing to talk an extension with the Sox on one condition.
Xander Bogaerts is a bargain for the Red Sox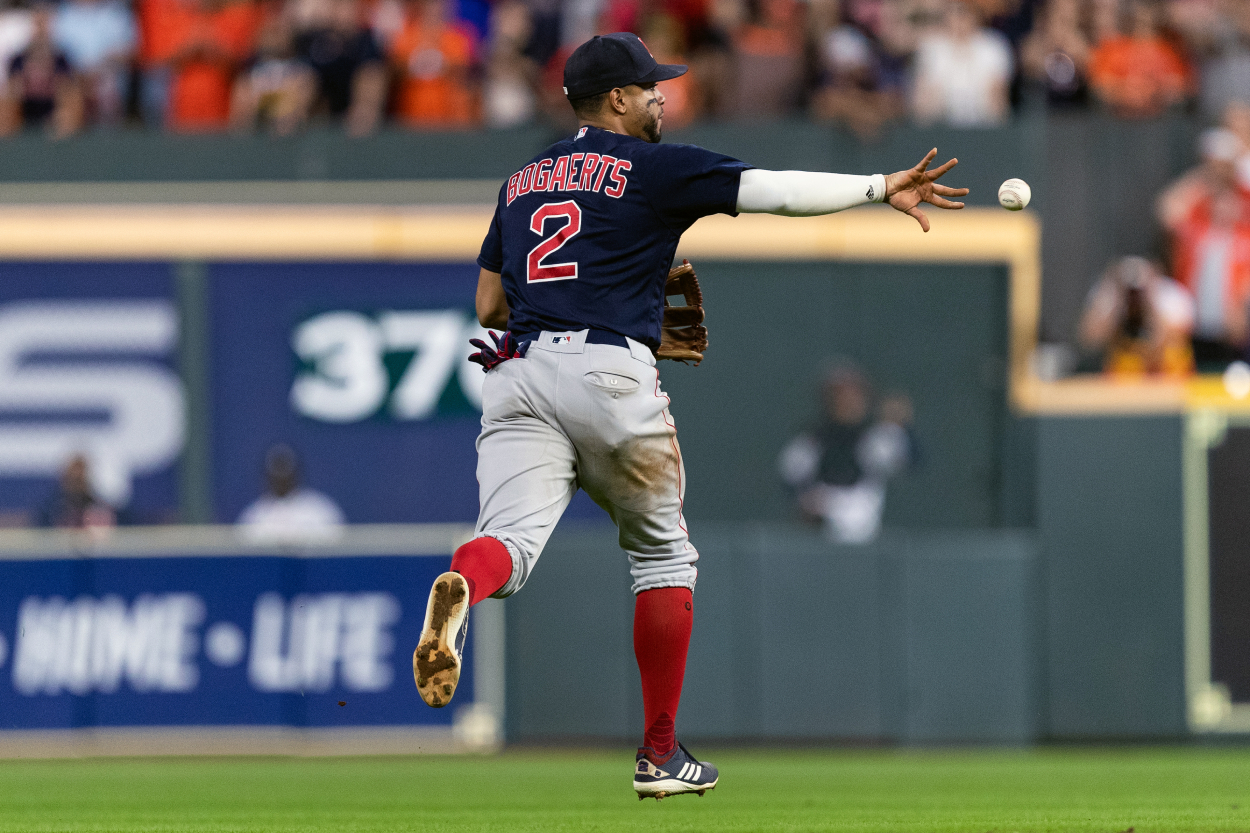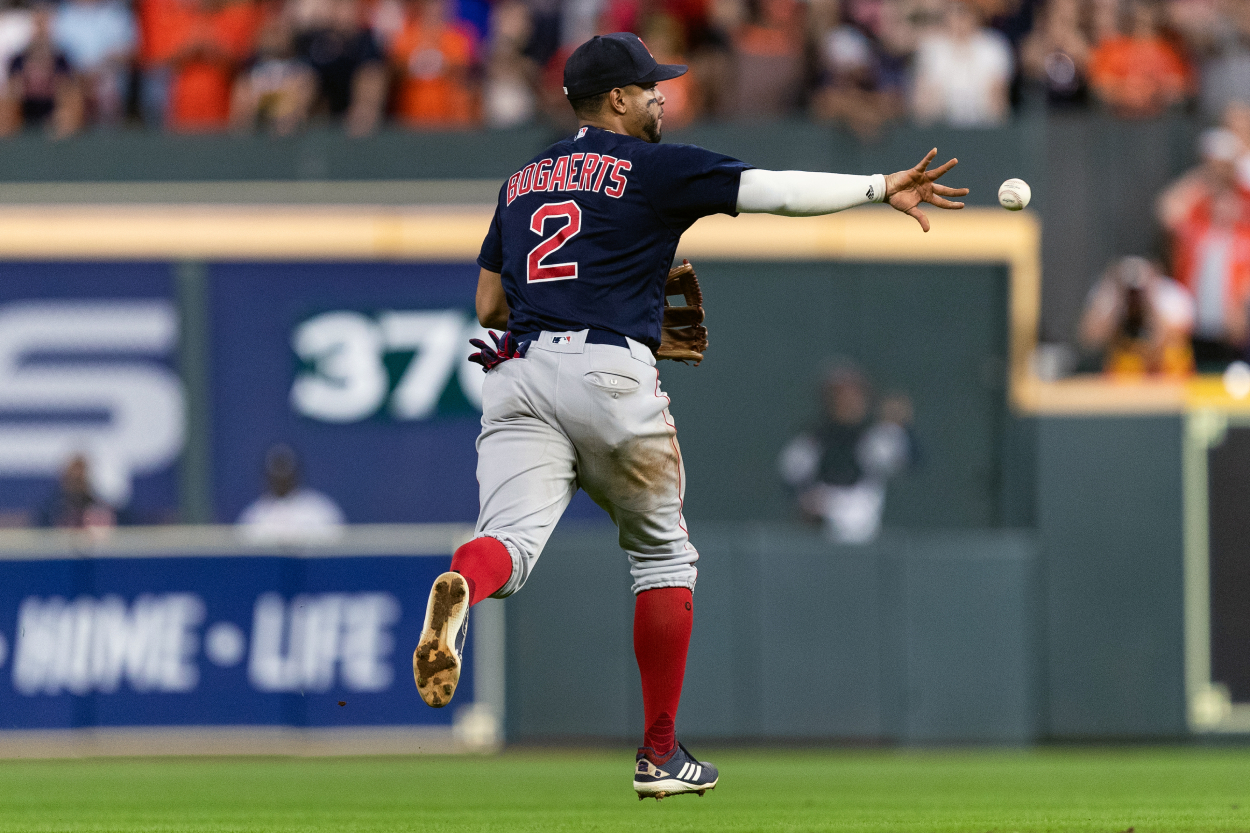 Bogaerts is making some pretty good money as the shortstop for the Red Sox, but by today's standards, he's a bargain.
After the 2019 season, Bogaerts inked a six-year extension worth $120 million. He made $12 million in that '19 season when he hit a career-high 33 home runs and drove in a career-best 117 runs. He made the second of his three All-Star Game appearances.
Although his salary was bumped up to $8 million for the next six seasons, he's still considered a bargain, which could prove costly for the Red Sox. Part of that six-year extension includes the option to bail out after the 2022 season, something he has to seriously consider.
Even at $20 million per season, Bogaerts is a steal. With players like Corey Seager inking a 10-year, $325 million deal with the Texas Rangers, and Marcus Semien locked down a seven-year deal worth $175 million, also with the Rangers. Bogaerts is seeing his value skyrocket three years into his deal, so it makes sense for him to opt out after this year and earn market value.
Xander Bogaerts is willing to talk extension with the Red Sox
Bogaerts is playing out his deal without saying a whole lot. He's watching the salaries increase, knowing he has an out after the third year of his contract.
Bogaerts has always said he loves playing in Boston. Recently, he reiterated that statement when talk of an extension popped up.
He's been with the organization since 2009, and he'd love to remain with the Sox. Boston has to step up if it wants to keep its All-Star shortstop. Bogaerts said he's willing to talk extension as long as it happens before the season starts. Once the first pitch is thrown, his only focus is his job on the field.
"We don't have much time if any of that's going to happen," Bogaerts said Tuesday in Fort Myers, Fla., per NESN. "Obviously, I love being here. Everyone knows it, and I think that's pretty clear.
"I mean they're setting the market pretty different. I try not to think about that during the season. I'm at spring training and I got a deal done a couple years ago at this time. You never know what can happen. But when the season starts, I want to focus on helping the team at that point and try not to worry about those types of talks."
Bogaerts shot down any thoughts of a position change
During Tuesday's session with reporters, Bogaerts was asked if there was any talk of moving to second base. With Carlos Correa on the market, a reporter asked him if there was any talk of a position change if they elected to move in on Correa.
Bogaerts quickly shot that down.
"Bro. I'm a shortstop, man," he said, according to Yahoo Sports. "That's where I've played my whole career. Obviously, it's a position I take a lot of pride in. If you look at my numbers, they've been pretty good for these years. I like being there. That's it."
He said the Sox had not even brought up a possible switch of positions with him.
"I haven't heard of that," he said. "Hopefully, it stays that way. I haven't heard anything like that."
Bogaerts is a shortstop and a fine one. Although he loves Boston, the Sox better move quickly if they want him to finish out the rest of his six-year deal.