David Ortiz Pained That Former Red Sox Teammate Manny Ramirez Isn't Joining Him in the Hall of Fame
David Ortiz said he's hurt that former Red Sox teammate Manny Ramirez isn't in the Baseball Hall of Fame.
Statistically, former Boston Red Sox outfielder Manny Ramirez belongs in the Baseball Hall of Fame. His numbers are better than his former teammate David Ortiz, who became a first-ballot HOFer Tuesday night. Ortiz knows Ramirez belongs there as well. He also knows Ramirez made a terrible mistake that's keeping him from Cooperstown.
David Ortiz and Manny Ramirez were quite the duo with the Boston Red Sox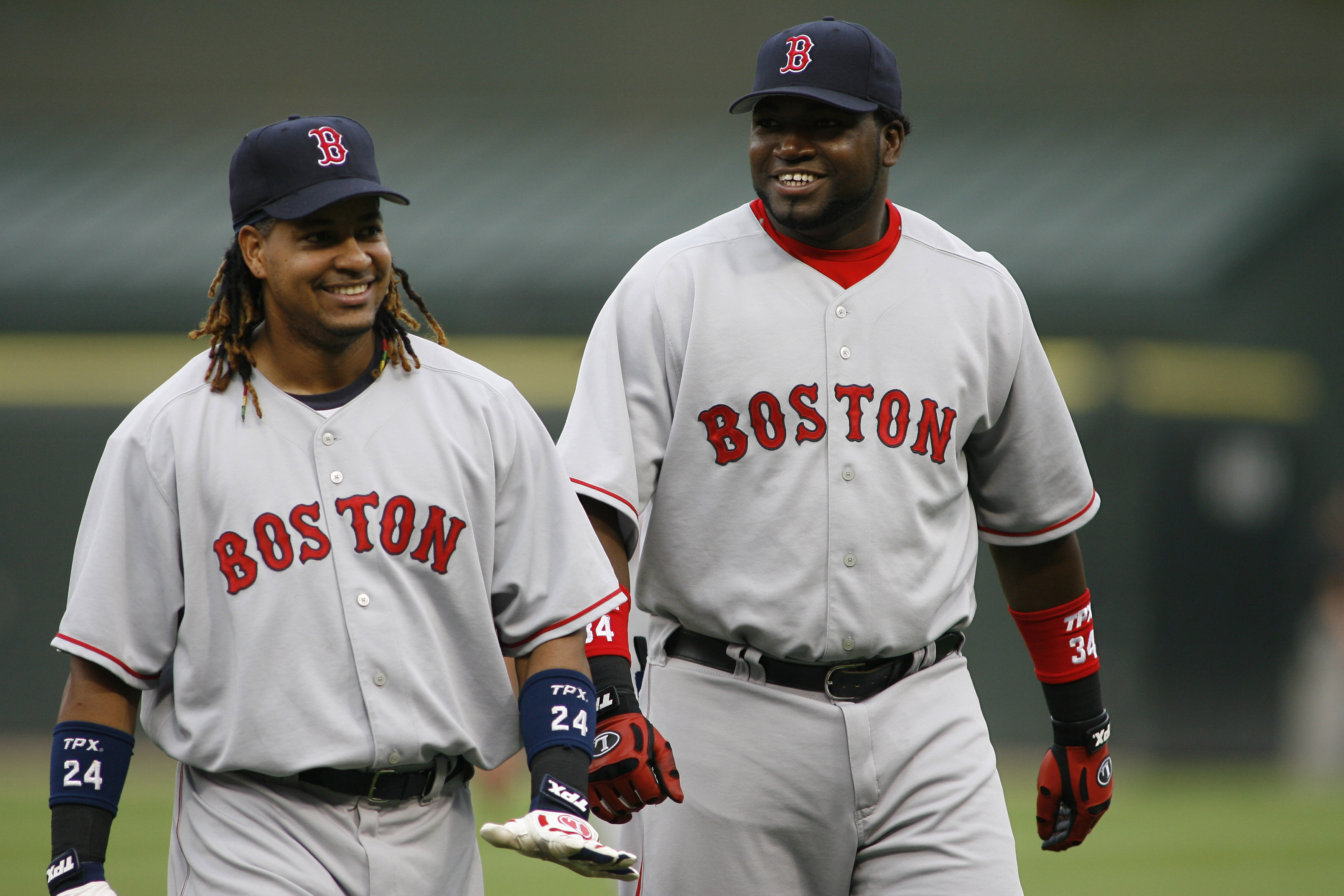 Ortiz and Ramirez were teammates in Boston for six seasons, giving the Red Sox a solid 1-2 power punch. They played together from 2003-2008 and helped guide Boston to its first World Series title since 1918, winning in 2004.
The Sox picked up Ortiz in 2003 after the Twins let him go, and he went out and smacked 31 home runs and drove in 101 runs. He finished fifth in the MVP voting in that first season with the Sox.
Ramirez hit 37 homers and collected 104 RBI while hitting .325. He finished sixth in the run for MVP.
Both were on the Hall of Fame ballot this year. Ramirez has been on it for the last six years but has never received more than 30% of the votes. He finished at 28.9% this year. Ortiz was the lone player to get in this year, collecting 77.9%.
Ramirez's numbers were consistently better than Ortiz's throughout their careers. His legacy is tainted by PED use. Ramirez was suspended for 50 games in 2009 and for 100 games in 2011.
With the Red Sox, the duo combined for 757 home runs.
David Ortiz hurt because Manny Ramirez isn't in the Hall of Fame
Ortiz earned his Hall call in his first year of eligibility while Ramirez's phone hasn't rung. The way the voters look at players in the steroid era, it's not likely Ramirez will ever get that call.
That bothers Ortiz, but he understands why.
"Not seeing him in the Hall of Fame right now is something that really hurts me," Ortiz said, according to Mass Live. "It hurts him because he knows that he made mistakes that he shouldn't."
Ortiz said Ramirez realizes he messed up.
"This is a guy who I admire so much," Ortiz said. "I thank him so much for being the guy that not many people know that he is. Manny, while he played, was a hard-working guy who had his personality. It's not a secret for any one of us. He admits he did so many things the wrong way because of being immature and not being able to listen, even to my advice. He admits it now."
Ortiz said he's always looked up to Ramirez
Ramirez is three years older than Ortiz, and he helped get the Twins' castoff acclimated to Boston. Ortiz said Ramirez wasn't much of a vocal leader with the Red Sox, but he had quite the work ethic. It was something Ortiz always tried to emulate.
"You listen to Manny talk right now and it's a beautiful thing because he knows the mistakes he made," Ortiz said. "Manny was the type of professor that, he didn't use to say much. All you've got to do is focus on his work ethic back then. You'll learn. That's what I did when I got to Boston."
Even though it's Ortiz who is now a Hall of Famer, he continues to look up to his former teammate.
"He's always going to be a big brother to me and I'm always going to thank him for being there for me and being one of the guys who loved me based on my personality," Ortiz said.