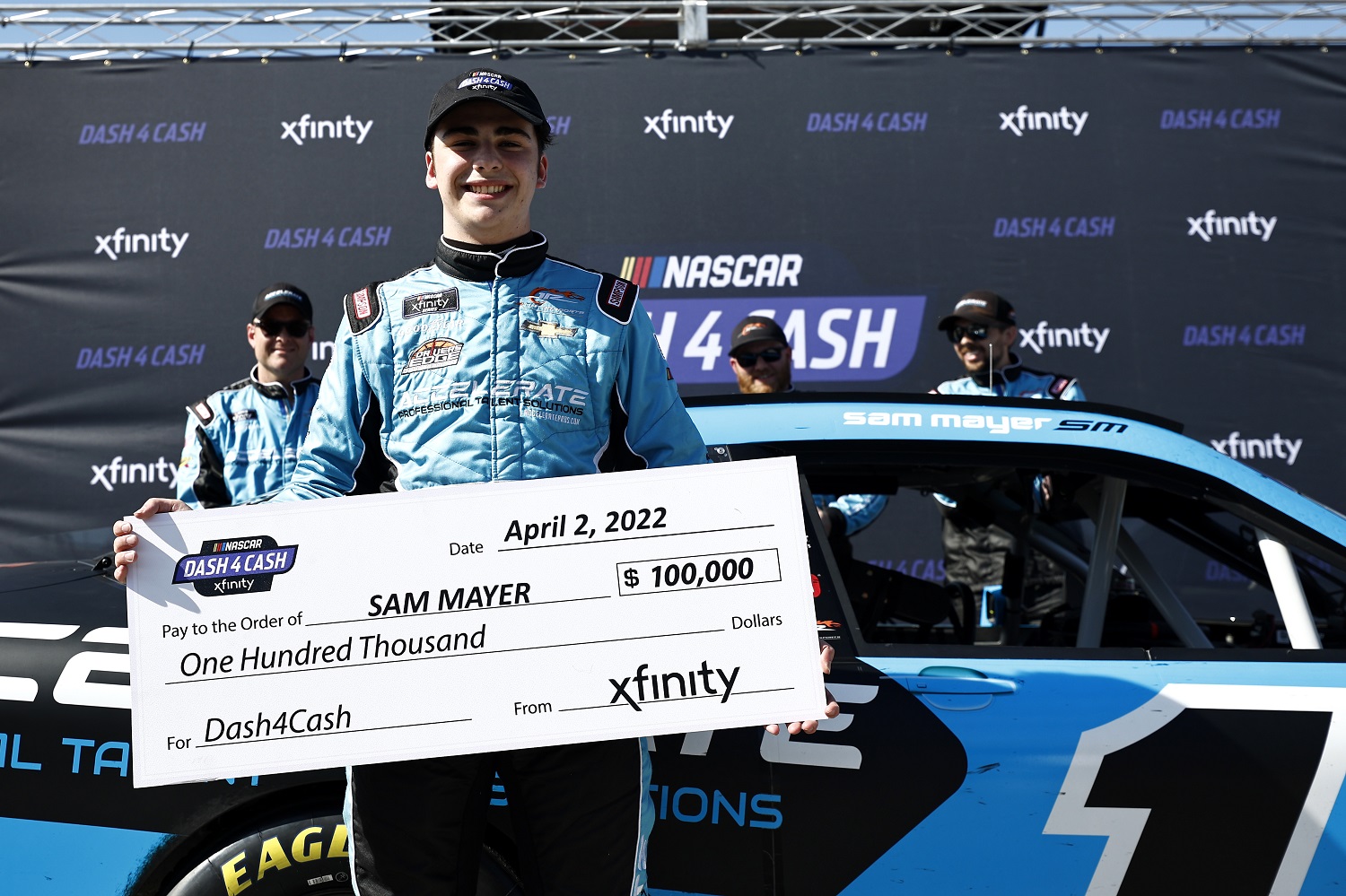 Xfinity Series Dash 4 Cash Week 1 Recap: Sam Mayer Has Some Boring Plans for His $100,000
Sam Mayer hasn't matched fellow teen driver Ty Gibbs' accomplishments in the Xfinity Series, but he picked up a nice consolation prize in Richmond.
Ty Gibbs and John Hunter Nemechek grabbed the headlines on Saturday, but Sam Mayer had a pretty good day in the Xfinity Series, too. He grabbed $100,000 in bonus money while finishing third. Unlike Gibbs and JHN, his performance didn't have people suggesting that he take the auto club's safe-driving course.
All in all, the annual Dash 4 Cash is off to a flying start following Mayer's best day of the young season.
Sam Mayer has some catching up to do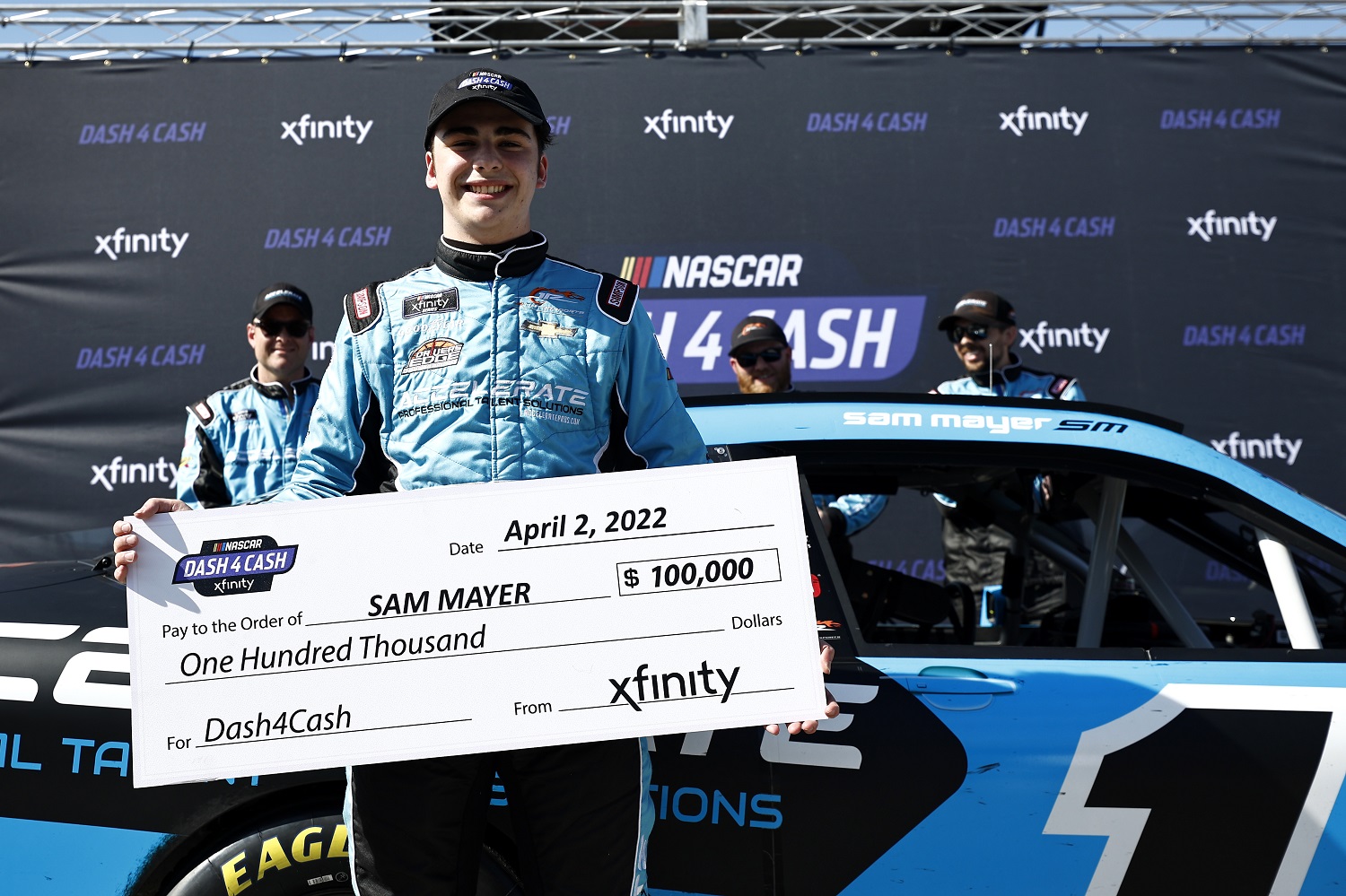 Ty Gibbs got the jump on Sam Mayer and hasn't let up. Both arrived in the Xfinity Series last year as 18-year-olds, but Mayer didn't reach that age until midseason, meaning he had to wait to join NASCAR's secondary series. While he was waiting, Gibbs was winning his debut on the Daytona road course and scoring another victory plus four more top-five finishes.
By year's end, Gibbs had won four races and finished in the top 10 in six others. Mayer made his debut at Pocono in late June, finishing 18th, and his log for the year at JR Motorsports showed no wins and six top-10 efforts. Five of his six DNFs were the result of wrecks, most of which came early in the races.
Both drivers have full-time rides in 2022, and Gibbs has picked up where he left off. The grandson of the Joe Gibbs Racing owner scored his third win in five weeks on Saturday at Richmond Raceway and stands second in points. Mayer still hasn't won, but he's finished all seven races. Fifth place at COTA and third place at Richmond Raceway have moved him up to sixth in points.
Sam Mayer pulls down a $100,000 bonus for finishing third
While Ty Gibbs and John Hunter Nemechek were battling for the victory over the final 95 laps, Sam Mayer and AJ Allmendinger were conducting their own skirmish for third place over 25 laps. Mayer overtook Allmendinger, who was coming in off a victory the previous week at COTA, with 16 laps to go and held on for third place. to claim the $100,000 in Dash 4 Cash money at stake.
As good as he was at fending off Allmendinger, a veteran of 445 Cup Series and Xfinity races, Mayer showed even better precociousness in handling the appropriate sponsor shoutouts.
"By the end of the day our Chevrolet Camaro was as fast as Xfinity internet, so that's a really good, feels-good moment for us and, obviously, my career-best finish," Mayer said. "Unbelievable. This team definitely deserves it."
Aside from Mayer and Allmendinger, the other drivers eligible for the first week of Dash 4 Cash money were Austin Hill and Noah Gragson, who finished 18th and 21st, respectively.
The winner's plans for the money and the Dash 4 Cash Week 2 lineup
A six-figure payout, minus taxes, would make a difference in just about anyone's checking account, but that's especially true for an 18-year-old. The $100,000 payday is the biggest of Mayer's fledgling career. Given his occupation, there's no need to give in to the usual teen fixation with buying a hot ride.
So, what does he plan to do with the windfall?
"I've been asked that four or five times," Mayer said, according to Frontsretch.com. "Honestly, I'm just gonna put it in my bank account because my dumb ass can't touch that, or bad stuff will happen."
Mayer still has at least one and as many as three more cracks at $100,000 bonuses as the promotion continues through the end of April. The top four finishers each week advance to the next Dash 4 Cash, provided that they are competing for the Xfinity Series championship.
Runner-up John Hunter Nemechek is a full-time truck series driver, so he won't be eligible to cash in at the Call 811 Before You Dig 250 on Friday at Martinsville. The field will consist of Mayer, Ty Gibbs, AJ Allmendinger, and Riley Herbst.
Herbst will be in a situation similar to Mayer's in Richmond. Mayer only finished fifth at COTA, which was the Richmond qualifier, but he made it into the Dash 4 Cash because Cole Custer wasn't eligible.
That good fortune was worth $100,000.
All stats courtesy of Racing Reference.