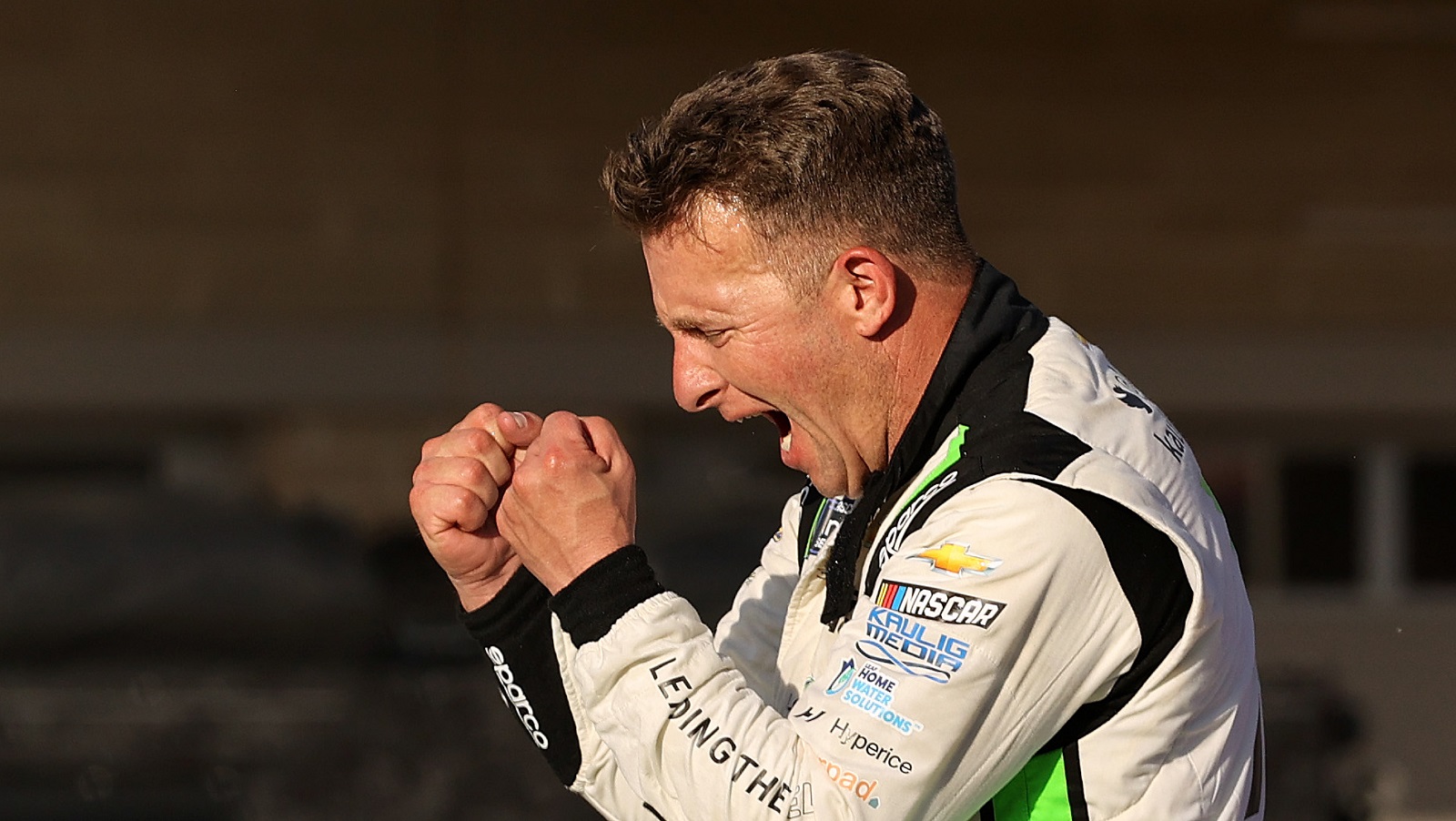 AJ Allmendinger Starts at Front of the Class in the 2022 NASCAR Xfinity Series Dash for Cash
AJ Allmendinger slipped from second to 33rd on the last lap Sunday. He can console himself by winning one of the $100,000 bonuses in the next four NASCAR Xfinity Series races.
Watching helplessly after getting spun on the final lap of Sunday's NASCAR Cup Series race was a sour end to AJ Allmendinger's weekend. He'll get over it, though, because the way his weekend started positions the Kaulig Racing driver to reap some $100,000 paydays in the Dash for Cash.
While only a part-time Cup Series driver this season, Allmendinger is a full-time competitor and a serious threat to win in any given Xfinity Series race, setting him up for a string of those six-figure bonuses.
AJ Allmendinger came close to a twin killing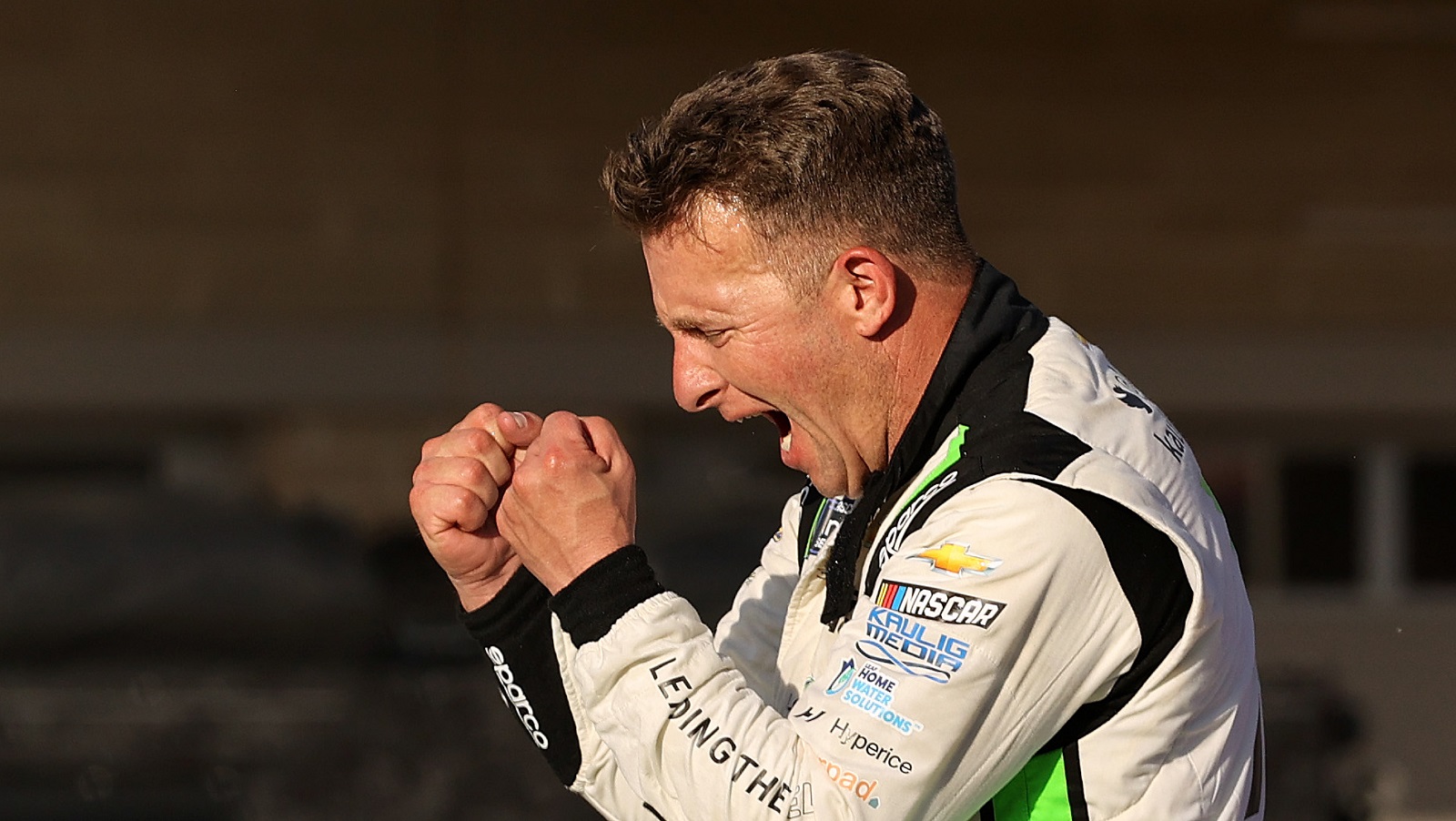 Kaulig Racing brought AJ Allmendinger aboard in a full-time role last year with two purposes in mind. Team owner Matt Kaulig talks unabashedly about "trophy hunting," and Allmendinger delivered by winning five Xfinity Series races and nailing down a place in the Championship 4.
However, Kaulig was also planning for 2022. Knowing that he was launching a Cup Series team, he wanted Allmendinger as his road course ringer in NASCAR's top series. They dipped a toe in the water last year, and Allmendinger took advantage of a last-lap crash to pull off a stunning victory on the Indianapolis road course.
This year, he's driving in all six Cup Series road races as well as several on ovals. Still, his primary role is in the Xfinity Series car, and Allmendinger earned his first victory of the season Saturday at Circuit of the Americas.
Allmendinger started near the back of the field in the Cup Series race the next day, but he climbed into the top 10 within 20 laps and stayed there almost the entire rest of the way. He stalked leader Ross Chastain for 15 laps and was maneuvering for a final run at the lead when those two and Alex Bowman came together. The bump sent the No. 16 Chevy off the track, and Allmendinger could only watch as 32 cars on the lead lap rolled past to the finish line.
It may have been disheartening, but absolutely no one went home thinking Allmendinger was only the 33rd-best driver in that race.
AJ Allmendinger will be front and center as the Xfinity Series Dash for Cash starts
NASCAR has spiced up its Xfinity Series since 2009 with a Dash for Cash promotion offering four drivers in each of four consecutive races the opportunity to score $100,000 bonuses for being the top finisher among the eligible competitors.
Saturday's race at Circuit of the Americas was the qualifier setting the field for next weekend's Dash for Cash at Richmond Raceway. Veteran driver AJ Allmendinger won, with Austin Hill, Cole Custer, and Noah Gragson rounding out the top four. Custer is ineligible because he is a full-time Cup Series racer, so fifth-place finisher Sam Mayer nabbed the fourth Dash for Cash spot.
The top finisher from that quartet on Saturday afternoon in Richmond wins the $100,000 and keeps his spot in the following week's Dash for Cash at Martinsville. He'll join the three highest-finishing competitors from the race.
After the Friday night race at Martinsville, the Dash for Cash wraps up at Talladega on April 23 and Dover on April 30. Should the same driver win all four $100,000 checks, series sponsor Xfinity will kick in an additional $600,000.
AJ Allmendinger and Noah Gragson are Xfinity Series teammates of sorts
One of the fun aspects in the season's first Dash for Cash is sure to be the competition between AJ Allmendinger and Noah Gragson, who have an unusual work relationship.
Allmendinger drives Xfinity cars and in the Cup Series for Kaulig Racing. Gragson drives in the Xfinity Series for JR Motorsports, reaching the Championship 4 in 2021. However, his part-time gig is in the Cup Series with Kaulig Racing. Allmendinger, Gragson, and Daniel Hemric split duties in the No. 16 Chevy on Sundays throughout the season.
Gragson won $300,000 in Dash for Cash races last year, with JR Motorsports Josh Berry snaring $100,000, so he may think it's his turn to cash in. If push comes to shove on the white-flag lap, he can draw upon what he learned in Sunday's misfortune to get the job done.
Like Sportscasting on Facebook. Follow us on Twitter @sportscasting19.