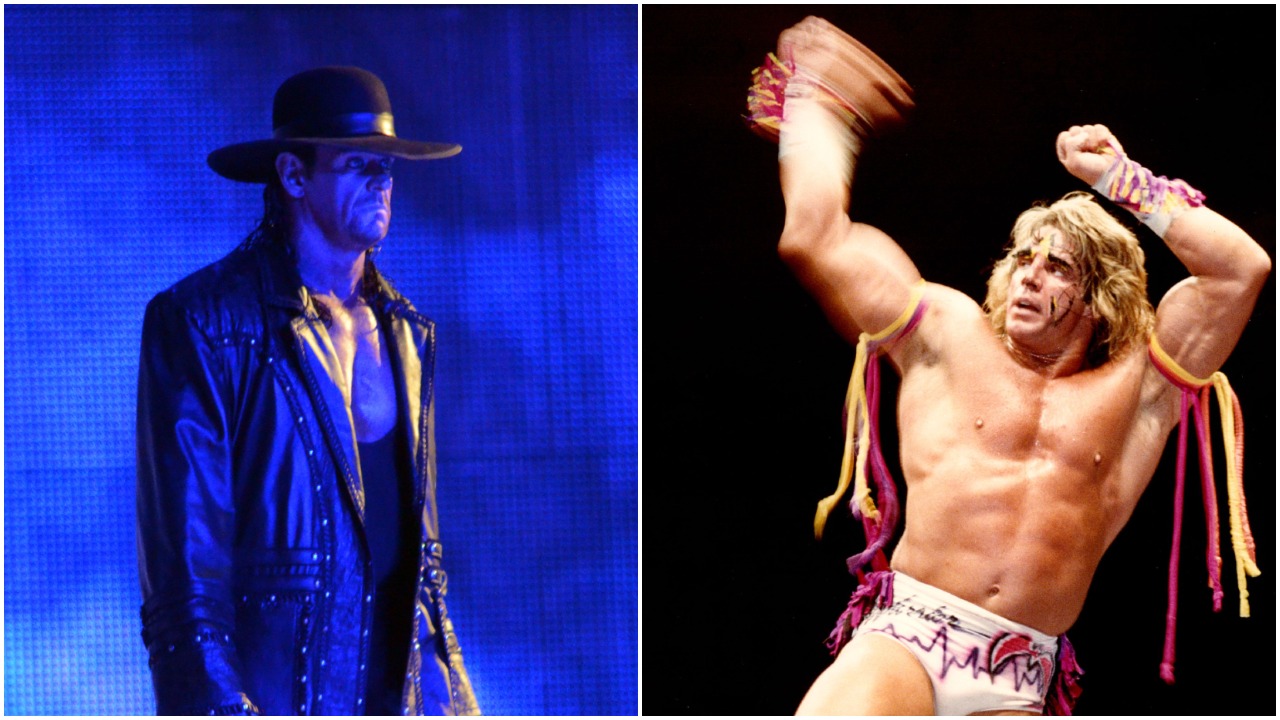 You Can Now Order Undertaker and Ultimate Warrior-Themed Wine From WWE (No, This Is Not a Joke)
WWE is releasing a series of limited-edition wines with the first two offerings inspired by The Undertaker and The Ultimate Warrior.
When associating an alcoholic beverage (or any beverage for that matter) with professional wrestling, wine likely wouldn't be anyone's first choice, right? It's safe to say that most WWE fans would go with beer simply because of "Stone Cold" Steve Austin. Or you could go with water because of Triple H's famous entrance or even milk because of Kurt Angle (what an awesome segment that was). But wine?
Now, that's not to say that pro wrestling and wine can't mix. I've enjoyed some very nice glasses of wine while watching WWE events over the years. But let's be honest here. The combination of pro wrestling and wine just isn't all that common. But that hasn't stopped WWE from getting into the wine business. In all seriousness, WWE will soon be releasing a series of superstar-themed wines with the first two bottles inspired by The Undertaker and The Ultimate Warrior.
The Undertaker has had one of the greatest careers in WWE history
The Undertaker (real name Mark Calaway) is easily one of the biggest stars in WWE history. Over the course of three decades, he took part in some of the biggest and best matches of all time and is arguably the most well-respected wrestler of his generation.
After making his pro wrestling debut in 1987, Calaway made his WWE debut in 1990 using The Undertaker gimmick and became an instant star. In his 30-year career, which seems to be over at the moment but he hasn't completely closed the door just yet, 'Taker was a seven-time world champion, a seven-time tag team champion, and also held the hardcore title on one occasion. He headlined WrestleMania on five occasions and won 21 consecutive matches on the grandest stage of them all, famously known as "The Streak," before losing to Brock Lesnar at WrestleMania 30.
Over the course of his career, he faced off against many of the biggest names in WWE history, including Hulk Hogan, Ric Flair, "Stone Cold" Steve Austin, The Rock, Mick Foley, Bret Hart, Triple H, John Cena, and, of course, Shawn Michaels. His match against The Heartbreak Kid at WrestleMania 25 is considered by many to be the greatest match in WrestleMania history. His most recent match, which could turn out to be his last, came earlier this year at WrestleMania 36 in a Boneyard Match against AJ Styles.
The career of The Ultimate Warrior
The Ultimate Warrior (real name James Hellwig) had one of the most controversial careers in WWE history. Hellwig began his pro wrestling career in 1985 and joined WWE in 1987 as The Ultimate Warrior. Like The Undertaker, he became an instant star and quickly became one of the top draws in the company.
He won the Intercontinental Championship for the first time in 1988 by ending the Honky Tonk Man's historic 454-day reign and won it a second time in 1989 by defeating Ravishing Rick Rude, who had taken the title from him at WrestleMania. In 1990, he was given the ultimate vote of confidence when Hulk Hogan agreed to drop the WWE Championship to him at WrestleMania 6 in a champion vs. champion match, a rare main event due to both being babyfaces at the time.
However, his WWE title reign did not go as well as Vince McMahon would have liked and the title was taken off The Ultimate Warrior in early 1991 at the Royal Rumble. Later that year at SummerSlam, he held up the main event by demanding more money, which McMahon agreed to pay, but was immediately suspended following the match. He made his return the following year at WrestleMania but left WWE later that year.
He made a brief return to the company in 1996, defeating a young Triple H at WrestleMania 12, but was fired soon after. The Ultimate Warrior joined WCW in 1998 for a short time but was essentially signed just so Hulk Hogan could get a win over him. He wrestled just three matches for the company before retiring from professional wrestling.
In 2014, The Ultimate Warrior made his return to WWE as part of the Hall of Fame class of 2014. Two days after being inducted, he appeared on Monday Night Raw and gave a passionate speech but eerily passed away the following day. The following year, WWE introduced the Warrior Award at the Hall of Fame ceremony, a special award given out annually by Warrior's widow, Dana.
You can now pre-order wines from WWE inspired by The Undertaker and The Ultimate Warrior
This past week, WWE announced that the company would be releasing a series of superstar-themed wines with the first bottles featuring The Undertaker and The Ultimate Warrior. Wines can now be pre-ordered at WWEWines.com and are expected to ship in late October or early November.
The Undertaker-themed wine is an oak-aged 2018 Cabernet Sauvignon from Lodi, California. Only 30 barrels were produced and each bottle will be marked with an individual bottle number and the number of the barrel it came from. Each bottle was also wax-dipped and glows in the dark.
The Ultimate Warrior-themed wine is a red blend from Mendocino County, California, that features 80% Zinfandel and 20% Sangiovese. Each growler-style bottle will be wax-dipped and will also feature an individual number. In addition, these bottles will feature three unique corks with different images and sayings from The Ultimate Warrior.
There are a variety of order options to choose from. One can order two, four, or six bottles at a time and can pick either one or both types of wine. So there you have it. WWE wine is now a thing. What a time to be alive, am I right?