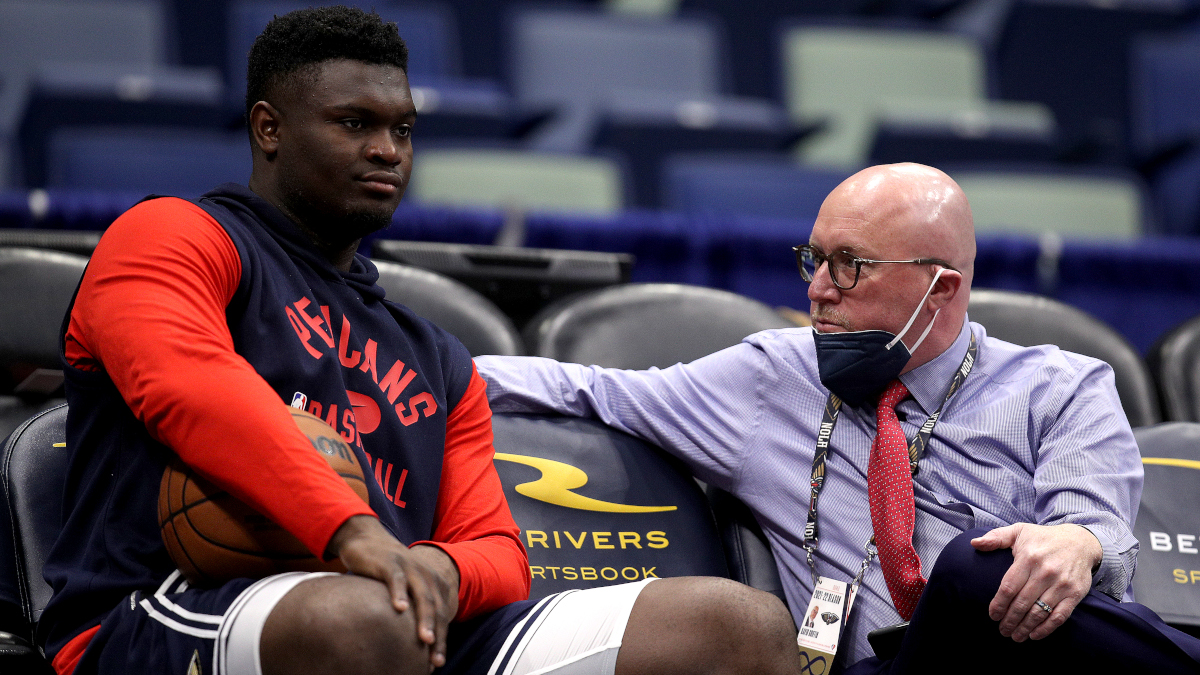 Zion Williamson Injury Update Puts New Orleans Pelicans Into an Impossible $181 Million Position
Zion Williamson is injured and becomes extension-eligible in July. The New Orleans Pelicans face a risky decision about the future of the franchise's star.
The New Orleans Pelicans made an aggressive move at the NBA trade deadline, acquiring combo guard CJ McCollum from the Portland Trail Blazers. The idea was to add another star-caliber player around young forward Zion Williamson, who hasn't played this season while recovering from a broken bone in his right foot.
The latest reports pour ice water on the Pelicans' hopes for this season and throw the franchise's immediate future into a state of flux. Williamson might not return this season. The deadline for New Orleans to re-sign him to a rookie-scale contract extension is the day before opening night next season.
And Pelicans president of basketball operations David Griffin may well walk into that deadline weighing risk vs. reward like few in this situation have.
The New Orleans Pelicans kept Zion Williamson's injury under wraps
Griffin dropped a media-day bombshell about New Orleans Pelicans star Zion Williamson in late September. The first-overall pick in the 2019 NBA Draft broke a bone in his right foot during the offseason.
But Griffin was optimistic his young star would be ready to go by opening night.
Narrator: Williamson was, in fact, not ready to go by opening night.
Williamson reportedly missed rehab sessions, fell asleep during team meetings, and gained weight.
Around the same time, he was experiencing pain in the foot. His rehab was scaled back, and when he resumed activity in early January, it was not under the auspices of the Pelicans' training staff. According to The Associated Press, Williamson instead continued his therapy in Portland.
And now, according to Christian Clark of NOLA.com, Williamson may need a second surgical procedure on the foot. That would all but end his 2021–22 season before it begins.
That puts the Pelicans and Griffin in an unusually precarious spot.
An enormous decision awaits the New Orleans Pelicans, Zion Williamson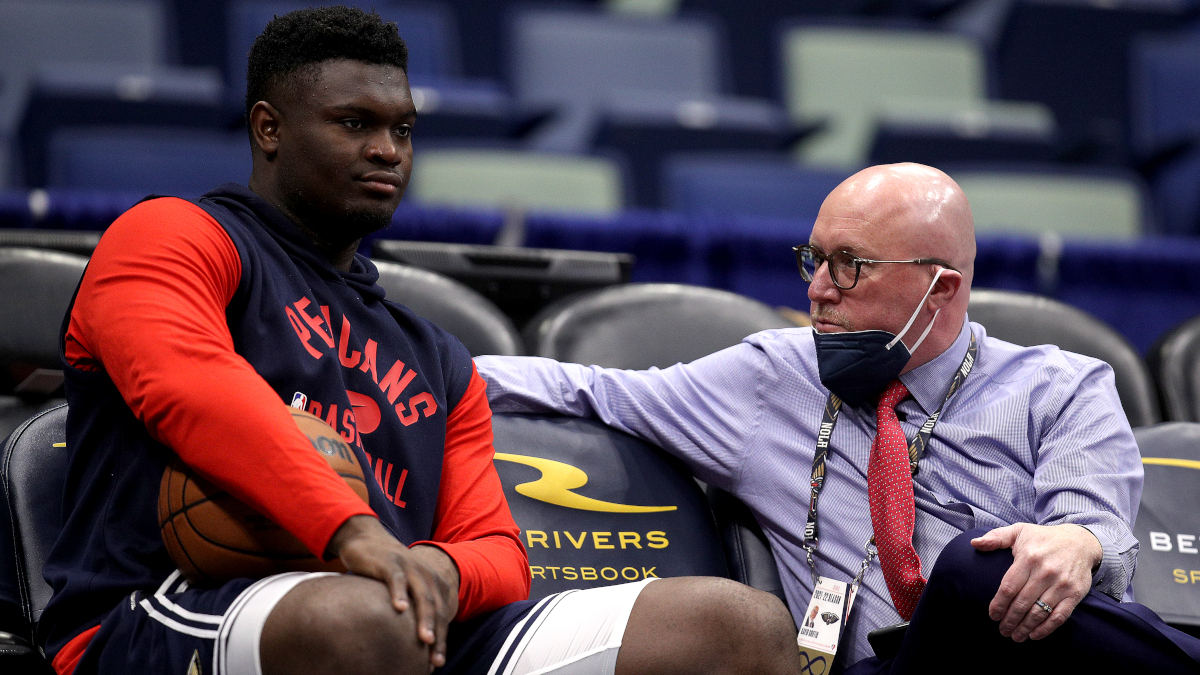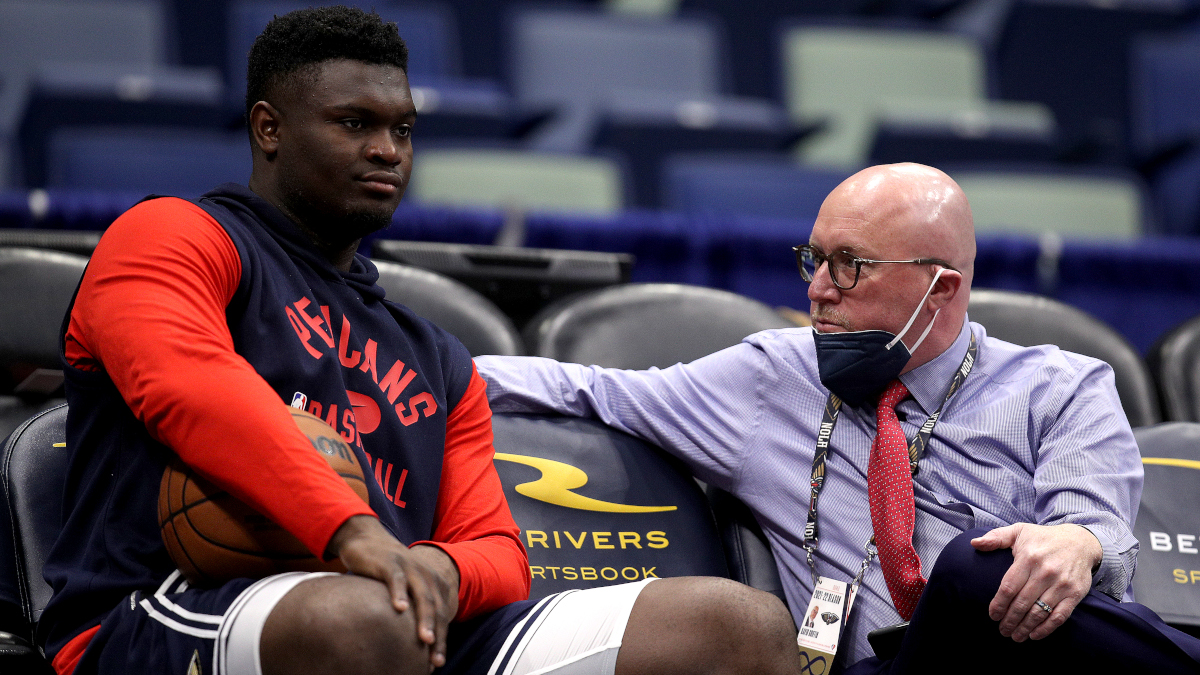 Zion Williamson is in the third year of his rookie contract. That means the New Orleans Pelicans face a hard deadline about the All-Star's future with the franchise.
In an entirely unsurprising development last fall, New Orleans announced it had exercised its $13.5 million option for the final year of Williamson's first contract. But what comes next is a franchise-altering risk-reward assessment about the South Carolina native's future with the Pelicans.
In July, Williamson is eligible for a five-year, $181 million extension with a first-year ticket of $31.2 million. The team has a little more than three months to get the extension done or risk losing the player deemed the face of the franchise as a free agent.
Williamson's camp will demand the max; this is all but a given. He's an All-Star and was a No. 1 pick. In recent memory, only Greg Oden (premature old age) and Anthony Bennett (incompetent scouting by the Cleveland Cavaliers) didn't finish their rookie deals after being selected first overall.
Zion is an offensive force when healthy. In 85 games, he averaged 25.7 points while shooting 61.4% from 2-point range. He's not much of a deep threat, hitting 16-of-48 (33.3%) from beyond the arc.
At the rim, Williamson is a force of nature. He takes 70.9% of his attempts from the restricted area, and defenses should probably duck; he makes 69.2% of those attempts and already has 181 dunks.
But about that whole "85 games" thing, Zion missed the first 44 games of his rookie year, recovering from a meniscus injury sustained in his summer league debut. Last season, the Pelicans played without their young star 11 times. They are 23–35 without him this season, and the McCollum trade leaves them with a dilemma related to their first-round selection in June's draft.
There is some historical precedent for the Pelicans and Zion
The New Orleans Pelicans' upcoming decision about Zion Williamson's rookie extension isn't without precedent.
In 2017, the Philadelphia 76ers decided the future of talented but injury-riddled Joel Embiid. The former Kansas star missed his first two seasons recovering from a broken foot. In the third year of his rookie deal, Embiid played only 31 games under strict restrictions. But a torn meniscus ended his season in late January.
General manager Bryan Colangelo didn't blink. In August 2017, the Sixers signed Embiid to a five-year, $147.7 million deal (the max at the time). But the team included complex injury protections that eliminate some of the guaranteed money if the superstar didn't reach specific benchmarks for games or minutes played.
It worked out for both parties. Embiid is the front-runner for NBA MVP this season. He already has a four-year supermax extension locked in to keep him in Philadelphia through 2026–27. Estimated put the value of the new contract at $195.9 million. The actual value is determined by the salary cap in 2023. That is the first year of the deal.
The questions:
Will Griffin makes injury protections a requirement in a potential Williamson extension>
Would Zion and his camp agree to them?
There have long been reports of Williamson's dissatisfaction with the New Orleans organization. Griffin staked his reputation on Zion. After all, his first move was trading former face-of-the-franchise Anthony Davis to the Los Angeles Lakers in 2019.
Buckle up, New Orleans Pelicans fans. The summer of Zion Williamson's extension looks like a wild ride.
Statistics courtesy of Basketball Reference. Contract information courtesy of Spotrac.