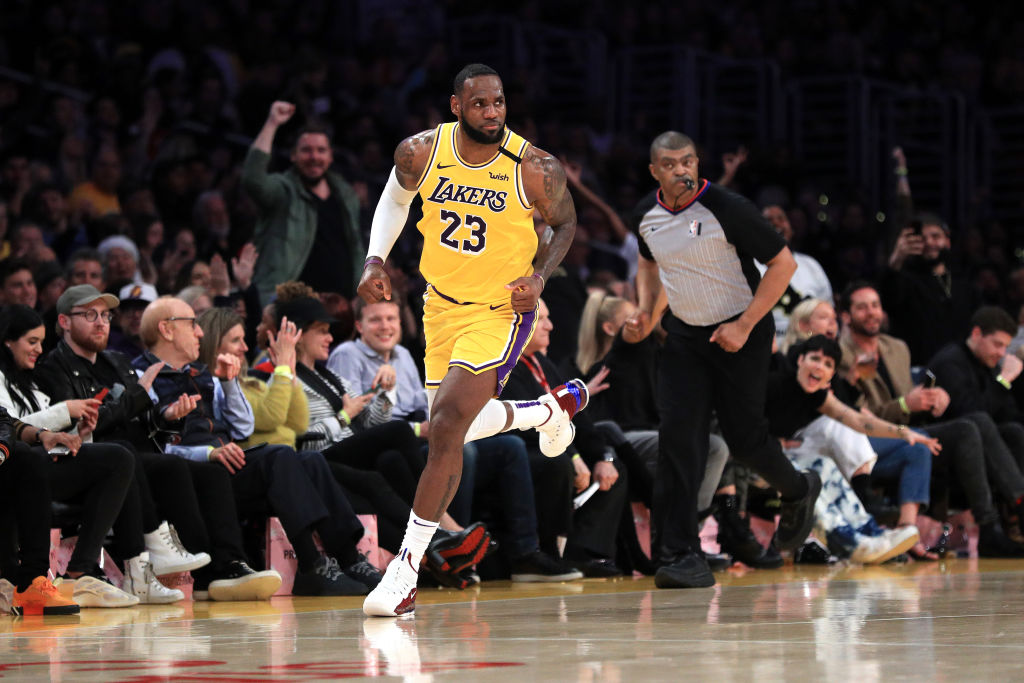 1 of LeBron James' Former Teammates Believes the Lakers 'Could Do Something Special' This Season
LeBron James is always capable of greatness on the court, but one of his former teammates thinks this year's Lakers could do something special.
While his exact place in the basketball pantheon might be up for debate, no one can argue with LeBron James' talent. The forward is capable of greatness every time he suits up for an NBA game. One of LeBron's former teammates, however, thinks he and the Los Angeles Lakers could take things even further this season.
After Monday night's game, one Cleveland Cavalier spoke glowing of LeBron James. He believes that the forward and his Lakers' teammates can "do something special" year.
LeBron James' time with the Los Angeles Lakers
While the Los Angeles Lakers are the fourth stop in LeBron James' NBA career, the forward isn't showing any signs of slowing down. After over 1,200 games, King James is still capable of greatness.
While James' scoring might be his lowest since his rookie campaign, he's still playing an elite all-around game. The veteran forward is currently averaging 25.5 points, 10.7 assists, and 7.8 rebounds per night; while he usually doesn't have to put the Lakers on his back, he's more than capable of carrying the team to victory on a given night.
With LeBron leading the way, the Lakers have emerged as the class of the Western Conference. The team is hungry to prove their doubters wrong, and everyone, from Anthony Davis to Dwight Howard and Rajon Rondo, is stepping up. That reality isn't lost on one of James' former teammates.
Kevin Love is still impressed with LeBron
Playing alongside LeBron James wasn't always easy for Kevin Love. On Monday night, though, the two former teammates faced off for the first time since James joined the Lakers. It was a new experience, but Love still saw the same old LeBron.
"It was different because it's been so long and we've been through so many battles with each other," Love told ESPN. "I'm not going to say it felt normal, but I feel like we were both out there competing and playing hard, but seeing him play with that team is obviously different. Especially, even I didn't get to see him with AD [Anthony Davis, who missed the game], and it still feels like they could do something special."
But does "do something special" translate into winning a championship? Love definitely thinks it's possible.
"Everybody did [have some doubt if LeBron could turn the Lakers into a title contender]," Love continued. "What do they say, I'm not a religious guy, but, 'You want to make God laugh, tell him your plans'? There's no sure thing other than death and taxes, right? Another cliché. But it's true. Who is to know that it will all work out? But they got really fortunate that it's obviously L.A., it's LeBron, and they're in win-now mode. They really have a chance."
Can the Los Angeles Lakers prove Kevin Love right?
As Kevin Love rightly said, no one knows what the rest of the NBA season will hold. Barring any unforeseen changes, though, LeBron James and his Los Angeles Lakers have a good shot at taking home the title.
While the Lakers have plenty of firepower—it's hard to guard LeBron James or Anthony Davis, let alone both of them—they're also playing tough defense. The club is currently fourth in overall defensive rating, sixth in opposition second-chance points, and sixth in opposition points in the paint. That combination of all-around effort and star power should shine in the postseason.
538 currently ranks the Lakers as the top squad in the Western Conference, giving them a 39% chance of making it to the NBA Finals and a 23% chance to take home the title. While winning the championship in any sport isn't easy, Kevin Love has a point. When LeBron James is on your side, just about anything is possible.