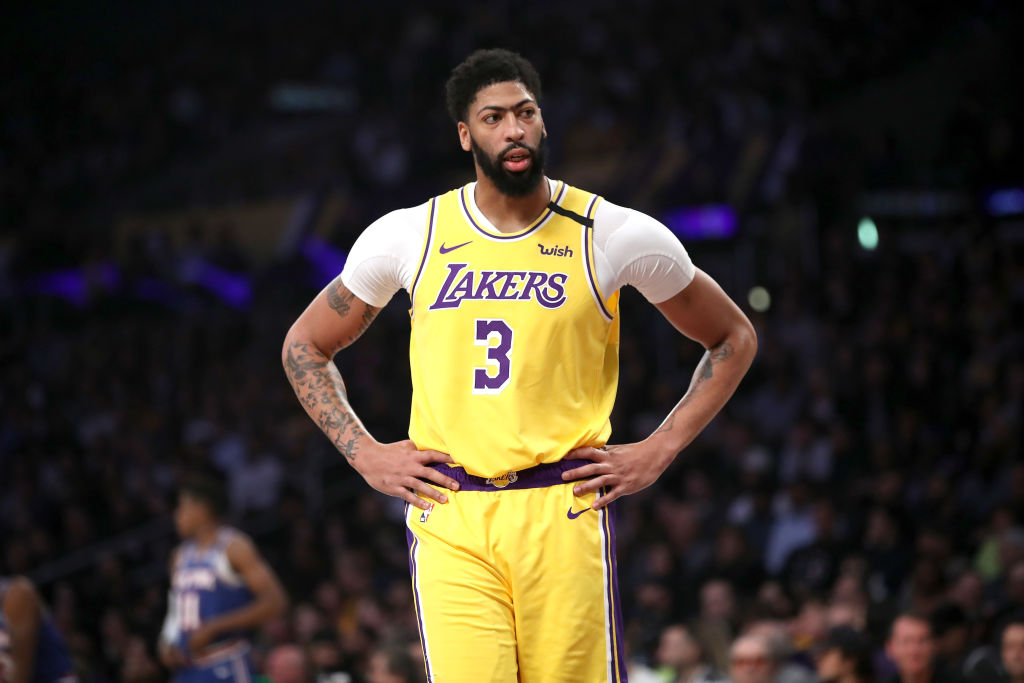 After Declining a Max Contract, Is Anthony Davis Really Leaving the Los Angeles Lakers?
After declining a max contract extension, is Anthony Davis getting ready to leave the Los Angeles Lakers in the offseason?
Last season, New Orleans Pelicans' big man Anthony Davis made news by requesting a trade to a contender. While it took a little while to make a deal, the club complied, sending him to the Los Angeles Lakers. Everything has worked out for Davis on the court, but he's still not eager to pledge his long-term future to the Lakers.
Although the club recently offered their star forward a max contract, Davis declined the offer. But could he really be on his way out of Los Angeles?
Anthony Davis' free agency rumors
On the court, Anthony Davis has been a great fit for the Lakers. The forward is scoring just over 27 points per night while grabbing 9.4 rebounds and recording 3.2 assists. Despite that production, rumors have been swirling that he might want to leave Los Angeles.
When Davis arrived in California, he had two seasons remaining on his contract; there's a player option, however, allowing him to opt out this summer. That reality set the stage for an interaction in November when Davis said that he could possibly join the Chicago Bulls. While it was hard to take the comments too seriously—Davis was speaking with local school children—the forward hasn't wavered; he fully intends to become a free agent this summer and won't worry about the details until then.
Davis reiterated his stance on ESPN's First Take, saying that he wouldn't be making any long-term commitments right now. "I still look at it as we'll see what happens at the end of the season," he explained. "Obviously, the season is going great so far, and I'm trying to stay in the moment and worry about that when the season is over. I feel like we can do something special this year with the team that we put together and the coaching staff that we have, I don't think anyone can beat us but the Los Angeles Lakers."
"So when that time comes, I'll think about it and see what's going on," he continued. "But right now, I'm just trying to focus on this year and winning a championship with the Lakers."
Turning down the Los Angeles Lakers' max contract offer
Since Anthony Davis is currently a member of the Los Angeles Lakers, the club gets the first crack at resigning the forward. While they weren't able to make a formal offer until January 7, the team didn't waste any time getting a deal on the table.
The Lakers reportedly offered Davis a max extension, which would have worked out to $146 million over the next four seasons. The forward, however, stuck to his guns and declined the deal. According to Chris Hynes of Yahoo! Sports, "the decision was made out of salary-cap implications and because Davis wants to solely focus on this season."
While the news wasn't exactly surprising, it's never ideal to let your star player see out his contract without signing a new deal. Could Anthony Davis really leave the Lakers in the summer?
Would Anthony Davis really leave the Los Angeles Lakers?
Anthony Davis might not have signed an extension with the Lakers, but their fans can still breathe easy. The star forward is expected to remain in Los Angeles, even after hitting free agency.
Beyond the possibility of a bigger payday in the summer, logic simply dictates that Davis won't be going anywhere soon. He asked to join a contender and specifically waived his no-trade clause to come to the Lakers; it's hard to think of a better place to chase the Larry O'Brien Trophy than alongside LeBron James. It's also worth remembering the Davis had the chance to be the main man in New Orleans, so it's unlikely he'll want to jump ship to become the face of a smaller franchise.
While nothing is assured until both parties sign on the dotted line, Los Angeles Lakers fans don't need to freak out just yet. When everything is said and done, Anthony Davis should remain a Laker.