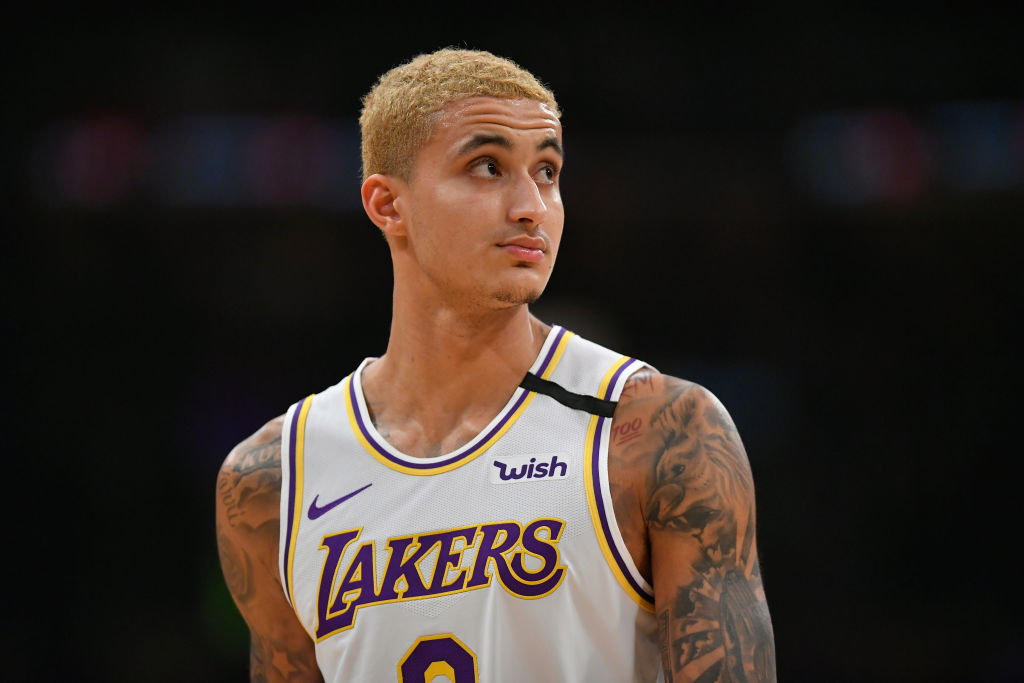 Kyle Kuzma Explains Why the Los Angeles Lakers Have Been Thriving This Season
While the Los Angeles Lakers have plenty of talent on their roster, forward Kyle Kuzma believes there's another factor behind the team's success.
We're almost halfway through the 2019-2020 NBA season, and the Los Angeles Lakers are looking like the class of the Western Conference. While it shouldn't be surprising that a team boasting LeBron James and Anthony Davis is playing well, it's not a two-man show in the Staples Center. It seems like a different player can step up every night and help the club earn yet another win.
Lakers forward Kyle Kuzma recently shared his perspective on the team's success. Although there's plenty of talent on the roster, there's something else that helps the Lakers consistently win.
The Los Angeles Lakers 2019 campaign
Last season, the Los Angeles Lakers finished eight games below .500. This season, however, things are going quite a bit better in Hollywood.
While the club did a decent amount of business during the summer, their main move was trading for Anthony Davis. Since moving west from New Orleans, the big man has taken his game to the next level; with he and LeBron James both capable of dropping 40 points on any given evening, opposing defenses have to pick their poison.
The Lakers aren't just an offensive powerhouse, though.  Head coach Frank Vogel has demanded that his team play tough defense, and the Lakers have complied. The club is fourth in overall defensive rating, sixth in opposition second-chance points, and sixth in opposition points in the paint.
When everyone from LeBron James and Anthony Davis to Kyle Kuzma and Rajon Rondo are pitching in, things are clearly clicking for the Lakers. Their success, however, doesn't solely stem from on-court ability.
Kyle Kuzma explains the key to success
After their first 39 games of the NBA season, the Los Angeles Lakers sitting atop the Western Conference standings. While there's plenty of talent on the court, Kyle Kuzma traces their success to another source.
"Everybody on this team has something to prove. [Anthony Davis] is trying to win a ring. [LeBron James] is trying to win one in LA. I'm trying to establish myself," the forward explained on Spectrum SportsNet. "Just down the line. [Dwight Howard]'s redemption. Everybody has something to prove, and we don't take games lightly."
We're just a tight-knit group, and we want to go out and dominate every game," he continued. "We don't see why we can't win every game."
How far can the Los Angeles Lakers go this season?
While you never want to lean too heavily on intangibles, it does seem like Kyle Kuzma has a point. The Lakers are full of talent, but everyone seems motivated this season; Anthony Davis is performing at both ends of the floor and Dwight Howard has gone from a disgruntled superstar to a solid role player.
That apparent motivation, combined with the sheer amount of talent on the Lakers' roster, will make them hard to beat. 538 currently ranks the club as the best team in the Western Conference; the latest model gives them a 39% chance of making it to the NBA Finals and a 23% chance to take home the title.
Motivation can be a tricky thing to quantify, but it certainly seems like the Los Angeles Lakers are on a mission this season. At this rate, they'll have a good shot at proving all the doubters wrong.