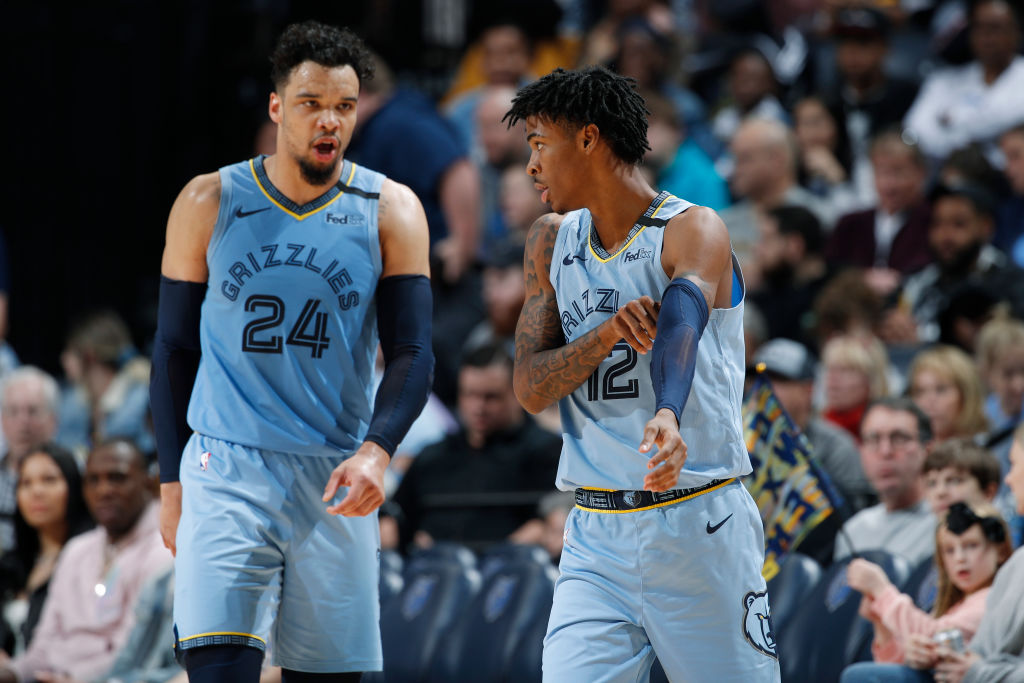 1 Reason Why Some Memphis Grizzlies' Players Can't Wait for the NBA Trade Deadline
Normally, NBA locker rooms are a tight-knit fraternity. Some Memphis Grizzlies players, however, are hoping someone leaves town before the trade deadline.
While professional sports may be a big business, there's still a human element at play. Despite their freakish abilities, athletes are still people; losing a teammate in a trade or free-agent deal is never easy. Things in Memphis are a bit different, though. Some Grizzlies players can't wait to see Andre Iguodala get moved at the trade deadline.
The veteran hasn't suited up for the Grizzlies, and his teammates aren't happy about it. For guys like Dillon Brooks and Ja Morant, the trade deadline can't come quickly enough.
Andre Iguodala's road to the Memphis Grizzlies
During high school, Andre Iguodala excelled as a high-jumper and basketball player. When the time came to pick a sport, though, he remained on the hardwood.
Iguodala initially committed to play his college ball at the University of Arkansas but had a change of heart after the Razorbacks fired their head coach. He headed to the University of Arizona instead, where he played two seasons with the Wildcats. The young forward proved to be an all-around threat, earning him plenty of NBA attention.
The Philadelphia 76ers selected Iguodala with the ninth pick of the 2004 NBA draft. He would spend the next eight seasons in the City of Brotherly Love. Once Allen Iverson left town, the forward would establish himself as the 76ers star player; while Iguodala was going to drop 40 points every night, he was capable of doing just about everything well.
After one season with the Denver Nuggets, Iguodala signed a contract with the Golden State Warriors in 2013. While the club fell at the first postseason hurdle that year, things were changing in the Bay Area. Iguodala would win three titles with the Warriors, taking home 2014-15 the NBA Finals MVP Award. In July 2019, though, his time with Golden State came to an end, as he was shipped east to the Memphis Grizzlies.
Andre Iguodala isn't popular with the Memphis Grizzlies
In July, Andre Iguodala joined the Memphis Grizzlies. That move, however, took place on paper only; despite being under contract, the veteran forward hasn't suited up for his new team.
Before the 2019 campaign began, Iguodala worked out a deal with the Grizzlies. Since the player didn't want to be in Memphis and the team wanted to trade him, they would keep their distance. The forward never reported to the team but was allowed to keep working out on his own. With the trade deadline approaching, both sides are still playing chicken; if no deal materializes, Iguodala is reportedly prepared to sit out the rest of the season.
That situation, however, has rubbed some of the Grizzlies players the wrong way. "A guy that's on our team doesn't want to be on our team," Dillon Brooks said when he was asked about the possibility of Iguodala leaving town. "I can't wait until we find a way to trade him so we can play him, and I can show him what really Memphis is about."
On social media, Ja Morant and guard De'Anthony Melton retweeted Brooks' statement; Steph Curry then came to Iguodala's defense, with Morant responding in turn. While the front office is still trying to make a deal, Iguodala is already a persona non grata in the Grizzlies locker room.
The business side of basketball can get pretty ugly
While the Memphis Grizzlies-Andre Iguodala situation might be getting ugly, that's the reality of business. Everyone involved is holding out for what they want; consequently, both sides probably feel the other is being a bit unreasonable.
At this point, the ball seems to be in the Grizzlies court. Iguodala wants to be traded, but can't really do anything else to force the club's hand; since he hasn't suited up for the club, his holdout is an empty threat.
Logic would dictate that the Grizzlies want to move Iguodala—there's no benefit to keeping a player on the books if he literally won't play—but they don't have to take a bad deal. While it's better to receive a little compensation instead of nothing, this snafu will be over sooner rather than later. Iguodala will be a free agent in the summer, meaning Memphis can simply sit on their hands and let his contract expire.
No matter what happens, though, Andre Iguodala and the Memphis front office won't remember this season too fondly. The Grizzlies players, however, won't forget what happened; they'll be looking forward to showing the veteran what they can do without him.