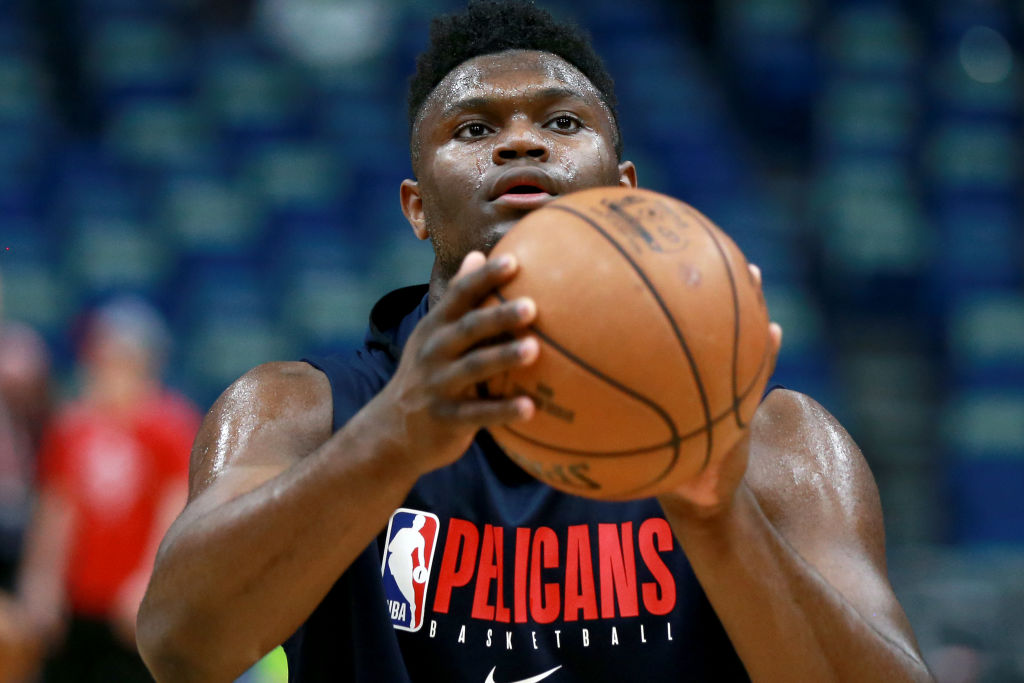 1 Reason Why You Shouldn't Get Too Excited About Zion Williamson's Return
Zion Williamson is getting close to a full return to NBA action with the New Orleans Pelicans. Don't get too excited just yet, though.
Nothing excites a sports fan like the chance to see a generational talent. While New Orleans Pelicans forward Zion Williamson was supposed to be one of those stars, there's a catch: the big man is yet to play an NBA game. Zion is on his way back from knee surgery, though, and his return to competitive action seems to be only a few days away.
While it will be awesome to see Zion Williamson suiting up for NBA action, it's important to keep things in perspective. There's one reason why we shouldn't get too excited about the forward's return.
Zion Williamson is getting close to a return
During his time at Duke, Zion Williamson proved that he was capable of doing just about anything on the basketball court. His time on the court as a professional, though, has been severely limited.
Williamson made a splash in his Las Vegas Summer League debut, but only played nine minutes after knocking knees with a defender; after that game, the Pelicans announced he would sit out for the rest of the summer. The preseason followed a similar pattern. Zion looked dominant, then was held out of action with knee soreness; a few days later, he had surgery.
The forward was expected to be back in action six to eight weeks later, but that timeframe came and went without any apparent progress. Slowly but surely, though, Zion has worked his way back to fitness; as far as anyone can tell, the young star is close to his full NBA debut.
Williamson has been spotted dunking before games, and the Pelicans star is rumored to be returning to action on Thursday night. Head coach Alvin Gentry, however, provided a crucial reminder to keep things in perspective.
Alvin Gentry's reality check
While Zion Williamson didn't suit up against the New York Knicks, he still managed to perform at Madison Square Garden. Prior to the game, the young forward took the court for a workout; the session ended with a between-the-legs dunk.
Although the signs were definitely still encouraging—the Pelicans wouldn't be letting their star player dunk, let alone dunk in public if he was hurt—we shouldn't put the cart before the horse. Alvin Gentry reminded everyone of that reality.
He's making progress," the Pelicans coach said. "He's practicing. He's playing 5-on-5. We're trying to gauge exactly when it would be a good situation to put him out there."
Fans also shouldn't expect to see too much of Zion when he does return to action; after nearly three months on the sidelines, the forward needs to work his way up to full speed. "Even when we do [put him out there], it'll be very limited minutes to start," Gentry explained.
It's OK to be excited about Zion Williamson, but we also have to be realistic
Seeing a generational talent, especially after months of anticipation, is always exciting. While that's part of what makes sports great, we also have to be realistic about Zion Williamson's return.
Throughout his entire rehabilitation process, the Pelicans have rightfully handled their star player with kid gloves; his health and the overall health of the franchise are simply more important than any wins and losses this season. Zion might be close to 100%, but it's unrealistic to expect the Pelicans to throw caution to the wind at this point.
As Gentry said, we can expect Williamson to gradually work his way into NBA action; it's a big leap to go from practice to playing 40 minutes a night. The last thing the organization will want to do is to throw Zion into the deep end, where he feels like he has to push himself too far immediately.
Every NBA fan will undoubtedly be excited to see Zion Williamson taking part in competitive games. Just don't let that excitement turn to disappointment when his debut is shorter than you expected.