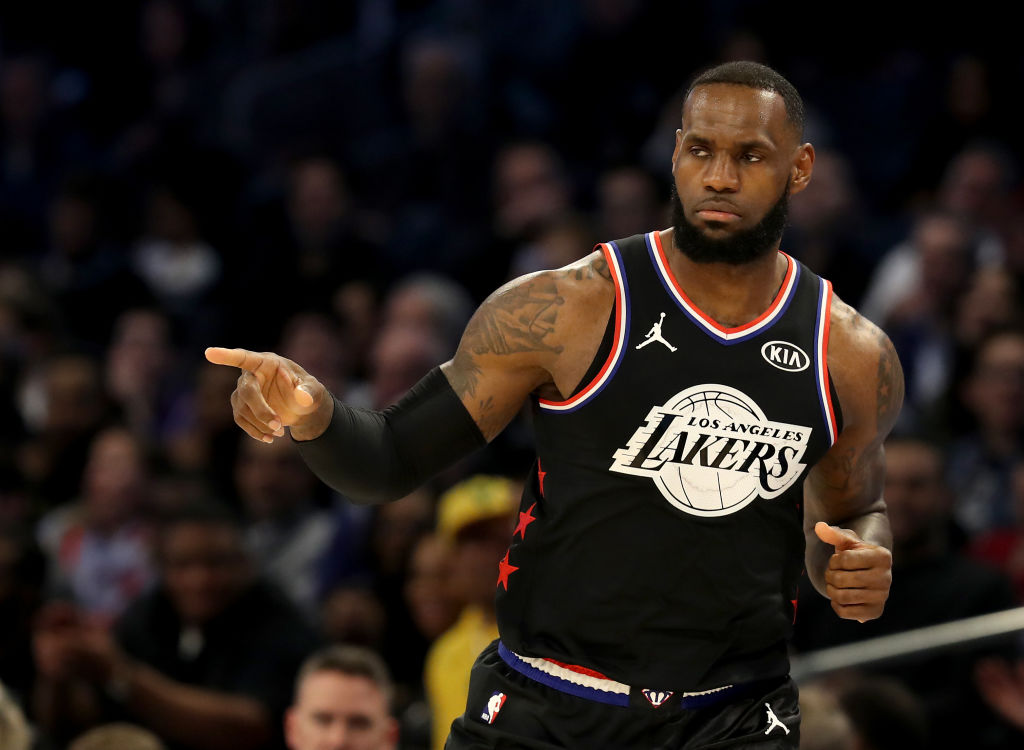 10 Athletes Have Earned LeBron James' Highest Praise
LeBron James has added Boston Celtics forward Jayson Tatum to a short list of players he thinks deserve a special level of recognition.
LeBron James has long played basketball at an undisputedly high level, leading to a distinction that few in the sports or entertainment fields enjoy – namely that he is recognizable by a single name: LeBron. He also has long been tagged with the equally recognizable nickname of King James.
To date, the NBA superstar has bestowed the name LeBron upon only one person, his son widely known as Bronny James. However, he's been more willing to recognize fellow athletes by crowning them Young King to play off his nickname.
Welcome to the Young King club, Jayson Tatum
Rising Boston Celtics star Jayson Tatum is rapidly emerging as a top NBA player and may have moved into a new level of recognition in the minds of basketball fans when he poured in 41 points on just 20 field-goal attempts over the weekend during a 114-112 loss to LeBron James and the Los Angeles Lakers.
Tatum, the No. 3 pick in the 2017 NBA draft after a one-and-done season at Duke University, was so impressive that James posted on Instagram (in all uppercase letters, no less) that Tatum was an "absolute problem." And then James took it up a notch by anointing Tatum the latest Young King in a hashtag.
Intrigued by the praise, USA Today took the initiative to look back through social media and discovered nine others who've earned the Young King moniker from the reigning king.
Understandably, James has found some other NBA players worthy of his highest praise. Ben Simmons of the Philadelphia 76ers was an understandable selection given his bursts of top-notch play in the world's top basketball league.
Ditto for Utah Jazz star Donovan Mitchell, who has been the leading NBA scorer in the entire 2017 rookie class since being selected 10 spots behind Tatum, the second-highest scorer on that list.
The third NBA player making the cut in James' mind qualifies as a head-scratcher by comparison. James dropped the Young King tag on Lonzo Bell in 2018 while the two were teammates with the Lakers.
Ball's development has been slowed by injuries and a lack of shooting touch. He's in his first season with the New Orleans Pelicans and still struggling. But being out of the media spotlight may give him the room to develop and find his place among top guards down the road.
LeBron James branches out to recognize stars of another sport
LeBron James' love of football is apparent by the fact that he's found as many Young King candidates there as in pro basketball.
NFL stars Saquon Barkley of the New York Giants and Odell Beckham Jr. of the Cleveland Browns are easily recognizable by even casual football observers. Only slightly behind those two is D.K. Metcalf, who just completed a 58-catch rookie regular season with seven touchdowns for the Seattle Seahawks.
James saw what a lot of college football fans and NFL scouts saw last season from Chase Young. The Ohio State defensive end made 48 tackles and put up 16.5 sacks in his junior season, prompting a November 2019 message from the basketball star imploring him to "keep going Young King."
Keeping it in the family
The other two Young King references were personal ones that shouldn't surprise.
LeBron James threw one out to his son Bronny, who is playing high school basketball at a high level under the media glare that comes with being the son of a basketball legend.
Father told son, "Cmon Bronny chill out!! For real chill chill," alongside an Instagram video post  that has been viewed more than 9.5 million times. He concluded the message with, "The hell with what I'm talking about, keep going!! Lol. Young King."
The final Young King mention unearthed was one that James handed himself. He dug into his photo library to find an image from his high school days to congratulate himself ahead of scoring his 30,000th NBA point.