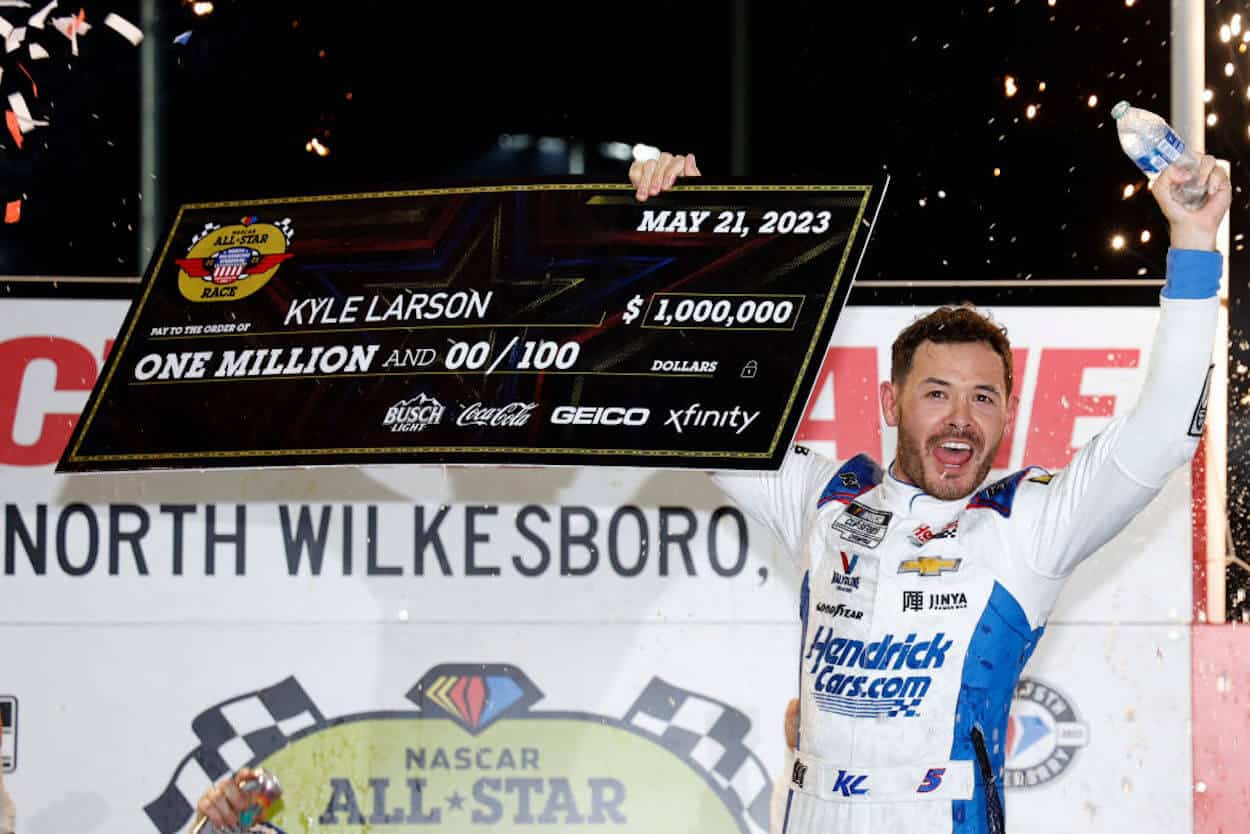 3 Cup Series Drivers Who Are Hot and 3 Who Are Not: Coke 600 Race Week Edition
With the NASCAR All-Star Race behind us, which Cup Series are ready to return to competitive racing?
With last Sunday's highly anticipated NASCAR All-Star Race at North Wilkesboro fading into the rearview mirror, it's back to business this weekend for the NASCAR Cup Series as drivers and teams roar into Charlotte Motor Speedway for the Coca-Cola 600 — the longest race and one of the most prestigious races on the Cup schedule.
Let's look at who's hot and who's not exactly halfway through the Cup Series' 26-race regular season and before the green flag waves at Charlotte — the 1.5-mile track located about an hour-and-a-half from North Wilkesboro and in the backdoor of where most teams are headquartered.
Hot: Kyle Larson
The beat goes on for Kyle Larson, who beat the field like a drum in last weekend's All-Star Race — an event he dominated and ran away with once he was able to get his No. 5 Hendrick Motorsports Chevrolet out front.
Of course, leading bunches of laps and being equipped with the best car in the field was nothing new for Larson; it's happened on multiple occasions this season, although several have ended in disappointment due to circumstances not of his own making.
Even though Larson actually trails teammate William Byron in points-paying wins this season (Byron has three, to Larson's two), Larson has been wicked-fast virtually every race and could easily already have five or six wins if he hadn't been snake-bitten numerous times by rotten luck.
Hot: Bubba Wallace
These are good times for Bubba Wallace, the oft-criticized and frequently outspoken driver of the No. 23 Toyota for the 23XI Racing organization led by co-owners Michael Jordan and Denny Hamlin.
After finishing better than 14th just once over the season's first seven weeks, Wallace slowly started to turn the corner, and his rise continues as the Cup Series prepares to compete at Charlotte.
Wallace, the Cup Series' only African American driver, finished second in last Sunday's All-Star Race on the heels of a fifth-place result at Darlington that followed a fourth-place showing at Kansas. In the four weeks prior, he came home worse than 12th just once — at Talladega, where he spun while leading the race on the final lap.
So, Wallace is in the midst of arguably the hottest stretch of his Cup Series career, and he's showing no signs of a letdown anytime soon.
Hot: Chase Elliott
Chase Elliott has been behind the proverbial eight ball almost the entire season, thanks to the six races he had to miss while nursing a fractured tibia suffered in a snowboarding accident heading into Week Three of the 2023 Cup Series campaign.
But in the five points races since Elliott returned to competition at Martinsville on April 16, the Hendrick Motorsports driver has finished no worse than 12th while recording three top-10s that include a third-place finish in the most recent points race — the one held at Darlington on May 14.
Elliott, NASCAR's most popular driver, then followed that up with a solid fifth-place result in this past weekend's non-points-paying All-Star Race at North Wilkesboro.
Despite likely still needing to get a win at some point over the final 13 weeks of the regular season to become playoff-eligible, Elliott is clearly trending in the right direction.
Not: Joey Logano
It's been a rough stretch for Joey Logano, who's seeming less and less likely to become the first driver since Jimmie Johnson's run of five consecutive titles (2006-2010) to repeat as Cup Series champion.
Since locking himself into the playoffs with an early-season victory at Atlanta, Logano has been all over the map in terms of outcomes, and the last few weeks have been particularly brutal. In fact, Logano hasn't earned a top-five finish since taking the checkered flag in second at Martinsville on April 16.
Logano rolls into Charlotte having finished 18th, sixth, 31st, and 30th, respectively, in the last four points races, followed by an uninspiring 10th-place showing in last weekend's All-Star Race at North Wilkesboro.
Not: Christopher Bell
Although Christopher Bell owns a Cup Series-high eight top-10 finishes, none of those has come in the last two points races — races in which he's placed 36th and 14th, respectively. Bell, likewise, wasn't all that impressive in the All-Star Race, coming home 12th among the 24 drivers entered in the main event.
While Bell is still having a very good season by any reasonable standards, it's fair to say that the Joe Gibbs Racing driver is in what one might call a mini-slump heading into the Coca-Cola 600 race weekend.
Not: Alex Bowman
Perhaps it seems a little odd to classify Alex Bowman as "Not" since he's missed the last three races dealing with a fractured vertebra, but the Hendrick Motorsports driver had been on a downward spiral performance-wise well before that.
Bowman, who suffered the compression fracture on April 25 while competing in a sprint car at 34 Raceway in West Burlington, Iowa, has been medically cleared to return to Cup Series competition this weekend at Charlotte but has a lot of catching up to do.
Not only has Bowman been out of his No. 48 Chevrolet for three weeks, but he's fallen all the way to 17th in the standings after being seventh following the April 2 race at Richmond. In the three races that came next — the three most recent races he's entered — Bowman finished 29th, 11th, and 13th, respectively.
Although the last two of those three results weren't exactly terrible, they still weren't on par with how he ran over the season's first seven weeks — when he finished outside the top 10 just once and posted three top-fives.