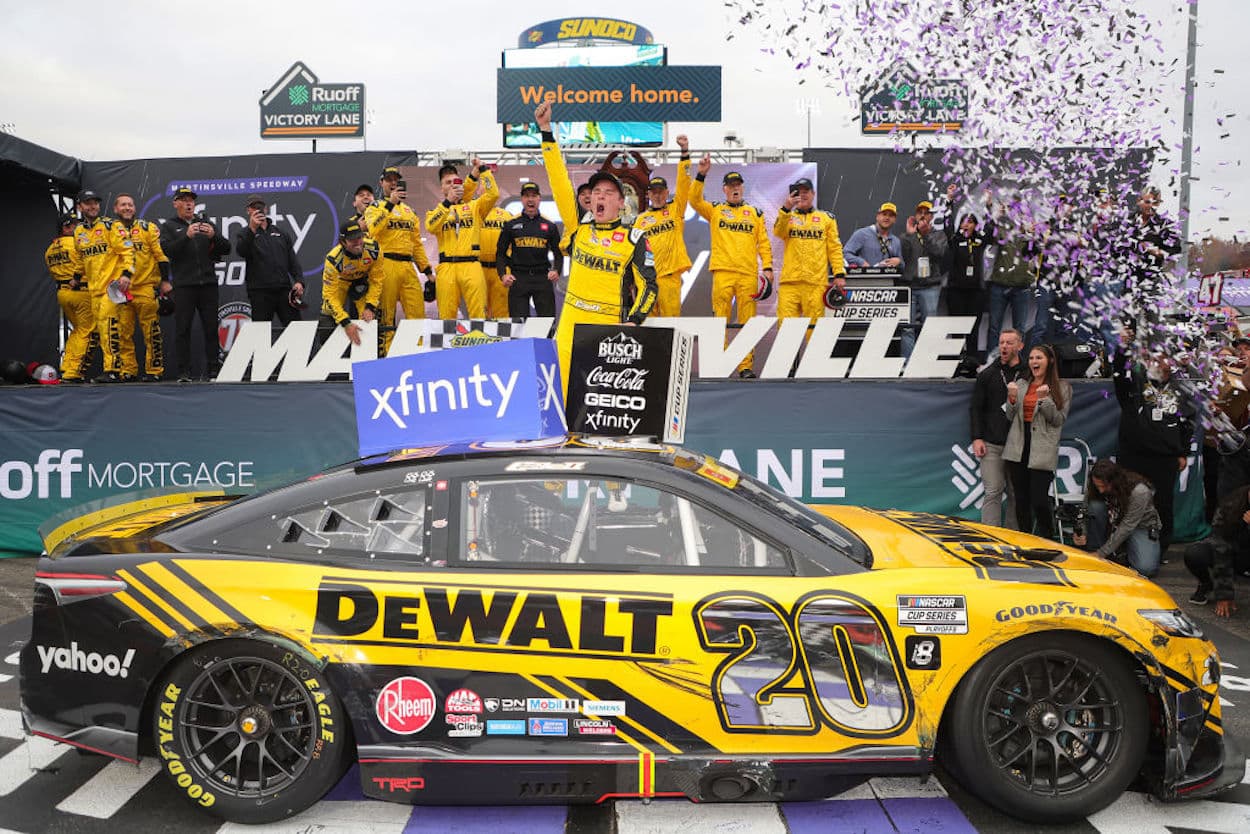 3 Reasons Why Christopher Bell Will Win the Cup Series Championship — And 1 Reason He Won't
Christopher Bell has stepped up in must-win situations before. Can he do it again and seal the deal on a Cup Series championship?
For many years, Kevin Harvick rightfully carried the nickname "The Closer." Not anymore. No, these days, NASCAR's true closer is 27-year-old emerging superstar Christopher Bell, who not once but twice in these Cup Series playoffs has prevailed in a must-win situation to punch his ticket to the next round.
Now, with the biggest race of his life looming, Bell is staring down the possibility of accomplishing something that, up until recently, most pundits would've proclaimed was highly unlikely if not next-to-impossible.
Bell is racing for a championship on Sunday at Phoenix Raceway against Joey Logano, Chase Elliott, and Ross Chastain. Will he rise to the occasion once again, or will he finally crack under the pressure?
Let's take a look at three reasons why Bell will capture the title this weekend in the Valley of the Sun, and we'll conclude with one reason he'll be hard-pressed to get the job done.
Christopher Bell is riding a wave and has proven himself hard to beat in the clutch
If momentum matters, Christopher Bell is in absolutely great shape heading to Phoenix — where his only job is to finish better than the other three championship contenders. 
A winner of two of the past four races — the Round of 12 elimination race on the Charlotte ROVAL and the Round of 8 elimination race at Martinsville last weekend — Bell has a nice wind at his back as he prepares to compete in Sunday's season-ending race at Phoenix.
He's the only driver who's scored multiple wins in the playoffs, and all three of his victories this season have come since mid-June when he earned a playoff-clinching triumph at New Hampshire and went to Victory Lane for just the second time since joining NASCAR's premier series in 2020.
This weekend, Bell will have the full weight of Joe Gibbs Racing behind him as he's the only driver from the powerful four-car stable to reach the Championship 4. Between this support, his newfound proclivity for coming up big in clutch situations, and the simple fact that he's been one of the fastest drivers in the second half of the season, Bell is well-positioned to bring home a championship at Phoenix.
"I think I'm in the best position to win the championship, because our cars have been extremely fast week in and week out," Bell, driver of the No. 20 Toyota, said at Championship 4 Media Day on Thursday in Phoenix. "I feel like I've got the best team out of the four. I definitely like our chances."
Christopher Bell has one of NASCAR's most accomplished crew chiefs
Largely overlooked but not lost on Christopher Bell or anyone who closely follows the NASCAR Cup Series is the secret weapon, of sorts, that stays perched atop the No. 20 team's war wagon on race days. No, Bell doesn't have any ammo on his pit box, but he does have crew chief Adam Stevens, who led Kyle Busch to the championship at JGR in both 2015 and 2019.
In fact, Stevens is the only active Cup Series crew chief with multiple titles to his credit. To say Stevens is prepared for the pressure cooker otherwise known as the Championship 4 race would be an understatement.
"I know what to expect out of these weekends," Stevens said in a postrace press conference following Bell's win on Sunday at Martinsville. "We had a streak there [with Busch] where we went to quite a few [Championship 4 races] in a row. We finished in every possible spot you can finish in a four-car battle. It happened to be first a couple times.
"It's going to be who can bring the best car and do the best job. But I think we showed what this team's capable of at Martinsville. I feel really good about the spot we're in. I feel really good about the progress we've made this year as a team, with our setups and our package, what we're trying to accomplish."
Bell, for his part, is just thankful to have a crew chief of Stevens' caliber and experience in his corner.
"Yeah, Adam, he's a genius," Bell said at Championship 4 Media Day. "He's the reason why we're here, for sure. I believe that we have the best team, and that stems from Adam."
Christopher Bell isn't putting undue stress on himself
While the other three championship contenders are undoubtedly feeling some degree of pressure to deliver this weekend at Phoenix, Christopher Bell hasn't fallen into that boat. At least for now.

The first reason is because, in his mind, he always tends to fly under the radar, so he expects this weekend to be no exception.
"Nobody really realizes I drive race cars for a living, I think, for the most part," Bell said at Championship 4 Media Day. "I embrace that role. I guess I don't do anything else to advocate myself, or something like that."
While Bell likely underestimates his popularity and recognizability, doing so helps him keep his expectations in check. So as much as he certainly wants to win the championship on Sunday, he's admittedly already met a major personal objective just by making it this far in the playoffs.
"I've always said in my full-time NASCAR career that the goal is to make the Final 4," he said at Championship 4 Media Day. "Whenever you get to the Final 4, it's a tossup. … The goal is to make the Final 4, then whatever happens, happens."
The butterflies are almost inevitable for Christopher Bell on Sunday
Despite claiming to be at ease with being in the Championship 4 spotlight this weekend at Phoenix, Christopher Bell can't truly speak authoritatively about a scenario he's never experienced.
Sure, he might not be feeling the heat right this moment, but what about when the engines fire on Sunday at Phoenix, and he has an opportunity to become one of the youngest champions in the history of the sport?
Will the butterflies show up in his stomach then? Maybe not. But you have to figure that at some point this weekend, Bell is going to realize the gravity of the situation he's in. Even if it's after he's strapped in his race car on Sunday.
No championship race in NASCAR comes and goes without the four title contenders feeling enormous pressure to bring it home for their fans, their sponsors, and their team. Bell has far less experience in this type of high-stakes environment than two of the drivers he'll be going up against on Sunday — former champions Joey Logano and Chase Elliott. And the other Championship 4 driver, Ross Chastain, has already proven to be unflappable on the biggest stage, especially after his incredible last-lap move at Martinsville.
Will Bell deliver yet another clutch performance, or will his relative youth and inexperience show? Stay tuned.
Have thoughts on this topic? Keep the conversation rolling in our comments section below.