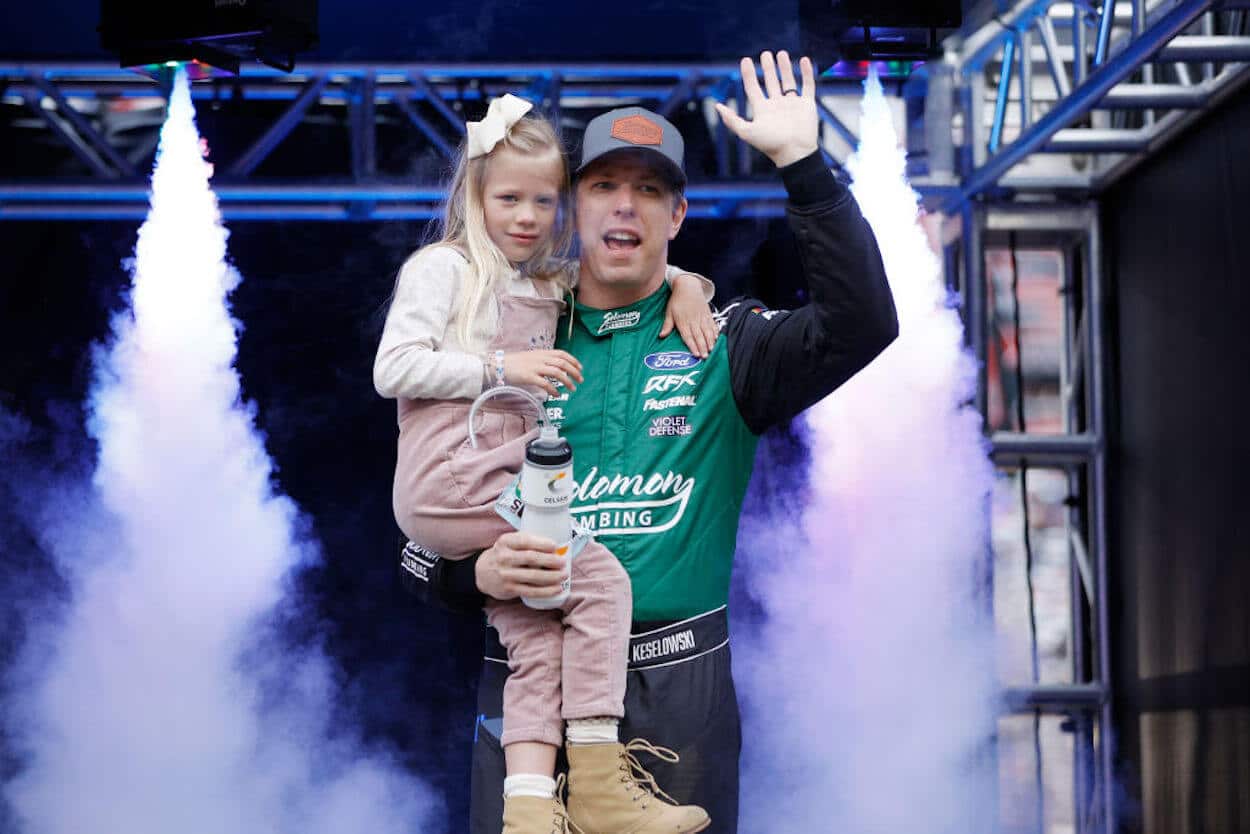 5 Cup Series Drivers Who Desperately Needed a Weekend Off
Getting a some time off is a treat for anyone. NASCAR driver are no exception to that universal rule.
For the first time since the 2023 Cup Series season commenced in February, the drivers and teams of NASCAR's premier division actually have a weekend off.
Can you believe it?
After 16 consecutive weekends of racing, it's finally break time for the weekend warriors who commit their lives to this sport formally known as the National Association of Stock Car Auto Racing (in case you ever wondered what NASCAR stood for).
While there's unquestionably not a driver in the Cup Series garage — other than perhaps Chase Elliott — who'd rather be racing this weekend, at least five drivers have to be especially thankful for the pause in the action.
Who are those drivers? Let's discuss.
Denny Hamlin
If any NASCAR Cup Series driver says they're busier these days than Denny Hamlin, they're almost certainly lying.
In addition to his full-time job as driver of the No. 11 Toyota for Joe Gibbs Racing, Hamlin is co-owner of 23XI Racing — the two-car organization that fields the Toyotas of Bubba Wallace and Tyler Reddick.
Virtually any "free time" Hamlin might have away from his duties with JGR is spent overseeing the operations of 23XI, the company he co-founded with NBA legend Michael Jordan ahead of the 2021 season.
So, Hamlin is in all likelihood doubly thankful to have the opportunity to catch his breath this weekend and spend some time with his two young daughters on Father's Day.

Brad Keselowski
The only driver anywhere near as busy as Denny Hamlin is Brad Keselowski, who along with his role as driver of the No. 6 Roush Fenway Keselowski Racing Ford is a co-owner of RFK Racing, which also fields the full-time No. 17 entry of Chris Buescher.
The one advantage Keselowski has over fellow team owner/driver Hamlin is that all of his responsibilities are carried out under one roof — the RFK Racing team shop in Concord, North Carolina.
But Keselowski is a busy man, nevertheless, especially when you consider that he's likely preparing to take on an even bigger piece of the ownership pie when the team's 81-year-old founder, NASCAR Hall of Famer Jack Roush, finally steps away from the sport.
Like Hamlin, Keselowski is due for some weekend time at home or on vacation with his two young daughters.
Chase Briscoe
It's been a really rough past couple of months for Chase Briscoe, who endured his first significant setback in early April when he suffered a broken middle finger in a dirt Late Model race. Although the injury required surgery, Briscoe raced on and never missed an event despite having multiple pins placed in the fractured appendage.
It is probably no coincidence that Briscoe — who was expecting to undergo several weeks of physical therapy post-surgery — has struggled big time since his injury. It could be due, at least in part, to the possibility that Briscoe's finger hasn't fully healed.
But finally, this weekend, the Stewart-Haas Racing driver will get a chance to rest the finger that he admitted was in a great deal of pain at Talladega — the first race after his surgery.
Alex Bowman
Speaking of drivers who've been injured in 2023 during their involvement in extracurricular racing activities, Alex Bowman was the second and latest casualty, having suffered a compression fracture of his vertebrae on April 25 while competing in a sprint car at 34 Raceway in West Burlington, Iowa.
Despite the fairly serious nature of the injury, Bowman missed just three races and has competed each of the past three weekends. His finishes since returning to the No. 48 Hendrick Motorsports Chevrolet haven't been on par with his performance from earlier in the year pre-injury, which suggests he might've come back too soon.
Either way, Bowman is undoubtedly thankful for the time off this weekend so he can continue to heal.
Noah Gragson
The third and most recent NASCAR Cup Series driver to miss time with an injury in 2023 is rookie Noah Gragson, who began dealing with concussion-like symptoms a few days after crashing out of the race at Gateway on June 4.
Out of an abundance of caution, Gragson sat out this past weekend's event on the Sonoma Raceway road course, and he's not yet been medically cleared to return to competition.
Maybe that'll happen before next weekend's race in Nashville, but you can rest assured that Gragson isn't shedding any tears over the Cup Series being idle this Sunday since it's one fewer race he'll have to miss.