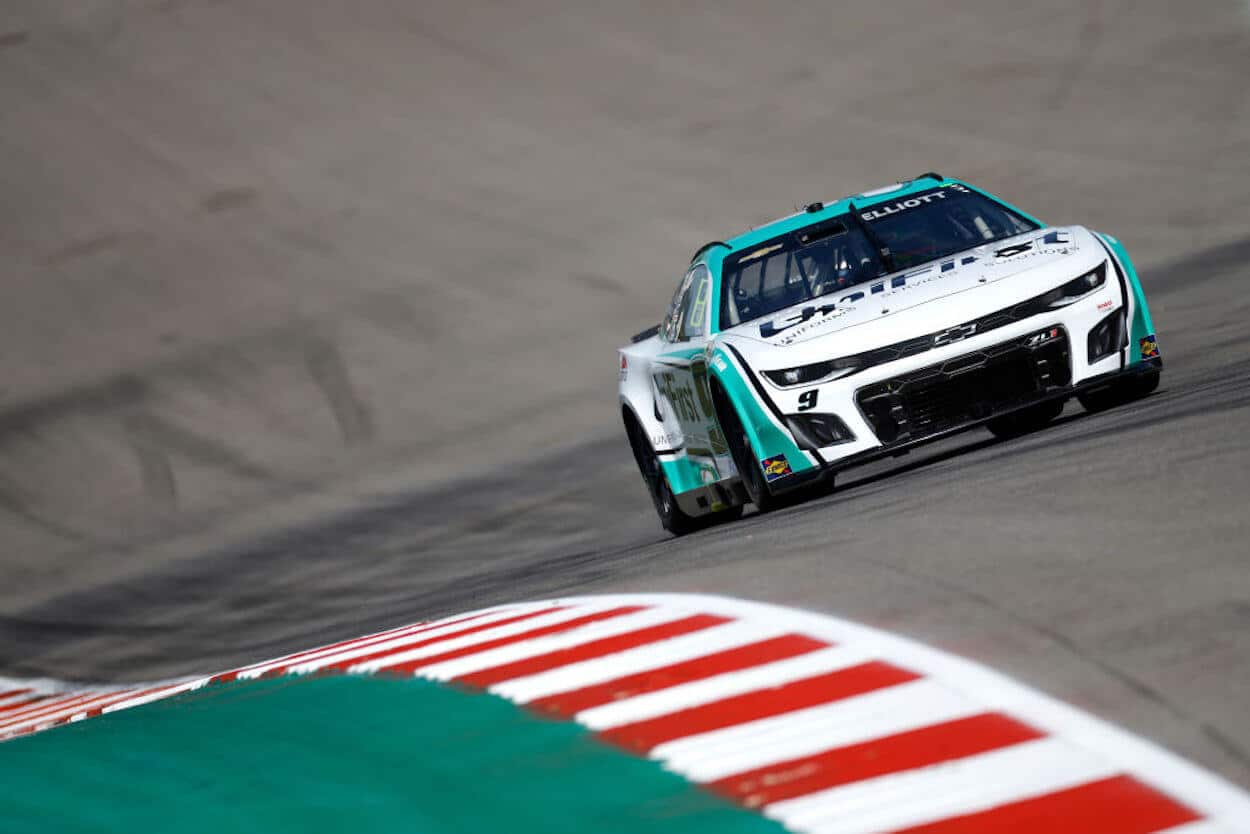 5 Drivers Fit to Be King of the Road at Circuit of The Americas
After starting off the NASCAR season with five weeks of oval tracks, things will be a bit different at COTA. Who will claim the checkered flag?
After five weeks of oval-track races to kick off the 2023 NASCAR Cup Series season, it's time to hit the road.
Without wasting any time, let's take a look at the five drivers with the best opportunity to win today's EchoPark Automotive Grand Prix at Circuit of The Americas, aka COTA — a 3.4-mile, 20-turn road course in Austin, Texas, where NASCAR's premier division is competing for just the third time. 
5. Jordan Taylor
When Hendrick Motorsports executives tabbed Jordan Taylor to be the substitute driver for injured Chase Elliott at COTA, rest assured they weren't just picking someone they thought could merely keep Elliott's seat warm.
A current competitor in the IMSA WeatherTech SportsCar Championship that competes exclusively on road courses, Taylor is a 31-time IMSA Class winner and a four-time IMSA champion.
The 31-year-old Florida native is also a 24 Hours of Le Mans winner, a two-time overall winner of the 24 Hours of Daytona, and an overall winner of the 12 Hours of Sebring. Taylor's victory in the 2017 edition of the 24 Hours of Daytona came with Jeff Gordon as a teammate, so it's no surprise that Gordon — a four-time Cup Series champion who is now Hendrick Motorsports' vice chairman — was the one who personally called Taylor and offered him the opportunity to drive Elliott's No. 9 Chevrolet at COTA.
"The call came from Jeff himself," Taylor said during his COTA media availability. "It was surreal and honestly felt surreal until getting to the track here and getting into the car in practice. I was shaking the whole time until we actually got to driving. It's definitely an intense experience. Obviously, it's all rushed and last minute, but the guys have done an amazing job prepping me and getting me as prepared as possible. Getting speed out of the car and myself is one thing. I think the race tomorrow will be a whole different animal."
After qualifying fourth, Taylor appears to have a legitimate shot at winning — despite his dearth of experience in stock cars. After all, Elliott won the inaugural Cup Series race at COTA two years ago, so Taylor is definitely with a team that can get the job done.
"I think Jordan is really strong," Hendrick driver and pole-sitter William Byron said during his post-qualifying media availability. "The thing that's impressed me about him is his adaptation to the lateral capability of this car. 
"His braking is phenomenal. He's got excellent characteristics under braking and downshifting. I think he's a right-foot braker, which is crazy in the modern era of NASCAR. It's impressive what he's doing."
4. Tyler Reddick
A winner at Road America and the Indianapolis Motor Speedway road course in 2022 as part of Richard Childress Racing, Tyler Reddick was the only driver to earn multiple road course victories last year.
He's also the only driver who's been to Victory Lane multiple times on a road course in the Next Generation Cup Series car, which debuted last season. So, it was no surprise to anyone when Reddick — who moved from RCR to 23XI Racing for this season — paced Friday's opening practice at COTA in his No. 45 Toyota.
"Our car was really, really strong," Reddick, who finished fifth at COTA a year ago, told reporters after the first practice. "We came here and had the tire test in January and knew we had some promise from where our car was, but we definitely wanted to be better. So, everyone was just really inspired and worked really hard on our Monster Energy Toyota Camry TRD to make some gains. … Just a great group effort by everybody putting our minds together, and it really showed. Great to know our car has that much pace potential in it."
Reddick rolls off from the second position today and will look to make it three top-fives in a row after starting out the season with a pair of finishes outside the top 30.
3. William Byron
The only two-time winner of the 2023 NASCAR Cup Series season, William Byron aims to continue his red-hot start today when he'll lead the field to the green flag at COTA.
The Hendrick Motorsports driver recorded a qualifying lap of 130.76 seconds (93.882 miles per hour) to capture his ninth career pole, and he's now qualified P1 on four different road courses in NASCAR's premier series — a feat no one else has ever accomplished.
"Qualifying (on road courses) has always been pretty good for me," Byron said during his post-qualifying media availability at COTA. "I'm typically able to just kind of get on the wheel for that lap and make the most of it. I think it's just doing that for three hours and managing the tires, managing the brakes, the ebb and flow that it takes."
Unlike most of the drivers in the field, Byron will be able to go for broke today since he's already punched a ticket into the playoffs and doesn't have to worry about collecting points.
"Typically, we've had to race for stage points and cycle ourselves back," he said. "I think that's something this year that will be different. I've always kind of been racing for points, so this year, hopefully, we can stay up front the whole time."
2. Ross Chastain
One of the greatest moments from Ross Chastain's surprisingly remarkable 2022 season came at COTA, where he scored his first career NASCAR Cup Series victory by getting the upper hand in a late-race, three-way battle for the win with AJ Allmendinger and Alex Bowman.
Chastain, who led 27 of the 46 laps in his No. 1 Trackhouse Racing Chevrolet owned by former driver Justin Marks, sent Allmendinger spinning into Bowman on the final lap of overtime and cruised from there to a 1.331-second triumph.

Little did anyone know at the time, of course, that Chastain would go on to pick up a second victory — at Talladega, just a few weeks later — and finish an incredible second in the Cup Series standings, missing out on the title by just two positions on the race track in the season's final event.
But COTA was the first place where he flashed his true potential — and it's a place he can certainly win at again today. 
"Last year's win was huge for so many people and so many different reasons," Chastain said in a pre-race news release this week from Team Chevy PR. "It was my first win, it was Justin's first win as a team owner, it was my crew chief's first win in his position, my spotter's first win, and some of the crew guys, it was their first win. These people all put so much effort into making the car go fast, and I have to execute to the car's fullest extent, and when that happens and we win, there's no greater feeling."
1. AJ Allmendinger
A former competitor in multiple open-wheel series, including INDYCAR, AJ Allmendinger has logged far more laps on road courses than most of his fellow full-time Cup Series competitors.
It's no surprise, then, that both of his two career Cup wins have come on road courses — Watkins Glen and Indianapolis. Nor is it a surprise that he won yesterday's NASCAR Xfinity Series race at COTA, going to Victory Lane in this event for the second year in a row.
Today, he's well-positioned to complete the weekend sweep in his No. 16 Kaulig Racing Chevrolet, which will take the green flag from the seventh spot.
"Last year we had a really good shot to win the race," Allmendinger, who was taken out by Ross Chastain on the final lap, said in a pre-race news release from Team Chevy PR. "It's a completely different year with a completely different rules package. You have to qualify well and try to run up front, because there isn't much you can do strategy-wise.
"We know this is a weekend we can run up front, score good points and hopefully give ourselves the chance to win, which is the ultimate goal."