5 Key Moments in William Byron's Career as He Kicks off 2023 With a Big Start
Consecutive victories at Las Vegas and Phoenix in the first month of the 2023 season mean William Byron has won four of his last 36 starts in the NASCAR Cup Series.
It's a big recovery from 34th place in the Daytona 500, courtesy of a wreck in overtime, and 25th place at Auto Club Speedway. It may also be indicative that he's becoming a closer after just two of the first 22 top-five finishes in his career resulted in victories.
Now 25, the Charlotte, North Carolina, native could be setting up for one of the most successful careers ever by a driver born in the heart of NASCAR Country. Here are five key moments in his rapid ascension:
William Byron started wracking up NASCAR K&N Pro Series wins at 17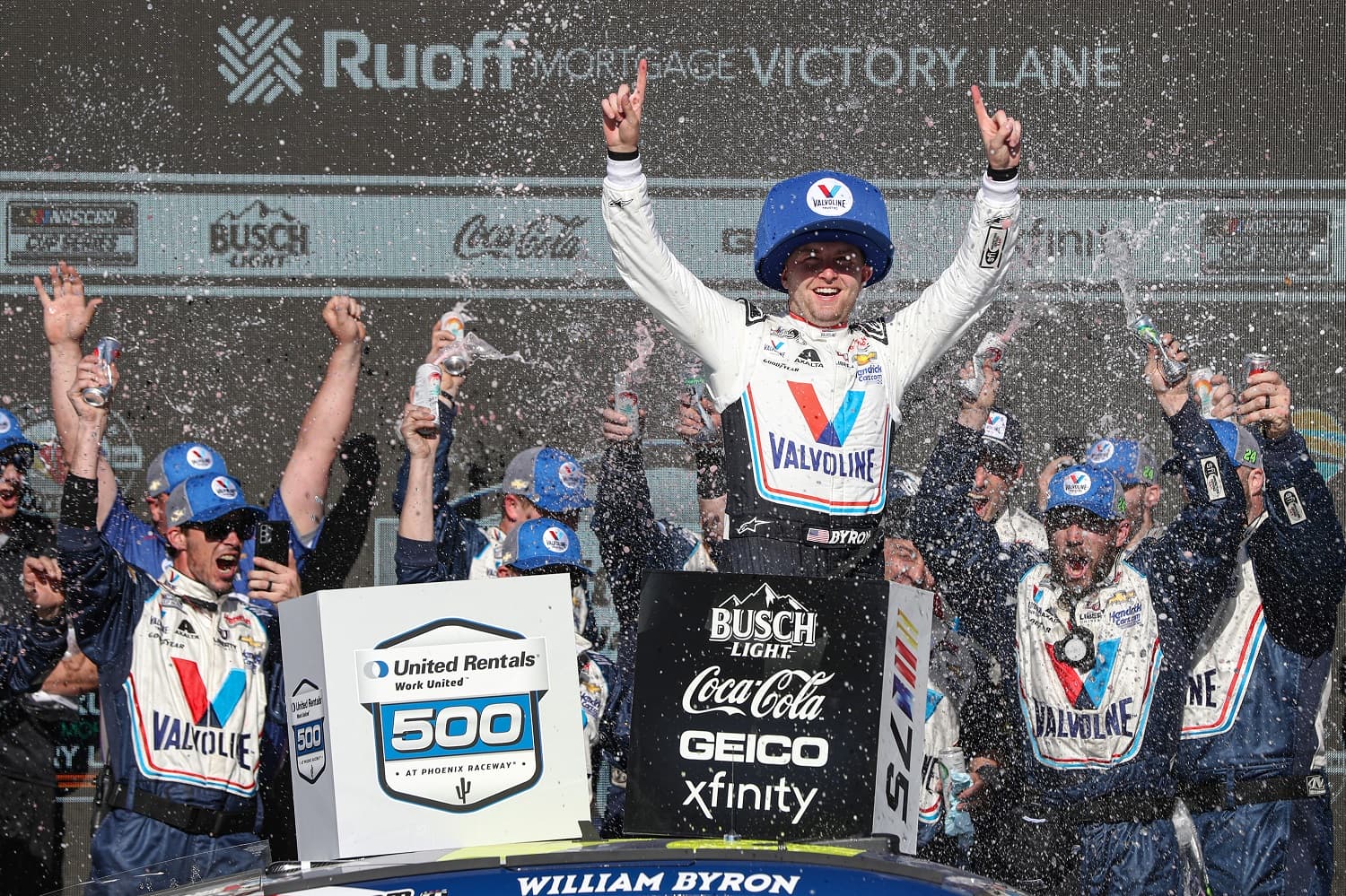 Though he was an accomplished iRacing competitor, William Byron was late to the game in joining the Legends racing circuit at 15. However, he scored multiple successes there and signed on with JR Motorsports at 16 to race Late Models.
That was his pathway to the NASCAR K&N Pro Series East title in 2015, where Byron won four of 14 starts against a field of full-time competitors including Austin Hill, Justin Haley, and Kaz Grala.
It took just five truck races for William Byron to score his first win
William Byron's next step up the ladder came in the Craftsman Truck Series as a 17-year-old driving for Kyle Busch Motorsports and sponsored by Liberty University, which would become a longstanding partner of the driver.
Byron won the Toyota Tundra 250 on May 6, 2016, at Kansas Speedway over a field of top-10 finishers including Matt Crafton, Christopher Bell, Clint Bowyer, and Cole Custer, for his first triumph in one of NASCAR's three national series.
Later that season, Byron signed a deal with Hendrick Motorsports that would move him up to the Xfinity Series in 2017 as part of Dale Earnhardt Jr.'s team.
After leading the truck series throughout the second half of a seven-win season, Byron blew an engine late in the playoff race at Phoenix Raceway, taking him out of contention for a potential championship the following week at Homestead-Miami, where he won the race while Johnny Sauter locked up the title.
The prodigy delivered a championship for JR Motorsports
The learning curve in the 2017 Xfinity Series was a little steeper for William Byron than the previous year while racing trucks, but not by much. He won at Iowa Speedway in his 14th race and then the following week at Daytona International Speedway.
A playoff victory at Phoenix Raceway launched Byron into the Championship 4 the following week at Homestead-Miami, where finishing third to Cole Custer and Sam Hornish Jr. was still good enough to earn the season championship. Tyler Reddick would win the crown the following year, giving JR Motorsports back-to-back champions.
Hendrick Motorsports moved the emerging star up to the Cup Series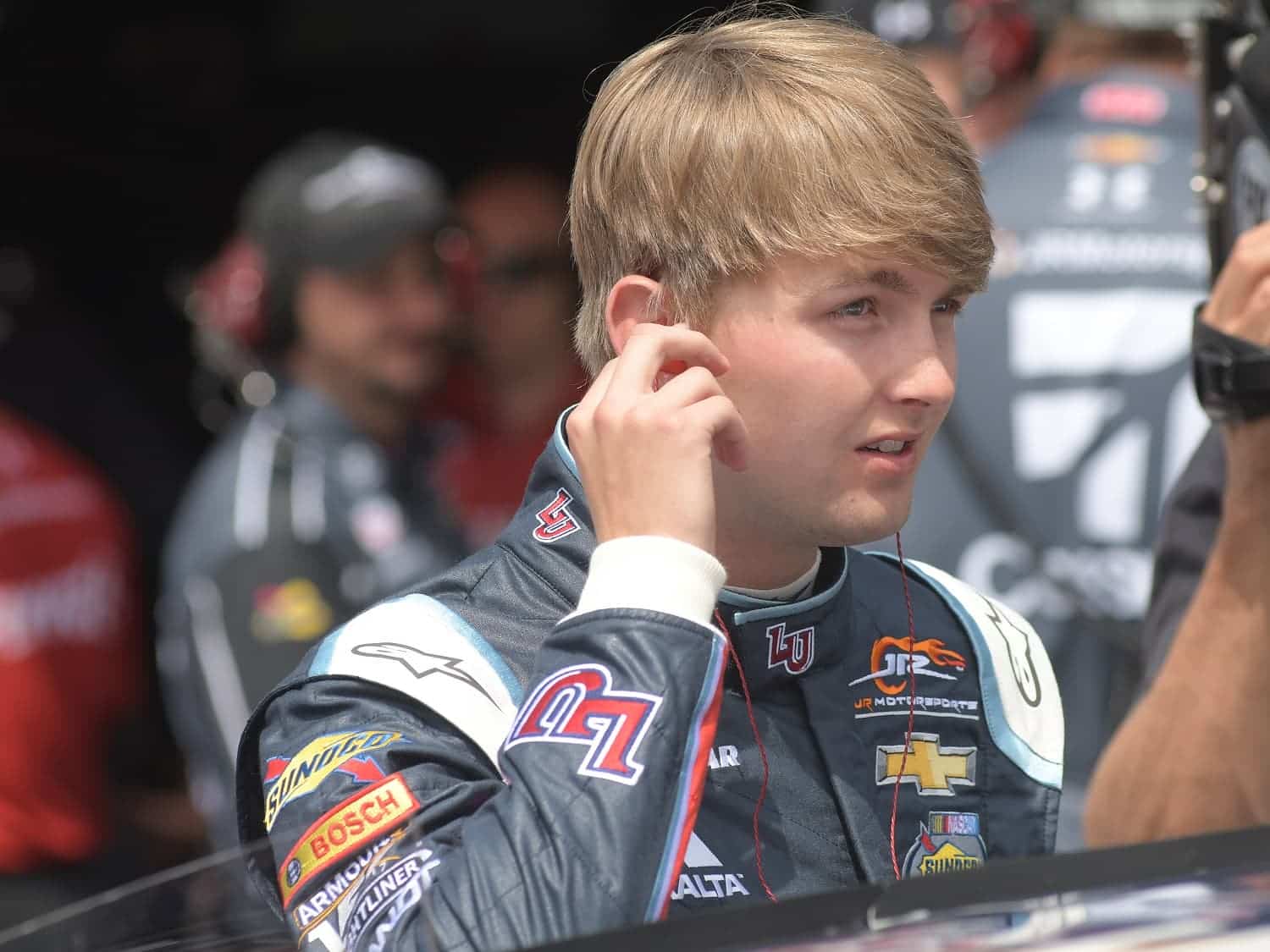 On Aug. 9, 2017, Hendrick Motorsports announced William Byron would replace Kasey Kahne in the No. 5 Chevy the following season, but the plan was amended three weeks later to move Chase Elliott into the No. 9 car and hand Byron the keys to the No. 24 Chevy with which Jeff Gordon had become so closely associated over the years.
Byron didn't win in 2018 and posted just four top-10 finishes, but he scored top rookie honors over Ross Chastain and Bubba Wallace. By doing so, he matched Erik Jones' feat of earning the Rookie of the Year Award in each of the three national NASCAR series in consecutive seasons.
The 2019 season was another winless campaign, but Byron scored consistently with 13 top-10 finishes and earned a spot in the playoffs. He advanced to the second round, but a crash in the last stages at Talladega kept him from moving on to the semifinal stage.
William Byron's first victory came at Daytona to punch his playoff ticket
The 2020 season loomed as a potential step backward for William Byron as he arrived at the Daytona summer race, the final contest of the regular season, in a tight battle with Jimmie Johnson and Matt DiBenedetto for the last playoff spot on points. However, Byron made that moot by passing Denny Hamlin for the lead with two laps to go and hanging on for his first NASCAR Cup Series victory.
Byron's next victory came at Homestead-Miami early in the 2021 season with new crew chief Rudy Fugle. That started a run of three seasons (and climbing) in which Byron has won at least once in the first five races of the season, which goes a long way toward locking up sports in the playoffs.
Got a question or observation about racing? Sportscasting's John Moriello does a mailbag column each Friday. Write to him at [email protected]