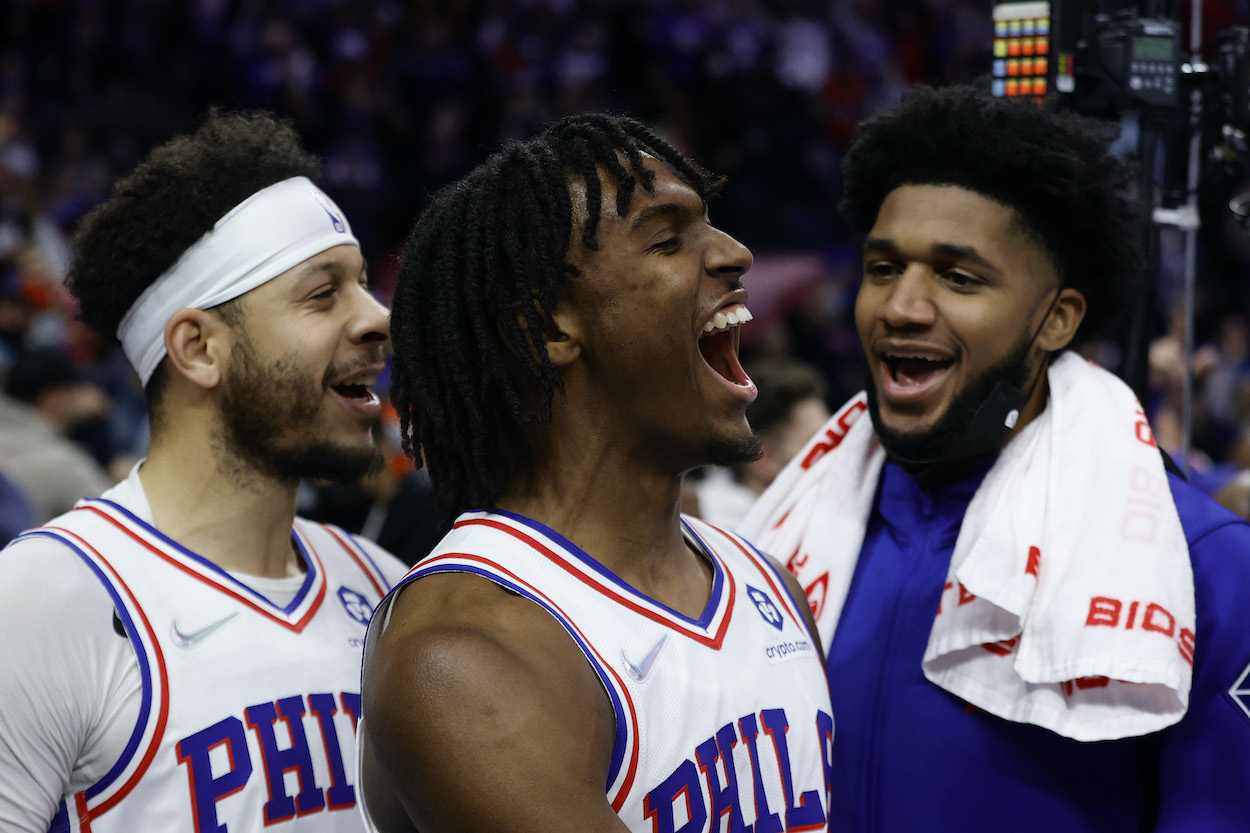 The 76ers Validated Joel Embiid's Bold Ben Simmons Proclamation and Sent a Stern Message to Daryl Morey All in 1 Night
Many believe the 76ers aren't championship contenders unless they trade Ben Simmons, but Tobias Harris and Tyrese Maxey just proved otherwise.
Earlier in 2022, Joel Embiid made headlines when he said the Philadelphia 76ers have everything they need right now to accomplish their goal of winning a championship this season. His comments were immediately taken as a slight toward Ben Simmons, who hasn't suited up for the Sixers all season and is by far the hottest name on the trade market.
Embiid seemed foolish to think Philadelphia could contend for a title without upgrading the roster via a Simmons trade, but the 76ers just proved otherwise with a statement victory on Monday night.
Joel Embiid recently claimed the 76ers are just fine without Ben Simmons
It's not easy to win an NBA championship, and it's especially hard to do so without your team's second-best player. That's precisely what the 76ers will be forced to do this year.
Simmons remains away from the team as he works to better his mental health, and he won't be suiting up for Philadelphia all season if he isn't traded before the NBA trade deadline in two weeks. If you ask Embiid, though, the Sixers are just fine without their All-Star point guard.
"I feel pretty good, and I don't think we've played our best basketball yet," he said. "We still got a long way to go. We're missing guys here and there that could really help us. There's really no urgency to change anything. I think we got everything we need. We're gonna keep on going, and I'm happy."
Embiid's comments didn't just suggest that the 76ers are good enough without Simmons. The way he phrased his remarks, it sounded as if he doesn't want Daryl Morey to make any drastic moves at the trade deadline to break up this core.
After Monday night's performance, Embiid might have just been proven right.
Tyrese Maxey and Tobias Harris just validated Embiid's comments
Embiid clearly has faith in this Sixers team as currently constructed. The chemistry among the roster is evident on a night-to-night basis, and now that they're mostly healthy, the 76ers look to be the championship contenders they were last season before everything fell apart.
On Monday night, with Embiid sitting out for a much-deserved rest, the undermanned Sixers welcomed the hottest team in the NBA to town. Ja Morant and the Memphis Grizzlies had rattled off 16 wins in their last 19 games, and they came in as four-point favorites over the Embiid-less 76ers.
But Philly wasn't going to lay down and take the night off with its MVP contender on the sidelines. The 76ers, paced by 64 combined points from Tyrese Maxey and Tobias Harris, knocked off the Grizzlies in overtime in their most impressive win of the season.
Maxey, who's still only 21 years old, took over Embiid's role as the alpha and put up 33 points, eight assists, and four blocks in the victory. He scored six of Philadelphia's 11 points in overtime and went shot-for-shot with Morant all night.
Harris, after struggling mightily for most of the season and hearing boos from his home fans on a nightly basis, added 31 points, five rebounds, and five assists. He's now averaging 24.2 points per game on 57% shooting over his past five outings.
Oh, and Andre Drummond had himself a monster night in place of Embiid with 16 points and 23 rebounds. Drummond was the most physically dominant big in the NBA not too long ago, and he's still a starting-caliber center when he imposes his will on the glass as he did Monday night.
Don't look now, but the Simmons-less Sixers are just 0.5 games back of the No. 1 seed in the Eastern Conference through 50 games.
Maybe the 76ers don't need to trade Simmons after all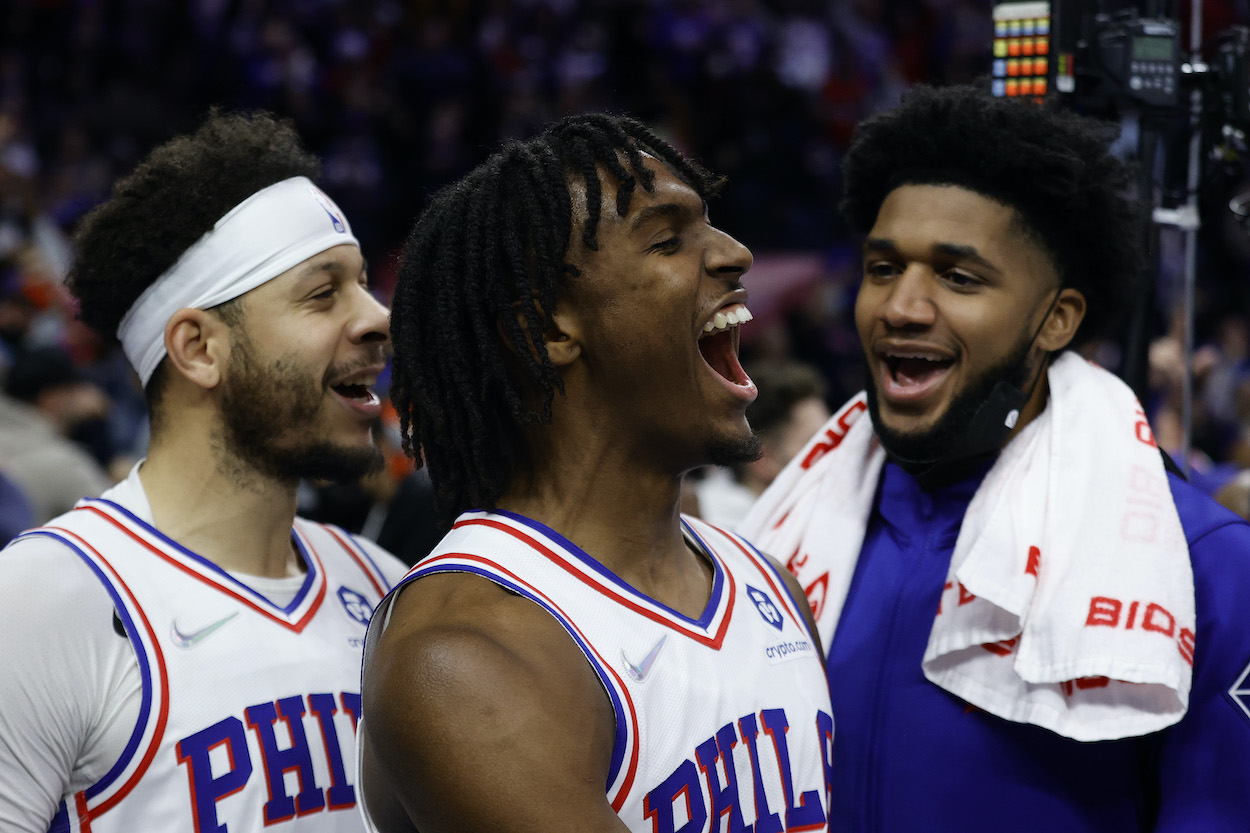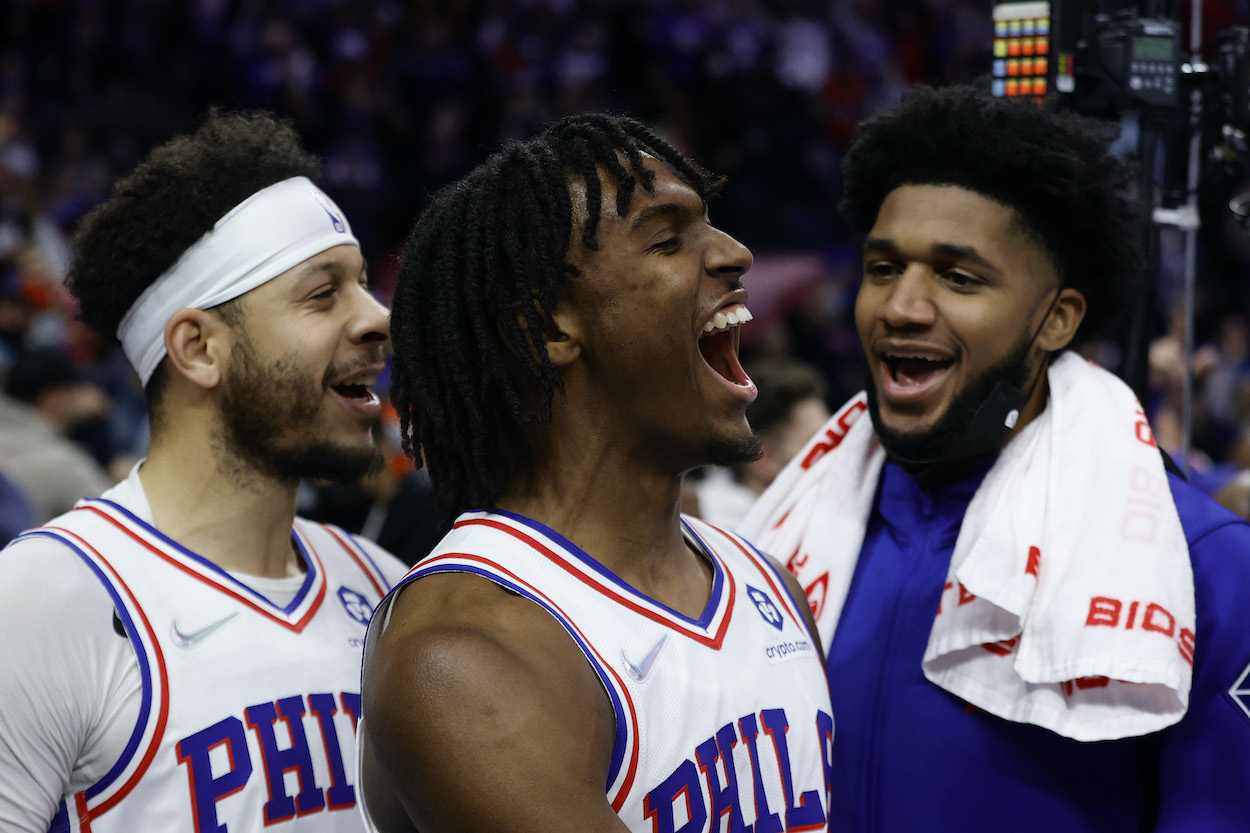 We can talk all we want from the outside about how the 76ers need to trade Simmons before the deadline to give Embiid more help, but no one knows this team better than The Process himself.
Embiid sees something special in this quirky roster. No, it doesn't have the second superstar that has become almost necessary to compete for a title in today's NBA. And yes, it has $33 million worth of star power sitting on the couch and refusing to play.
But what this team does have is the most unstoppable offensive force in the NBA right now, and if he says it has enough, it just might have enough.
The 76ers are brimming with confidence after a 15-3 January, and beating the hottest team in the league without their best player is only going to build more. If this is the Maxey and Harris they're getting for the rest of the season and Embiid continues on his MVP trajectory, the Sixers can't be counted out.
Trading Simmons would only derail the momentum Philly has built over the last month, so don't expect him to be on the move before Feb. 10.
Like Sportscasting on Facebook. Follow us on Twitter @sportscasting19.