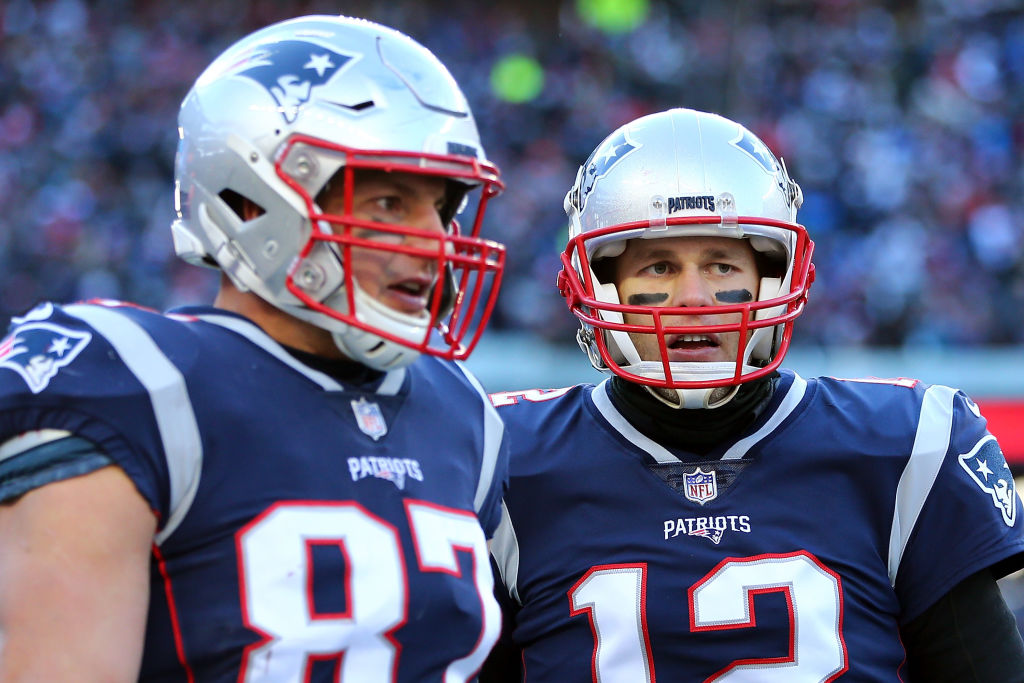 A Woman Lured Rob Gronkowski to the Tampa Bay Buccaneers
Rob Gronkowski has been on the TV circuit this week and revealed one reason for joining the Tampa Bay Buccaneers that football fans may not have heard.
Tom Brady signing with the Tampa Bay Buccaneers is the story that football fans just can't get enough of this offseason, even though the definitive explanation of why it happened is still lacking. Second on the list for offseason chatter has been speculation over why Rob Gronkowski came out of retirement to join his former teammate in Tampa.
The most authoritative source gave two answers late this week. And while the versions don't contradict each other, they do differ.
Version 1: Tom Brady begged Rob Gronkowski
So, did Tom Brady call Rob Gronkowski? Or was it Gronk who called the man who quarterbacked the New England Patriots to six Super Bowl championships?
Gronkowski went on The Late Night Show With James Corden to supply the answer. Given the way he hammed it up, however, the tight end's version might be a bit questionable:
"All of a sudden he just screams on the phone, 'Rob I just want you to come back and play with me,' and I was like, 'Oh, alright. Alright, I'll come back then, Tom. No problem.' He was crying like, 'Oh my God, please come back.' I was like, 'Wow! Just missed me that much?' So, I had to come back."

Rob Gronkowski
Turning a bit more serious, Gronkowski said he made the first call to let Brady know the idea of coming out of retirement was in play.
"I'm just teasing with him and I could just tell he's getting all this excitement."

Rob Gronkowski
Version 2: A woman lured Rob Gronkowski out of retirement
Ellen DeGeneres may have gotten the more honest explanation from Rob Gronkowski about what influenced him to end his one-season retirement and convince Bill Belichick to trade him to the Tampa Bay Buccaneers.
Appearing on The Ellen Show, Gronkowski said that Tom Brady's move down the East Coast was "the appetizer." But he also cited the Florida weather and then the most important factor of all: his mother.
"The main reason why I came down to Tampa to play is because my mother lives two hours away," he said. "She can get to all the games, all eight of our home games. Whenever I have days off, she's two hours down the street and I get to see her. So, she's super-excited."
The other woman in Gronk's life
If it seems as though you're seeing a lot of Rob Gronkowski on television recently, you're not wrong. Although he gets plenty of questions about his Tampa Bay Buccaneers reunion with Tom Brady, the reason he's popping up on talk shows is to promote a weekly game show that he's doing with Venus Williams.
Game On!, which premieres on CBS on May 27, features Gronkowski and Williams as captains of teams competing in a variety of quasi-sports competitions. Late-night host James Corden is the executive producer.
Comedians Bobby Lee and Ian Karmel are also part of the teams, which are rounded out with different guests from the sports world and the entertainment field. Keegan-Michael Key is the show's host.