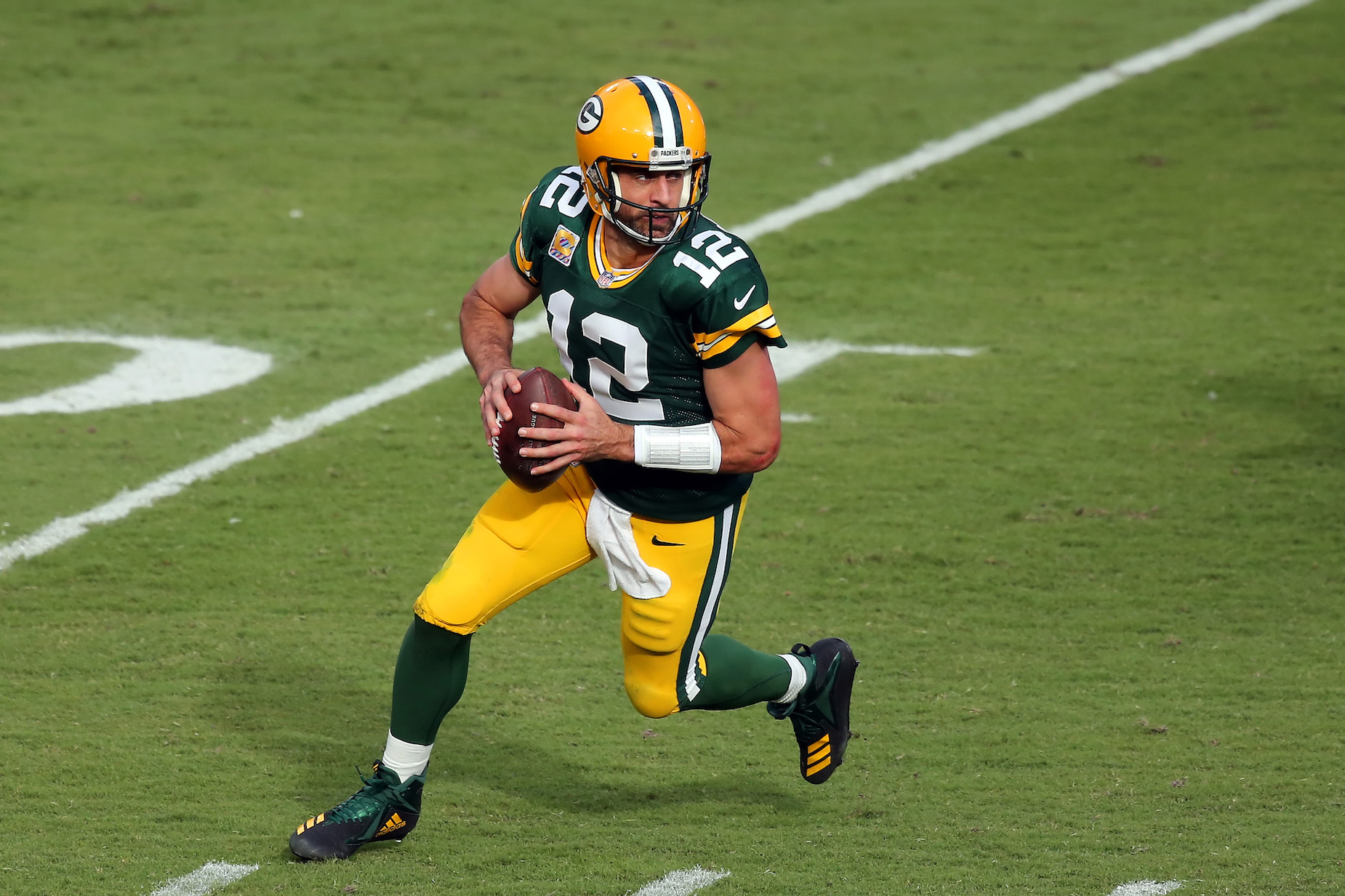 Aaron Rodgers Is Curious About Some 'Crazy Conspiracies,' According to His Ex-Teammates
Aaron Rodgers is an incredible football mind, but his interest apparently extend to some controversial conspiracy theories.
If you ask a Green Bay Packers fan about Aaron Rodgers, they'll probably mention a few things. The quarterback has an incredible arm and a knack for completing hail Marys; he's also a proven winner with a Super Bowl title and an NFL MVP award under his belt. There's more to Aaron Rodgers, however, than simply playing football.
In a recent ESPN video, some of Rodgers' former backup shared their insights into the quarterback's personality. The Green Bay Packers star, it seems, may believe in some controversial conspiracy theories.
Aaron Rodgers' impressive Green Bay Packers career
These days, it's impossible to imagine Aaron Rodgers as anything other than the starting quarterback of the Green Bay Packers. At one point, though, it looked like his football career had come to a dead end.
After graduating high school, Rodgers couldn't land a college football scholarship; the big-time programs decided he was too small to succeed under center. The quarterback, however, would not be denied and headed to Butte Community College. After a year, he earned a transfer to Cal.
While Rodgers proved his mettle with the Golden Bears, his road to stardom wasn't assured. Concerns about his height arose again ahead of the 2005 NFL draft; after a seemingly endless spell in the green room, he joined the Packers at the end of the first round. His consolation prize was, of course, sitting behind Brett Favre.
Once he got a chance to strut his stuff, however, Rodgers proved to be a legitimate talent. Since taking over as the Packers' starting quarterback, he's thrown for almost 50,000 yards, won a Super Bowl title, and claimed an NFL MVP crown. Even if the heir apparent is sitting on the bench, Aaron Rodgers is still the top dog in Green Bay.
Curious about some controversial theories
While Aaron Rodgers is an incredible football player, his interests aren't limited to the gridiron. According to an ESPN NFL Countdown segment, the quarterback is curious about some controversial theories.
"He's always thinking the crazy conspiracies," Seneca Wallace explained. "So he's like, 'Hey, what do you think all that stuff is flying behind that jet stream? Do you think it has anything to do with maybe why everybody's getting cancer?' That's just kind of his attitude. That's the way he's, you know, wired." For the record, those 'chemtrails' are condensation from the plane's engines.
Joe Callahan apparently had similar conversations with Rogers but focused on a more ancient topic.
"You could go from talking about football to talking about conspiracies about who built the pyramids," he explained. "There wasn't just one subject that we talked about." While Callahan declined to say who Rodgers thinks built the pyramids, the video implied that he could suspect aliens were involved.
Aaron Rodgers also claims that he saw a UFO
Aaron Rodgers' unique positions, however, don't end there. The quarterback also believes that he saw a UFO shortly before joining the Green Bay Packers.
As he explained on Pete Holmes' You Made It Weird podcast and shared on NFL.com, Rodgers had made the trip to New York City to do some media appearances ahead of the 2005 draft. After his commitments were done, he headed south into New Jersey to link up with his former college teammate, Steve Levy.
The two men had dinner together and, after they were done eating, heard a siren in the distance. Rodgers then noticed something unusual in the sky overhead.
"It was a large orange, left-to-right-moving object. Because of the overcast nature of the night and the snow, you couldn't make out," Rodgers explained. "It was behind the clouds we were seeing, but it was definitively large, moving from left to right…It was me, Steve, and his brother that saw it. And it goes out of sight, and we look at each other and go, 'What in the f— was that?"
After hearing some fighter jets fly overhead, Rodgers began to piece together all the clues. In his mind, everything added up to one conclusion: a UFO.
"Now, if you know anything about UFO sightings or you've done research, you know that a lot of times, two things are connected to UFO sightings," the quarterback continued. "One is the presence of fighter jets. And two, there's a lot of sightings around nuclear power plants. So to tie it all together, the alarm we heard from 30 miles out was a nuclear power plant that had an alarm that went off."