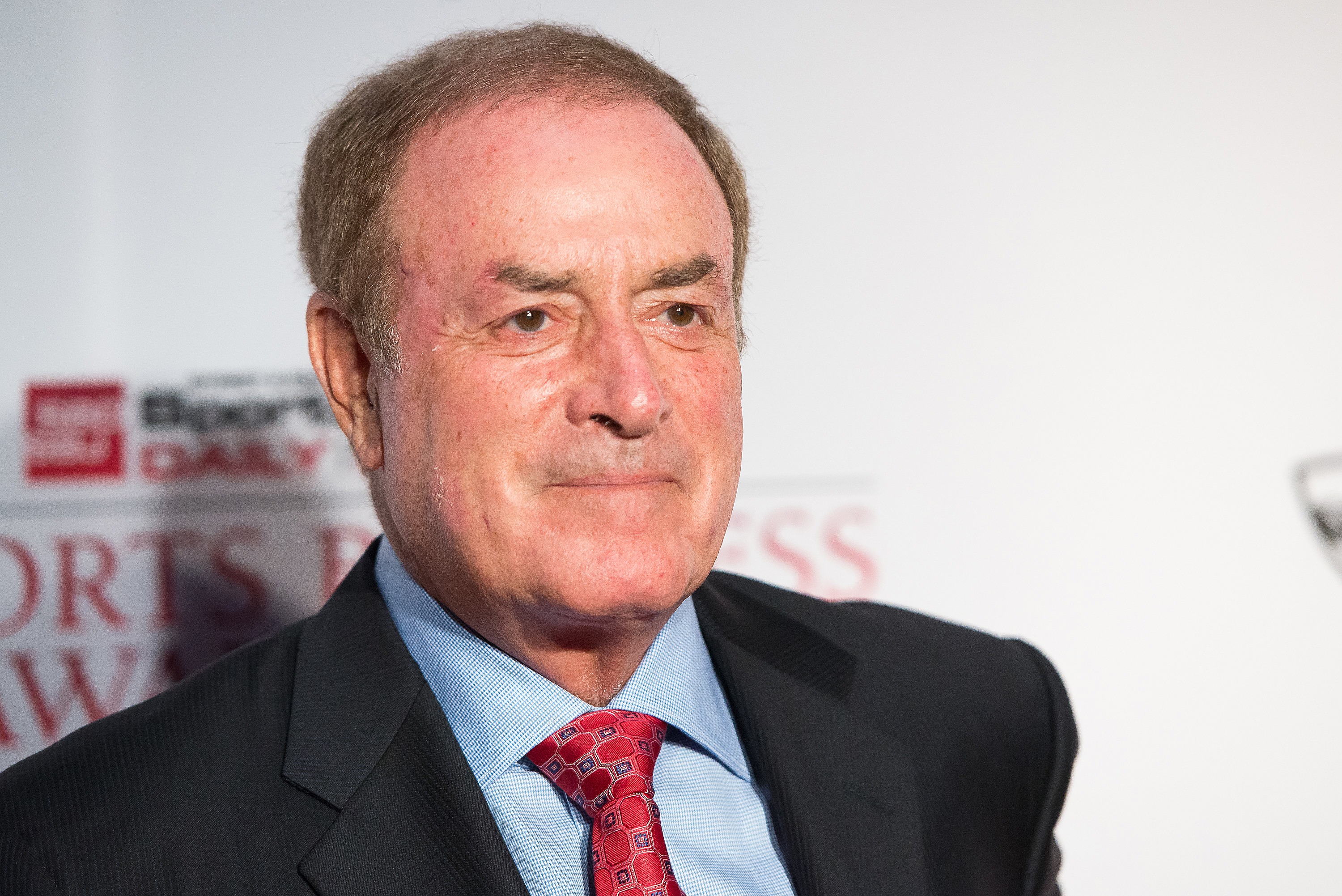 Al Michaels Had a Very Interesting First Television Job
Veteran sports television broadcaster Al Michaels had a very interesting first TV job.
Al Michaels has become the voice of the National Football League. Although Michaels has been a staple in the booth for Sunday Night Football games since 2006, he is known for much more than just football. He's shown his versatility and has become one of the best in the sports media world. Prior to entering his professional sports career, he held a very interesting television position in the entertainment world.
The early days of Al Michaels
Al Michaels had a passion for sports. He knew what he wanted to be when he was growing up. He attended Arizona State, majoring in radio and television and minoring in journalism. Michaels was the sports editor at the school newspaper and he was also an announcer for KASN, the campus radio station.
 "It was slightly more powerful than an orange juice can and a string," Michaels told Sports Illustrated in 1988. "You could only pick it up in the boiler room of the girls' dorm." After graduating from ASU, he had worked more than 300 basketball, baseball, and football college games. He sent a tape to Alan Rothenberg, then the VP of the Los Angeles Lakers and LA Kings.
Michaels was hired to work alongside Lakers announcer Chick Hearn. He was let go quickly as Hearn apparently wasn't overly fond of working with the budding star. Michaels was crushed when he was let go. "It's the only time I've ever doubted myself," he said. "It's as low as I've ever been."
Michaels had quite a few big calls in his career
When Al Michaels was let go after his very short stint with the LA Lakers, he worked a lot of baseball games, gaining employment with the Cincinnati Reds and then the San Francisco Giants. In 1980, Michaels had perhaps the biggest call of his career when he was covering the Olympics in Lake Placid, New York.
Michaels is widely remembered for his "Do you believe in miracles" call when the U.S. hockey team shocked the world with a 4-3 victory over the heavily-favored Soviet Union. Michaels told CNBC earlier this year that he didn't have a whole lot of hockey experience, but had more than others. "I had done one game and nobody else had done any," he said. "I knew what icing was and I knew what offside was. And so that's how I got the assignment."
Michaels was also in the booth calling the 1989 World Series between the Oakland Athletics and the San Francisco Giants. The series was known as the Earthquake Series after an earthquake shook the stadium and shook up the fans prior to Game 3. The earthquake struck as Michaels' partner, Tim McCarver, began rehashing the previous two games, both won by the Athletics.
Michaels' first TV job was working for 'The Dating Game'
Al Michaels always knew he wanted to work in sports, particularly sports broadcasting. When he graduated from Arizona State, he was able to land a television job, but not the dream sports job he was seeking. He landed a job with Chuck Barris Productions, working for "The Dating Game."
"I was part of a group that would select girls for "The Dating Game," Michaels said during a 2010 interview with Newsday. "Then during all this, I get married that year and my wife (Linda) gets a job in the prize department at (producer) Chuck Barris' place. So here I am, can you imagine, I'm a newlywed and one of my roles is to pick the girls for "The Dating Game?"
Little did Michaels know, he would go on to become one of America's greatest sports broadcasters of all time.