Allen Iverson Viciously Trolled LeBron James at LBJ's First NBA All-Star Game: 'He Ain't Nothin' but 16 Years Old'
Allen Iverson once wore LeBron James' shoes as a former No. 1 pick. But nine years after AI headlined one of the most iconic draft classes in history, he already had the pedigree of a seasoned veteran. On the other hand, James found himself as a pup among big dogs at the 2005 NBA All-Star Game.
LeBron idolized Iverson growing up, but AI established the hierarchy in their relationship before that game in Denver. The Answer said a fresh LBJ had to play all the minutes and mused about King James' youth, only for Iverson to take home top honors himself.
LeBron James teamed with Allen Iverson in his first All-Star Game in 2005
LeBron James wasted little time realizing his superstar potential in just his second season in the NBA.
After bypassing teammate skepticism and winning the NBA Rookie of the Year Award in 2003-04, LBJ made his first All-Star team in his sophomore campaign. King James averaged 25.4 points, 7.7 assists, and 7.1 rebounds before the break, amassing a +12 net rating and leading the Cleveland Cavaliers to a 30-21 record in the process.
Dwyane Wade, LeBron's fellow 2003 NBA Draft class member, joined James on the Eastern Conference All-Star team. But LBJ entered the contest as the youngest player on either roster.
Meanwhile, Iverson held it down as one of the East's elder statesmen. Iverson averaged 29.8 points, 7.6 assists, and 4.0 rebounds before the break and would eventually go on to win the fourth and final scoring title of his career.
The former Philadelphia 76ers legend felt obliged to remind James of his place in the tunnel before warmups. He said the Cavs youngster had to bring all the energy, humorously adding that James would play the role of an eager kid chasing a trophy.
Iverson poked fun at James for being the youngest player on the East roster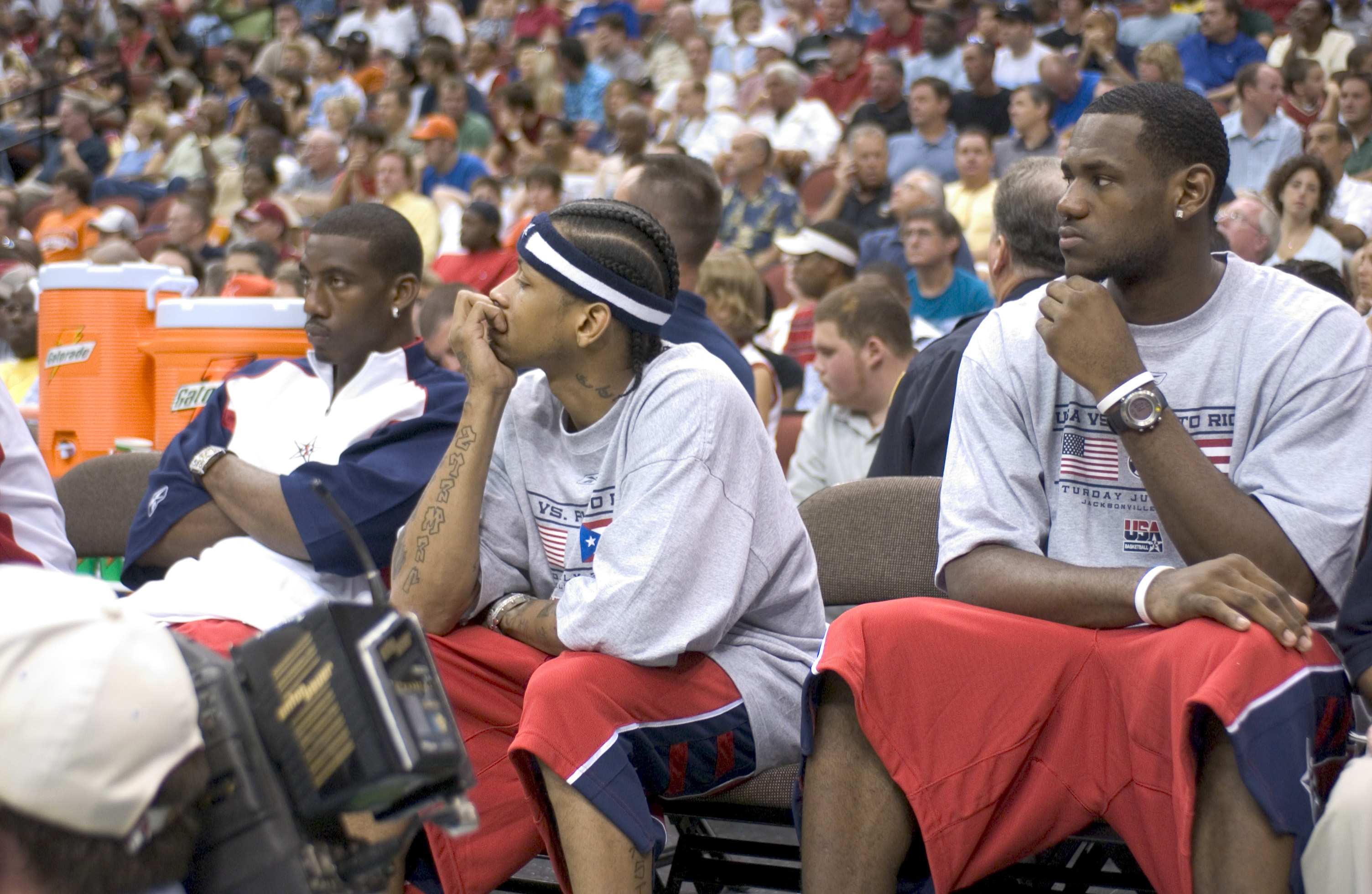 Usually, the NBA All-Star break allows veteran players to cool their jets and reset before the last few months of the season. At least, that's how Iverson saw it in 2005.
The Answer spoke with James (h/t YouTube) about expectations for LBJ's first All-Star Game, saying players making their debut had to play the overwhelming majority of the contest. However, as AI said, LeBron might end up with MVP honors.
"All these first-timers, they gettin' all the time. So [James] got to play 40 minutes, 42 minutes. But you might get the trophy, so that's cool."

–Allen Iverson (2005)
Someone in the scrum started commenting on who might win MVP. That's when Iverson joked about LeBron's age.
"He want to [win MVP]. He ain't nothin' but 16 years old."

–Allen Iverson (2005) on LeBron James
If Iverson's remarks made it sound like he had no interest in giving much effort to the proceedings, his performance served as evidence to the contrary.
James — who captained another All-Star team this past season — did indeed play heavy minutes during the contest, but AI walked away as the star of the night.
The Answer won MVP honors over LBJ
Allen Iverson could have mailed it in and let LeBron James take the spotlight in Denver. That's not how things transpired.
Iverson played close to 32 minutes and led all players in game time. He posted a double-double, scoring 15 points to go with 10 assists, four rebounds, and five steals in a 125-115 East victory. One of The Answer's best highlights came when he cut baseline and finished with a circus-like reverse layup following a nifty behind-the-back pass from James.
LeBron might have won MVP honors if not for AI. He scored 13 points, grabbed eight boards, and dished out six assists. However, Iverson wouldn't allow King James to seize the mantle just yet.
Considering the nature of his pregame discussion with James, Iverson's MVP performance is pretty humorous. Yet it's such a telling moment in assessing the competitive drive that made AI so great.
Stats courtesy of Basketball Reference.