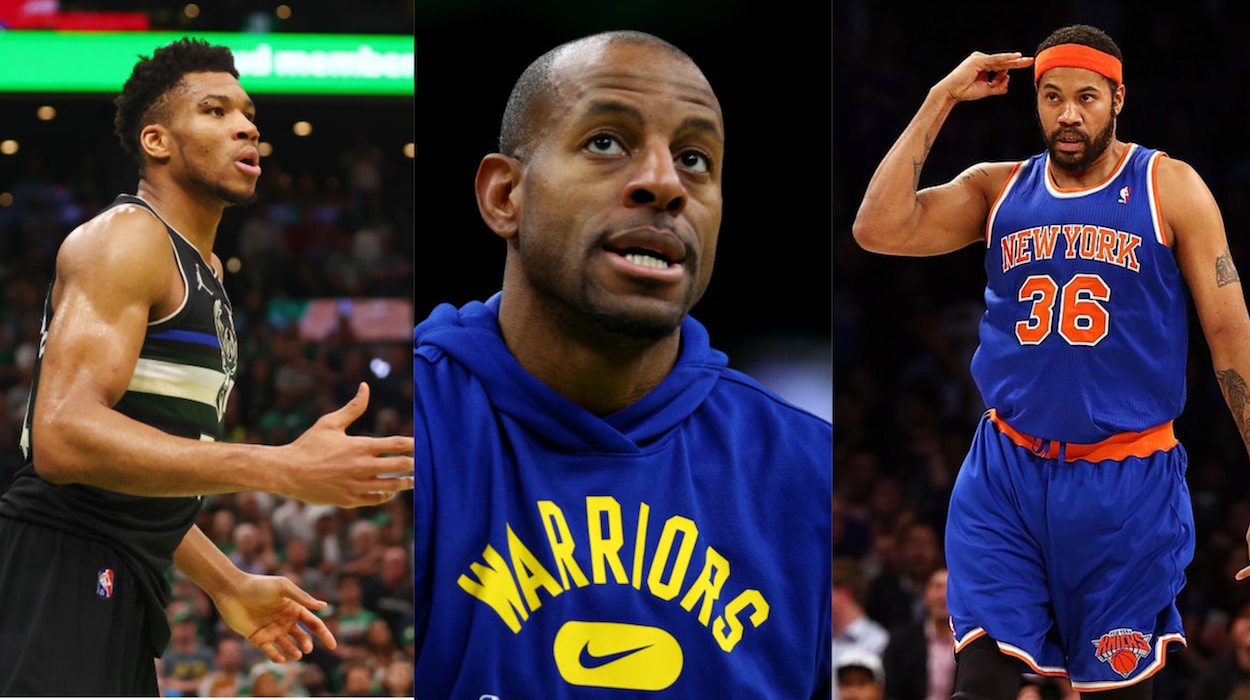 Andre Iguodala Claims That Rasheed Wallace Would Be Better Than Giannis Antetokounmpo in Today's NBA
Rasheed Wallace was a capable pro, but could he have been as good as Giannis Antetokounmpo? Andre Iguodala certainly thinks so.
In the world of sports, players are always going to be compared to one another. As much as you might try to remain aloof and avoid getting sucked into debates, it's the nature of being a fan. Some of them make perfect sense; others are a bit more removed from reality. Andre Iguodala, however, recently uncorked an all-timer.
During a recent appearance on The Dan Le Batard Show, the former forward decided to give Rasheed Wallace his flowers. While that's all well and good — Wallace was a solid pro and, if you look past the technical fouls, put together quite the career — Iguodala promptly took things too far. He claimed that, in today's NBA, Wallace would be better than Giannis Antetokounmpo.
Yes, you read that correctly. Let's break it down.
Andre Iguodala takes his praise of Rasheed Wallace a bit too far
On the whole, former athletes are probably more inclined to look favorably upon their peers than players from the modern era. At the risk of trying to get inside Andre Iguodala's head, that's what seems to have happened during a recent interview.
During an appearance on The Dan Le Batard Show, a conversation about NBA superstars and their role on championship-winning teams landed on the 2004 Detroit Pistons. Iguodala, however, spoke up in defense of Rasheed Wallace.
"Rasheed Wallace probably coulda been [a] top-five player in the league for a ten-year stretch," the former Golden State Warrior explained. "He just chose, 'I'll do my thing over here.' He was shooting threes from half-court, no, he was shooting half-court shots left-handed and right-handed."
While that's probably a bit hyperbolic — Sheed was a capable player but never entered the elite stratosphere — it's impossible to really judge Iguodala's take without knowing Wallace. Maybe he could have been even better but, for whatever reason, was content to play his role. With that being said, though, the claims then got even more questionable.
"If Rasheed Wallace played in modern-day basketball, if he played in our league today, he'd be the top-five player in the league," Iguodala continued. "He'd be better than Giannis, and I love Giannis."
Although it's tough to unilaterally say that a hypothetical could never happen, it's probably safe to say that Wallace wouldn't be better than Giannis Antetokounmpo. While the modern Association would afford him more opportunities to take three-pointers and boost his bottom line — the forward only averaged 2.9 long-range attempts for his career, converting 33.6% of them — there's simply too much of a discrepancy in the stat lines. Giannis might not have an outside jumper, but his blend of size, skill, and athleticism has allowed him to average 21.8 points, 9.4 rebounds, and 4.6 assists per outing through nine professional seasons. Sheed averaged 14. 4 points, 6.7 boards, and 1.8 helpers across his NBA career.
And, at the risk of resorting to intangibles, Antetokounmpo has shown an ability to (almost) single-handedly elevate his franchise to the NBA's highest heights. While you could argue that he needs to do it more than once to prove he's the real deal, he's still done it. Wallace does have a ring, but he wasn't really driving the bus during that run to the title.
In fairness to Andre Iguodala, though, Le Batard did use to have a show called Highly Questionable. Maybe he took that old title to heart.
Stats courtesy of Basketball-Reference