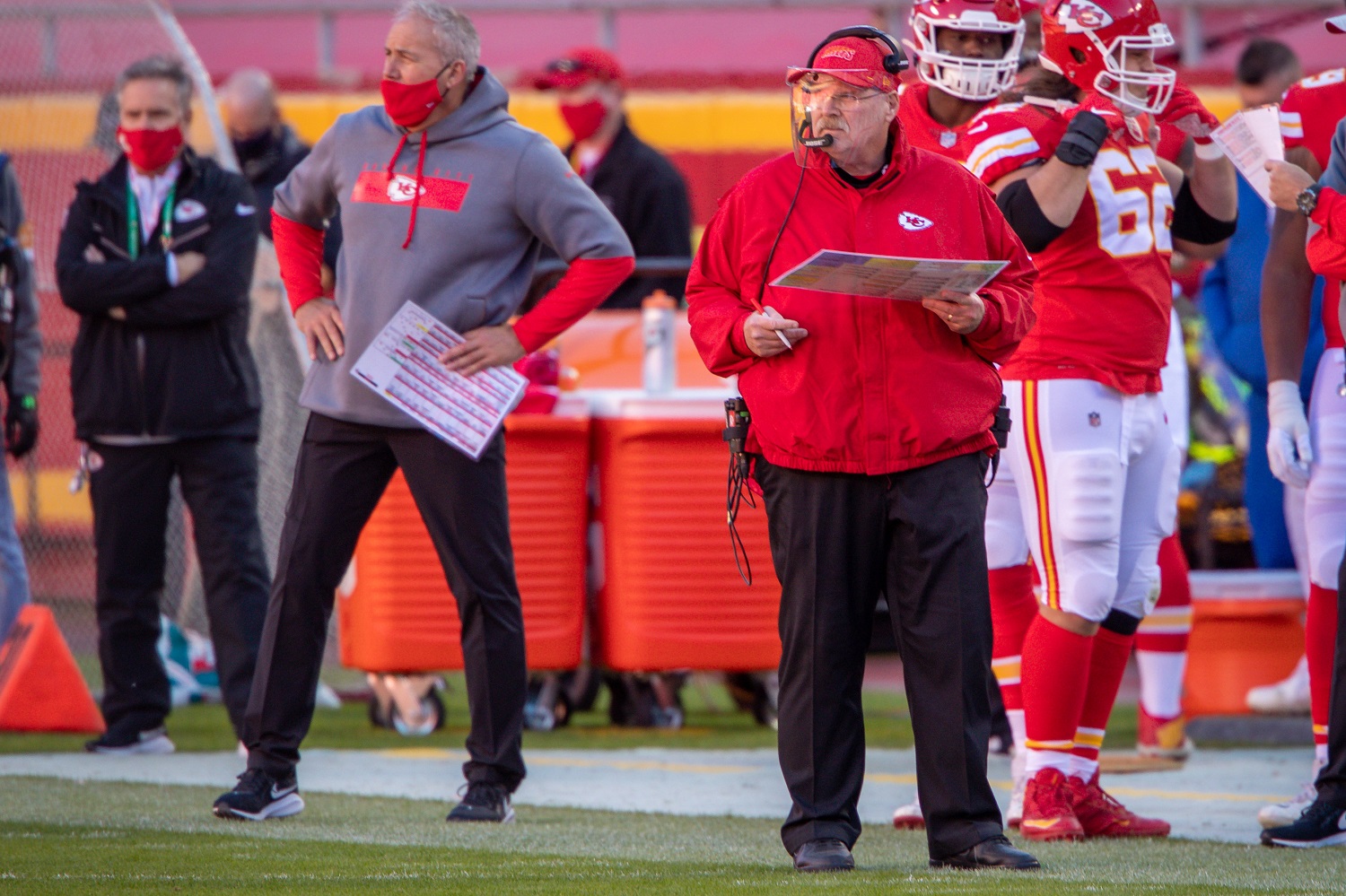 Andy Reid and the Kansas City Chiefs Received a Needed Dose of Good News
Andy Reid received good news when Kansas City Chiefs assistant coach Matt House turned down a college offer and remained with the NFL team.
The aftermath of the Super Bowl hasn't been as much fun for the Kansas City Chiefs and head coach Andy Reid as it was a year ago. The Super Bowl 55 trophy that the organization had hoped to add to its collection was last seen being thrown around in a victory flotilla by Tampa Bay Buccaneers quarterback Tom Brady.
However, Reid is mostly succeeding in holding on to something more valuable than the Vince Lombardi Trophy: his coaching staff.
Super Bowl 55 was a disappointment for the Kansas City Chiefs
Kansas City Chiefs news since the AFC championship game started bad and got worse. Patrick Mahomes came out of the victory over the Buffalo Bills showing the effects of a toe injury, and the star quarterback also witnessed left tackle Eric Fisher tear his Achilles and rookie linebacker Willie Gay go down with a season-ending meniscus injury.
Just days before Super Bowl 55, respected former head coach Marty Schottenheimer died. Then came the shocking news of a potential tragedy as assistant coach Britt Reid. The son of head coach Andy Reid, was involved in an automobile accident three days before the NFL title game. The incident injured two young children, including one seriously.
It amounted to a lot for a team to digest in short order, and the Chiefs were not up the task of handling it. The Tampa Bay Buccaneers applied relentless pressure to Mahomes from start to finish and earned an impressive 31-9 victory in Super Bowl 55 on their home field.
Andy Reid will have to deal with free agency again
Two things invariably happen to teams at the end of a playoff season: Players want to reap the rewards, and rival teams swoop in to lure members of the coaching staff and front office.
The Kansas City Chiefs are staring at a few tough decisions. However, 16 unrestricted free agents, five more who are restricted, and three exclusive-rights FA's (see: Spotrac.com) qualify as a manageable load for Andy Reid and the front office to sort through.
Receiver Sammy Watkins is an example of a pending difficult decision. Watkins has played something approximating a full year in only four of his seven NFL seasons and is coming off 37 receptions and two touchdowns in 10 games last fall.
With Tyreek Hill established as one of the NFL's most dangerous receivers, Watkins isn't the valuable stretch-the-field guy that he once was. If he returns in 2021, it seemingly can't be for the $9 million that Kansas City paid him a year ago.
The Kansas City Chiefs coaching staff is nearly intact
Both the NFL and the college ranks are at a juncture now at which coaching staffs for the 2021 season have mostly been firmed up. Kansas City Chiefs head coach Andy Reid appears to be in great shape in that department. Although it's puzzling why offensive coordinator Eric Bieniemy once again did not attract the expected interest from teams replacing a head coach, Reid apparently will have to deal with just two departures.
The good news aside from retaining Bieniemy is that linebackers coach Matt House is staying put despite an enticing college offer, according to ESPN's Dan Graziano. House could have been the defensive coordinator at the University of Tennessee under new head coach Josh Heupel.
House has already been an FBS coordinator at Pitt, Florida International, and Kentucky. A gig with the Vols would have paid well, but it wouldn't have added much to his resume. He is already defensive coordinator material in the NFL.
House may be expecting Chiefs defensive coordinator Steve Spagnuolo to earn a crack at another job as a head coach soon. If that happens, House would be a natural to replace him.
With House apparently remaining in the fold, Reid should only have to replace his son Britt, who also coached linebackers but was not retained following his automobile accident, and running backs coach Deland McCullough, who moved on to the University of Indiana.
Like Sportscasting on Facebook. Follow us on Twitter @sportscasting19.