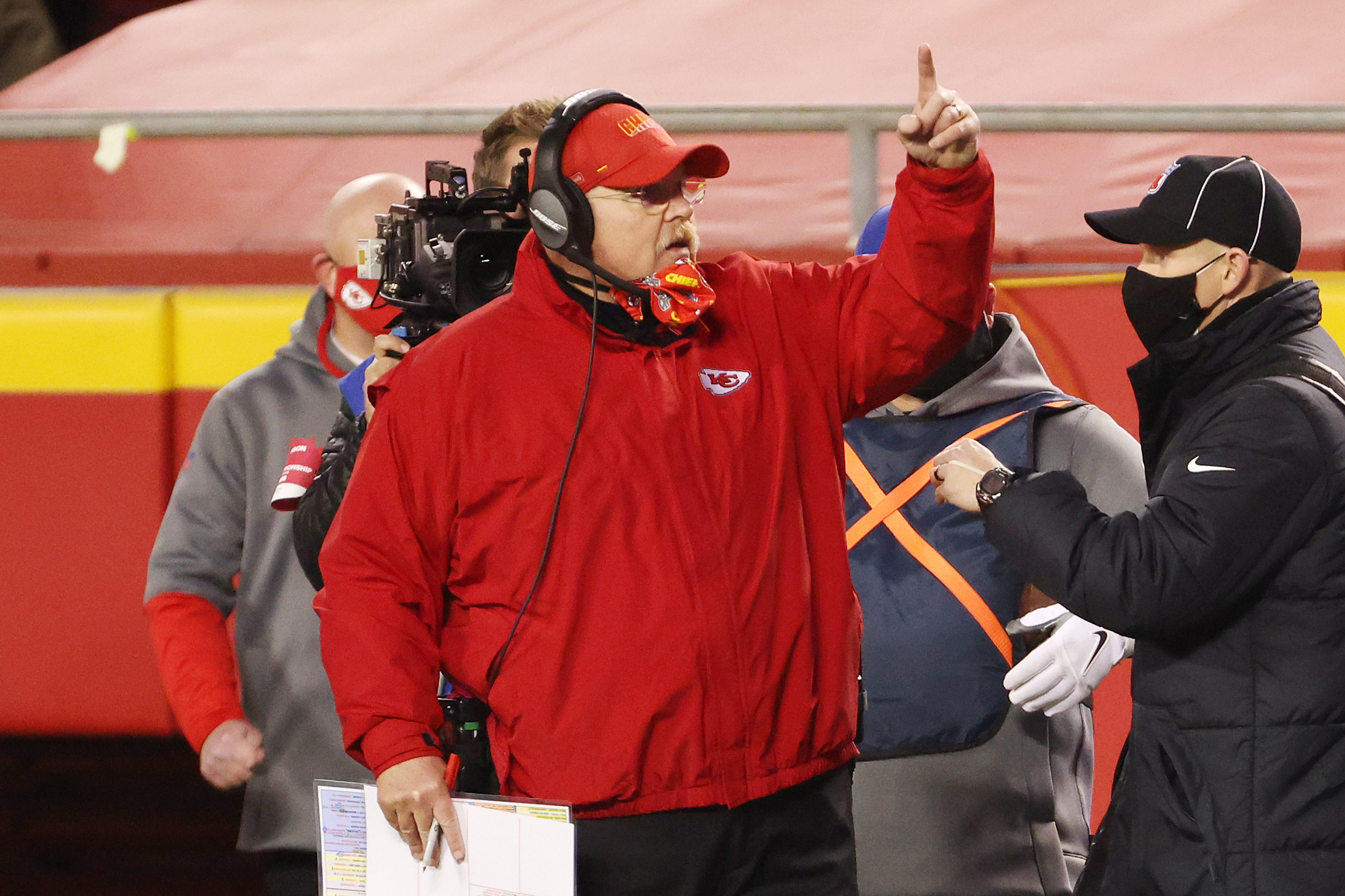 Did Andy Reid Really Order 3 Steaks During His Interview Dinner With Eagles Owner Jeffrey Lurie?
Did Kansas City Chiefs coach Andy Reid really order three steaks when he was interviewing for the Philadelphia Eagles job?
Andy Reid is a big man and he always has been. He's also one of the best coaches in the NFL and is headed to his second straight Super Bowl with the Kansas City Chiefs. When Reid was interviewing for his first head coaching job with the Philadelphia Eagles, Eagles owner Jeffrey Lurie took him out to dinner. According to Adam Schefter, Lurie said Reid ordered three steaks when it came time to eat. When Reid was asked about it, he laughed it off.
Andy Reid has worked his way up the coaching ladder
Before Andy Reid made his way to the NFL as an assistant, he worked the college ranks. He coached at five different schools before becoming an assistant coach with the Green Bay Packers. Reid began as a graduate assistant at his alma mater, BYU. He then had stints as offensive line coach at San Francisco State, Northern Arizona, UTEP, and Missouri.
Reid made his way into the NFL in 1992 when he was part of Mike Holmgren's staff. Reid was an assistant offensive line coach and was in charge of the tight ends. He became the quarterbacks coach in 1997, tutoring Hall of Famer Brett Favre. In 1999, the Philadelphia Eagles made Reid their head coach.
Reid went 5-11 in his first season as head coach of the Eagles, but that was a two-win improvement over the previous season. The Eagles then strung together five straight seasons where they won at least 11 games in each year. Reid spent 14 years with the Eagles, going 130-93-1 in the regular season. He became the head coach of the Kansas City Chiefs in 2013. In Reid's 22 years as a head coach in the NFL, he's had three losing seasons.
Reid is headed to his second straight Super Bowl
Andy Reid is one of the most innovative coaches in the NFL. His teams are always finding different ways to put up points. Reid's teams are always at the top of many offensive statistics. It also helps when you have a quarterback like Patrick Mahomes.
Reid and Mahomes have teamed up to form a dynamic duo. In his three seasons as the starting quarterback of the Kansas City Chiefs, Mahomes has an MVP, a Super Bowl MVP, and he's shooting for his second straight Super Bowl title. Under Reid, Mahomes has put up some serious numbers.
In three years, Mahomes has thrown 114 touchdown passes, including a league-high 50 in 2018. He's thrown 24 interceptions. Together, Reid and Mahomes have a record of 38-8 and are looking to collect their second straight Super Bowl ring.
Did Andy Reid really order 3 steaks during his interview dinner?
During a podcast with ESPN's Adam Schefter back in 2017, Schefter brought up an old story he heard from Philadelphia Eagles owner Jeffrey Lurie. "I don't know if you got to hear about this, but Jeffrey Lurie, the Eagles owner, reflected on his interview with you," Shefter said as he opened the podcast. "What stood out to him, was not only that you made a mark, enough so that he was going to hire you, but that you also ordered three steaks."
Reid burst out laughing. "Oh God," he said. "Is that what he said? He's too funny." Schefter pressed the issue, asking did he or didn't he order three steaks. "Well, I might have," Reid said. "It might have been for Joe, Jeffrey, and Andy, but other than that I don't remember ordering three steaks. I'll take credit for it, though."
Like a good sport, Reid laughed it off and played along. Reid will be hoping to get the last laugh Sunday night in Super Bowl 55.