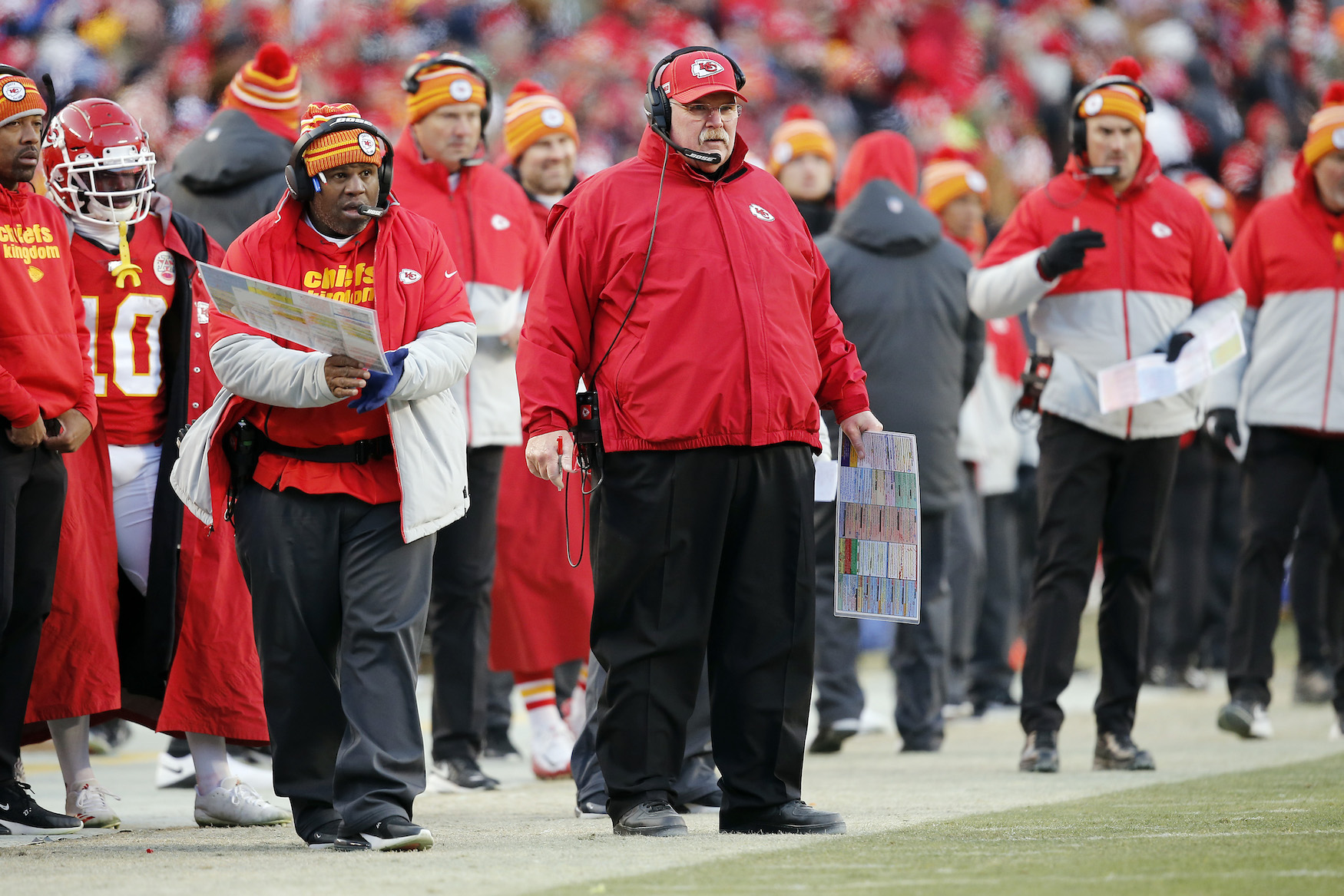 Andy Reid Used His Decades of Coaching Experience to Help Save the 2020 NFL Season
If we see NFL games in 2020, fans everywhere can thank Kansas City Chiefs head coach Andy Reid for helping to save the season.
While Patrick Mahomes may steal most of the headlines, Andy Reid plays a major role in the Kansas City Chiefs' success. The veteran head coach has long been regarded as an offensive mastermind but, in February 2020, he finally made it over the hump and won his first Super Bowl. Big Red isn't only using his talents on the NFL sidelines, though.
Due to the current coronavirus pandemic, the NFL and the NFLPA had to get on the same page before the 2020 season could begin. There's where Andy Reid entered the fray and helped save the day.
Andy Reid's long and distinguished coaching career
In the world of professional sports, it's tough for a head coach to remain in a job for more than a few seasons. Andy Reid's longevity should tell you all you need to know about his football IQ and coaching talent.
Reid's coaching career began in the college ranks, where started out as a graduate assistant at his alma mater, BYU. After that gig, he spent some time bouncing between smaller NCAA programs; while working UTEP, Northern Arizona, and San Francisco State may not be glamorous, it helped Big Red develop into the coach he is today.
In 1992, Reid moved to the professional ranks, taking a job with the Green Bay Packers; before long, he had risen through the ranks and made a name for himself as a top offensive mind. He then got a chance to run his own team, taking over as the head coach of the Philadelphia Eagles in 1999.
Although Big Red couldn't win the big game in Philly, his stock continued to rise; other than some clock management issues, no one had anything bad to say about the coach. His reputation, however, has further improved in Kansas City. After taking over a floundering Chiefs franchise in 2013, Reid has turned the team around and, with the help of Patrick Mahomes, finally lifted the Lombardi Trophy.
Helping to save the 2020 NFL season
Due to the coronavirus pandemic, the entire world has been turned upside down. While professional sports are no exception, the NFL is trying to play its 2020 season more or less as planned. If we have football this season, fans everywhere should thank Andy Reid for helping to get the deal done.
Before the season could officially begin, the NFL and NFLPA had to come to a consensus. Understandably, both sides had to find common ground on safety issues; there's no way football can proceed without testing protocols, safety measures, and the like.
That's where the Kansas City Chiefs head coach and his years of coaching experience came in. Big Red apparently had the clout to help get everyone on the same page.
"According to NFL Network insider Ian Rapoport, Reid walked union representatives through what training camp could look like this offseason. He also had a voice on the NFL owners call at the behest of league Commissioner Roger Goodell," Talon Graff explained for Chiefs Wire.
"Reid has had a reputation of being a player's coach when it comes to the locker room as well as front office negotiations. This rep seems to have reached a new level with the NFL Commissioner leaning on Coach Reid to help in one of the most trying times the NFL has seen. It speaks volumes to how well-respected he is."
Andy Reid and the Chiefs will be hoping to defend their title in 2020
Thanks, at least in part, to Andy Reid, the 2020 NFL season will attempt to go ahead more or less as planned. On an individual level, the coach will be hoping that he gets a chance to chase another Lombardi Trophy.
The Kansas City Chiefs, of course, are the defending Super Bowl champions. They're returning more or less the same roster that won the title last year; with their impeccable offense and improved defense, they'll have to think they have a legitimate shot at another championship. After suffering through countless playoff losses, now is the time for Big Red to get greedy and bolster his resume.
While there's no telling what the future holds, it currently looks like we'll have professional football in 2020. If the season manages to go off without a hitch, fans everywhere will have to send their thanks to Andy Reid.