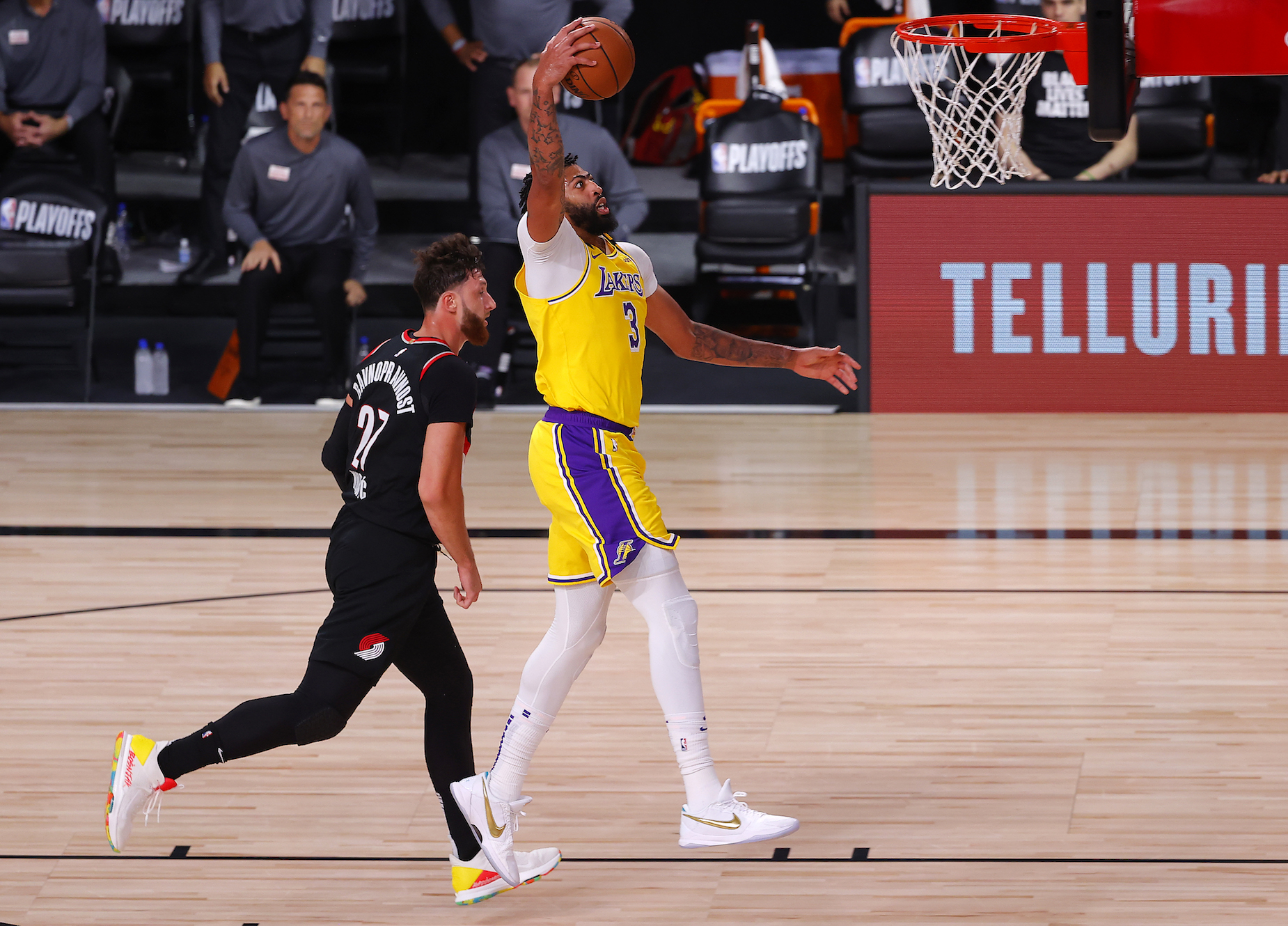 Anthony Davis Has Already Had a Childhood 'Dream Come True' Twice During His NBA Career
While Lakers big man Anthony Davis is yet to win an NBA title, he's already had a childhood dream come true twice during his career.
While centers aren't as important as they once were, Anthony Davis has still made quite a name for himself in the NBA. During his time on the hardwood, the big man has proven that he's a legitimate talent; he lifted the New Orleans Pelicans to relevance and, in Hollywood, has teamed up with LeBron James to chase a championship. He's done more than stuff the stat sheet and accumulates individual accolades, though.
Although Anthony Davis hasn't been able to lift the Larry O'Brien Trophy yet, he's already accomplished some big things in the pros. In fact, the Lakers star has already had his "dream come true" on two separate occasions.
Anthony Davis is a legitimate NBA talent
These days, Anthony Davis' talent isn't exactly breaking news; he's proven himself over eight NBA seasons. That familiarity, however, doesn't diminish his on-court abilities.
Davis first made a name for himself in his native Chicago, where he played AAU ball and came to dominate the high school scene. After graduation, he headed to the University of Kentucky. While he only spent one season with John Calipari's Wildcats, the big man made an impact, averaging 17.7 points, 13 rebounds, and 5.8 blocks per game, claiming multiple National Player of the Year awards, and winning the NCAA championship.
On the back of that success, Davis entered into the 2011 NBA draft; the New Orleans Hornets snagged him with the first-overall pick. After the big man's rookie season, the Hornets rebranded as the Pelicans. Davis, despite some early injuries, was their marquee star.
While the center grew into a legitimate star, capable of dominating on both ends of the floor, he grew tired of the Pelicans' struggles. Davis requested a trade in January 2019; New Orleans fans weren't happy, but, in the offseason, the big man got his wish and joined the LA Lakers.
Living the dream of being the NBA 2K cover star
While he's yet to win an NBA championship, Anthony Davis has already built up an impressive basketball resume. As mentioned above, he won a national title and took home plenty of individual honors in college; in the pros, he's made All-Star, All-NBA, All-Rookie, and All-Defensive teams. Another accomplishment, however, made his dream come true.
During his time on the Pelicans, Davis appeared alongside Steph Curry and James Harden on the cover of NBA 2K16. He repeated the feat last summer but didn't have to share the NBA 2K20 box with anyone else. Becoming a video game cover star, he explained, made his childhood dreams come true.
"It feels amazing," Davis said, according to Christian Rivas of Silver Screen and Roll. "It's a kid's dream, a dream come true. Any time you're young, and especially as a basketball player, you want to be on the cover of 2K and for me to do it twice, it's a blessing. I'm excited about this one because I'm the solo cover athlete. It should be fun."
Anthony Davis is building a lasting legacy
In isolation, gracing the cover of a video game might seem like a pretty insignificant accomplishment; in the big picture, no one will remember who was or was not on the cover of NBA 2K20. Anthony Davis, however, has one thing on his mind: building a legacy.
"Money comes and goes; your legacy is forever," Davis told Arash Markazi of the Los Angeles Times in July 2019. "I think how you establish yourself in the NBA and what you do on and off the court is something that people will remember forever. Obviously, our money is public and people know what we make, but at the end of the day. no one cares about how much money you make."
While things like championships and on-court performances obviously take precedence, video games, commercials, and other efforts all play a part in building a legacy. For the rising generation of basketball fans playing NBA 2K and watching the Lakers' playoff run, Davis will be one of the names they remember.
By age 27, Anthony Davis had already accomplished his childhood dream on two separate occasions. While that's pretty impressive, the big man isn't done yet; based on his career to date, he's going to retire with quite a legacy.
Stats courtesy of Sports-Reference and Basketball-Reference