Anthony Davis Has Made a $31 Million Mistake if Colin Cowherd's LeBron James Take Is Right
For a team that exited the playoffs two weeks before Father's Day, the Los Angeles Lakers show up in a lot of stories and talk-show conversations. Anthony Davis' name is the latest to make it into the headlines, but the premise behind a theory on LeBron James is pretty outlandish.
Does LeBron James want Anthony Davis out of LA?
Fox Sports talk-show host Colin Cowherd made an observation with some substance to it, then finished his story with the kind of speculation scorching enough to peel the paint off a wall.
Cowherd started by saying that Davis frustrated both James and Lakers coach Frank Vogel last season and that Vogel doesn't have job security that assures him another full season on the bench. From there, he made a somewhat tenuous case that James always forces changes when the season ends without an NBA title.
"Never forget that this is what happens in LeBron's career when he doesn't win a title. 2010, he leaves the Cavs for the Heat. In 2014, he left the Heat for the Cavs. 2016, he fired David Blatt the coach in Cleveland. 2017, he tried to get Kyrie Irving traded. 2018, he left the Cavs for the Lakers. In 2019, he blew out all the players and they traded for AD."

Colin Cowherd
The first-round wipeout at the hands of the Phoenix Suns has Cowherd thinking that the incessant talk over the last six weeks about players the Lakers might want to add plays second fiddle to the fate of Davis, a guy Cowherd thinks LeBron might want to discard.
"Big stuff is coming. It may be Dame, it may be Bradley Beal, I would not be shocked if AD got traded," Cowherd said. "I don't think it will happen, but the dude is not committed as much as LeBron is. Dame and Bradley Beal are in the weight room all offseason, and AD is increasingly hurt."
It sounds preposterous, but …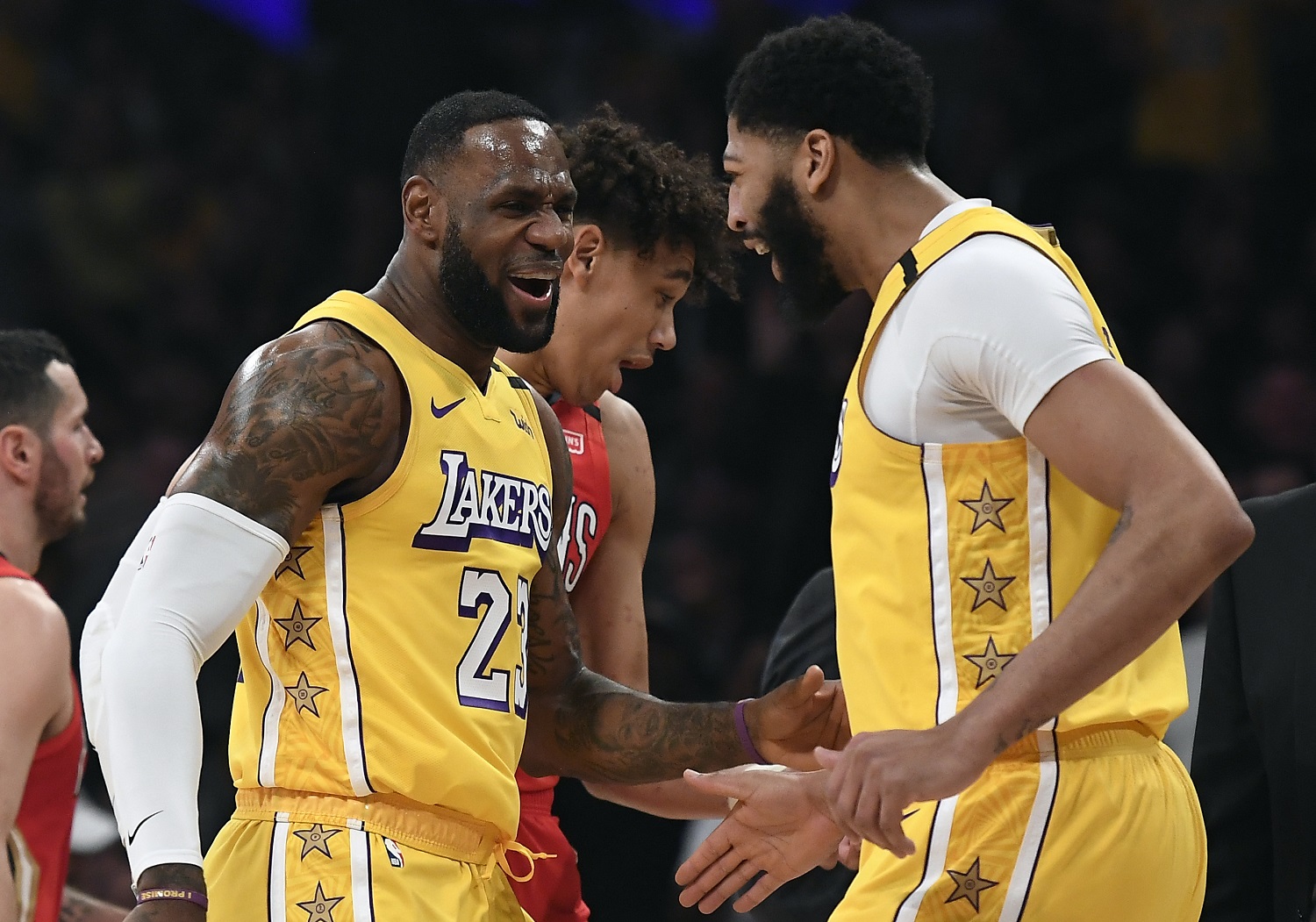 Cowherd's take is too over the top to spend an inordinate amount of time contemplating, even if he was the guy who broke the story of Tom Brady signing with the Tampa Bay Buccaneers.
There might be something to speculation that Davis is out of favor in LA. He missed half of the just-concluded NBA season. When he was on the court, Davis averaged his fewest minutes per game since his rookie season and his fewest rebounds ever.
Davis just completed the first year of a five-year, $189 million contract and is due $35.36 million next season. Assuming the Lakers could find a trade partner, the players they would get in return could go a long way toward bolstering a roster that risks losing 10 players to free agency.
On the other hand, James has perhaps three seasons left. Davis is 28 years old and could still have a decade left if he takes care of his body. All things considered, is Davis the veteran who the Lakers should dispatch to another team?
As we said, this whole trade idea is a bit much to dwell on.
Anthony Davis might have made a $31 million mistake
If Cowherd's take turns out to be more perceptive than we're giving him credit for and he is right about the Lakers trading Davis, then AD has a $31 million problem. That's what Dirt.com reported that he spent on a Bel Air-area mansion in May.
The property is in a subdivision where Gordon Ramsay resides. Kim Kardashian and Kanye West lived there while waiting to move into their Hidden Hills mansion.
The website reported that Davis took out a $20.1 million mortgage to complete the purchase. The property last sold for $10 million in 2016, at which time the new owner began extensive renovations. Still, Davis must have paid better than the market price for eight bedrooms and 9.5 baths spread over 20,000 square feet, even accounting for the oversized pool and a tennis court.
According to Sportico.com, Davis sold his previous residence for $6.5 million, which amounted to a $1 million loss relative to what he paid for it. Given that track record, he would almost certainly be taking a more substantial loss if he has to leave town and sell his new digs.
Like Sportscasting on Facebook. Follow us on Twitter @sportscasting19.