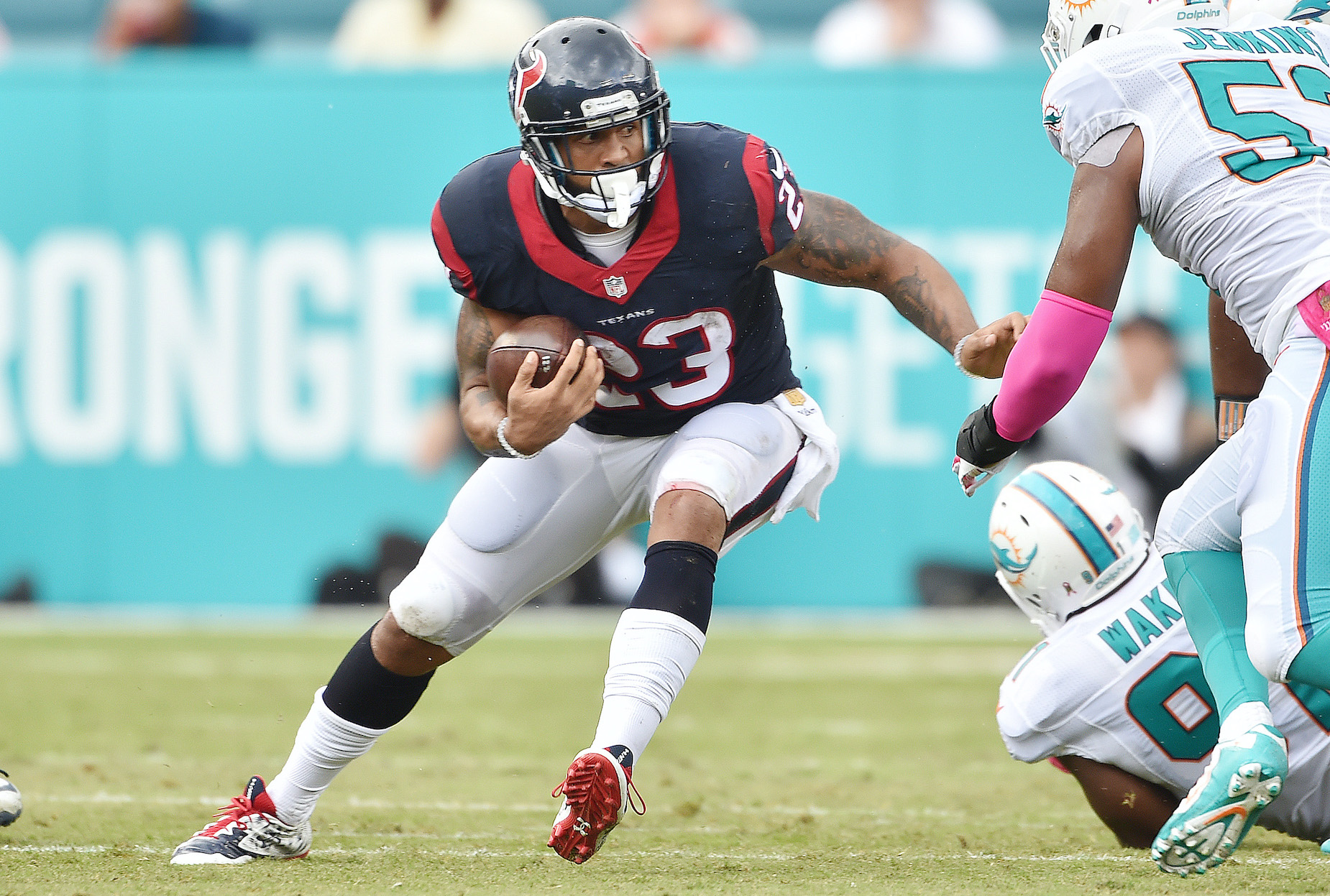 Arian Foster Made Almost $40 Million in the NFL, but He Wouldn't Play Football Again if He Had a Second Chance at Life
While Arian Foster has a sizable net worth thanks to his NFL career, he wouldn't play football again if he could do it all again.
If you're a football fan, playing in the NFL probably seems like a dream come true. In real life, however, things aren't all fun and games on the gridiron. Just ask former Houston Texans running back Arian Foster about that.
During his eight seasons in the pros, Arian Forster made almost $40 million in salary and built up an impressive net worth. While that represents a life-changing amount of money, the running back admitted that he wouldn't play football if he had the chance to go back and do it all again.
Arian Foster posted some impressive stats during his time with the Houston Texans
In the annals of NFL history, Arian Foster will eventually be lost to the passage of time. For a few years, though, every NFL fan and fantasy football player knew his name.
Foster played his college football at the University of Tennessee and posted impressive numbers during his junior year. The running back struggled as a senior, though, and went unselected in the 2009 NFL draft. He would sign a free-agent deal with the Houston Texans but didn't make much of an impact as a rookie.
During his second NFL campaign, however, Foster took over the top job and exploded; he piled up an incredible 1,616 rushing yards and found the end zone 16 times. Despite some injury issues, he followed that up with a 1,224-yard 2011 season and another 1,424 yards in 2012.
After that, though, things started to crumble. Foster missed half of 2013 with a back injury; while he seemed to return to form the following year, he ruptured his Achilles in 2015. The running back attempted to come back with the Miami Dolphins but only appeared in four games before calling it a career.
In total, Foster played 80 NFL games across eight seasons. He rushed for 6,527 yards and 54 touchdowns along the way.
Arian Foster's net worth and salary are pretty impressive
Compared to someone like Tom Brady, Arian Foster didn't spend a great deal of time in the NFL. The running back, however, still earned a sizable salary and built up an impressive net worth.
As an undrafted free agent, Foster entered the NFL earning a few hundred thousand dollars per season. Once he exploded, though, things obviously changed. In 2012, he signed a five-year, $43.5 million deal; unfortunately for the running back, he'd be cut before earning all of that salary.
Although injuries eventually curtailed his earning power, Spotrac's numbers still indicated that Foster earned just under $38 million in salary during his time in the pros. CelebrityNetWorth also pegs the former running back's fortune at approximately $50 million.
Playing football was more trouble than it was financially worth
When you look at Arian Foster's net worth, it's easy to assume that his playing career was well worth any sacrifices. The running back, however, has a different perspective on things.
During a 2017 appearance on the Joe Rogan Experience, Foster explained that pain is simply part of pro football; he had 14 surgeries and even played through a broken collarbone, just to avoid losing his job.
Eventually, the running back fell out of love with football; he felt that the pain simply wasn't worth it anymore. Based on that experience, Foster not only wouldn't let his children play football but even admitted that he wouldn't take the field, knowing what he does now.
"If I had to do it over again, I wouldn't have played football," Foster explained. "I'd be a scientist. Not even close." Beyond the physical damage and awkward reality of living in a fishbowl as a young man, he doesn't feel it's worth the fame and fortune.
When you hear about the massive sums of money that professional athletes make, it's easy to assume that they're living perfect lives squarely planted on easy street. Arian Foster, however, is a reminder that money can't always buy happiness.