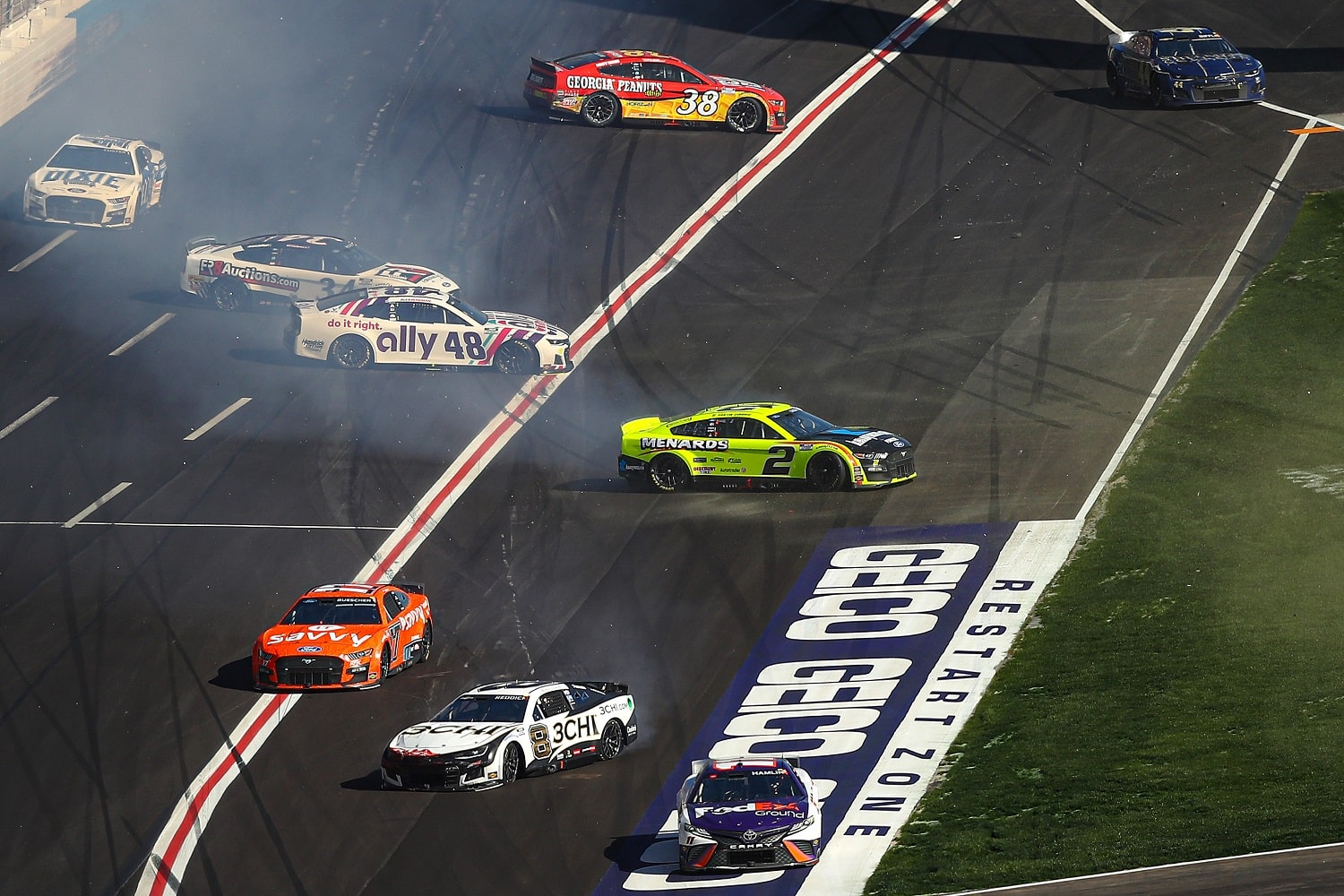 Atlanta's Long-Term Future May Ride on Making Up for Some of NASCAR's Lackluster Afternoon at Road America
All the lead changes could not mask the fact that the spring race at Atlanta Motor Speedway was not particularly good for NASCAR.
Kyle Larson, Kyle Busch, and Denny Hamlin were already done before the March NASCAR race at Atlanta Motor Speedway got down to the nitty-gritty and William Byron triumphed by taking the lead from Bubba Wallace with 10 laps left.
While 46 lead changes among 20 drivers looks good on paper for pure entertainment value, the race on the newly renovated track didn't resonate with fans or teams in the aftermath of exciting races at Fontana and Las Vegas.
That's what happens when top drivers check out by early in the final stage and teams tear up their very expensive cars.
NASCAR treated Atlanta like a superspeedway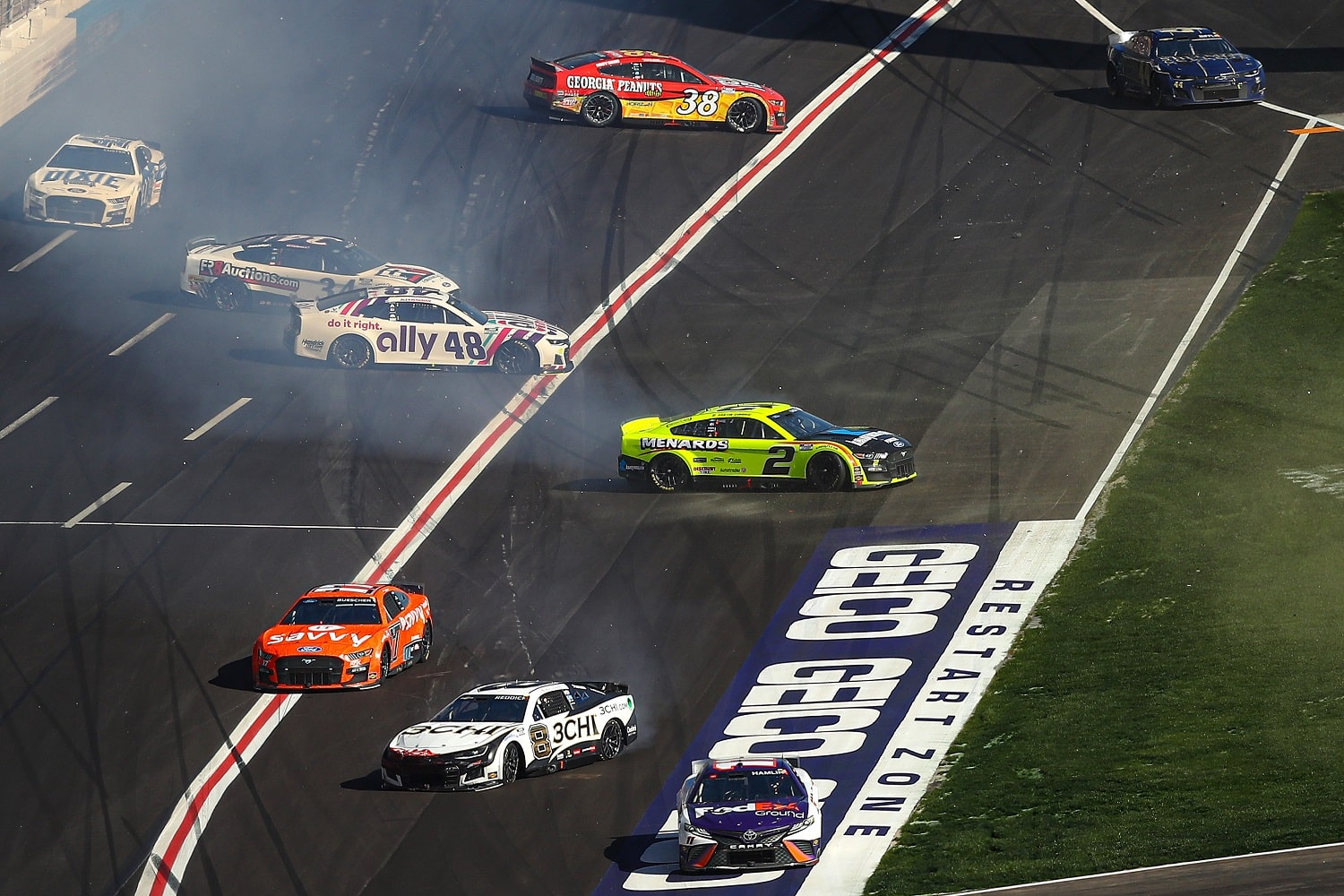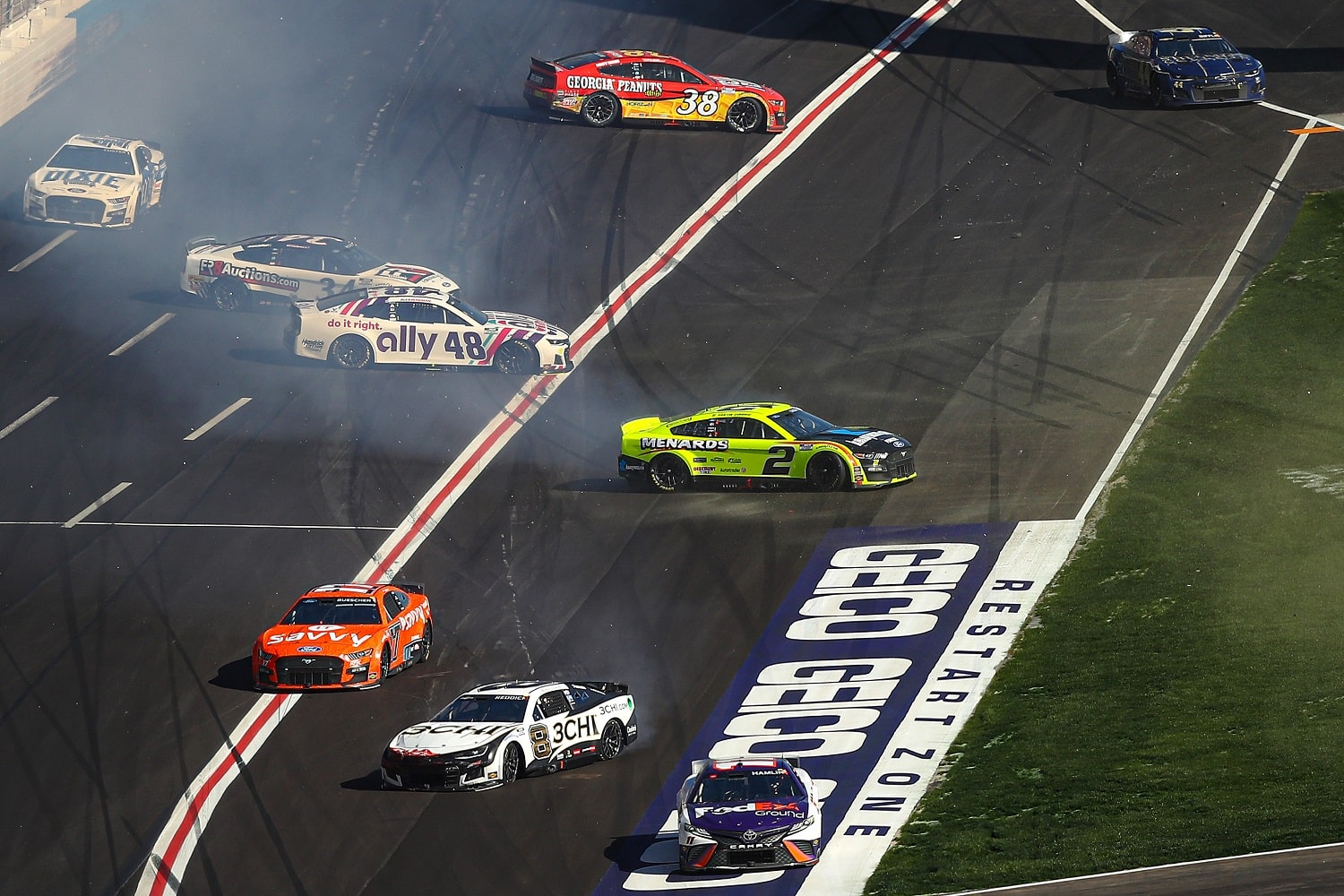 The makeover of the 1.54-mile Atlanta Motor Speedway track included steeper banking and a narrowed racing surface. That didn't sit well with drivers who felt excluded from the planning process, and it prompted NASCAR to take a cautious approach. Officials installed the superspeedway package – 510 horsepower and a seven-inch-tall spoiler, as opposed to 670 hp and a four-inch spoiler at other intermediate tracks.
It briefly appeared that the decisions had the intended effect. The first 54 laps generated 13 lead changes, and that all happened with just one wreck, a single-car incident.
Unfortunately, "The Big One" arrived on lap 146 and collected a dozen cars. Six more cautions followed, and the longest green-flag run was 44 laps.
In short, NASCAR managed to make Atlanta behave like Daytona or Talladega, which wasn't necessarily a compliment.
Denny Hamlin summed the day up perfectly
Kyle Larson and Denny Hamlin made it to Lap 210 of the scheduled 325 on March 20 at Atlanta Motor Speedway before a wreck took them both out. By day's end, 25 of the 37 cars were involved in incidents that resulted in 20 percent of all laps being run under cautions.
"This is what they were shooting for, so if you ask (track executives), it's a success," Hamlin said, according to Fox Sports. "I think the racing was obviously close. It's exciting. There's crashes. So, there's something for everyone."
He wasn't saying that in a flattering fashion. And for as much passing as was taking place at the front of the pack, those at the back didn't enjoy the sort of movement traditionally possible at the Talladega and Daytona superspeedways.
"If you were 10th on back today, you were kind of just a passenger," said Austin Cindric, who only made it to Lap 200.
That's part of the dilemma for NASCAR and Atlanta track officials. Though the early-season races at Talladega and Daytona were successes, the sport doesn't need more superspeedways. But Atlanta doesn't seem capable of handling the higher-horsepower package of the intermediate tracks, so it's a de facto superspeedway now.
Sunday's race will be the first chance to tweak the tires that were problematic in March and look for whatever else can help the whole field run more consistently, and hopefully with fewer wrecks.
Can Atlanta hang on as a twice-a-year NASCAR destination?
Much has already been made of the likelihood of Road America, coming off a lackluster show last weekend, losing its annual race to accommodate the expected addition of a Chicago street course. If NASCAR axes another road course, it likely will be a case of moving the Indianapolis date back onto the 2.5-mile oval, and that would help right-size the number of road courses.
Of the 24 tracks on this season's schedule, 12 are hosting a pair of races. That's a privilege that probably can't continue. While Daytona, Martinsville, and several other tracks can consider their dates safe based upon tradition and consistent attendance, others have to be in the crosshairs as NASCAR plots its future.
The sport needs to fix the NASCAR Next Gen issue on short tracks, and it eventually will. Given that the short tracks are fan favorites, the sport will look for opportunities there and possibly at previous ovals like Chicagoland Speedway and Kentucky Speedway, given how well the Next Gen car seems to handle intermediates.
Texas Motor Speedway has already lost one of its two points races, and Atlanta or Kansas would be among the next candidates to drop down to one race a year. A good race and a better crowd on Sunday will work in Atlanta's favor. Otherwise, the track will need to come back strong in 2023 to be safe.
Like Sportscasting on Facebook. Follow us on Twitter @sportscasting19.