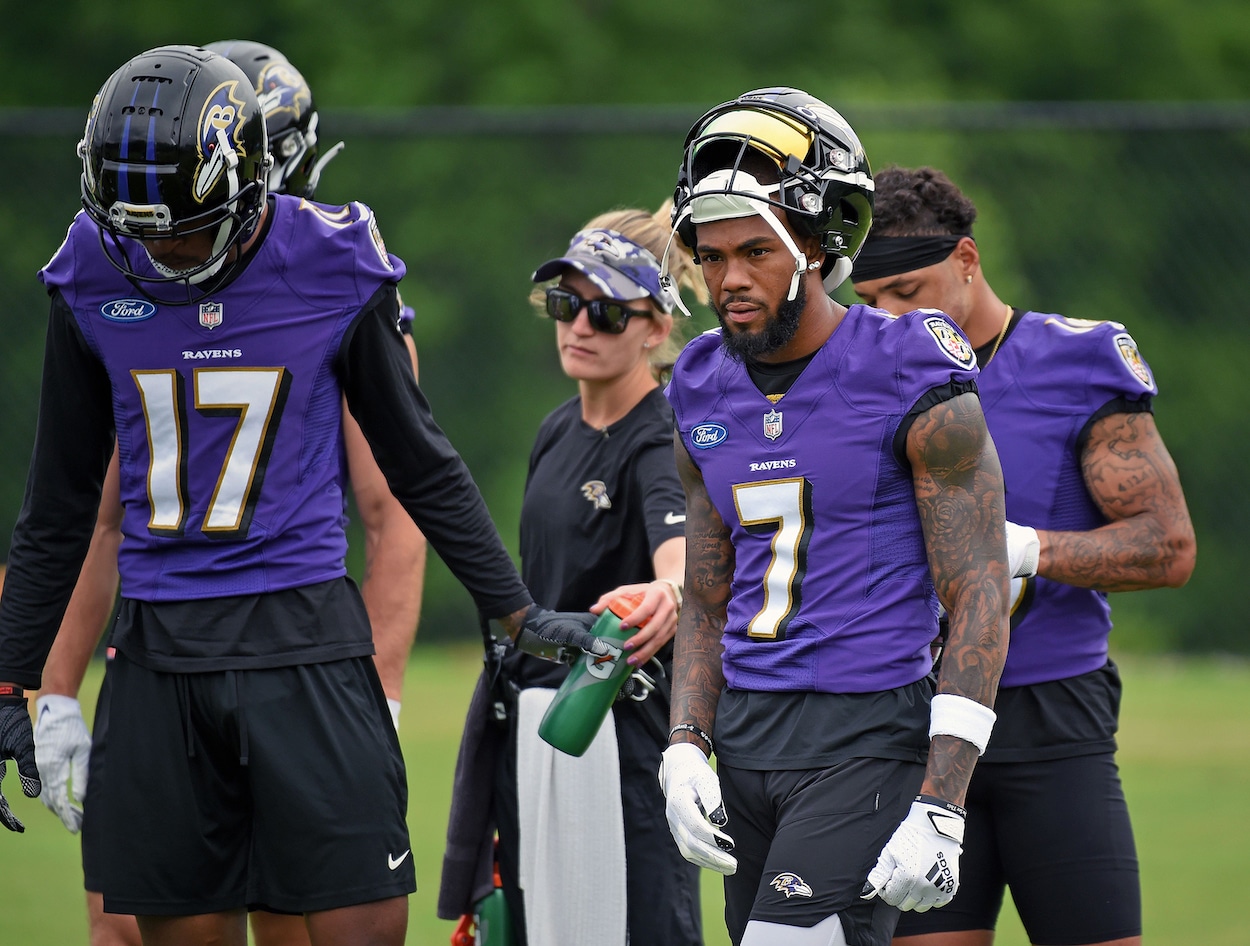 Baltimore Ravens Training Camp: 3 Position Battles to Watch in 2022
As the Baltimore Ravens training camp opens ahead of the 2022 NFL season, here are three camp battles to keep a close eye on.
After a Baltimore Ravens offseason consumed with the Marquise Brown trade and Lamar Jackson contract drama, head coach John Harbaugh has to be relieved to finally be back on the field. Be careful what you wish for, though. Harbaugh has some tough decisions to make before Week 1. There are some crucial spots on offense with lots of players to choose from but no great options. As Baltimore Ravens training camp gets underway, here are three positional battles to watch closely.
Baltimore Ravens Training Camp Info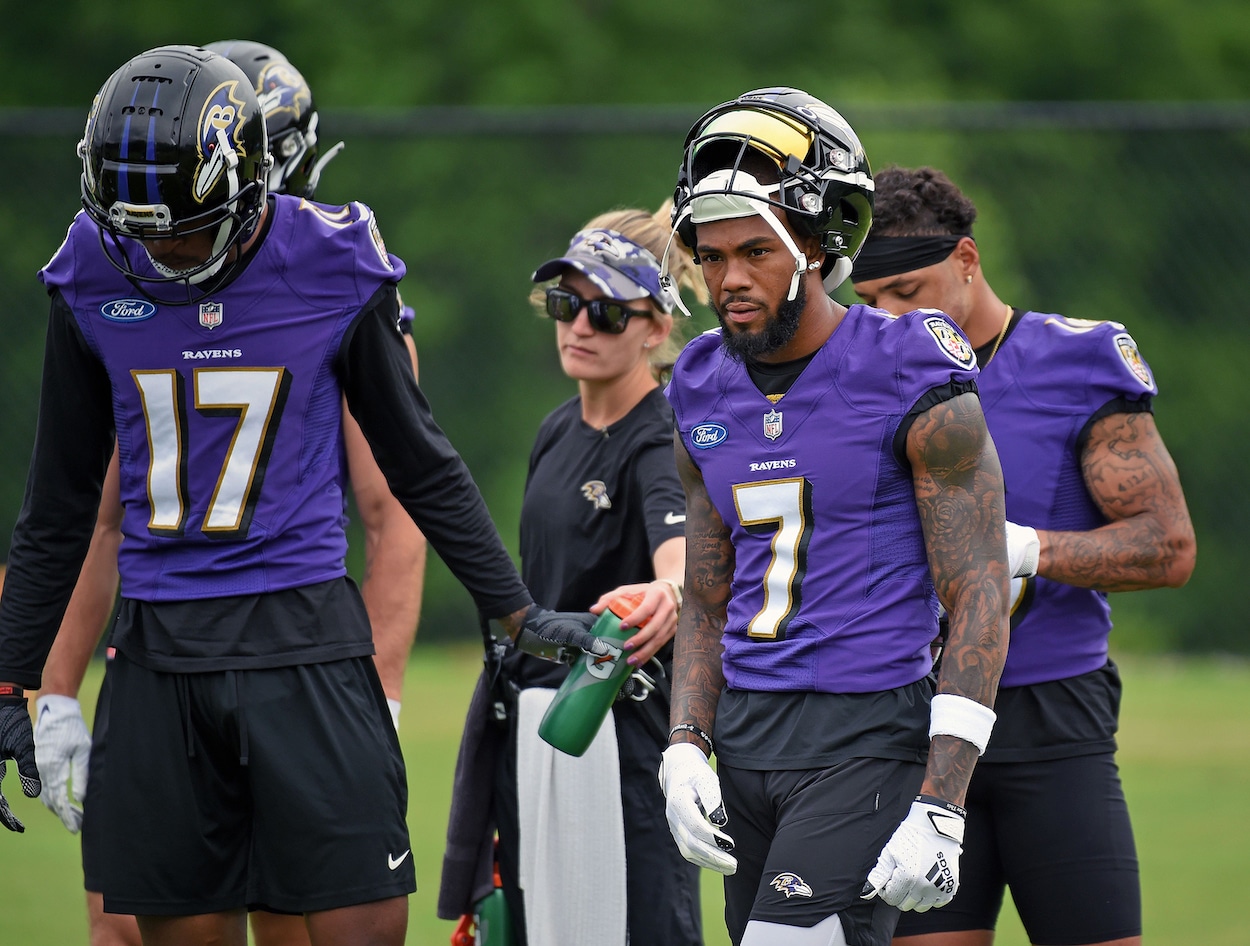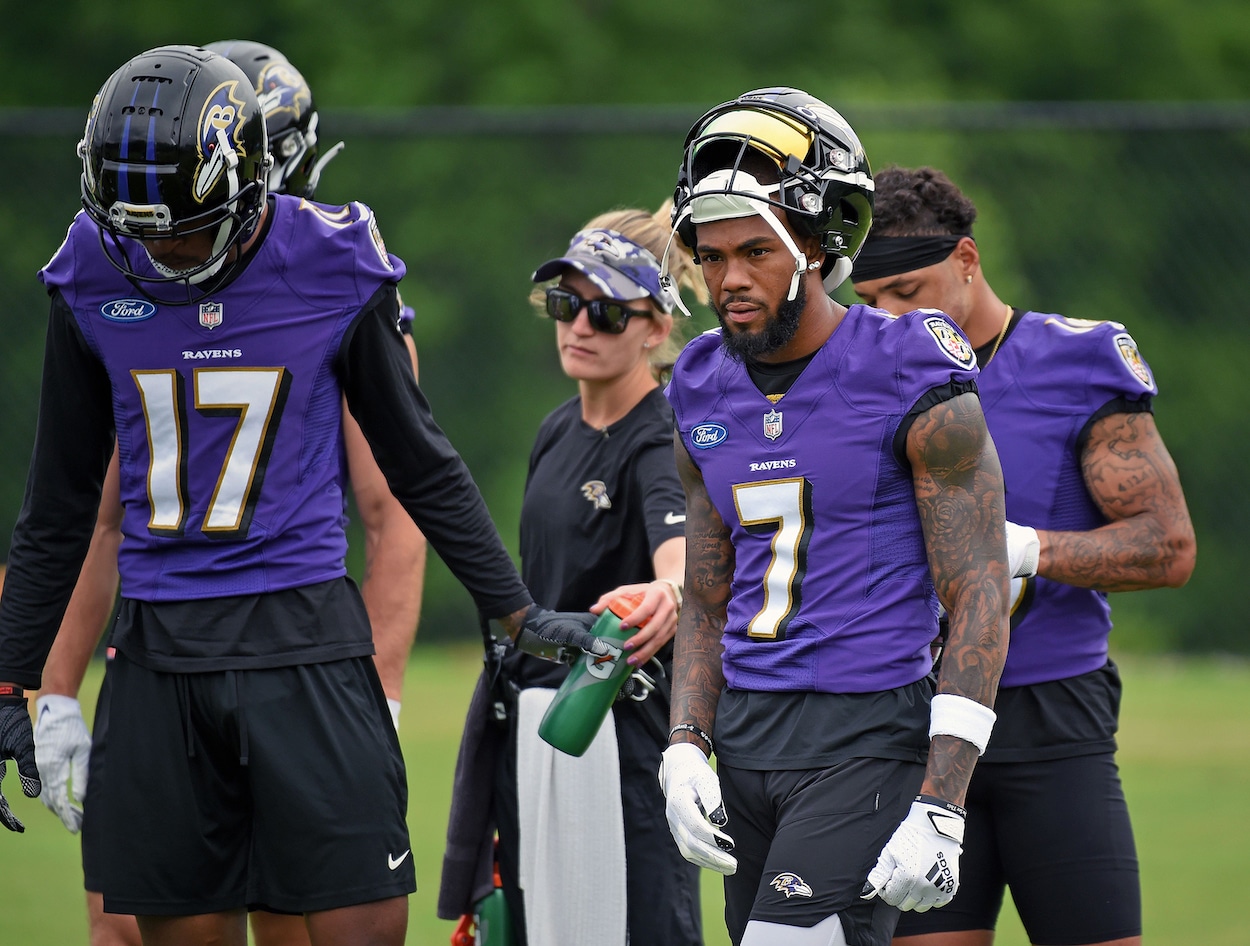 Location: Under Armour Performance Center, Owens Mills, Maryland
Rookies report: Tuesday, July 19, 2022
Veterans report: Tuesday, July 26, 2022
First game: at New York Jets, Sunday, September 11, 1:00 p.m. EST
Battle No. 1: WR — Rashod Bateman vs. Devin Duvernay vs. James Proche II vs. Tylan Wallace vs. six undrafted free agents
Lamar Jackson will throw a lot to tight ends and running backs this year, but if the Baltimore Ravens hope to be real contenders, they need production from the wideout spot. 
Devin Duvernay was a Pro Bowler and All-Pro in 2021 as a return man and had 33 catches for 272 yards and two touchdowns last season. The Ravens 2021 first-round pick, Rashod Bateman, missed the season's first five games but came on strong later in the year. He finished with 46 catches for 515 yards and a TD. 
Both Bateman and Duvernay will get a chance in Baltimore Ravens training camp in much more prominent roles. So will third-year pass catcher James Proche II (2021: 16 catches, 202 yards) and second-year WR Tylan Wallace (2 catches, 23 yards). 
The fascinating competition will be among the six undrafted rookie free agents the Ravens invited to camp. 
Devon Williams (Oregon), Makai Polk (Mississippi State), Slade Bolden (Alabama), Shemar Bridges (Fort Valley State College), Trevon Clark (Cal), and Raleigh Webb (The Citadel) are all competing for a roster spot. Can one of them step up this season and become more than a special teams contributor?
Battle No. 2: RB — J.K. Dobbins vs. Gus Edwards vs. Tyler Badie vs. Justice Hill vs. Mike Davis
The Baltimore Ravens offense relied on scrap-heap veterans like Devonta Freeman and Latavius Murray last season after injuries cut J.K. Dobbins, Gus Edwards, and Justice Hill's seasons short before they even got started in 2021. 
Now those three are back and will compete amongst each other — and with two additional RBs — for playing time. 
Mike Davis is a straight-ahead battering ram who's scored nine TDs in his last two seasons for the Carolina Panthers and Atlanta Falcons. Tyler Badie is a sixth-round pick from Missouri. The undersized speedster was third in FBS in yards last season and could surprise this season. 
The end result of this battle will likely be a Dobbins/Edwards 60/40 split with Hill as the change-of-pace back. However, Badie could easily bust into this rotation in a big way. 
Battle No. 3: LG ­— Patrick Mekari vs. Ben Cleveland vs. Tyre Phillips vs. Ben Powers
If everyone is healthy — which is still a big if – the starting offensive line coming out of Baltimore Ravens training camp will be Ronnie Staley (LT), Tyler Linderbaum (C), Kevin Zeitler (RG), and Morgan Moses (RT). 
The left guard spot is the only one not locked down, and there are some intriguing options for John Harbaugh. 
Ben Cleveland (aka The Mountain) started four games last season as a rookie, Patrick Mekari and Ben Powers started 12, and former Last Chance U star Tyre Phillips started five. 
There's only one spot available for these four, though, in 2022. 
This should be an incredible Baltimore Ravens training camp battle, and any of these four players could win the job. Cleveland was a third-round pick in 2021 and finished the season holding the position. That should make him the slimmest of favorites. 
All stats courtesy of Pro Football Reference