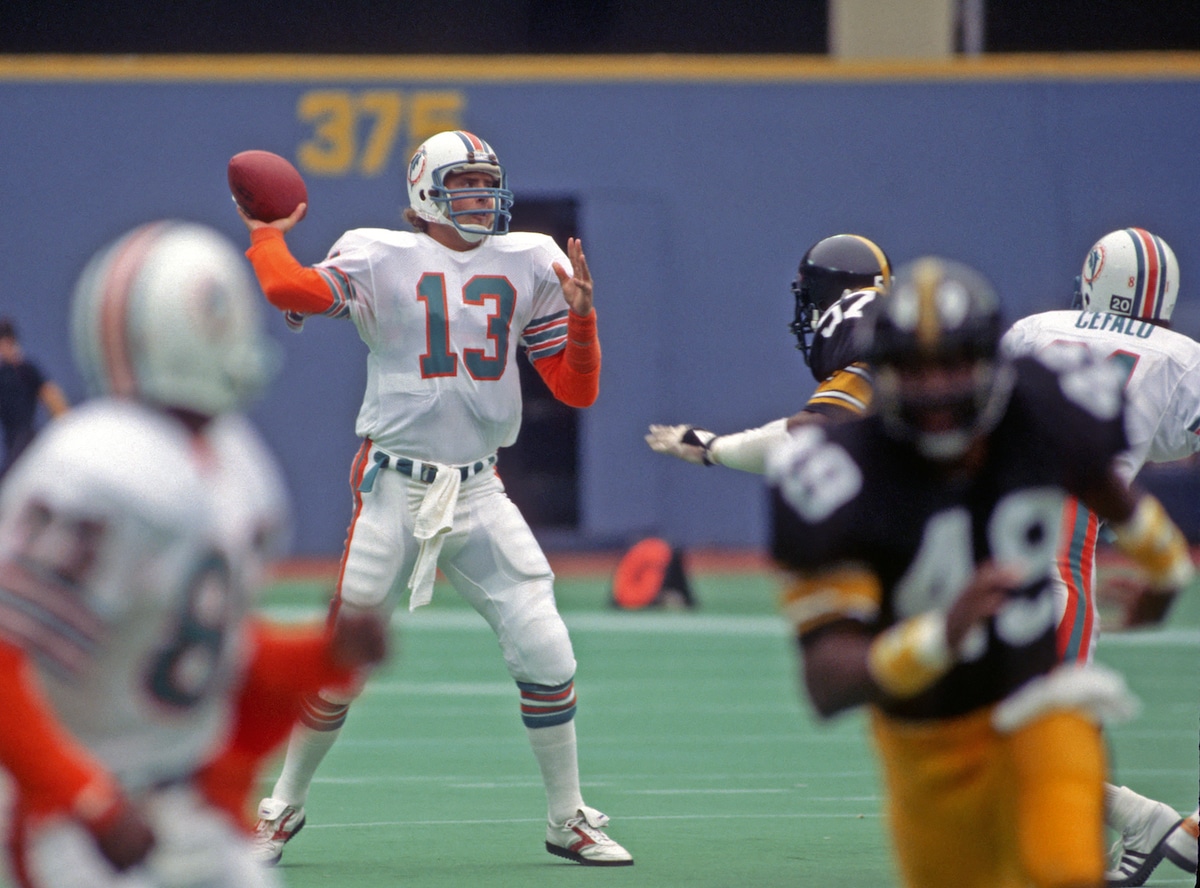 The Best Athletes to Ever Wear a Number 13 Jersey
The number 13 jersey wasn't unlucky for these legends.
Who says the number 13 jersey is unlucky? Certainly not the many standout athletes who have worn it on their back over the years, ranging from Alex Rodriguez smacking home runs for the New York Yankees to pre-Philadelphia 76ers James Harden drilling step-back threes to Dan Marino tossing touchdowns for the Miami Dolphins.
For our list of the 10 best to ever wear a number 13 jersey, presented alphabetically by first name, we highlighted their professional careers only while donning the one and three. These athletes were selected based on their accolades, statistical accomplishments, and talent while wearing a number 13 jersey.
Alex Rodriguez
Alex Rodriguez started his MLB career with the Seattle Mariners while wearing a different digit (3). But he began to don the number 13 jersey after a trade to the New York Yankees. While playing in pinstripes, he racked up many of his notable achievements. He won the World Series in 2009, was named the American League MVP twice, and was selected as an All-Star in seven seasons.
Billy Wagner
Billy Wagner wore the number 13 jersey for the entirety of his 16-year MLB career. A seven-time All-Star and a member of the Houston Astros' Hall of Fame, he established himself as one of the greatest closers in league history. Wagner retired with 422 saves and a 2.31 ERA, trailing only five players on the lifetime saves leaderboard.
Dan Marino
Dan Marino spent 17 years in the NFL and played every snap for the Miami Dolphins while wearing the number 13 jersey, which has since been retired by both the Dolphins and Pittsburgh, where he played his college football. One of the greatest quarterbacks in league history, he made nine Pro Bowls and three All-Pro appearances, peaking when he won MVP in 1984 behind 5,084 yards and 48 passing touchdowns.
James Harden
Few players have ever been better than James Harden on the offensive end of the NBA court. The bearded shooting guard wore the number 13 jersey with the Oklahoma City Thunder, Houston Astros, and Brooklyn Nets before switching when he joined the Philadelphia 76ers. A 10-time All-Star, seven-time All-NBA member, three-time scoring champion, one-time MVP, and member of the 75th Anniversary Team, Harden is a no-doubt inclusion even if his career is still in progress.
Kurt Warner
Kurt Warner rose from the Arena Football League to the top of the NFL pile when he won the Super Bowl in 2000 and earned a pair of league MVP awards, establishing himself as one of the greatest underdog stories in sports history. He may not have worn the number 13 jersey while stocking grocery shelves, but he did while winning both MVPs and posting lofty stats galore under center for the St. Louis Rams and Arizona Cardinals.
Lindsay Whalen
A Hall of Famer and four-time champion, Lindsay Whalen never wore anything else while suiting up in the WNBA for the Connecticut Sun and Minnesota Lynx. The 5-foot-9 point guard averaged 11.5 points, 3.8 rebounds, and 4.9 assists throughout her playing days and remained active long enough to sit within the top 10 for career points (10th) and assists (fourth).
Pavel Datsyuk
Pavel Datsyuk spent his entire NHL career with the Detroit Red Wings, wearing the number 13 jersey all the while. The center won two Stanley Cups, as well as three Frank J. Selke Trophies and four Lady Byng Memorial Trophies. On top of that, he's a member of the NHL's 100th Anniversary Team and helped Russia win gold in the 2018 Winter Olympics.
Ronald Acuna Jr.
Though Ronald Acuna Jr. hasn't yet celebrated his 26th birthday, he's already established himself as one of baseball's finest players. With four All-Star appearances, two Silver Sluggers, a Rookie of the Year award, and over 25 WAR in his young career, there's no doubt the Atlanta Braves outfielder is only getting started but has already strutted his stuff enough to make our top 10. Plus, he's the odds-on favorite to win National League MVP honors after the 2023 MLB season concludes.
Steve Nash
Steve Nash remains one of the greatest NBA players without a championship to his credit. The Canadian point guard thrived with his pinpoint shooting accuracy and flashy passing, winning MVP twice, making eight All-Star squads, and earning seven All-NBA honors before eventually landing in the Hall of Fame.
Wilt Chamberlain
Often considered one of the 10 best basketball players in NBA history, Wilt Chamberlain wore the number 13 jersey for his entire career. He earned jersey retirements with three different teams thanks to his 100-point game, pair of championships, four MVP dalliances, and record-setting statistical achievements.
Best athletes to wear a number 13 jersey: honorable mentions
We considered so many great athletes who've worn a number 13 jersey. The following didn't quite make it on our top-10 list, but they're worth mentioning due to their incredible talent and prolific careers. More will join them as new talents distinguish themselves.
Alessandro Nesta
Carl Crawford
Claude Passeau
Dave Concepcion
Don Maynard
Eusebio
Gerd Muller
Glenn Robinson
Jake Scott
Joakim Noah
Keenan Allen
Ken Riley
Lance Parrish
Maicon
Manny Machado
Mark Jackson
Mats Sundin
Michael Ballack
Michael Thomas
Mike Cammalleri
Mike Evans
Odell Beckham Jr.
Omar Vizquel
Ozzie Guillen
Paul George
Salvador Perez
Slava Kozlov
Teemu Selanne
T.Y. Hilton
Stats courtesy of Basketball Reference, Pro Football Reference, Transfermarkt, Baseball Reference, and Hockey Reference