Kurt Warner: Biography, Career, Net Worth, Family, Top Stories for the Hall of Fame QB
Find everything you could possibly need to know about Hall of Fame quarterback Kurt Warner.
In a league full of players with inspiring backstories, few measure up to the rags-to-riches rise of former St. Louis Rams quarterback Kurt Warner. Considering he was an Iowa native who generated little buzz out of high school, nobody could have guessed he would one day have a bust in the Pro Football Hall of Fame. 
After all, how many grocery clerks have the pinpoint accuracy and arm strength required to play in the NFL? 
As it turns out, the one-year college wonder-turned-shelf stocker did have the physical tools (and the mental toughness) to make it in pro football. Only unlike most players enshrined in Canton, Warner's path to greatness included not only working at a grocery store but also playing in the Arena Football League and NFL Europe — a league that ceased operations in 2007. 
Producing a shining example of how pursuing your dream can pay off, Kurt Warner's persistence positioned him to become one of the most successful quarterbacks of his generation. And between his on-field accomplishments, off-field endeavors, and unique journey to stardom, it's easy to see why this Cinderella story has to be told and remembered. 
Article contents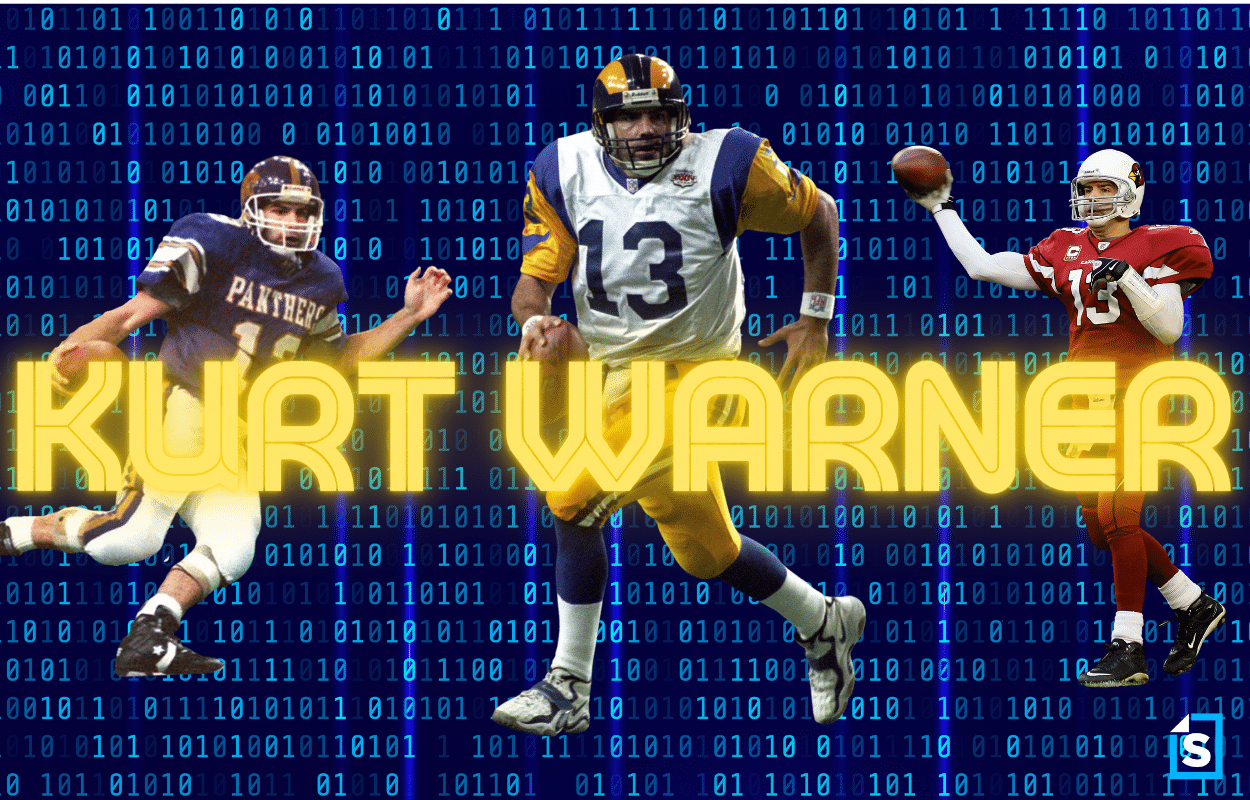 Quick facts
Early life and high school
College
Going undrafted
Working his way into the NFL
NFL career
Retirement from NFL
NFL awards and achievements
NFL stats
Post-retirement activities
Wife, kids, and family
Net worth and career earnings
Nicknames
Media presence
Endorsements
Public service
FAQ
Quick Kurt Warner facts
Full name: Kurtis Eugene Warner
Birthday: June 22, 1971
Birthplace: Burlington, Iowa
Parents: Gene Warner and Sue Warner 
Siblings: Matt Warner
Listed height: 6-foot-2
Listed weight: 214 pounds
High school: Regis High School (Cedar Rapids, Iowa) 
College: University of Northern Iowa (1989-93)
NFL Draft: Went undrafted in 1994
NFL Teams: Green Bay Packers (training camp), St. Louis Rams, New York Giants, Arizona Cardinals
NFL Position: Quarterback
NFL number: Nos. 10 and 13 
NFL playing career: 1998-2009
Marital status: Married
Spouse: Brenda Carney Meoni (1997) 
Children: Zachary Taylor Warner (1989), Jesse Jo Warner (1992), Kade Eugene Warner (1998), Jada Jo Warner (2001), Elijah Storm Warner (2003), Sienna Rae Warner (2005), Sierra Rose Warner (2005)
Where did Kurt Warner grow up and play high school football?
Although Iowa is known for producing corn, it also produced an all-time great quarterback: Kurt Warner.
Born in Burlington (a small city with an estimated population of less than 25,000), Gene and Sue Warner's son eventually became a recognizable figure from an otherwise unknown area of the country. 
Ironically, the future NFL star had no desire to play the position at which he was destined to excel. He initially wanted to suit up as a defensive end and offensive skill player for Regis High School, but coach Jim Padlock made a bargain with Warner that he could rush the passer if he would also throw passes. 
Despite earning All-State honors as a senior, the talented signal-caller didn't receive much interest from colleges. 
"I remember Kurt was a very average high school quarterback with potential," Greg Purnell, who coached against Warner while at Linn-Mar, told Hawk Central's Mark Emmert. "He was a really good competitor, but he developed so late in his life."
Where did Kurt Warner go to college?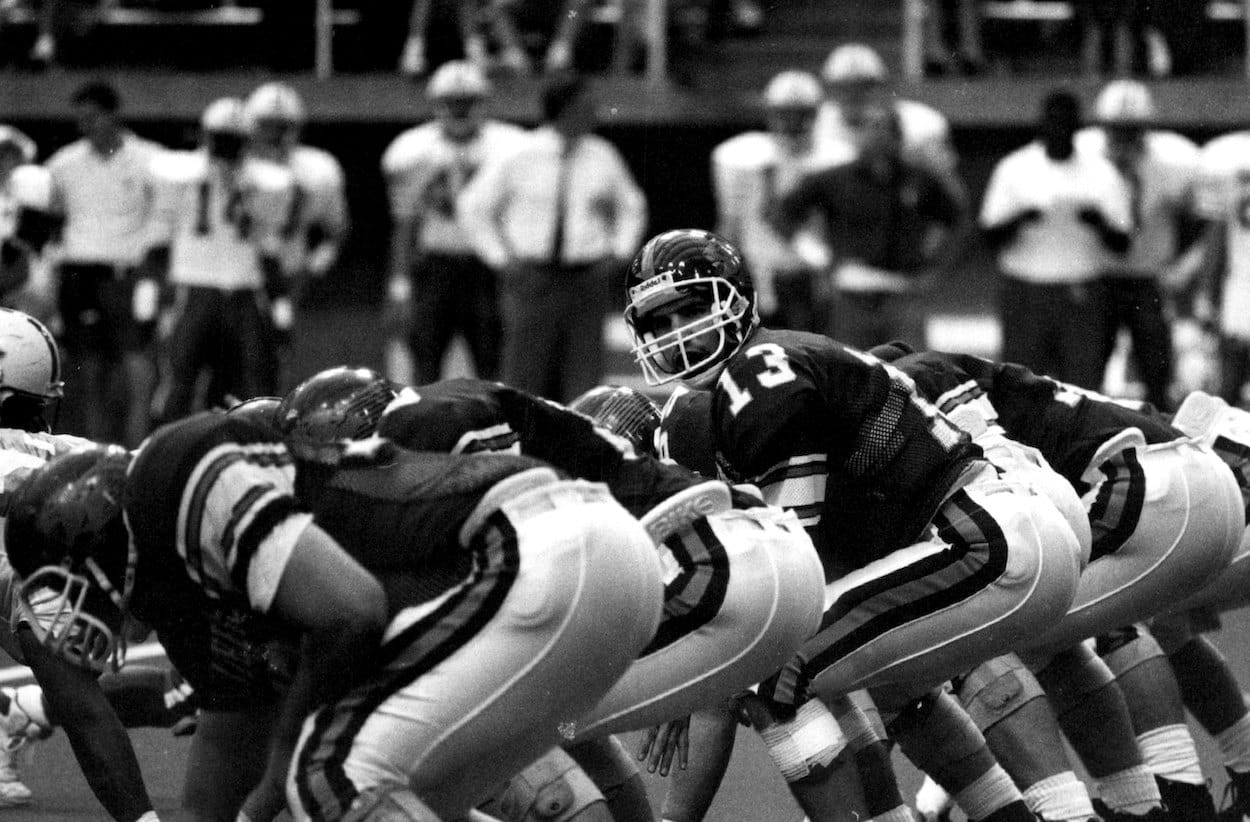 Warner didn't travel far for the next step of his football journey. Following a successful but mostly nondescript high school career, he committed to the University of Northern Iowa to play for coach Terry Allen. 
However, Warner spent most of his college career on the sidelines watching three-time All-Gateway Conference selection Jay Johnson star for a highly successful Panthers program. 
Fittingly, just as he did in high school, Warner made the most of an opportunity to showcase his skills. In his lone season as a starter, he won Gateway Conference Offensive Player of the Year honors after completing 58.4% of his attempts for 2,747 yards and 17 touchdowns while leading UNI to an 8-4 record. 
Warner's breakout campaign included a 5-1 mark against conference opponents and a trip to the NCAA Division I-AA Football Championship playoffs, where his team fell to Boston University in a 27-21 double-overtime loss. 
Kurt Warner went undrafted in 1994
As a one-year starter from a DI-AA school, Kurt Warner did not have a particularly strong resume heading into the 1994 NFL Draft. 
Still, former pro scout and current general manager of Ourlads' NFL Scouting Services Dan Shonka saw the signal-caller's potential. 
"When I visited UNI in the fall of 1993, Panthers offensive coordinator/quarterback coach and pro liaison Bill Salmon told me to keep an eye on Warner and explained that the right-handed, strong-armed passer could start for most IAA programs, but it was tough to replace a smart seasoned quarterback like [Jay] Johnson who rarely made physical or mental errors," Shonka recalled. "Salmon and Head Coach Terry Allen gave Warner high marks in every phase of the game except experience, which was reflected in my report." 
In an example of transparency rarely seen at the NFL level, Shonka even shared his official scouting report on Warner. He pointed out quite a few positive traits shown by the former Panthers QB, including "good arm strength" and being "a clutch player down the stretch." 
However, even though a seasoned scout like Shonka thought Warner "improved every game his senior year making key split-second decisions," his peers weren't interested in using a draft pick on a player with just 12 games of experience.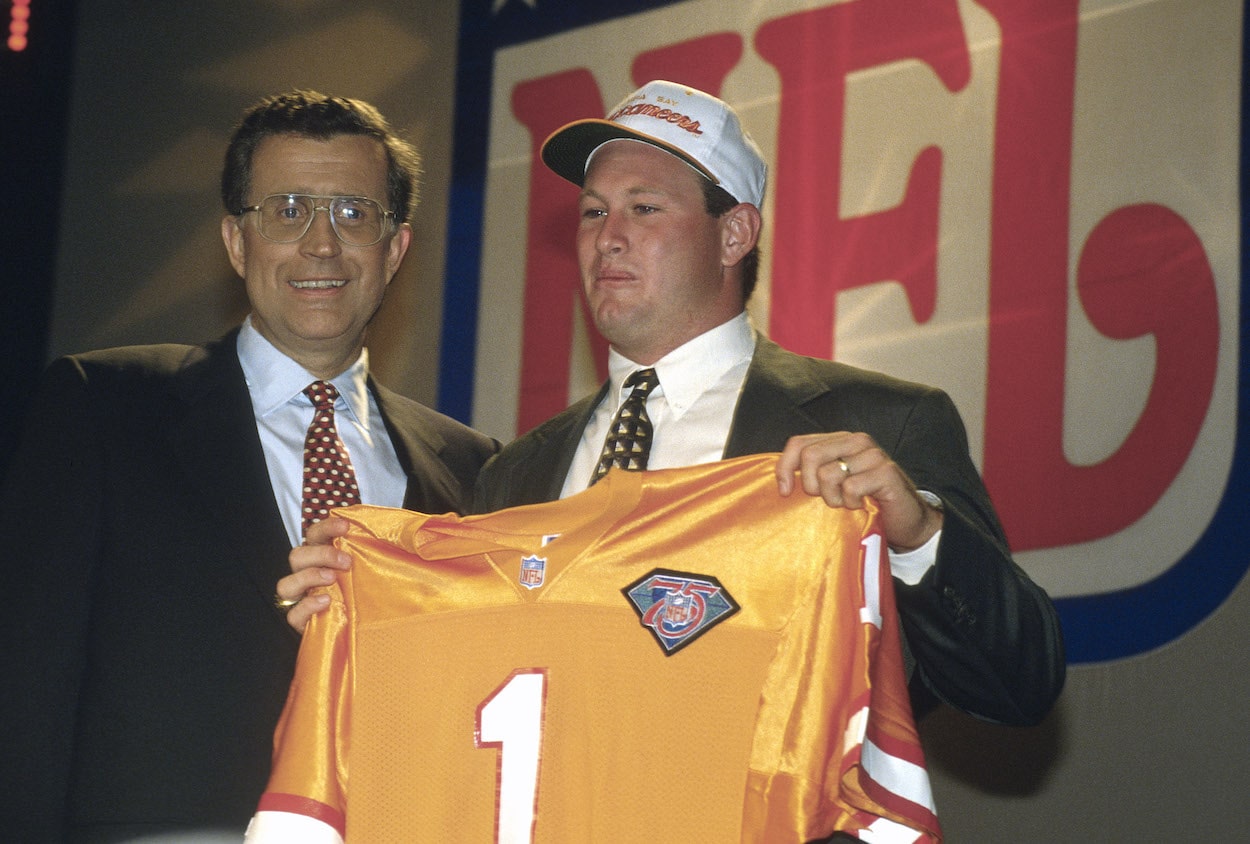 Instead of receiving a phone call from an NFL team, Warner watched nine other quarterbacks achieve their dream of being selected. The mostly forgettable 1994 quarterback class included: 
Heath Shuler (1st round, 3rd overall to the then-Washington Redskins)
Trent Dilfer (1st round, 6th overall to the Tampa Bay Buccaneers) 
Perry Klein (4th round, 111th overall to the Atlanta Falcons) 
Doug Nussmeier (4th round, 116th overall to the New Orleans Saints) 
Jim Miller (6th round, 178th overall to the Pittsburgh Steelers) 
Gus Frerotte (7th round, 197th overall to Washington) 
Jay Walker (7th round, 198th overall to the New England Patriots) 
Steve Matthews (7th round, 199th overall to the Kansas City Chiefs) 
Glenn Foley (7th round, 208th overall to the New York Jets) 
After going undrafted, Warner received an invite from the Green Bay Packers to attend training camp. He joined a talented quarterback room headlined by Brett Favre (2016 Hall of Fame inductee), Mark Brunell (three Pro Bowl selections with the Jacksonville Jaguars), and Ty Detmer (1990 Heisman Trophy winner). 
What was the thinking behind Green Bay's decision to bring the UDFA to camp? 
"Their idea when they brought me in was we need a camp arm," Warner told Bob Wolfley of the Milwaukee Journal Sentinel in 2011. "We need a fourth guy to take some reps when we want to give the other guys a break. I don't think there was ever really the idea that this guy is an NFL-type quarterback. We have seen some things that we like. Let's bring him in and see what happens." 
Ultimately, Warner received his walking papers just five weeks into camp. 
Unable to secure a job in pro football, he resorted to stocking shelves for $5.50 an hour. The experience humbled the NFL hopeful, putting him on a path that eventually allowed him to make a living by throwing passes. 
Kurt Warner had to work his way back to the NFL
Working at a Hy-Vee grocery store in Cedar Falls represented a turning point for Kurt Warner. He could have abandoned his dream of playing pro football, but he instead opted to do everything possible to make an NFL roster. 
After serving as a graduate assistant at his alma mater, Warner got back to throwing passes — this time as a member of the Iowa Barnstormers. And it didn't take long for fans of the Arena Football League to recognize their starting quarterback was on a different level. 
In three seasons with the Barnstormers, Warner completed 62% of his attempts for 10,465 yards, 183 touchdowns, and 43 interceptions. The two-time first-team All-Arena selection also added another 16 rushing touchdowns during his highly successful stint in the AFL. 
A member of the league's Hall of Fame, Warner's dominance while playing the indoor version of pro football earned him notoriety and potential job opportunities. 
"Warner was so good in his three seasons in the AFL that, according to legend, an opposing coach ask the Chicago Bears GM to give Warner a tryout, just to get him out of the league," GQ's Clay Skipper wrote about the 2017 Pro Football Hall of Fame inductee.
True or not, Warner did get a chance to get back in the NFL when the Chicago Bears accepted his request for a tryout. 
However, a cruel case of bad luck ensued when the NFL hopeful could not attend the workout due to a spider bite he sustained during his honeymoon. The injury occurred to his throwing elbow, and it ultimately cost him a shot at showcasing his skills for the Bears.
The setback didn't stop Warner from pursuing his NFL dream. After the 1997 season ended, the St. Louis Rams signed the AFL standout to a futures contract. That set the stage for Warner's rise to stardom, as he took his talents across the pond to play for NFL Europe's Amsterdam Admirals. 
His lone year in the league could not have gone better. Not only did Warner lead the league in passing touchdowns (15), but he also finished first in passing yards (2,101). 
His impressive debut proved instrumental in allowing him to land a roster spot with the Rams. In fact, Warner's single season with the Admirals changed the course of his entire career. 
"Had it not been for NFL Europe, Warner might never have signed with an NFL team in 1998," ESPN's Kevin Seifert wrote in a breakdown of quarterbacks whose careers advanced by playing overseas. 
Kurt Warner NFL career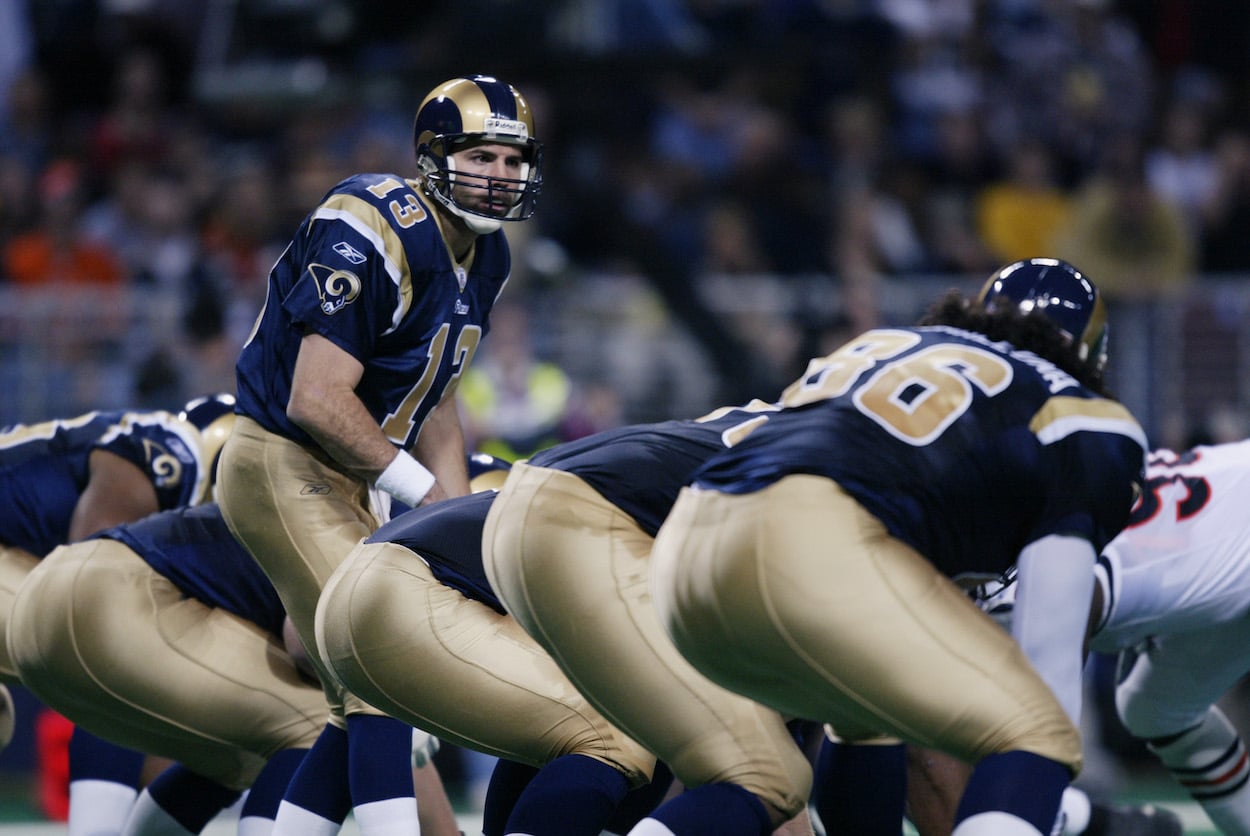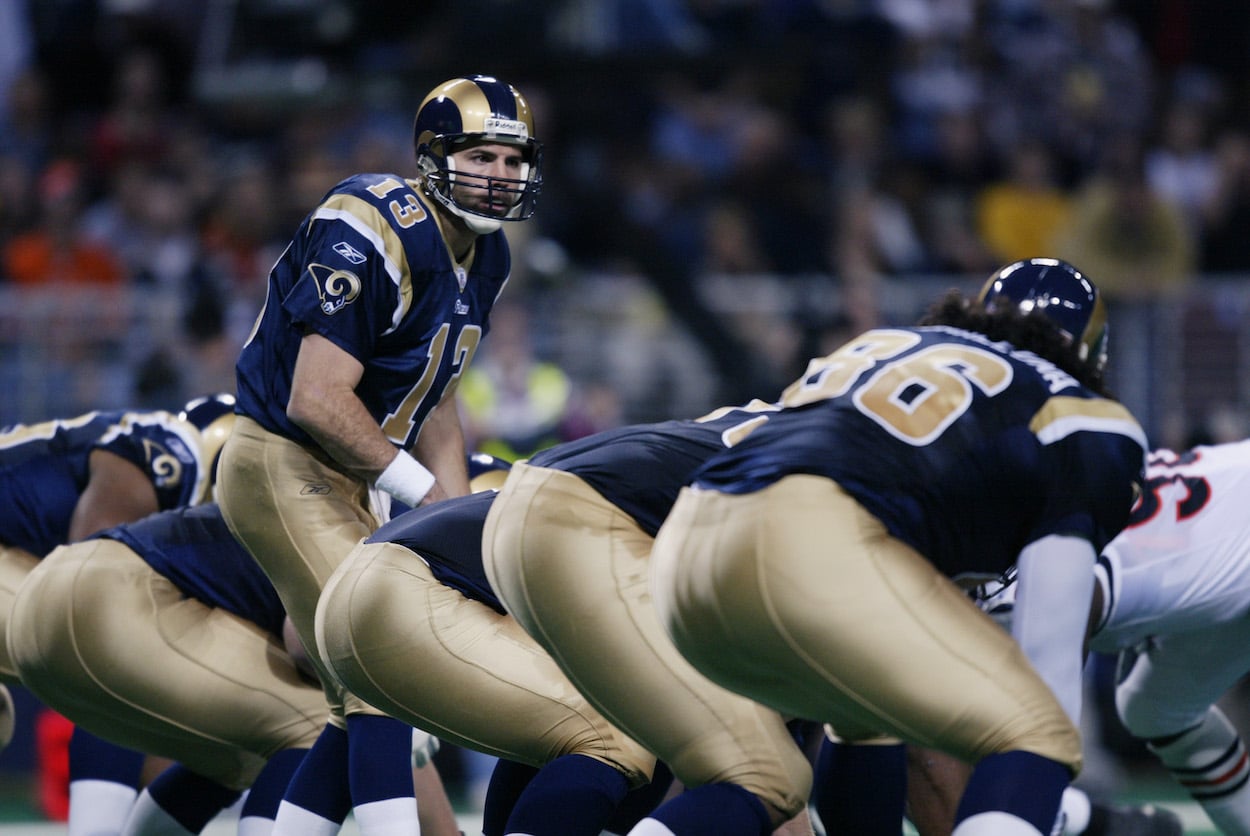 Despite being one of the top quarterbacks in the AFL and NFL Europe, Warner remained a largely overlooked player at the NFL level. After spending the 1998 season as the Rams' third-string signal-caller, he was chosen to be one of the team's five unprotected players in the 1999 NFL Expansion Draft. 
Yet even though the Cleveland Browns had a chance to take a future Hall of Famer, they selected Scott Milanovich, who attempted just three passes in the NFL. 
With the Rams signing Trent Green to be their new starter, Warner entered the 1999 season second on the depth chart. However, a devastating hit by Rodney Harrison quickly caused the youngster to go from backup to starter. With Green suffering a torn ACL, Warner took over a loaded offense chock full of playmakers. 
By the season's end, he had reached star status, leading the Rams to a Super Bowl title as he earned MVP honors.
His breakout campaign marked the start of a stat-stuffing stint in St. Louis that saw the team go 35-8 between 1999-2001. Unfortunately for the former shelf-stocker, injuries caused him to fall out of the spotlight for several years. 
Warner's mid-career slide only made his comeback story even better. He became a full-time starter again at age 36 for the Arizona Cardinals, whose offense centered around All-Pro receiver Larry Fitzgerald. Warner reminded everyone why he won MVP honors in two of his first three seasons in St. Louis by throwing 83 touchdowns and leading Arizona to a Super Bowl berth during his final three years in the NFL.
Warner's first taste of NFL action saw him attempt just 11 passes for a Rams team that went 4-12 under Dick Vermeil. He spent the 1998 season as the team's third-string quarterback behind Tony Banks and Steve Bono. 
Still one of the greatest seasons by a quarterback in NFL history, Warner's breakout campaign helped transform the Rams from one of the worst teams in the league to the most dominant. Not only did he win an NFL MVP trophy, but he also got to hoist the Lombardi Trophy. 
After announcing his arrival in 1999, Warner signed a seven-year, $47 million contract extension over the summer and followed up with another Pro Bowl-caliber campaign. However, he missed the middle of the season with a broken hand, and the Rams failed to defend their Super Bowl title. 
Warner went back to being the most dangerous quarterback in the NFL during the 2001 season. He led the league in touchdown passes, captured his second NFL MVP award, and brought his team back to the Super Bowl. However, the high-flying Rams lost to a New England Patriots squad led by a young, unproven version of Tom Brady.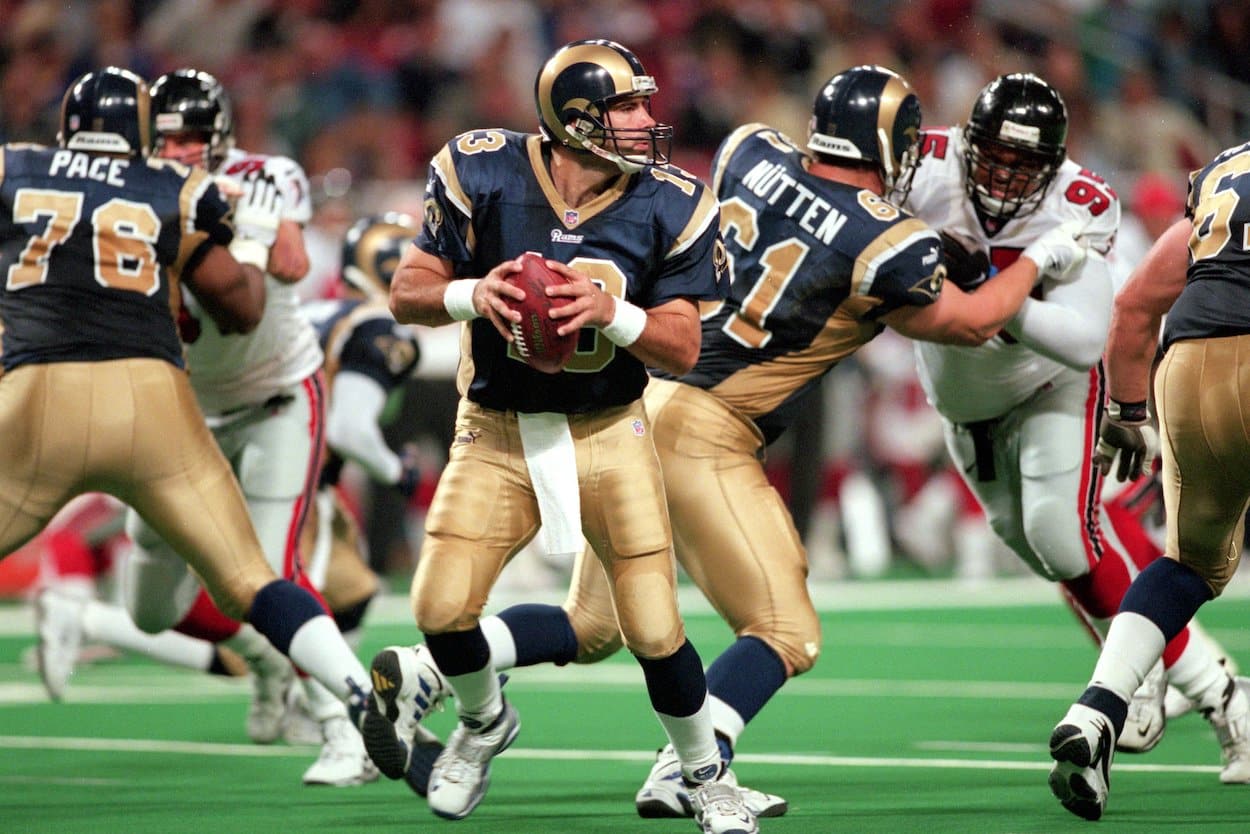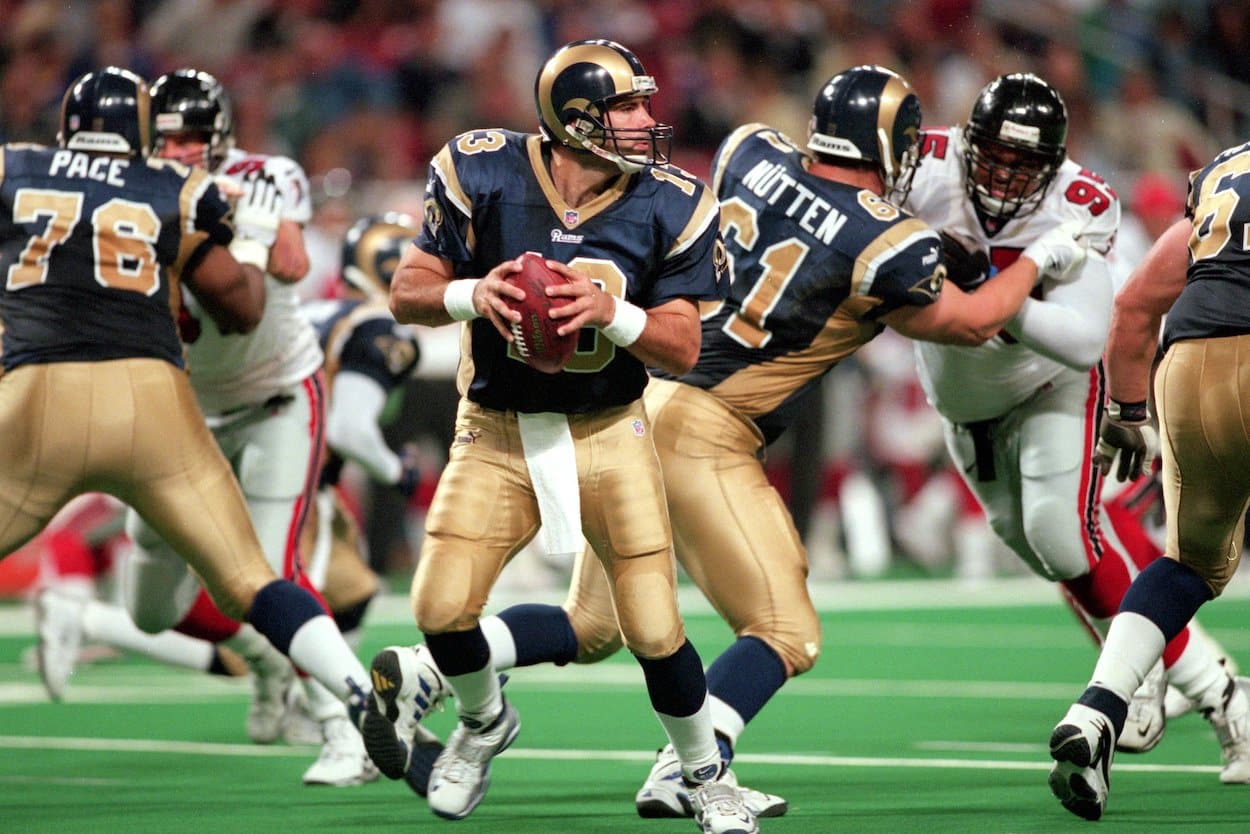 The worst season of Warner's NFL career came right after he had one of his most successful ones. Besides turning the ball over at an alarming rate, he sustained a broken finger on his throwing hand that derailed his fifth year in St. Louis and opened the door for Marc Bulger to make a positive impression on the coaching staff. 
Committing six fumbles in a season-opening loss to the New York Giants cost Warner his job. He only appeared in one other game for a Rams franchise that handed the reins over to Bulger, who remained the team's starting quarterback through 2009. 
Released by the Rams over the summer, Warner signed a one-year deal to serve as a bridge quarterback for the New York Giants. He won five of his nine starts, got replaced by No. 1 overall pick Eli Manning, and subsequently declined his second-year player option.
A fresh start in Arizona quickly went south as a string of lackluster performances and a groin injury paved the way for Josh McCown to take Warner's starting gig. The former Ram bounced back down the stretch before suffering a partially torn MCL in Week 15.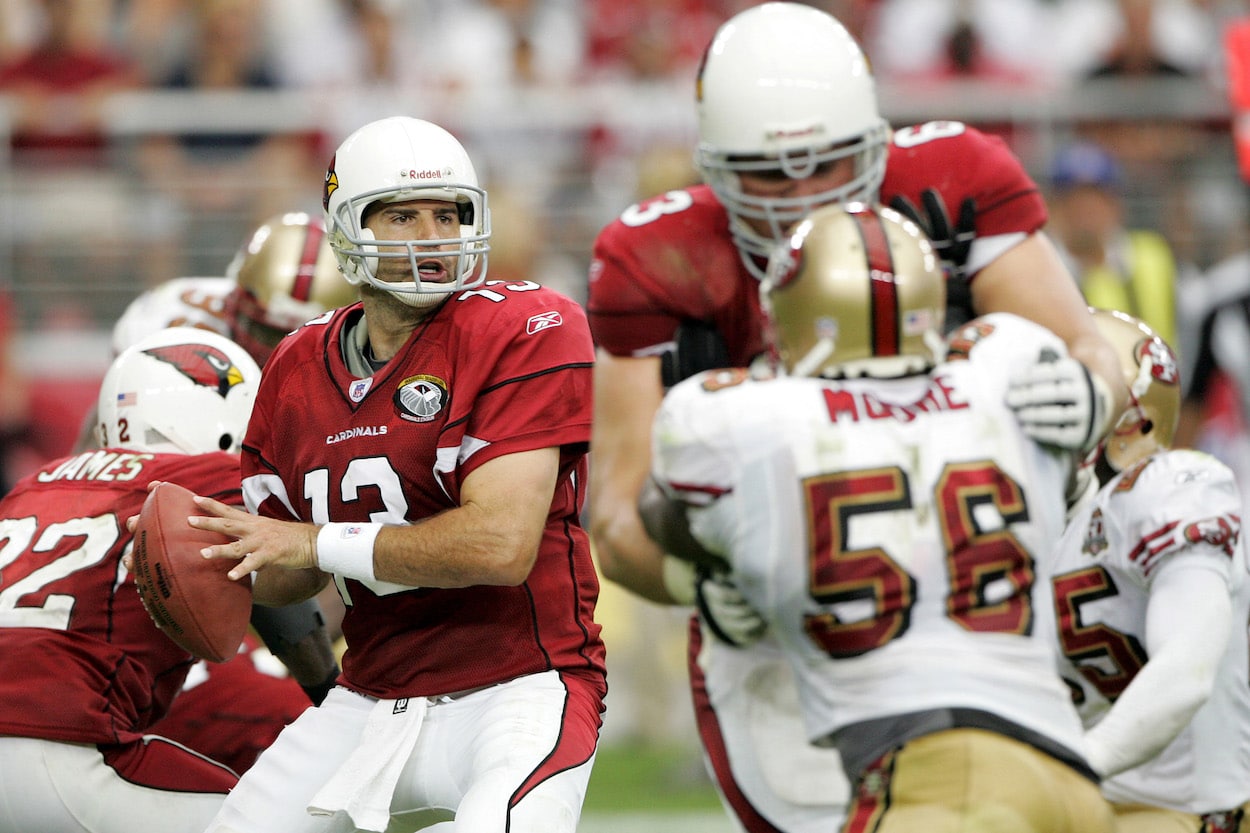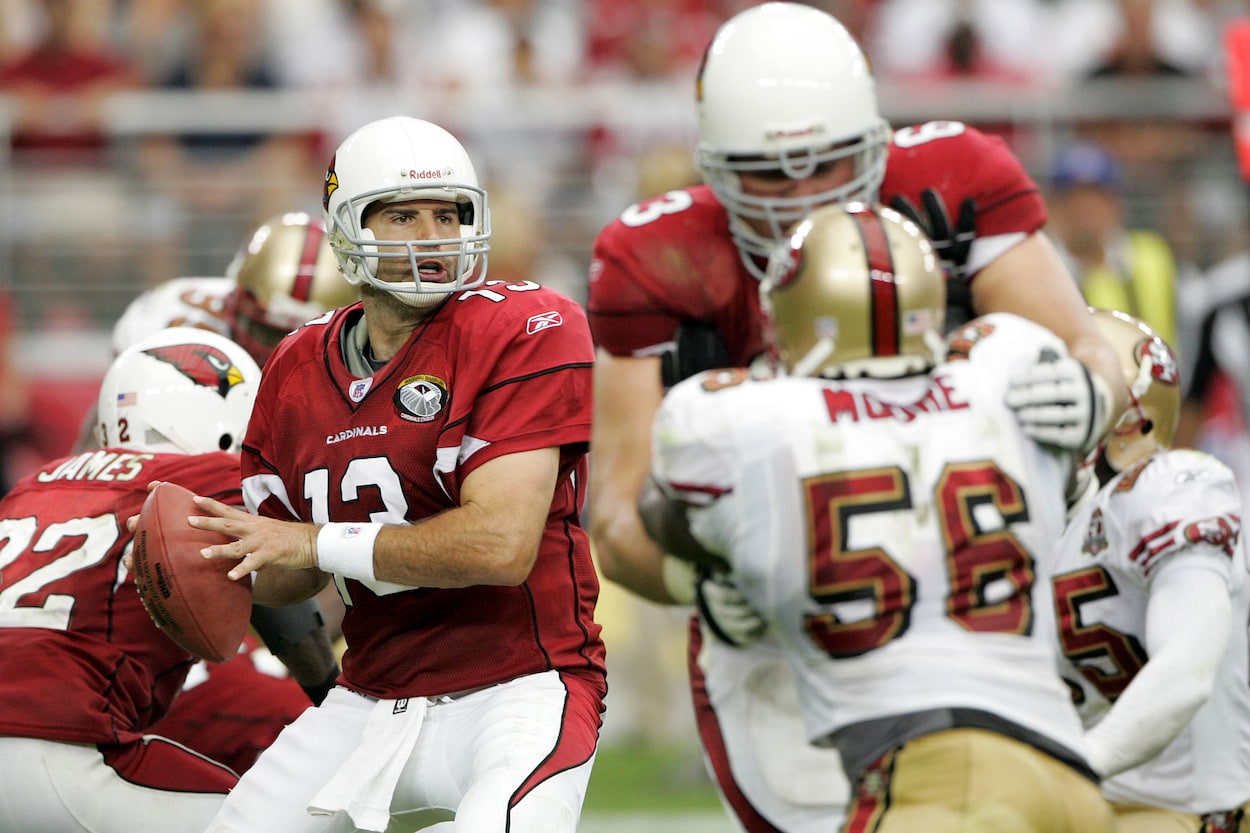 The Cardinals signed Warner to a three-year extension, and he promptly rewarded them by winning NFC Offensive Player of the Week honors to start the season. Although he became the second-fastest player in NFL history to surpass the 20,000-yard passing milestone, his 2006 campaign also included getting benched by Dennis Green. 
With Matt Leinart struggling to live up to expectations, Warner surprised many by stepping up in his age-36 season. After totaling just 27 touchdown passes from 2002-06, he matched that number in 2007 while also surpassing 3,000 yards for the first time since 2001. 
The battle-tested veteran proved his bounce-back campaign was no aberration by earning Pro Bowl honors at age 37. Warner's 2008 season included 30 passing touchdowns, a 96.9 quarterback rating, and a Super Bowl trip that ultimately ended in heartbreak for Cardinals fans, coaches, and players.
Despite receiving a compelling contract offer from the San Francisco 49ers, Warner re-signed with the Cardinals. He looked sharp even after coming off arthroscopic hip surgery. However, a late-season concussion coupled with a lopsided Divisional Round loss to the New Orleans Saints marked the end of an era for one of the best quarterbacks of his generation. 
When and why did Kurt Warner retire? 
Kurt Warner wrapped up his playing days after an injury-shortened 2009 season. He officially announced his retirement on Jan. 29, 2010, approximately six months before his 39th birthday. 
Walking away from the game he loved represented a huge change for the decorated quarterback. But Warner didn't necessarily do so because he felt he lost his skills. 
Ironically, several years after he retired, the idea of Warner returning to the field became a storyline. With the Cardinals dealing with injuries to Carson Palmer and Drew Stanton, the 43-year-old Warner admitted he considered coming back to help his former team.  
Kurt Warner NFL awards and achievements
Kurt Warner accomplished essentially every feat a quarterback could dream of during his dozen-year NFL career. 
On an individual level, he racked up both regular-season and Super Bowl MVP honors. Plus, playing in a prolific offense with fellow Hall of Famers Isaac Bruce, Marshall Faulk, and Orlando Pace allowed Warner to lead the league in key passing metrics and rack up a pair of first-team All-Pro selections. 
Most importantly, the well-respected leader helped the Rams achieve championship glory. By the time Warner walked away from football for good, he had compiled a noteworthy list of achievements, including:
Hall of Fame (2017 inductee) 
Two-time NFL Most Valuable Player (1999, 2001) 
Super Bowl champion (Super Bowl 34)
Super Bowl MVP (Super Bowl 34) 
Two-time First-Team All-Pro (1999, 2001) 
Four-time Pro Bowler (1999-2001, 2008) 
Three-time NFL completion percentage leader (1999-2001) 
Two-time NFL passing touchdowns leader (1999, 2001) 
Two-time NFL passer rating leader (1999, 2001) 
NFL passing yards leader (2001) 
Bart Starr Award (2010) 
Bert Bell Award (1999) 
Arizona Cardinals Ring of Honor
Kurt Warner stats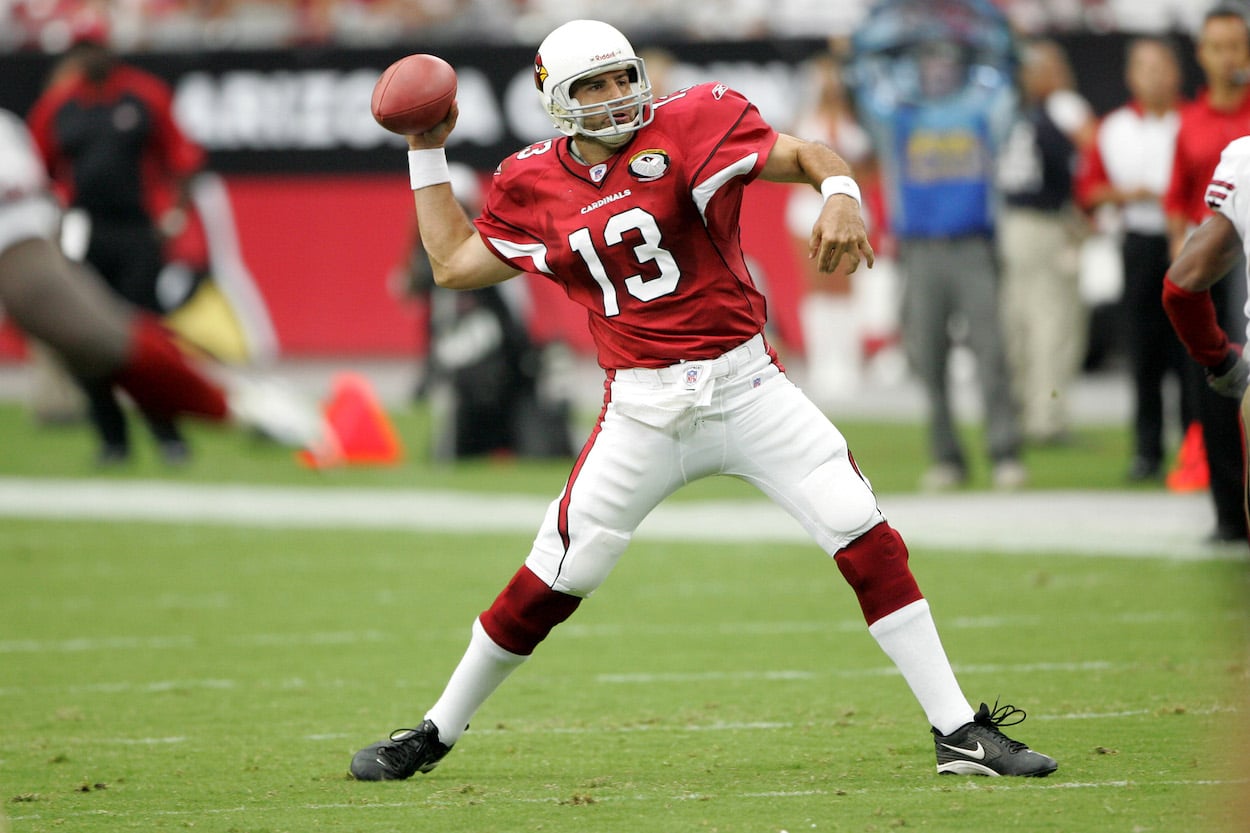 Though Kurt Warner's prime didn't last as long as some of his contemporaries' peaks, he put together some absurd passing statistics, especially during his days with the Rams.
Known for his strong arm and ability to put the ball in his playmakers' hands, the four-time Pro Bowler compiled impressive numbers across 124 NFL games. 
First, you can see his regular-season passing numbers: 
| Season | Team | Games | Completions | Attempts | Yards | TDs | INTs | Rating |
| --- | --- | --- | --- | --- | --- | --- | --- | --- |
| 1998 | St. Louis Rams | 1 | 4 | 11 | 39 | 0 | 0 | 47.2 |
| 1999 | St. Louis Rams | 16 | 325 | 499 | 4,353 | 41 | 13 | 109.2 |
| 2000 | St. Louis Rams | 11 | 235 | 347 | 3,429 | 21 | 18 | 98.3 |
| 2001 | St. Louis Rams | 16 | 375 | 546 | 4,830 | 36 | 22 | 101.4 |
| 2002 | St. Louis Rams | 7 | 144 | 220 | 1,431 | 3 | 11 | 67.4 |
| 2003 | St. Louis Rams | 2 | 38 | 65 | 365 | 1 | 1 | 72.9 |
| 2004 | New York Giants | 10 | 174 | 277 | 2,054 | 6 | 4 | 86.5 |
| 2005 | Arizona Cardinals | 10 | 242 | 375 | 2,713 | 11 | 9 | 85.8 |
| 2006 | Arizona Cardinals | 6 | 108 | 168 | 1,377 | 6 | 5 | 89.3 |
| 2007 | Arizona Cardinals | 14 | 281 | 451 | 3,417 | 27 | 17 | 89.8 |
| 2008 | Arizona Cardinals | 16 | 401 | 598 | 4,583 | 30 | 14 | 96.9 |
| 2009 | Arizona Cardinals | 15 | 339 | 513 | 3,753 | 26 | 14 | 93.2 |
| Career | Three teams | 124 | 2,666 | 4,070 | 32,344 | 208 | 128 | 93.7 |
He only went to the playoffs in five different seasons, but those passing numbers are rather significant, as well:
| Season | Team | Games | Completions | Attempts | Yards | TDs | INTs | Rating |
| --- | --- | --- | --- | --- | --- | --- | --- | --- |
| 1999 | St. Louis Rams | 3 | 77 | 121 | 1,063 | 8 | 4 | 100.0 |
| 2000 | St. Louis Rams | 1 | 24 | 40 | 365 | 3 | 3 | 83.9 |
| 2001 | St. Louis Rams | 3 | 68 | 107 | 793 | 4 | 3 | 86.7 |
| 2008 | Arizona Cardinals | 4 | 92 | 135 | 1,147 | 11 | 3 | 112.2 |
| 2009 | Arizona Cardinals | 2 | 46 | 59 | 584 | 5 | 1 | 129.1 |
| Career | Two teams | 13 | 3,952 | 307 | 462 | 31 | 14 | 102.8 |
Kurt Warner's post-retirement activities: broadcasting and coaching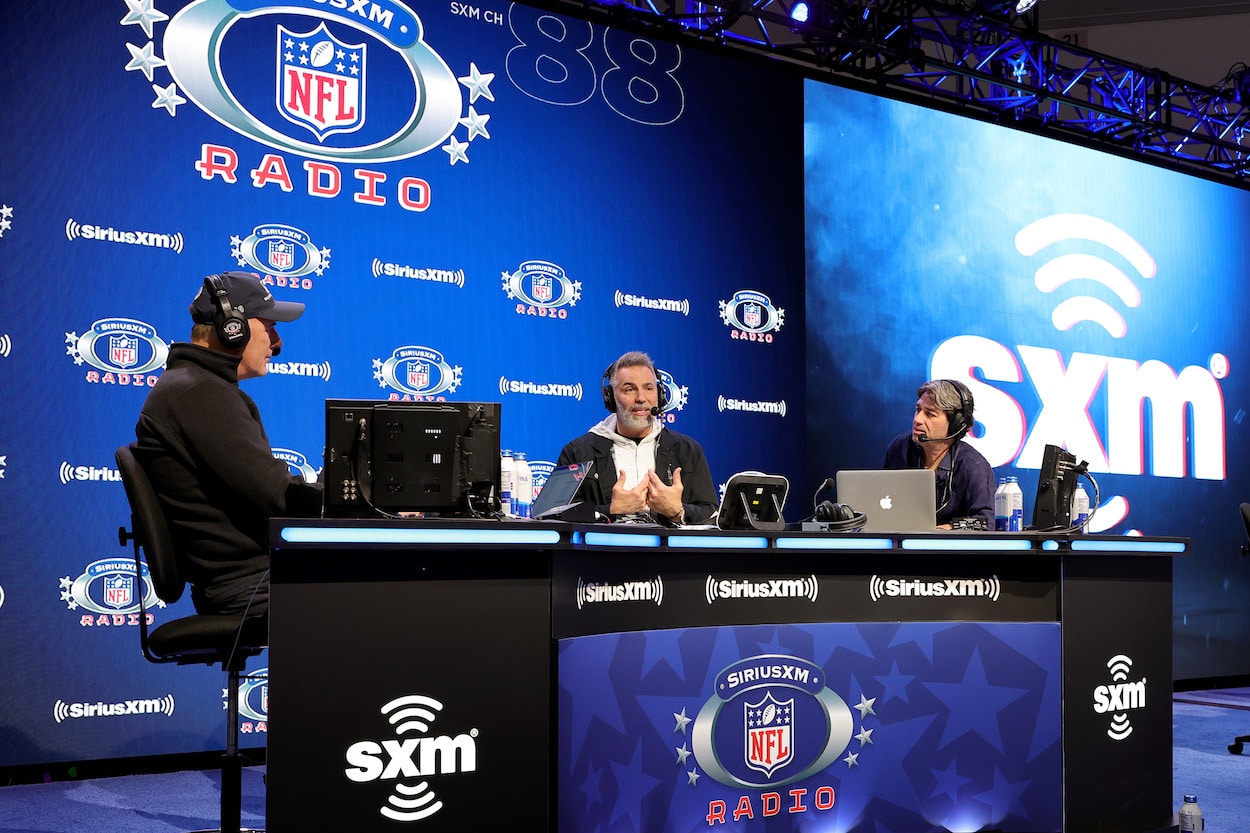 Upon retiring from the NFL, Kurt Warner became an analyst for NFL Network. A regular on several studio shows, he also put his broadcasting talents to use as a color analyst for Fox Sports during the 2010 season.
Warner later entered the radio landscape in 2014 when he landed a substitute analyst gig with Westwood One. Four years later, the longtime NFL quarterback became a full-time radio analyst. 
In addition to broadcasting, Warner has dedicated his post-retirement days to coaching.
The former Super Bowl MVP first got a chance to coach one of his sons when he worked as the offensive coordinator at Desert Mountain High. And after getting to see Kade Warner grow into a record-setting receiver in the state of Arizona, he helped develop Elijah Warner into a Division-I quarterback prospect at Brophy College Preparatory. 
Kurt Warner children, wife, and family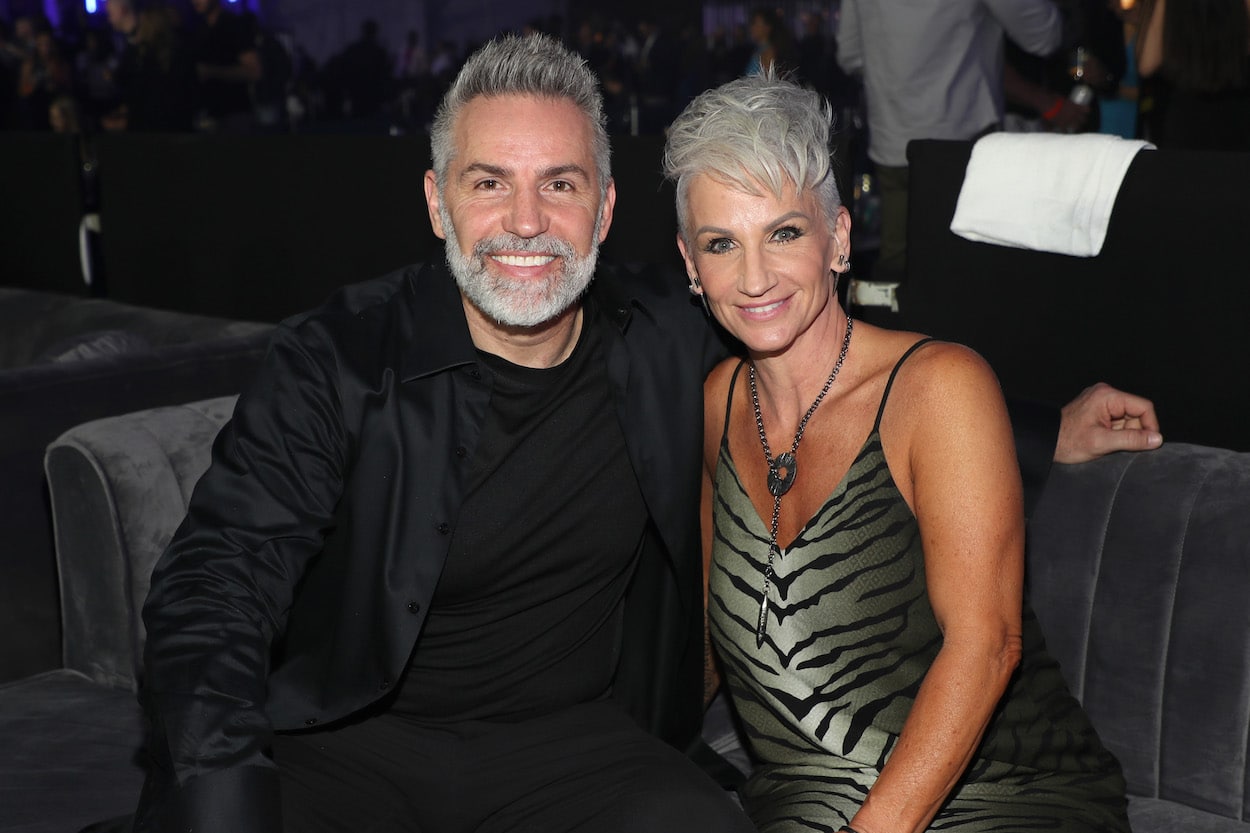 Kurt Warner met his future wife, Brenda Carney Meoni, during his college days. He married the former United States Marine Corps corporal on Oct. 11, 1997 — two years before he experienced his breakout season with the Rams. Warner's wife had two children from her previous marriage (Zachary and Jesse Jo), both of whom he adopted. 
One of Brenda's children suffered brain damage and blindness after being accidentally dropped by her ex-husband. Luckily, his adoptive father showed tremendous kindness and compassion by building a house for people with disabilities.
"We want all of our other kids to spread their wings and fly. Why doesn't Zack deserve the opportunity to do the same?" Warner told Carter Evans of CBS News. 
In addition to Brenda's children from her first marriage, the couple has five of their own: Kade Eugene Warner (1998), Jada Jo Warner (2001), Elijah Storm Warner (2003), Sienna Rae Warner (2005), and Sierra Rose Warner (2005). 
Kurt Warner net worth and career earnings
Despite having an unconventional career path that included stocking groceries and starring for a since-defunct league, Kurt Warner accumulated an impressive amount of earnings during his NFL days. 
Here's how his career earnings shook out from year-to-year, per Spotrac:
| Season | Team | Salary | Earnings |
| --- | --- | --- | --- |
| 1994 | Green Bay Packers | $0 | $5,000 |
| 1999 | St. Louis Rams | $250,000 | $750,000 |
| 2000 | St. Louis Rams | $358,000 | $11,858,000 |
| 2001 | St. Louis Rams | $418,000 | $1,560,000 |
| 2002 | St. Louis Rams | $525,000 | $8,700,000 |
| 2003 | St. Louis Rams | $5,300,000 | $5,400,000 |
| 2004 | New York Giants | $1,000,000 | $3,000,000 |
| 2005 | Arizona Cardinals | $2,000,000 | $4,000,000 |
| 2006 | Arizona Cardinals | $4,000,000 | $7,000,000 |
| 2007 | Arizona Cardinals | $4,000,000 | $4,000,000 |
| 2008 | Arizona Cardinals | $4,000,000 | $5,000,000 |
| 2009 | Arizona Cardinals | $4,000,000 | $11,500,000 |
| Career | Three teams | $25,851,000 | $66,773,000 |
In total, the two-time NFL MVP made just north of $62 million across 12 seasons. Warner earned his highest figure in 2000 when he collected $11.9 million.
Between endorsements, public appearances, and his post-retirement television career, the father of seven has an estimated net worth of $30 million, per Celebrity Net Worth.
Kurt Warner nicknames
Although he earned plenty of money and accolades for his success as an NFL quarterback, Kurt Warner didn't earn a flashy nickname from fans or broadcasters.
He did, however, earn the nickname "Chachi" (an ode to the movie "Happy Days") from Brett Favre, who got to know Warner during his brief time with the Packers. 
Of course, Rams fans witnessed the ex-grocery store employee become an overnight sensation and the leader of arguably the most dangerous offense in NFL history. So even though Warner didn't have a nickname of his own, he will forever be associated with the "Greatest Show on Turf" — the moniker given to a record-setting Rams offense headlined by the quarterback, running back Marshall Faulk, offensive lineman Orlando Pace, and wide receivers Isaac Bruce and Torry Holt. 
Kurt Warner media presence
Besides being featured on NFL Network and Westwood One radio, Kurt Warner has been involved in several other media avenues. He's made a handful of TV appearances, including as a guest on Disney's The Suite Life on Deck in the episode "Any Given Fantasy." He also made a surprise visit on the final episode of The Jay Leno Show. 
In 2010, Warner could be seen flexing his dancing skills as a contestant on Season 11 of Dancing with the Stars. However, he and partner Anna Trebunskaya were eliminated in Week 8. 
Warner has also enjoyed the rare opportunity to be associated with a video game and a movie. Kurt Warner's Arena Football Unleashed was released on May 18, 2000, for the Sony PlayStation. The game received mostly poor reviews, and another AFL game would not be released until 2006. 
Most recently, Warner's life story officially became the subject of a major film. On Christmas Day 2021, the movie "American Underdog" hit theaters, receiving favorable reviews from critics. Directed by Andrew and Jon Erwin, the film stars Zachary Levi as the Hall of Fame quarterback, Anna Paquin as Warner's wife, and Dennis Quaid as former Rams head coach Dick Vermeil. 
Kurt Warner endorsements
Kurt Warner's endorsement list isn't particularly long. He scored a deal with Campbell's Soup after leading the Rams to a Super Bowl victory but otherwise didn't have any notable relationships with companies. 
Warner landed his first multiyear post-retirement endorsement agreement in December 2010 when Amway North America announced it had signed him to represent the Nutrilite brand. 
In January 2012, the four-time Pro Bowler made headlines when he and actor Mark Wahlberg became the latest investors in the Elite Football League of India (EFLI).
"I am extremely excited about the possibilities of the EFLI," Warner said in a statement, per Daniel Kaplan of SportsBusiness Journal. "I became a partner for two primary reasons. First, to expand the reach of what I believe is the greatest team sport in the world. Second, I believe the success of EFLI will present us with some amazing opportunities to impact their communities from a charitable perspective."
Kurt Warner public service
Kurt Warner's dedication to public service has earned widespread respect. Stemming from his status as a devout evangelical Christian, his First Things First Foundation is dedicated to impacting lives by promoting Christian values, sharing experiences, and providing opportunities to encourage everyone that all things are possible when people seek to "put things first." 
Established in 2001, the charity primarily focuses on the communities of Phoenix, St. Louis, and Cedar Rapids. Interestingly, the organization's name came as a result of a postgame quote Warner delivered after winning the Super Bowl, as he replied to a question from ABC's Mike Tirico with, "Well, first things first, I've got to thank my Lord and Savior up above — thank you, Jesus!" 
Warner's generosity and work off the field resulted in him winning the 2008 NFL Water Payton Man of the Year Award, the 2009 Muhammad Ali Sports Leadership Award, and the 2010 Bart Starr Award, which is given for outstanding character, leadership in the home, on the field, and in the community.
Kurt Warner FAQ
How old is Kurt Warner?
Born on June 22, 1971, Kurt Warner is 52 years old.
Was Kurt Warner drafted?
Following his four-year career at Northern Iowa, Kurt Warner did not get selected during the 1994 NFL Draft.
How old was Kurt Warner when he joined the NFL?
Kurt Warner was 23 years old when he signed with the Green Bay Packers to compete for a roster spot in training camp. He made his debut with the St. Louis Rams at 27 years old.
Who did Kurt Warner play for?
Kurt Warner played for three NFL teams: the then-St. Louis Rams (1998-2003), the New York Giants (2004), and the Arizona Cardinals (2005-09). 
How many Super Bowls did Kurt Warner win?
Kurt Warner won his first and only Super Bowl title when the St. Louis Rams defeated the Tennessee Titans by a final score of 23-16 in Super Bowl 34. 
What year did Kurt Warner win the Super Bowl?
Kurt Warner secured a Super Bowl ring and his first of two NFL MVP awards during the 1999 season. 
How long did Kurt Warner play in the NFL?
After going undrafted, Kurt Warner played in the NFL for 12 years.
When did Kurt Warner retire?
Kurt Warner announced his retirement in January 2010 after completing his fifth season with the Cardinals.
How old was Kurt Warner when he retired?
Kurt Warner retired from the NFL about six months before his 39th birthday. 
Is Kurt Warner in the Hall of Fame?
Kurt Warner was inducted into the Pro Football Hall of Fame in 2017 as part of a class that included Dallas Cowboys owner Jerry Jones and five-time Pro Bowl running back LaDainian Tomlinson. 
Who is Kurt Warner's wife?
Kurt Warner married his wife, Brenda Carney Meoni, on Oct. 11, 1997, after they met in college.
How many kids does Kurt Warner have?
Kurt Warner has a total of seven children: Zachary Taylor Warner (1989), Jesse Jo Warner (1992), Kade Eugene Warner (1998), Jada Jo Warner (2001), Elijah Storm Warner (2003), Sienna Rae Warner (2005), and Sierra Rose Warner (2005). He legally adopted his wife's children from her first marriage (Zachary and Jesse). 
Where does Kurt Warner live?
Kurt Warner and his family currently live in Paradise Valley, Arizona.
How much is Kurt Warner worth?
Per Celebrity Net Worth, Kurt Warner's net worth is $30 million. He earned more than $60 million as an NFL player. 
Who plays Kurt Warner in 'American Underdog'?
American actor Zachary Levi plays Kurt Warner in the 2021 film 'American Underdog.'