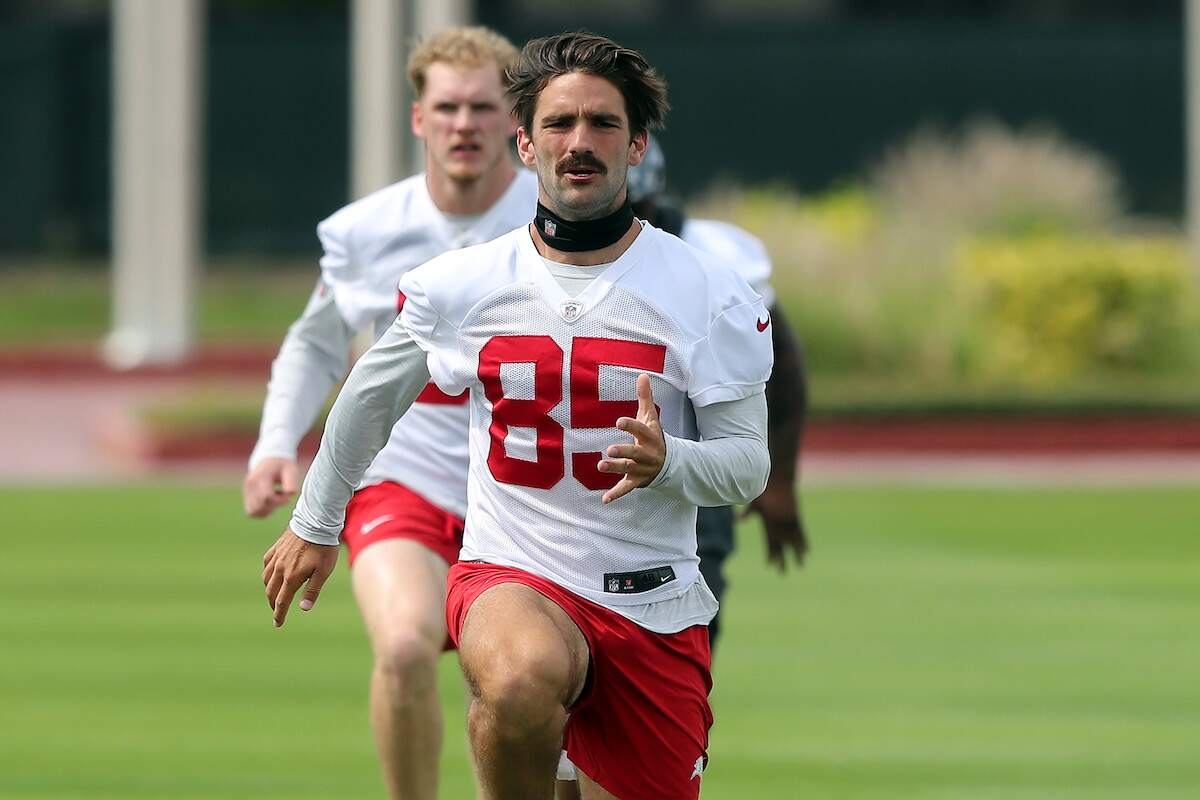 Kurt Warner's Son Kade Warner Followed in His Footsteps in College, Now the NFL
Kurt Warner and his son Kade Warner's journeys to the NFL are strikingly similar. Is this the start of a football family dynasty?
Rookie wide receiver Kade Warner made an interesting entrance into the NFL in 2023, much like his father, Kurt Warner, did two decades ago. There are already many parallels between Kade and Kurt's football journeys. However, it's unlikely Kade will be able to replicate his dad's Cinderella story to such a successful degree. Let's look at Kurt Warner's impressive NFL career and the parallels we can already seen with his son Kade.
Kurt Warner played college football for the University of Northern Iowa 
Kurt Warner spent his high school glory days on the football field at Regis High School in Cedar Rapids, Iowa. After graduating high school, he started his college football career at the University of Northern Iowa in the fall of 1989.
According to the American Football Fandom, Warner didn't play much ball for the Panthers until his senior year of college. He remained third on the depth chart from his freshman to junior year. However, when he finally received the nod his senior year, Warner earned the Gateway Conference's Offensive Player of the Year and First-Team All-Conference. 
After having an outstanding senior year at the University of Northern Iowa, Warner went undrafted. He joined the Green Bay Packers in 1994 but only became a practice squad member. From 1995-97, Warner played for the Iowa Barnstormers, a professional indoor football team. In 1998, Warner headed to Europe to continue his football career. He played one season for the Amsterdam Admirals in the Netherlands. 
The 1998 season marked four years since Warner's college graduation. Failing to make an NFL team roster four years post-graduation, Warner's football career looked bleak. Against the odds, he was able to sign with the St. Louis Rams in 1998 as the team's backup quarterback. After Trent Green went down with an injury in the 1999 preseason, Warner was named the starter. 
The quarterback went on to have one of the top seasons in NFL history, throwing 4,353 yards with 41 touchdown passes. To top it off, he became the 1999 NFL MVP at the season's end. In addition, Warner led the Rams to a Super Bowl victory against the Tennessee Titans and became the 1999 Super Bowl MVP.
Warner retired in 2009 after suiting up for the Rams (1998 to 2004), New York Giants (2004-05), and the Arizona Cardinals (2007-09). 
Kurt's son Kade Warner: from Kansas State to the Tampa Bay Buccaneers
It seems that football runs in the family. Warner's son Kade has football dreams of his own. According to K-State Sports, Kade Warner's collegiate football career kicked off in Lincoln, Nebraska, as a Cornhusker. Kade redshirted his freshman year, beginning to play in 2018. After failing to receive much time on the field as a Husker, Kade transferred to Kansas State in 2021. 
Kade's decision to move was a wise for the wide receiver. In a way, Kade's collegiate journey mirrors that of his father's as he, too, had to wait years before getting a chance to shine. During his first season as a Wildcat, Kade played 113 games, setting a new career high with 42 yards in the Texas Bowl. The following season, he played in 114 games, got 10 starts, and made 46 catches for 456 yards. 
Like his father, Kade went undrafted following his collegiate career. However, Kade's entry into the NFL is already looking better than his dad's. The younger Warner signed his first NFL contract with the Tampa Bay Buccaneers as a free agent in April 2023. According to the Pewter Report, the wide receiver stands a good chance to make the team, or at least the practice squad.
The Bucs already have WRs Mike Evans, Chris Godwin, Russell Gage, and sixth-round pick Trey Palmer. However, before training camp, Kade called himself the "smartest receiver in this draft class." He continued, "They're going to get a good slot receiver out of me, and I'm going to know exactly what to do on every play." Time will tell if Kade has the chops for the NFL.
Kurt Warner's other children and grandchildren 
Kade Warner might be a chip off the old block. But he's not the only Warner child to follow in his father's footsteps. According to Sports Illustrated, his younger brother, E.J. Warner, just finished up his freshman year at Temple, where he played quarterback, throwing for 3,028 yards with 18 touchdown passes.  Could the Warner family be the next football dynasty à lae Archie, Peyton, and Eli Manning?
Along with Kade and E.J., Kurt and his wife, Brenda, have five more children — a grand total of seven for the couple. When Kurt married Brenda in 1997, he adopted her two children, Zachary and Jesse. The couple went on to have five more children, including Kade, Jada, E.J., and twins Sienna and Sierra.
Kurt and Brenda are also proud grandparents to two grandchildren via their daughter, Jesse.