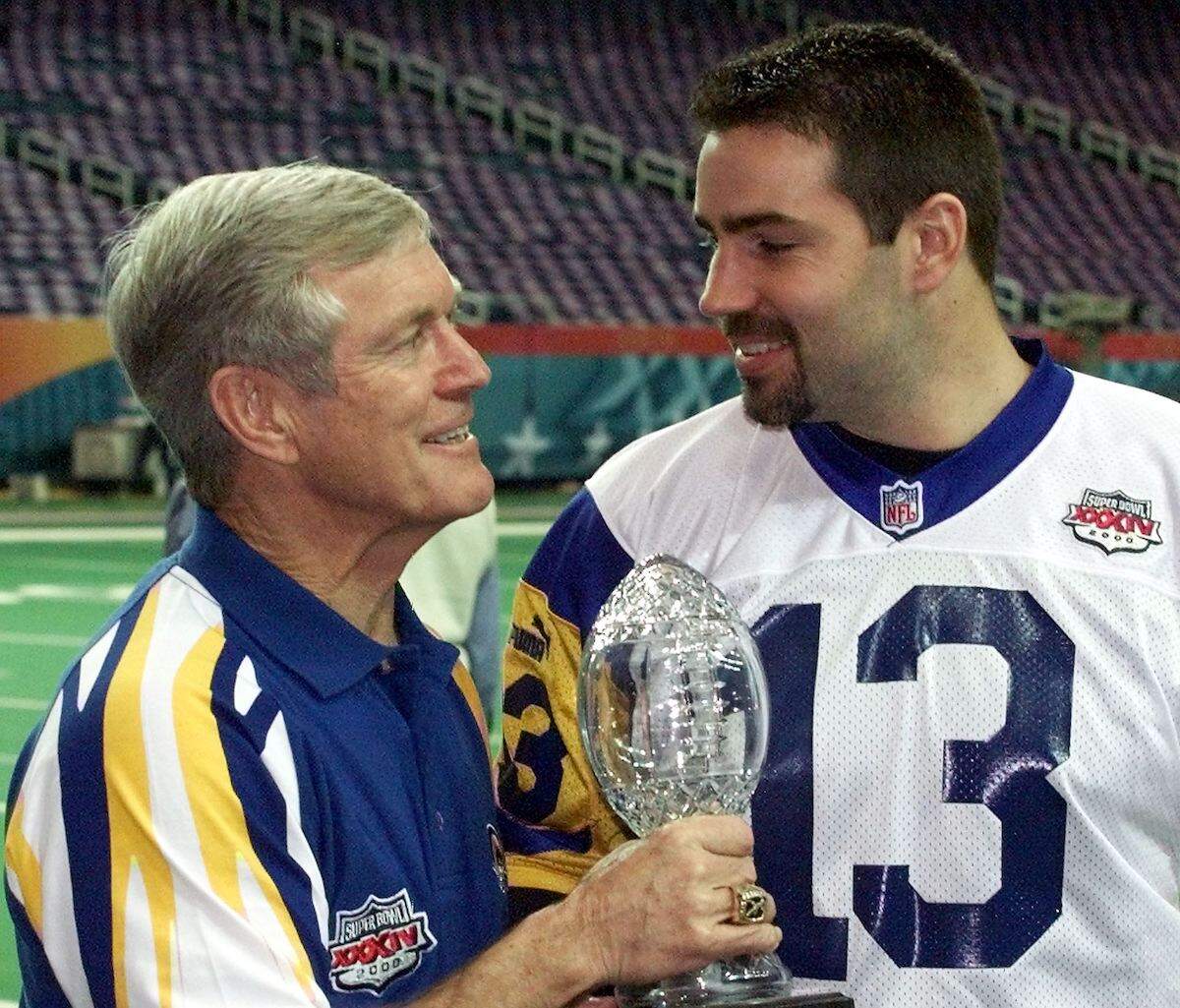 How Much Is a Kurt Warner Rookie Card Worth?
Card companies didn't bet on the undrafted QB as they did with high draft picks. So how much is a Kurt Warner rookie card worth?
Former St. Louis Rams quarterback Kurt Warner has a remarkable backstory as one of the best undrafted NFL players of all time. Even people who weren't fans of his teams, like the Arizona Cardinals, know of his incredible path to the NFL.
Warner's greatness on the gridiron and incredible life off it makes for a potent interest in his early football cards. Card companies didn't bet on the undrafted QB as they did with high draft picks. So how much are Kurt Warner's rookie cards worth?
Rookie cards are the most in-demand and valuable cards among collectors
For the uninitiated, rookie cards are highly valued among sports card collectors. They tend to have fairly conservative print runs since nobody knows which year one player will end up in the Pro Football Hall of Fame.
According to Bleacher Report, even many recent sports cards from 10 or fewer years ago are already worth hundreds of dollars. Los Angeles Angels superstar Mike Trout was a highly-touted prospect, so his rookie cards had a decent print run. He wasn't exactly stocking grocery shelves like Kurt Warner. Even so, demand has pushed the value of his most in-demand rookie card past the $800 mark.
Baseball cards hold a special place in the hearts of collectors, as the bread and butter of the hobby. But football cards — NFL cards, in particular — are massively bolstered by the overall massive popularity of the NFL, according to Cardboard Connection.
Warner's curious history as an undrafted player plagued by difficulties still led to a large selection of rookie cards bearing his likeness.
Kurt Warner rookie cards pull top prices on the secondary market
So how much are the top Warner rookie cards worth? That question isn't as easy to answer, especially lately. Prices on nearly all collectibles spiked in 2020, buoyed by a general speculation boom. Those prices have since dropped heavily in most spaces, and sports cards haven't been immune to these market shifts.
Football Rookies reports that the most expensive current rookie card bearing the Hall of Fame QB's name is an autographed version of the 1999 Bowman's Best #110 KURT WARNER Rookie Card RC Gem Mint PSA 10 HOF Pop 376. It's going for $219.95 as of this writing. Other rookie cards may go for a much higher rate, but none are currently listed on markets like eBay or Beckett.
The most expensive card bearing the former Rams QB's name, as of publication, is a Kurt Warner Arizona Cardinals Autographed 2016 Panini Flawless Greats Dual Relic Patch Sapphire #GPKW Card (SGC 9/10) – #5/5. It's selling for $799.99 at the moment.
Some Warner rookie cards are more accessibly priced than one might expect
As noted above, the huge popularity of the NFL means many cards, including rookie cards for undrafted players like Warner, have sizable print runs. According to Beckett, even some of his rarest rookie cards are quite accessibly priced. By the end of his rookie season, a lot of eyes were on the emerging talent, so late-season cards in 1999 were common.
The long-retired QB had a run of late-season rookie cards numbered 500 in total. These 1999 Collector's Edge First Place Kurt Warner Promo Gold cards go for about $20 on the secondary market today. There are also cheaper variants that lack the numbering and authentication features.
For fans looking for rookie cards for purely sentimental purposes, Warner's 1999 releases are a great place to start. That $20 number is the higher end; most are even cheaper.
These all pale compared to the holy grail of Warner football cards, KHAK reports. And it's not an NFL card at all. The Iowa-based QB kept himself sharp before the NFL came calling by playing arena football with the Iowa Barnstormers.
The arena football team wasn't a big-money type of organization, but they did make deals with regional businesses. That included a run of cards with fast food chain Taco John's, including a Warner rookie card. These rare pieces go for $1,500 at the top end of condition.