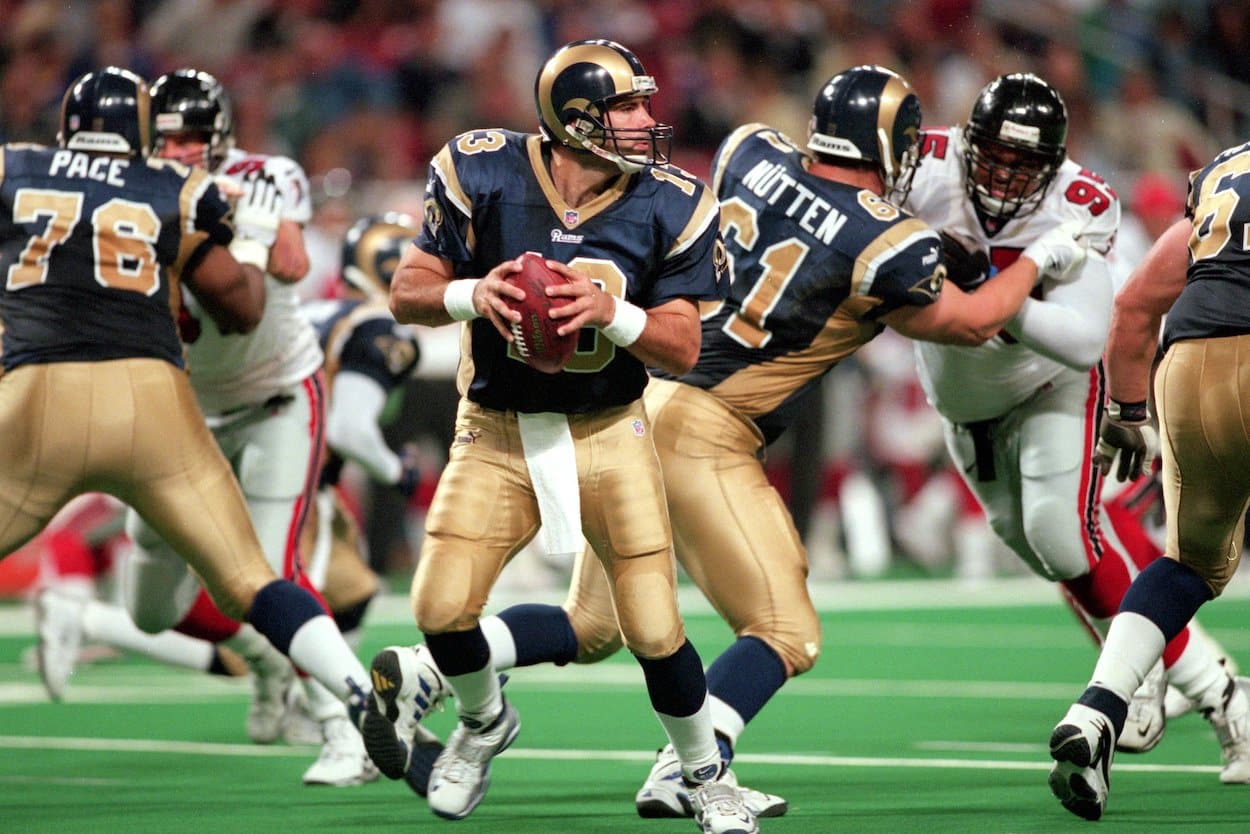 Kurt Warner's 2000 Season: Stats, Game Log, More During an Injury-Interrupted MVP Encore
Kurt Warner's MVP follow-up wasn't always smooth. He put up record-setting numbers early before bad luck set in.
Providing a memorable encore to a mind-numbing breakout campaign like Kurt Warner's 1999 season is nearly impossible, but the St. Louis Rams quarterback did his darnedest as calendars switched to a new millennium.
And even before he threw a post-MVP pass, his organization proved it was bought into his long-term success to the tune of a seven-year, $46.5 million contract. Warner had only played one full season in the NFL, and that was already enough to remove any thoughts of flukiness.
As his wife, Brenda Warner, said after the ink dried, per the Associated Press (h/t ESPN), "We just laughed. Our first two kids were born in poverty, and our next two kids are born with, you know, riches. It's kind of a different world."
It didn't take long for Warner to begin justifying the massive expenditures.
His opening game of the 2000 season saw him go 25-of-35 for 441 yards, three touchdowns, and three interceptions in a 41-36 victory over the Denver Broncos. Then he torched the Seattle Seahawks for 386 yards and the San Francisco 49ers for 394.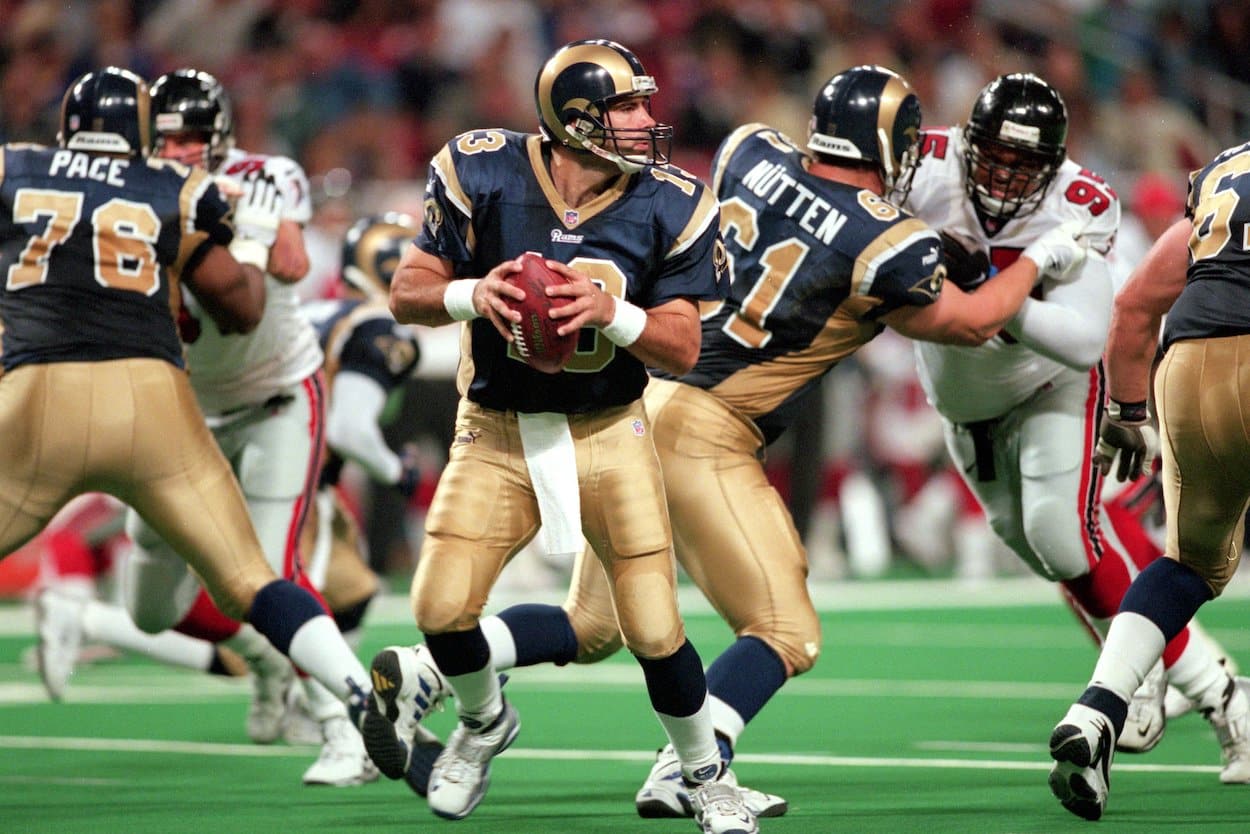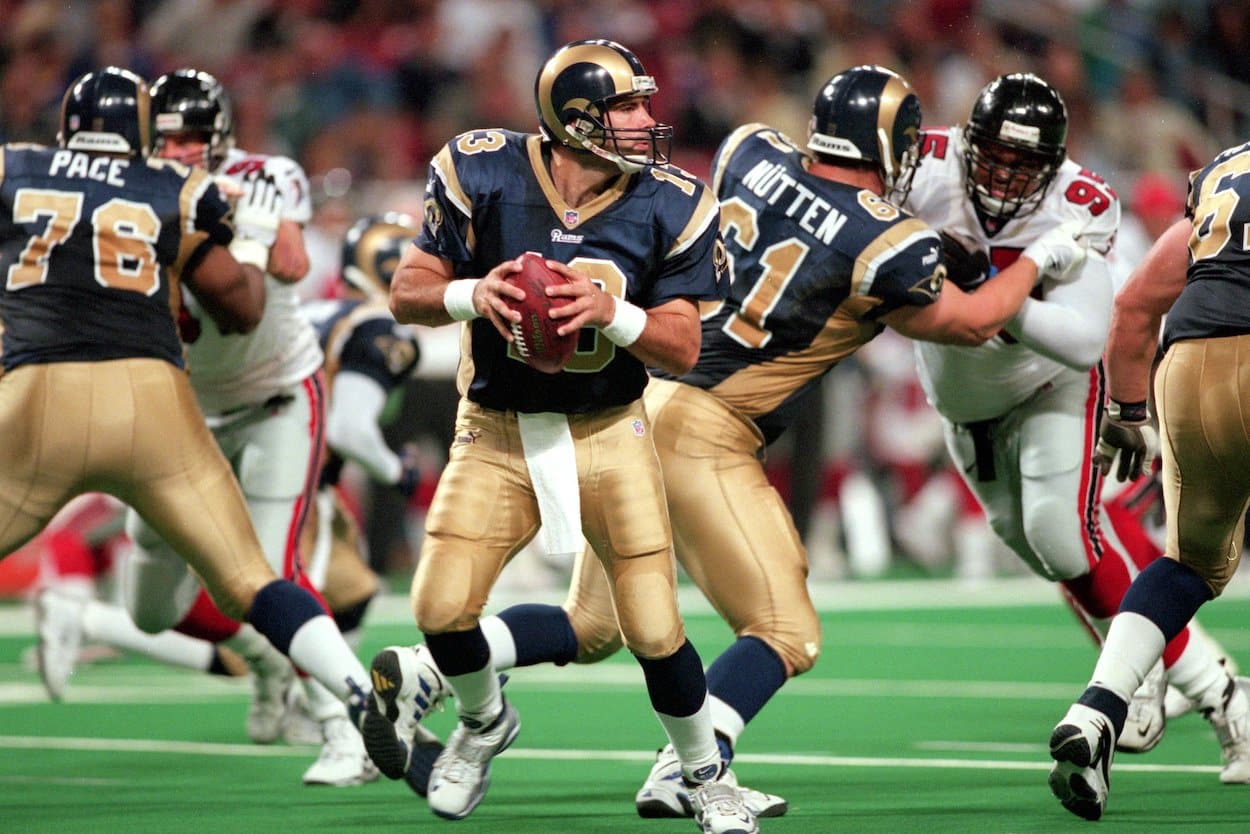 Through the first six games of 200, Warner completed 69.8% of his passes for 2,260 yards (376.7 per game), 17 touchdowns, and eight interceptions. The turnover uptick was less than ideal, but that came with the spread-it-around territory that was helping the Rams go 6-0 while scoring an audacious 43.7 points per contest.
Per Stathead, no one in NFL history has recorded more passing yards through six games, though 2013 Peyton Manning (2,179) and 2011 Tom Brady (2,163) came within 100 yards.
However, Warner couldn't have everything go favorably forever.
Just before halftime of an eventual 54-34 loss to the Kansas City Chiefs, Warner and the Rams were trailing 27-14 and had the ball on Kansas City's 8-yard line when the quarterback fumbled the snap after the ball hit the pinky finger on his throwing hand. The finger was broken, and backup quarterback Trent Green couldn't close the gap despite throwing for 205 yards and three scores.
Warner ended up missing the next five games and wasn't the same dominant figure upon his return in a Week 14 loss to the Carolina Panthers. In a far cry from the jaw-dropping numbers he submitted to start the season, he completed 65.8% of his passes for 984 yards (246.0 per game), three touchdowns, and eight interceptions while going 2-2 to close out the regular-season calendar.
St. Louis still went 10-6, giving it a wild-card date with the New Orleans Saints in a continuation of the title defense. That game, a 31-28 loss, was a mixed bag for Warner, who went 24-of-40 for 365 yards and three touchdowns but tossed three interceptions and couldn't complete the come-from-behind effort.
Read more about Kurt Warner's NFL career:
Kurt Warner 2000 Stats
Passing Stats
| | | | | | | | | | |
| --- | --- | --- | --- | --- | --- | --- | --- | --- | --- |
| G | GS | CMP | ATT | CMP% | YDS | TD | INT | SACKS | RTG |
| 11 | 11 | 235 | 347 | 67.7 | 3,429 | 21 | 18 | 20 | 98.3 |
Rushing Stats
Kurt Warner 2000 Game Log
Passing Stats
| | | | | | | | | | |
| --- | --- | --- | --- | --- | --- | --- | --- | --- | --- |
| DATE | WK | OPP | RESULT | CMP | ATT | YDS | TD | INT | RTG |
| 9/4/00 | 1 | DEN | W 41-36 | 25 | 35 | 441 | 3 | 3 | 106.5 |
| 9/10/00 | 2 | @SEA | W 37-34 | 35 | 47 | 386 | 1 | 1 | 96.6 |
| 9/17/00 | 3 | SF | W 41-24 | 23 | 34 | 394 | 2 | 2 | 101.8 |
| 9/24/00 | 4 | @ATL | W 41-20 | 12 | 19 | 336 | 4 | 1 | 124.5 |
| 10/1/00 | 5 | SDG | W 57-31 | 24 | 30 | 390 | 4 | 0 | 158.3 |
| 10/15/00 | 7 | ATL | W 45-29 | 24 | 40 | 313 | 3 | 1 | 99.3 |
| 10/22/00 | 8 | @KC | L 54-34 | 15 | 25 | 185 | 1 | 2 | 62.9 |
| 10/29/00 | 9 | @SF | W 34-24 | N/A | N/A | N/A | N/A | N/A | N/A |
| 11/5/00 | 10 | CAR | L 27-24 | N/A | N/A | N/A | N/A | N/A | N/A |
| 11/12/00 | 11 | @NYG | W 38-24 | N/A | N/A | N/A | N/A | N/A | N/A |
| 11/20/00 | 12 | WAS | L 33-20 | N/A | N/A | N/A | N/A | N/A | N/A |
| 11/26/00 | 13 | NO | L 31-24 | N/A | N/A | N/A | N/A | N/A | N/A |
| 12/3/00 | 14 | @CAR | L 16-3 | 18 | 36 | 189 | 0 | 4 | 26.0 |
| 12/10/00 | 15 | MIN | W 40-29 | 27 | 32 | 346 | 0 | 0 | 111.7 |
| 12/18/00 | 16 | @TB | L 38-35 | 20 | 32 | 316 | 2 | 3 | 77.1 |
| 12/24/00 | 17 | @NO | W 26-21 | 12 | 17 | 133 | 1 | 1 | 88.6 |
| 12/30/00 | WC | @NO | L 31-28 | 24 | 40 | 365 | 3 | 3 | 83.9 |
Rushing Stats
| | | | | | | | |
| --- | --- | --- | --- | --- | --- | --- | --- |
| DATE | WK | OPP | RESULT | ATT | YDS | TD | FMB |
| 9/4/00 | 1 | DEN | W 41-36 | 3 | 1 | 0 | 0 |
| 9/10/00 | 2 | @SEA | W 37-34 | 2 | 11 | 0 | 1 |
| 9/17/00 | 3 | SF | W 41-24 | 1 | -1 | 0 | 0 |
| 9/24/00 | 4 | @ATL | W 41-20 | 2 | -3 | 0 | 1 |
| 10/1/00 | 5 | SDG | W 57-31 | 1 | 6 | 0 | 0 |
| 10/15/00 | 7 | ATL | W 45-29 | 1 | 1 | 0 | 0 |
| 10/22/00 | 8 | @KC | L 54-34 | 1 | 0 | 0 | 1 |
| 10/29/00 | 9 | @SF | W 34-24 | N/A | N/A | N/A | N/A |
| 11/5/00 | 10 | CAR | L 27-24 | N/A | N/A | N/A | N/A |
| 11/12/00 | 11 | @NYG | W 38-24 | N/A | N/A | N/A | N/A |
| 11/20/00 | 12 | WAS | L 33-20 | N/A | N/A | N/A | N/A |
| 11/26/00 | 13 | NO | L 31-24 | N/A | N/A | N/A | N/A |
| 12/3/00 | 14 | @CAR | L 16-3 | 0 | 0 | 0 | 1 |
| 12/10/00 | 15 | MIN | W 40-29 | 5 | 1 | 0 | 0 |
| 12/18/00 | 16 | @TB | L 38-35 | 0 | 0 | 0 | 0 |
| 12/24/00 | 17 | @NO | W 26-21 | 2 | 1 | 0 | 0 |
| 12/30/00 | WC | @NO | L 31-28 | 1 | 5 | 1 | 1 |
All stats, unless otherwise indicated, courtesy of Pro Football Reference