Kurt Warner's 1998 Season: Stats, Game Log, More for Rookie Year with St. Louis Rams
Kurt Warner's NFL career got off to an inauspicious start in 1998.
NFL debuts are always exciting for the player in question, and that was doubly true when Kurt Warner finally got on the field for the St. Louis Rams at the tail end of the 1998 season.
After sitting buried on his collegiate depth chart for three seasons, going undrafted in 1994, failing to make the Green Bay Packers, working at a grocery store, rejoining Northern Iowa as a graduate assistant coach, thriving in the Arena Football League, and suffering a spider bite that hindered a tryout with the Chicago Bears, Warner finally landed with the Rams in December 1997.
Well, kind of.
Warner was sent to play for the NFL Europe's Amsterdam Admirals two months later, and he excelled. With Jake Delhomme backing him up on the 7-3 squad, he led the league in passing yards (2,101) and passing touchdowns (15), per The Football Database.
"I needed to play and just develop as a player," the future Hall of Famer told Yahoo Sports' Celia Balf about the experience in 2015. "And then those things that I did well, it helped me kind of sharpen those things so when I got on the big field and things actually seemed a little bit slower from how they develop, so that was a good transition for me."
The Rams saw enough that Warner was able to make the 1998 roster, albeit as the third-stringer behind Tony Banks and Steve Bono.
St. Louis struggled throughout the year, going just 4-12 to finish fifth in the NFC West, and Warner didn't see the field until the final game of the campaign: a road outing against the San Francisco 49ers.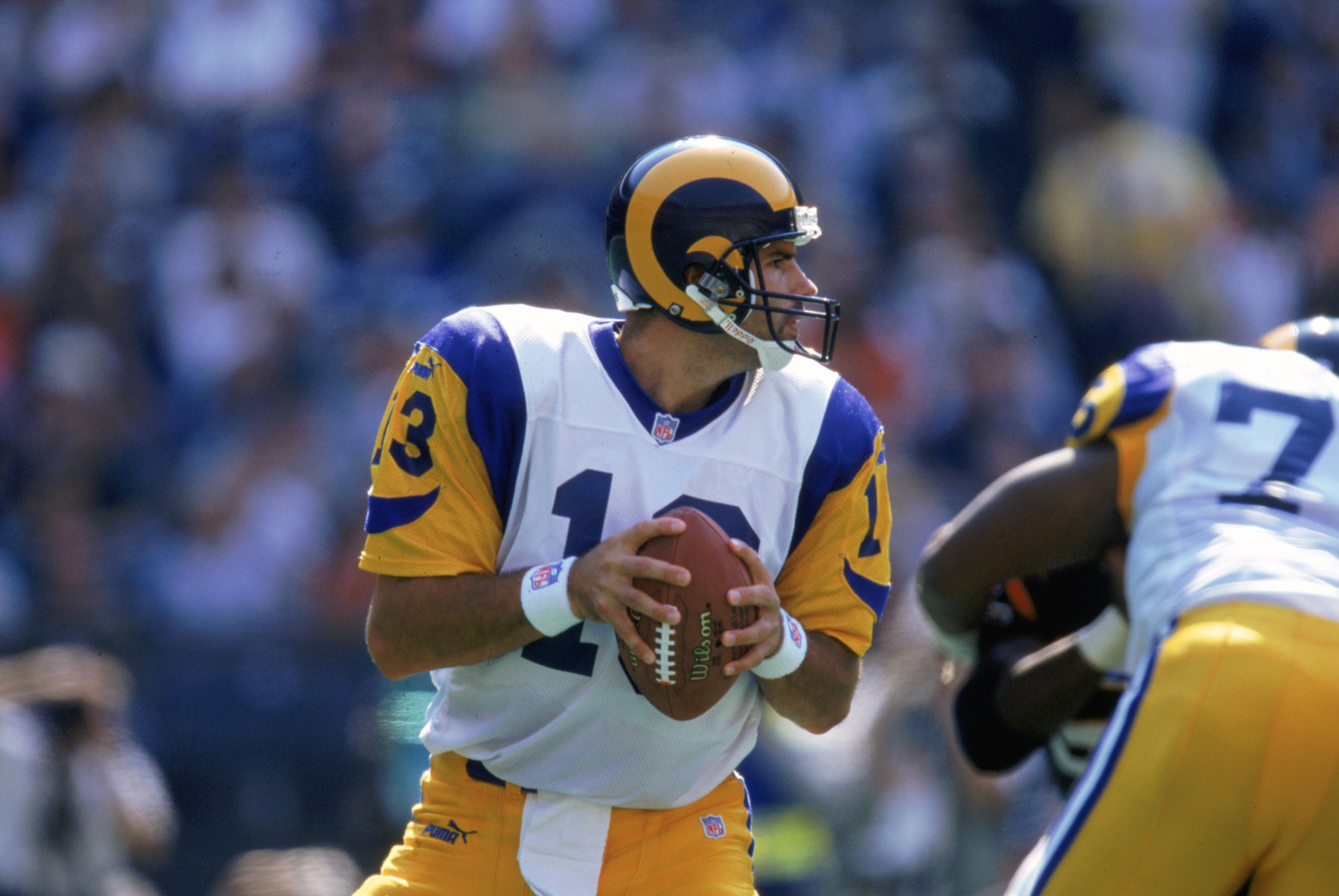 Entering in relief of Bono with under four minutes to go in the final period and on the wrong end of a 39-18 score, the 27-year-old misfired on a pass to Az-Zahir Hakim on his first NFL snap but recorded his first completion on the next play: a 10-yard throw to Amp Lee for a first down.
When the contest drew to a conclusion, Warner had gone 4-of-11 for 39 yards with no touchdowns or interceptions — a forgettable debut that offered few hints of the greatness yet to be unearthed.
Read more about Kurt Warner's NFL career:
Kurt Warner 1998 Stats
Passing Stats
| | | | | | | | | | |
| --- | --- | --- | --- | --- | --- | --- | --- | --- | --- |
| G | GS | CMP | ATT | CMP% | YDS | TD | INT | SACKS | RTG |
| 1 | 0 | 4 | 11 | 36.4 | 39 | 0 | 0 | 0 | 47.2 |
Rushing Stats
Kurt Warner 1998 Game Log
Passing Stats
| | | | | | | | | | |
| --- | --- | --- | --- | --- | --- | --- | --- | --- | --- |
| DATE | WK | OPP | RESULT | CMP | ATT | YDS | TD | INT | RTG |
| 9/6/98 | 1 | NO | L 24-17 | N/A | N/A | N/A | N/A | N/A | N/A |
| 9/13/98 | 2 | MIN | L 38-31 | N/A | N/A | N/A | N/A | N/A | N/A |
| 9/20/98 | 3 | @BUF | W 34-33 | N/A | N/A | N/A | N/A | N/A | N/A |
| 9/27/98 | 4 | ARI | L 20-17 | N/A | N/A | N/A | N/A | N/A | N/A |
| 10/11/98 | 6 | NYJ | W 30-10 | N/A | N/A | N/A | N/A | N/A | N/A |
| 10/18/98 | 7 | @MIA | L 14-0 | N/A | N/A | N/A | N/A | N/A | N/A |
| 10/25/98 | 8 | SF | L 28-10 | N/A | N/A | N/A | N/A | N/A | N/A |
| 11/1/98 | 9 | @ATL | L 37-15 | N/A | N/A | N/A | N/A | N/A | N/A |
| 11/8/98 | 10 | @CHI | W 20-12 | N/A | N/A | N/A | N/A | N/A | N/A |
| 11/15/98 | 11 | @NO | L 24-3 | N/A | N/A | N/A | N/A | N/A | N/A |
| 11/22/98 | 12 | CAR | L 24-20 | N/A | N/A | N/A | N/A | N/A | N/A |
| 11/29/98 | 13 | ATL | L 21-10 | N/A | N/A | N/A | N/A | N/A | N/A |
| 12/3/98 | 14 | @PHI | L 17-14 | N/A | N/A | N/A | N/A | N/A | N/A |
| 12/13/98 | 15 | NE | W 32-18 | N/A | N/A | N/A | N/A | N/A | N/A |
| 12/20/98 | 16 | @CAR | L 20-13 | N/A | N/A | N/A | N/A | N/A | N/A |
| 12/27/98 | 17 | @SF | L 38-19 | 4 | 11 | 39 | 0 | 0 | 47.2 |
Rushing Stats
| | | | | | | | |
| --- | --- | --- | --- | --- | --- | --- | --- |
| DATE | WK | OPP | RESULT | ATT | YDS | TD | FMB |
| 9/6/98 | 1 | NO | L 24-17 | N/A | N/A | N/A | N/A |
| 9/13/98 | 2 | MIN | L 38-31 | N/A | N/A | N/A | N/A |
| 9/20/98 | 3 | @BUF | W 34-33 | N/A | N/A | N/A | N/A |
| 9/27/98 | 4 | ARI | L 20-17 | N/A | N/A | N/A | N/A |
| 10/11/98 | 6 | NYJ | W 30-10 | N/A | N/A | N/A | N/A |
| 10/18/98 | 7 | @MIA | L 14-0 | N/A | N/A | N/A | N/A |
| 10/25/98 | 8 | SF | L 28-10 | N/A | N/A | N/A | N/A |
| 11/1/98 | 9 | @ATL | L 37-15 | N/A | N/A | N/A | N/A |
| 11/8/98 | 10 | @CHI | W 20-12 | N/A | N/A | N/A | N/A |
| 11/15/98 | 11 | @NO | L 24-3 | N/A | N/A | N/A | N/A |
| 11/22/98 | 12 | CAR | L 24-20 | N/A | N/A | N/A | N/A |
| 11/29/98 | 13 | ATL | L 21-10 | N/A | N/A | N/A | N/A |
| 12/3/98 | 14 | @PHI | L 17-10 | N/A | N/A | N/A | N/A |
| 12/13/98 | 15 | NE | W 32-18 | N/A | N/A | N/A | N/A |
| 12/20/98 | 16 | @CAR | L 20-13 | N/A | N/A | N/A | N/A |
| 12/27/98 | 17 | @SF | L 38-19 | 0 | 0 | 0 | 0 |
All stats, unless otherwise indicated, courtesy of Pro Football Reference