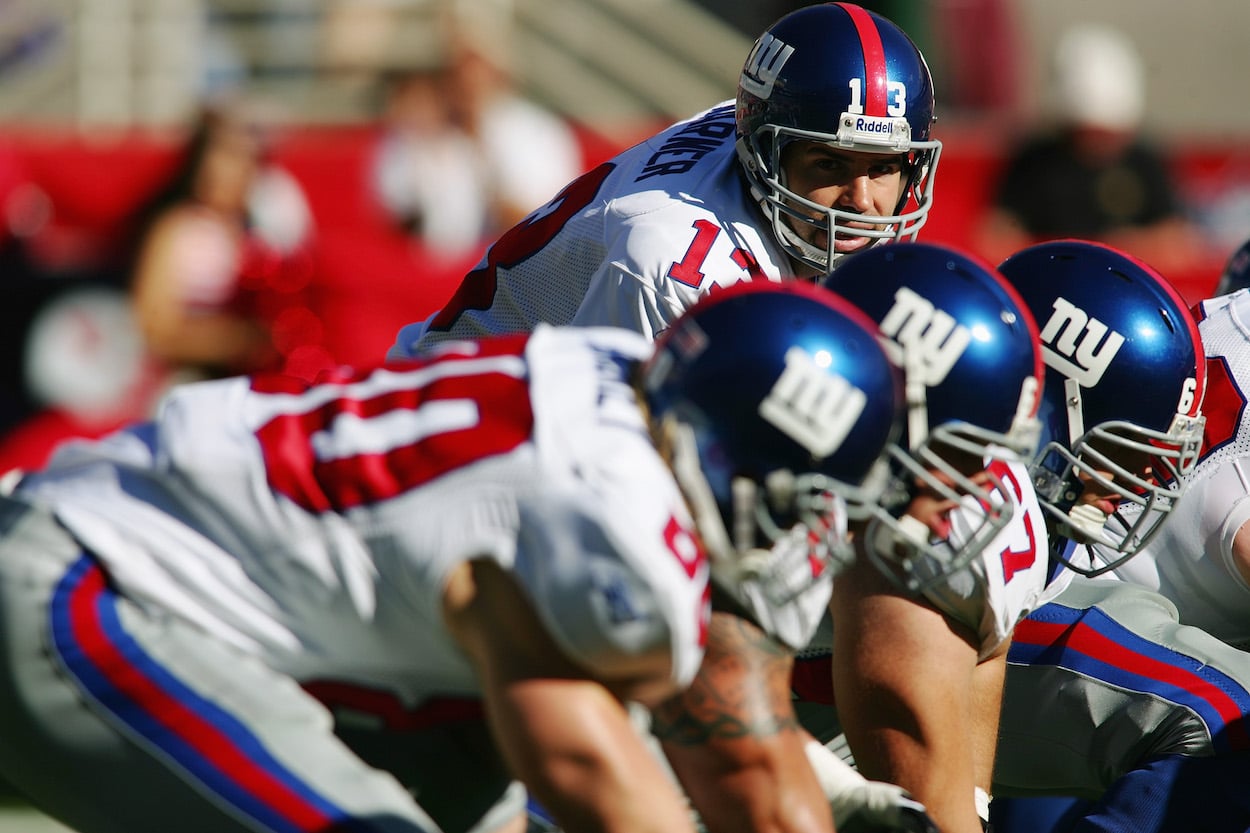 Kurt Warner's 2004 Season: Stats, Game Log, More From His Lone Season With the New York Giants
Kurt Warner was benched for rookie Eli Manning in his lone season with the New York Giants.
Just two days after being released by the St. Louis Rams, Kurt Warner signed a one-year, $3 million contract with the New York Giants, a deal that included a second-year option worth twice that amount.
Following a 4-12 campaign in 2003, the Giants fired head coach Jim Fassel and replaced him with Tom Coughlin. The more significant move of their offseason, however, was the acquisition of Eli Manning.
The San Diego Chargers held the No. 1 pick in the 2004 NFL Draft, but Peyton's highly-touted younger brother refused to play for them. The Chargers drafted him anyway, as they'd already worked out a deal with the Giants, who held the No. 4 pick. New York would draft Philip Rivers and send him, a third-round selection, and a first- and third-rounder in 2005 to San Diego in exchange for Manning.
Warner was never in the Giants' long-term plans.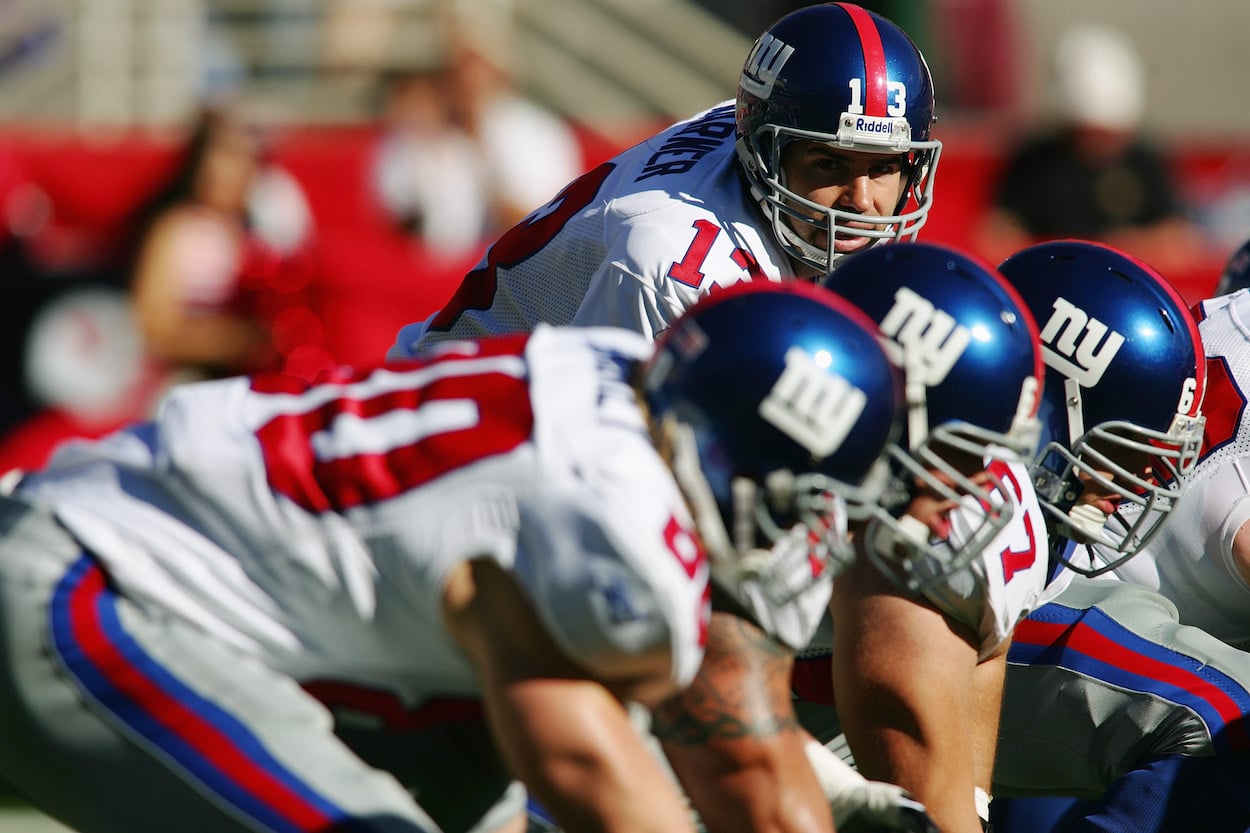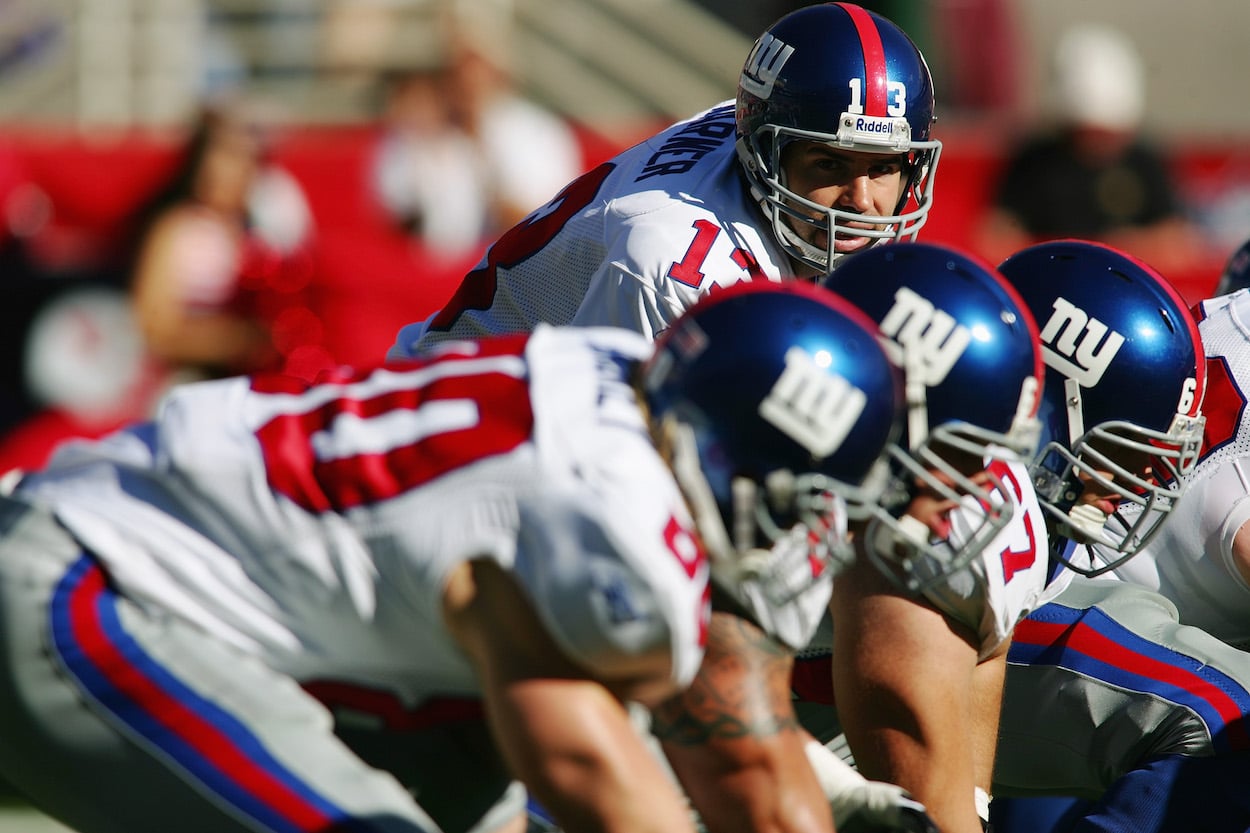 The two-time NFL MVP began the 2004 campaign as the starter for New York and played decently enough to help the team win five of its first seven games. He wasn't spectacular by any means but completed 64.8% of his passes for 1,539 yards (219.9 per game) during that opening stretch. And while he only threw four touchdown passes, he also only threw two interceptions.
However, following losses to the Chicago Bears and Arizona Cardinals, a two-game stretch in which he connected on just 56.1% of his targets, threw for an average of 194 yards, doubled his interception total, and watched his sack total jump to 39, Warner was benched as Coughlin felt it was the right time to give Manning a shot.
In his announcement to the press (h/t ESPN), Coughlin said Eli was "the future of the New York Giants" and that "we just need to make a change."
Warner appeared in just one more game throughout the remainder of the season, completing six of nine passes for 127 yards in a 37-14 Week 14 loss to the Baltimore Ravens.
At the conclusion of the season, Warner chose not to exercise his second-year option and hit the free-agent market.
Read more about Kurt Warner's NFL career:
Kurt Warner 2004 Stats
Passing Stats
| | | | | | | | | | |
| --- | --- | --- | --- | --- | --- | --- | --- | --- | --- |
| G | GS | CMP | ATT | CMP% | YDS | TD | INT | SACKS | RTG |
| 10 | 9 | 174 | 277 | 62.8 | 2,054 | 6 | 4 | 39 | 86.5 |
Rushing Stats
Kurt Warner 2004 Game Log
Passing Stats
| | | | | | | | | | |
| --- | --- | --- | --- | --- | --- | --- | --- | --- | --- |
| DATE | WK | OPP | RESULT | CMP | ATT | YDS | TD | INT | RTG |
| 9/12/04 | 1 | @PHI | L 31-17 | 16 | 28 | 203 | 0 | 0 | 79.9 |
| 9/19/04 | 2 | WAS | W 20-14 | 22 | 33 | 232 | 1 | 0 | 97.0 |
| 9/26/04 | 3 | CLE | W 27-10 | 19 | 27 | 286 | 0 | 0 | 104.9 |
| 10/3/04 | 4 | @GB | W 14-7 | 20 | 26 | 187 | 1 | 1 | 92.9 |
| 10/10/04 | 5 | @DAL | W 26-10 | 18 | 33 | 217 | 1 | 0 | 85.0 |
| 10/24/04 | 7 | DET | L 28-13 | 23 | 34 | 270 | 1 | 1 | 89.1 |
| 10/31/04 | 8 | @MIN | W 34-13 | 13 | 21 | 144 | 0 | 0 | 82.2 |
| 11/7/04 | 9 | CHI | L 28-21 | 18 | 36 | 195 | 1 | 2 | 52.4 |
| 11/14/04 | 10 | @ARI | L 17-14 | 19 | 30 | 193 | 1 | 0 | 92.8 |
| 11/21/04 | 11 | ATL | L 14-10 | N/A | N/A | N/A | N/A | N/A | N/A |
| 11/28/04 | 12 | PHI | L 27-6 | N/A | N/A | N/A | N/A | N/A | N/A |
| 12/5/04 | 13 | @WAS | L 31-7 | N/A | N/A | N/A | N/A | N/A | N/A |
| 12/12/04 | 14 | @BAL | L 37-14 | 6 | 9 | 127 | 0 | 0 | 109.7 |
| 12/18/04 | 15 | PIT | L 33-30 | N/A | N/A | N/A | N/A | N/A | N/A |
| 12/26/04 | 16 | @CIN | L 23-22 | N/A | N/A | N/A | N/A | N/A | N/A |
| 1/2/05 | 17 | DAL | W 28-24 | N/A | N/A | N/A | N/A | N/A | N/A |
Rushing Stats
| | | | | | | | |
| --- | --- | --- | --- | --- | --- | --- | --- |
| DATE | WK | OPP | RESULT | ATT | YDS | TD | FMB |
| 9/12/04 | 1 | @PHI | L 31-17 | 1 | 0 | 0 | 2 |
| 9/19/04 | 2 | WAS | W 20-14 | 0 | 0 | 0 | 1 |
| 9/26/04 | 3 | CLE | W 27-10 | 3 | -2 | 1 | 0 |
| 10/3/04 | 4 | @GB | W 14-7 | 2 | 22 | 0 | 0 |
| 10/10/04 | 5 | @DAL | W 26-10 | 1 | -1 | 0 | 1 |
| 10/24/04 | 7 | DET | L 28-13 | 0 | 0 | 0 | 3 |
| 10/31/04 | 8 | @MIN | W 34-13 | 2 | 0 | 0 | 3 |
| 11/7/04 | 9 | CHI | L 28-21 | 1 | 3 | 0 | 2 |
| 11/14/04 | 10 | @ARI | L 17-14 | 3 | 8 | 0 | 0 |
| 11/21/04 | 11 | ATL | L 14-10 | N/A | N/A | N/A | N/A |
| 11/28/04 | 12 | PHI | L 27-6 | N/A | N/A | N/A | N/A |
| 12/5/04 | 13 | @WAS | L 31-7 | N/A | N/A | N/A | N/A |
| 12/12/04 | 14 | @BAL | L 37-14 | 0 | 0 | 0 | 0 |
| 12/18/04 | 15 | PIT | L 33-30 | N/A | N/A | N/A | N/A |
| 12/26/04 | 16 | @CIN | L 23-22 | N/A | N/A | N/A | N/A |
| 1/2/05 | 17 | DAL | W 28-24 | N/A | N/A | N/A | N/A |
All stats, unless otherwise indicated, courtesy of Pro Football Reference