Kurt Warner's 2003 Season: Stats, Game Log, More as the 2-Time MVP Found Himself on the Bench
Kurt Warner just couldn't hang on to the ball.
Coming off the worst year of his career, which had seen him suffer multiple finger injuries on his throwing hand before he was shut down for the season with an 0-6 record as a starter, the former grocery store clerk still began as the starting quarterback of the St. Louis Rams in Week 1.
Three drives into the new campaign, Warner had failed to figure out the New York Giants defense, picking up nary a first down (and getting lucky when Orlando Pace recovered a fumble forced by Michael Strahan). The Rams did score three points on a 39-yard field goal, but they actually moved backward on offense and were only in scoring territory thanks to a fortuitous Aeneas Williams fumble recovery.
That might have been the high point.
St. Louis' fourth drive ended when Warner took a William Joseph sack and couldn't hold onto the ball, which Kenny Holmes scooped up in the end zone to give New York a 7-3 lead.
The third fumble came on a Micheal Barrow sack early in the second quarter, which Kenny Holmes recovered to begin another Giants scoring drive. The fourth (forced by Lance LeGree and recovered by Keith Washington) ended a promising drive later that quarter. And the next time the Rams had the ball, Warner took a sack from Shaun Williams, fumbled, and watched as Marshall Faulk fell on the ball.
The sixth — yes, the sixth — fumble came on the final drive of the game, though Warner was able to recover the ball himself before continuing a drive that stalled out just shy of the red zone.
When time expired, Warner had attempted 54 passes but had only helped the Rams score 13 points. He took six sacks and put the ball on the ground a whopping six times. Per Stathead, only Brett Favre (1998) and Chad Pennington (2005) have ever had as many fumbles in a single modern-era game.
In his defense, he played the last three quarters in what Ira Miller of SFGATE called "a concussion-induced fog." But it was his eighth straight loss as a starter, and that was enough for Mike Martz.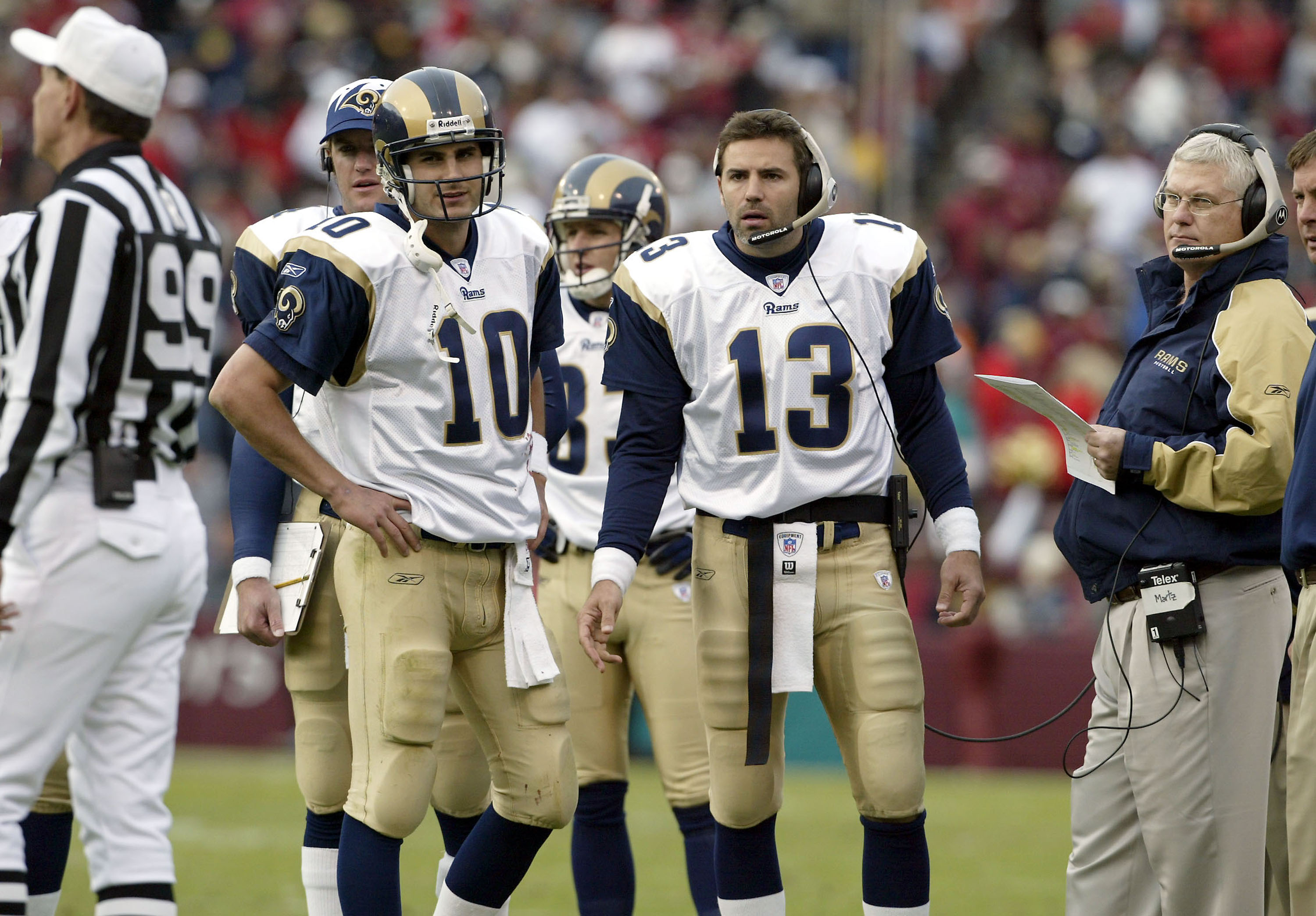 In Week 2, the head coach chose to start Marc Bulger, who went 12-3 and led the Rams to an NFC West title as Warner watched from the bench.
The veteran got back on the field for mop-up duty at the end of the regular-season finale, and that was the last time he'd take meaningful snaps in a St. Louis uniform.
Read more about Kurt Warner's NFL career:
Kurt Warner 2003 Stats
Passing Stats
| | | | | | | | | | |
| --- | --- | --- | --- | --- | --- | --- | --- | --- | --- |
| G | GS | CMP | ATT | CMP% | YDS | TD | INT | SACKS | RTG |
| 2 | 1 | 38 | 65 | 58.5 | 365 | 1 | 1 | 6 | 72.9 |
Rushing Stats
Kurt Warner 2003 Game Log
Passing Stats
| | | | | | | | | | |
| --- | --- | --- | --- | --- | --- | --- | --- | --- | --- |
| DATE | WK | OPP | RESULT | CMP | ATT | YDS | TD | INT | RTG |
| 9/7/03 | 1 | @NYG | L 23-13 | 34 | 54 | 342 | 1 | 1 | 79.4 |
| 9/14/03 | 2 | SF | W 27-24 | N/A | N/A | N/A | N/A | N/A | N/A |
| 9/21/03 | 3 | @SEA | L 24-23 | N/A | N/A | N/A | N/A | N/A | N/A |
| 9/28/03 | 4 | ARI | W 37-13 | N/A | N/A | N/A | N/A | N/A | N/A |
| 10/13/03 | 6 | ATL | W 36-0 | N/A | N/A | N/A | N/A | N/A | N/A |
| 10/19/03 | 7 | GB | W 34-24 | N/A | N/A | N/A | N/A | N/A | N/A |
| 10/26/03 | 8 | @PIT | W 33-21 | N/A | N/A | N/A | N/A | N/A | N/A |
| 11/2/03 | 9 | @SF | L 30-10 | N/A | N/A | N/A | N/A | N/A | N/A |
| 11/9/03 | 10 | BAL | W 33-22 | N/A | N/A | N/A | N/A | N/A | N/A |
| 11/16/03 | 11 | @CHI | W 23-21 | N/A | N/A | N/A | N/A | N/A | N/A |
| 11/23/03 | 12 | @ARI | W 30-27 | N/A | N/A | N/A | N/A | N/A | N/A |
| 11/30/03 | 13 | MIN | W 48-17 | N/A | N/A | N/A | N/A | N/A | N/A |
| 12/8/03 | 14 | @CLE | W 26-20 | N/A | N/A | N/A | N/A | N/A | N/A |
| 12/14/03 | 15 | SEA | W 27-22 | N/A | N/A | N/A | N/A | N/A | N/A |
| 12/21/03 | 16 | CIN | W 27-10 | 4 | 11 | 23 | 0 | 0 | 44.9 |
| 12/28/03 | 17 | @DET | L 30-20 | N/A | N/A | N/A | N/A | N/A | N/A |
| 1/10/04 | DIV | CAR | L 29-23 | N/A | N/A | N/A | N/A | N/A | N/A |
Rushing Stats
| | | | | | | | |
| --- | --- | --- | --- | --- | --- | --- | --- |
| DATE | WK | OPP | RESULT | ATT | YDS | TD | FMB |
| 9/7/03 | 1 | @NYG | L 23-13 | 1 | 0 | 0 | 6 |
| 9/14/03 | 2 | SF | W 27-24 | N/A | N/A | N/A | N/A |
| 9/21/03 | 3 | @SEA | L 24-23 | N/A | N/A | N/A | N/A |
| 9/28/03 | 4 | ARI | W 37-13 | N/A | N/A | N/A | N/A |
| 10/13/03 | 6 | ATL | W 36-0 | N/A | N/A | N/A | N/A |
| 10/19/03 | 7 | GB | W 34-24 | N/A | N/A | N/A | N/A |
| 10/26/03 | 8 | @PIT | W 33-21 | N/A | N/A | N/A | N/A |
| 11/2/03 | 9 | @SF | L 30-10 | N/A | N/A | N/A | N/A |
| 11/9/03 | 10 | BAL | W 33-22 | N/A | N/A | N/A | N/A |
| 11/16/03 | 11 | @CHI | W 23-21 | N/A | N/A | N/A | N/A |
| 11/23/03 | 12 | @ARI | W 30-27 | N/A | N/A | N/A | N/A |
| 11/30/03 | 13 | MIN | W 48-17 | N/A | N/A | N/A | N/A |
| 12/8/03 | 14 | @CLE | W 26-20 | N/A | N/A | N/A | N/A |
| 12/14/03 | 15 | SEA | W 27-22 | N/A | N/A | N/A | N/A |
| 12/21/03 | 16 | CIN | W 27-10 | 0 | 0 | 0 | 0 |
| 12/28/03 | 17 | @DET | L 30-20 | N/A | N/A | N/A | N/A |
| 1/10/04 | DIV | CAR | L 29-23 | N/A | N/A | N/A | N/A |
All stats, unless otherwise indicated, courtesy of Pro Football Reference