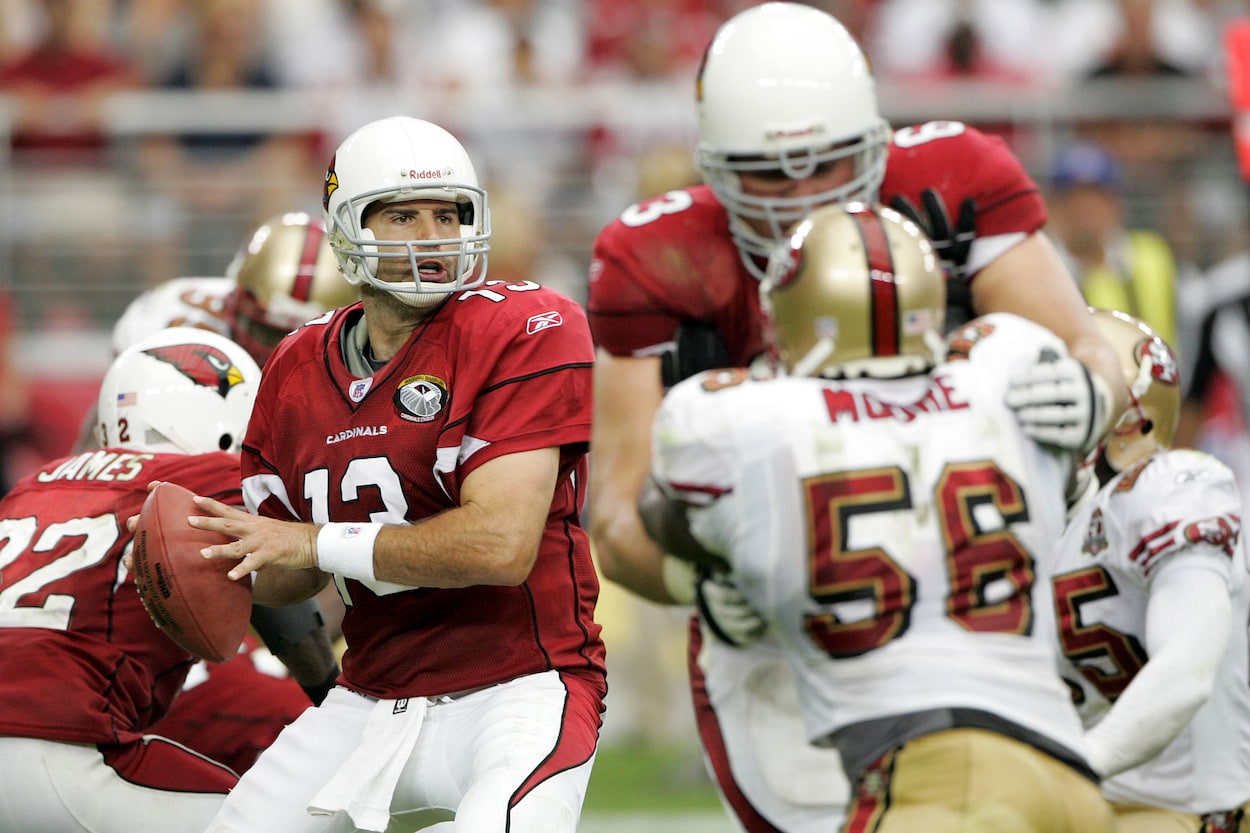 Kurt Warner's 2006 Season: Stats, Game Log, More as the 2-Time NFL MVP Was Benched by the Arizona Cardinals for Matt Leinart
Kurt Warner was benched for Matt Leinart during the Arizona Cardinals' 2006 season.
Before suffering a season-ending injury, Kurt Warner had a solid finish to his 2005 campaign with the Arizona Cardinals, which earned him a three-year, $18 million extension.
But despite paying Warner decent money, the Cardinals selected 2004 Heisman Trophy-winning quarterback Matt Leinart with the 10th overall pick in the 2006 NFL Draft. Nevertheless, head coach Dennis Green elected to start Warner against the San Francisco 49ers in Week 1 of the '06 regular season.
And the two-time NFL MVP didn't disappoint, completing 23 of 37 passes for 301 yards and three touchdowns with no interceptions in a 34-27 victory, earning him NFC Offensive Player of the Week.
The next two games didn't go as smoothly.
In losses to the Seattle Seahawks and his former team, the St. Louis Rams, the 35-year-old threw four interceptions and took six sacks. The following week, Warner completed just 55% of his passes, threw another pick against the Atlanta Falcons during a 32-10 loss, and was pulled for Leinart in the fourth quarter.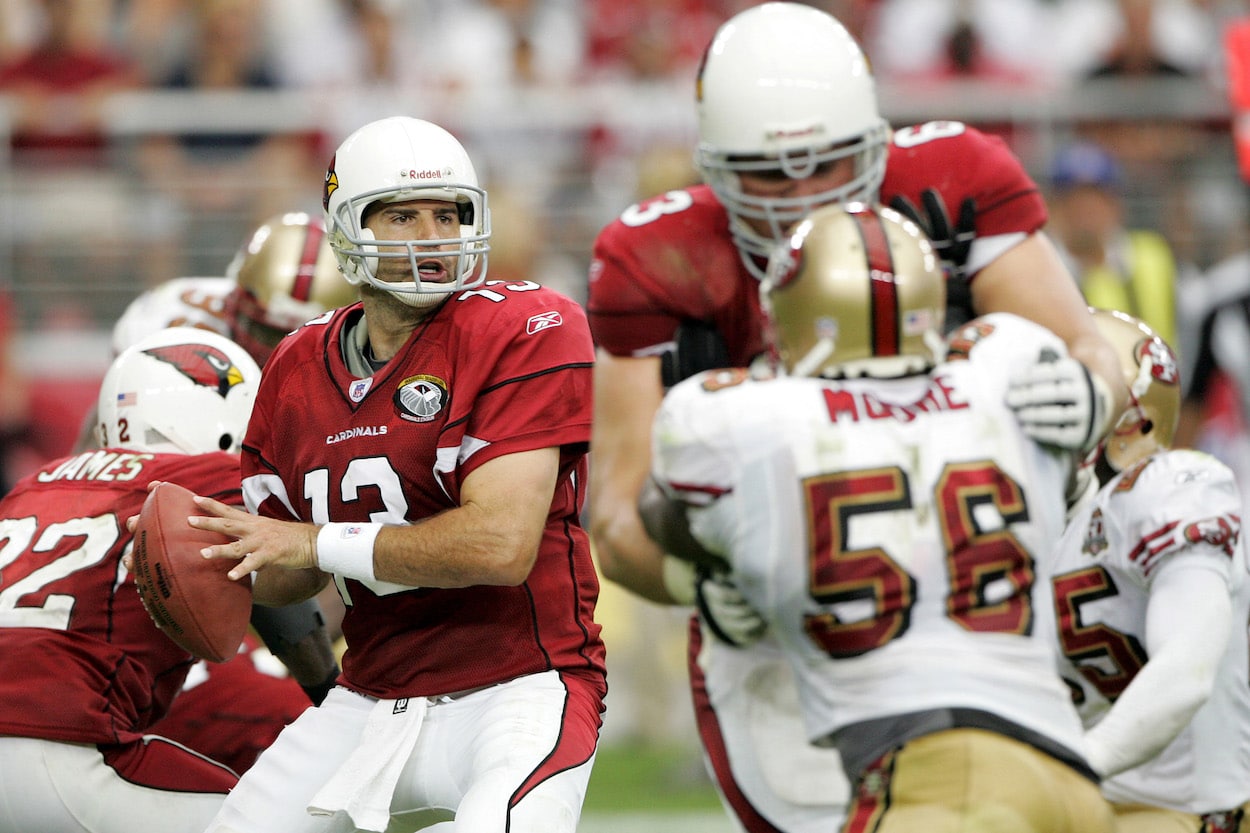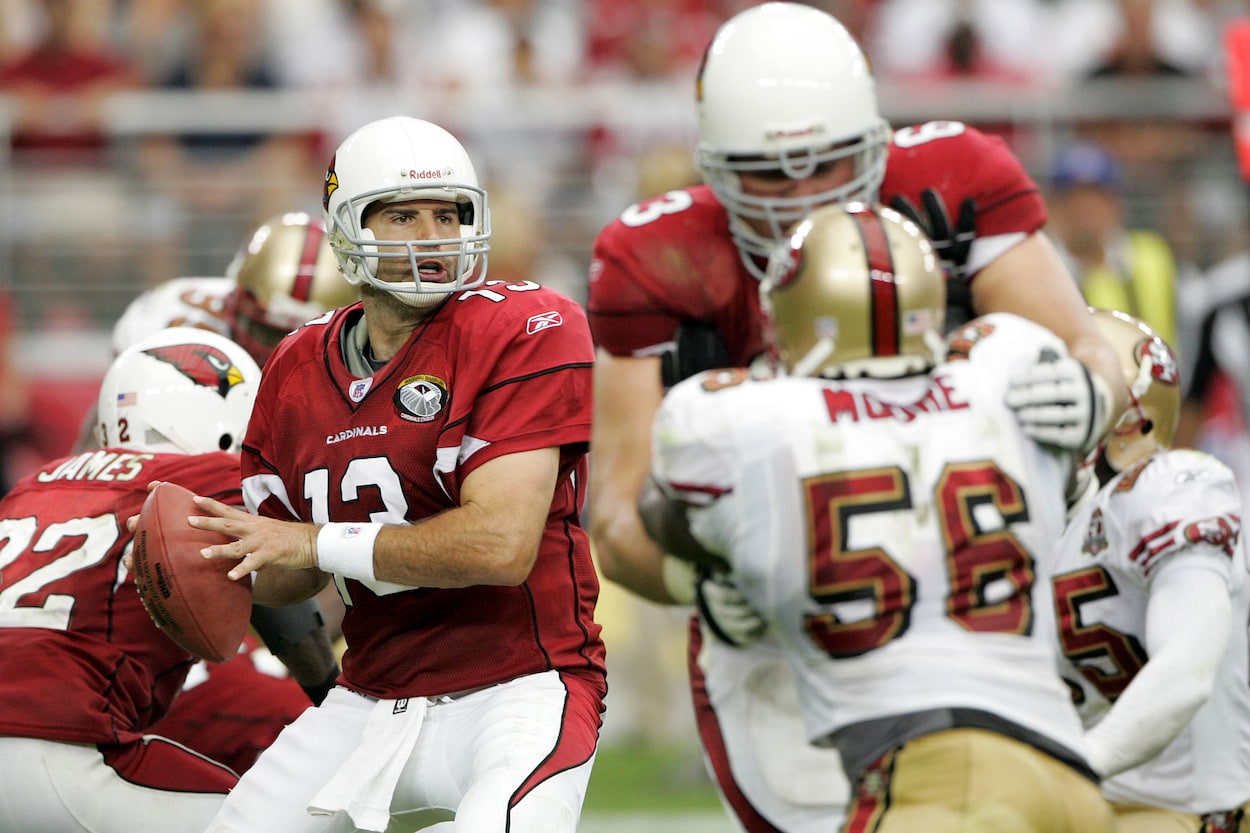 Ahead of the Cardinals' Week 5 matchup with the Kansas City Chiefs, Green announced that Leinart would take over as QB1 for the remainder of the season. The USC alum started the next 11 games for Arizona but suffered a shoulder injury against the San Francisco 49ers in Week 16, giving Warner his first action since his benching. He completed nine of 13 passes for 105 yards as the Cardinals earned their third win in four games with a 26-20 victory.
With Leinart still injured for the season finale, Warner got the start against the San Diego Chargers and played well, completing 68.8% of his passes for 356 yards, the highest total of any quarterback in the league that week, with one touchdown and zero picks, earning a 116.1 passer rating.
Despite Warner's strong performance, Arizona took a 27-20 loss and finished with a 5-11 record for the second straight season. After failing to make the postseason in each of his three seasons with the Cardinals, Dennis Green was fired.
Read more about Kurt Warner's NFL career:
Kurt Warner 2006 Stats
Passing Stats
| | | | | | | | | | |
| --- | --- | --- | --- | --- | --- | --- | --- | --- | --- |
| G | GS | CMP | ATT | CMP% | YDS | TD | INT | SACKS | RTG |
| 6 | 5 | 108 | 168 | 64.3 | 1,377 | 6 | 5 | 14 | 89.3 |
Rushing Stats
Kurt Warner 2006 Game Log
Passing Stats
| | | | | | | | | | |
| --- | --- | --- | --- | --- | --- | --- | --- | --- | --- |
| DATE | WK | OPP | RESULT | CMP | ATT | YDS | TD | INT | RTG |
| 9/10/06 | 1 | SF | W 34-27 | 23 | 37 | 301 | 3 | 0 | 114.8 |
| 9/17/06 | 2 | @SEA | L 21-10 | 24 | 38 | 231 | 1 | 1 | 77.9 |
| 9/24/06 | 3 | STL | L 16-14 | 19 | 28 | 256 | 1 | 3 | 69.0 |
| 10/1/06 | 4 | @ATL | L 32-10 | 11 | 20 | 128 | 0 | 1 | 53.7 |
| 10/8/06 | 5 | KC | L 23-20 | N/A | N/A | N/A | N/A | N/A | N/A |
| 10/16/06 | 6 | CHI | L 24-23 | N/A | N/A | N/A | N/A | N/A | N/A |
| 10/22/06 | 7 | @OAK | L 22-9 | N/A | N/A | N/A | N/A | N/A | N/A |
| 10/29/06 | 8 | @GB | L 31-14 | N/A | N/A | N/A | N/A | N/A | N/A |
| 11/12/06 | 10 | DAL | L 27-10 | N/A | N/A | N/A | N/A | N/A | N/A |
| 11/19/06 | 11 | DET | W 17-10 | N/A | N/A | N/A | N/A | N/A | N/A |
| 11/26/06 | 12 | @MIN | L 31-26 | N/A | N/A | N/A | N/A | N/A | N/A |
| 12/3/06 | 13 | @STL | W 34-20 | N/A | N/A | N/A | N/A | N/A | N/A |
| 12/10/06 | 14 | SEA | W 27-21 | N/A | N/A | N/A | N/A | N/A | N/A |
| 12/17/06 | 15 | DEN | L 37-20 | N/A | N/A | N/A | N/A | N/A | N/A |
| 12/24/06 | 16 | @SF | W 26-20 | 9 | 13 | 105 | 0 | 0 | 93.4 |
| 12/31/06 | 17 | @SDG | L 27-20 | 22 | 32 | 356 | 1 | 0 | 116.1 |
Rushing Stats
| | | | | | | | |
| --- | --- | --- | --- | --- | --- | --- | --- |
| DATE | WK | OPP | RESULT | ATT | YDS | TD | FMB |
| 9/10/06 | 1 | SF | W 34-27 | 1 | 0 | 0 | 3 |
| 9/17/06 | 2 | @SEA | L 21-10 | 2 | 1 | 0 | 4 |
| 9/24/06 | 3 | STL | L 16-14 | 3 | 10 | 0 | 1 |
| 10/1/06 | 4 | @ATL | L 32-10 | 2 | -6 | 0 | 2 |
| 10/8/06 | 5 | KC | L 23-20 | N/A | N/A | N/A | N/A |
| 10/16/06 | 6 | CHI | L 24-23 | N/A | N/A | N/A | N/A |
| 10/22/06 | 7 | @OAK | L 22-9 | N/A | N/A | N/A | N/A |
| 10/29/06 | 8 | @GB | L 31-14 | N/A | N/A | N/A | N/A |
| 11/12/06 | 10 | DAL | L 27-10 | N/A | N/A | N/A | N/A |
| 11/19/06 | 11 | DET | W 17-10 | N/A | N/A | N/A | N/A |
| 11/26/06 | 12 | @MIN | L 31-26 | N/A | N/A | N/A | N/A |
| 12/3/06 | 13 | @STL | W 34-20 | N/A | N/A | N/A | N/A |
| 12/10/06 | 14 | SEA | W 27-21 | N/A | N/A | N/A | N/A |
| 12/17/06 | 15 | DEN | L 37-20 | N/A | N/A | N/A | N/A |
| 12/24/06 | 16 | @SF | W 26-20 | 5 | -2 | 0 | 0 |
| 12/31/06 | 17 | @SDG | L 27-20 | 0 | 0 | 0 | 0 |
All stats, unless otherwise indicated, courtesy of Pro Football Reference