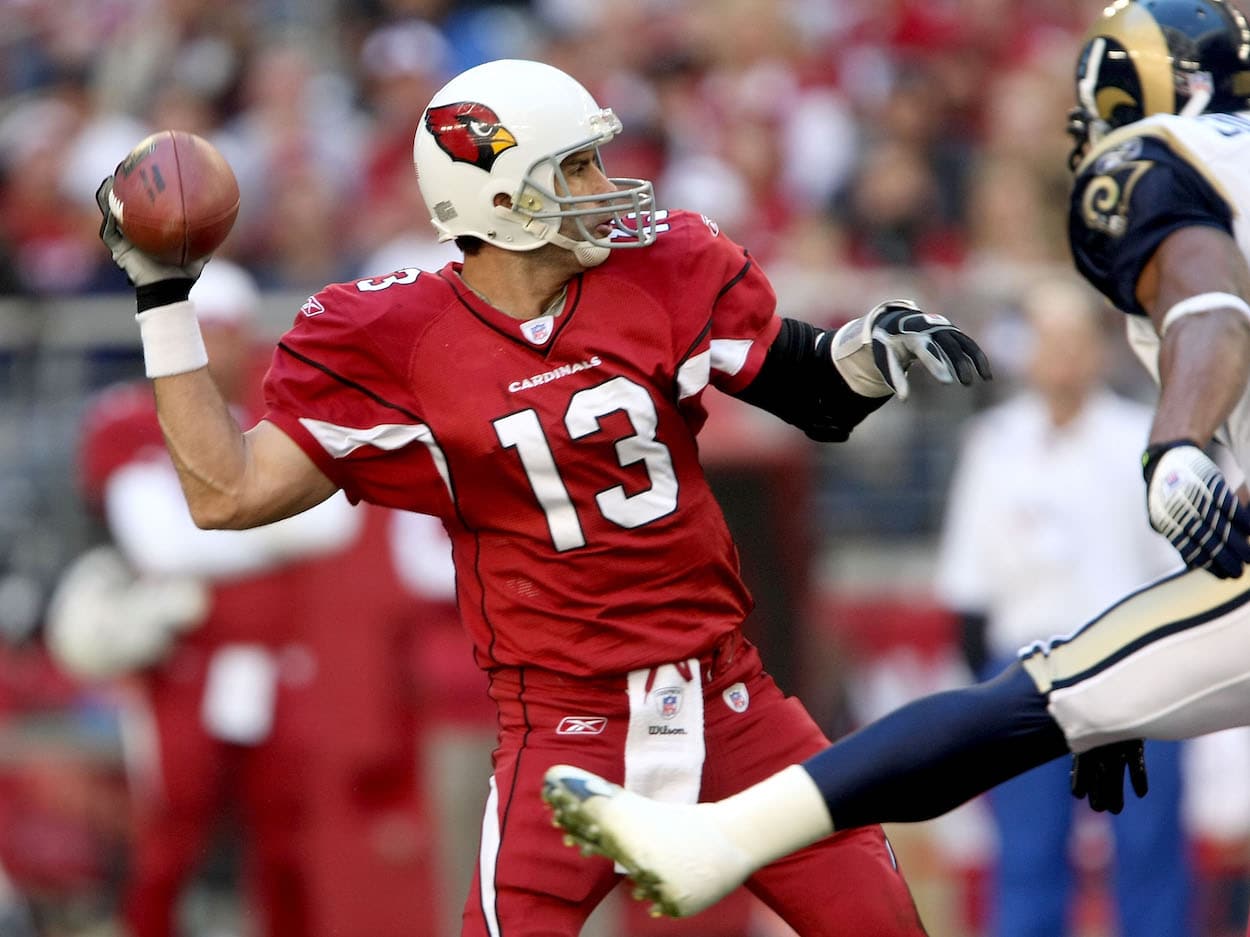 Kurt Warner's 2007 Season: Stats, Game Log, More as He Led the Cardinals to Their 1st Non-Losing Season in 9 Years
Kurt Warner didn't begin the 2007 season as the starting quarterback for the Arizona Cardinals.
Kurt Warner began the 2007 NFL season on the bench as new Arizona Cardinals head coach Ken Whisenhunt opted to start second-year signal-caller Matt Leinart.
However, with Leinart struggling against the Baltimore Ravens in Week 3, Warner was brought on in relief. With his team down 23-6 entering the fourth quarter, Warner led three scoring drives to tie the game, completing 15 of 20 passes for 258 yards with two touchdowns. Baltimore ultimately won on a last-second field goal.
One week later, with Leinart again struggling, this time against the Pittsburgh Steelers, the two-time NFL MVP got the call again. He completed 14 of 21 passes for 132 yards with a touchdown before Whisenhunt brought Leinart back for the final quarter in a 21-14 victory.
Another week later, this time against the St. Louis Rams, Warner came on in relief yet again, only this time under different circumstances as Leinart fractured his left collarbone on a sack by Will Witherspoon. Leinart was placed on injured reserve a few days later, making Warner the starter for the remainder of the season.
However, yet another week later, Warner went down with an injury of his own in a loss to the Carolina Panthers, throwing just two passes before leaving with a sprained left elbow. But it turned out to be a mild injury, and he was back on the field the following week.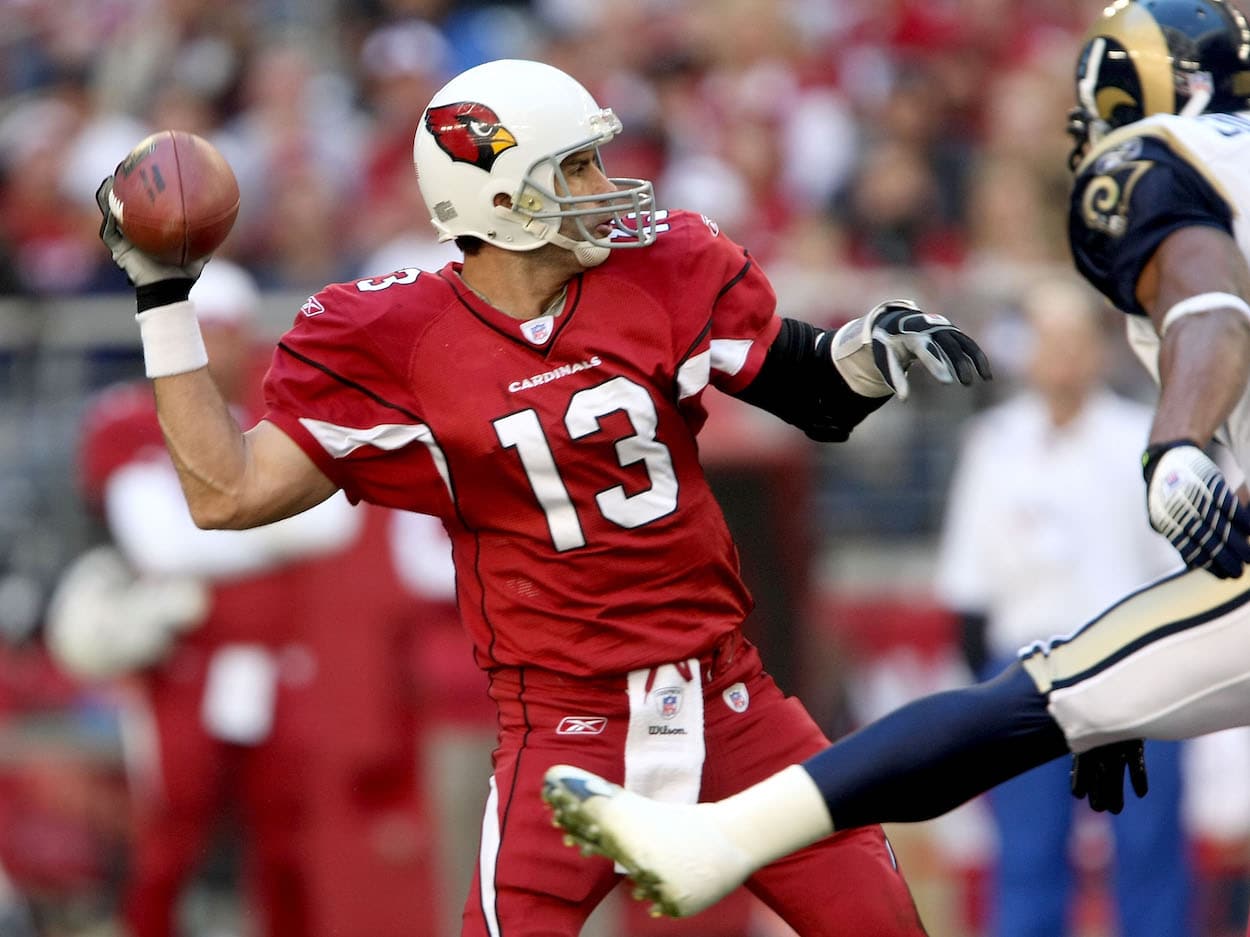 Overall, the 36-year-old played well during the 2007 season. In Week 12, he threw for a career-high 484 yards against the San Francisco 49ers, albeit in an overtime loss. But he also struggled at times, the low point being a five-interception performance in a Week 14 loss to the Seattle Seahawks.
Warner ended the season on a high note, throwing for 669 yards and six touchdowns over the final two games, both victories, to help the Cardinals finish with an 8-8 record. Despite just missing out on the postseason, Arizona was moving in the right direction. It was the team's first non-losing campaign since 1998.
Following the season-ending victory over the Rams, wide receiver Larry Fitzgerald was excited about his team's future.
"This is the building blocks for what we've got to do," Fitzgerald said, per ESPN. "I think this is great momentum."
Read more about Kurt Warner's NFL career:
Kurt Warner 2007 Stats
Passing Stats
| | | | | | | | | | |
| --- | --- | --- | --- | --- | --- | --- | --- | --- | --- |
| G | GS | CMP | ATT | CMP% | YDS | TD | INT | SACKS | RTG |
| 14 | 11 | 281 | 451 | 62.3 | 3,417 | 27 | 17 | 20 | 89.8 |
Rushing Stats
Kurt Warner 2007 Game Log
Passing Stats
| | | | | | | | | | |
| --- | --- | --- | --- | --- | --- | --- | --- | --- | --- |
| DATE | WK | OPP | RESULT | CMP | ATT | YDS | TD | INT | RTG |
| 9/10/07 | 1 | @SF | L 20-17 | N/A | N/A | N/A | N/A | N/A | N/A |
| 9/16/07 | 2 | SEA | W 23-20 | N/A | N/A | N/A | N/A | N/A | N/A |
| 9/23/07 | 3 | @BAL | L 26-23 | 15 | 20 | 258 | 2 | 0 | 150.0 |
| 9/30/07 | 4 | PIT | W 21-14 | 14 | 21 | 132 | 1 | 0 | 99.7 |
| 10/7/07 | 5 | @STL | W 34-31 | 14 | 28 | 190 | 1 | 1 | 69.0 |
| 10/14/07 | 6 | CAR | L 25-10 | 2 | 2 | 21 | 0 | 0 | 110.4 |
| 10/21/07 | 7 | @WAS | L 21-19 | 27 | 41 | 282 | 2 | 2 | 81.6 |
| 11/4/07 | 9 | @TB | L 17-10 | 10 | 30 | 172 | 0 | 2 | 26.0 |
| 11/11/07 | 10 | DET | W 31-21 | 26 | 36 | 259 | 3 | 1 | 108.4 |
| 11/18/07 | 11 | @CIN | W 35-27 | 16 | 28 | 211 | 2 | 0 | 104.9 |
| 11/25/07 | 12 | SF | L 37-31 | 34 | 48 | 484 | 2 | 2 | 99.7 |
| 12/2/07 | 13 | CLE | W 27-21 | 18 | 30 | 169 | 2 | 1 | 83.9 |
| 12/9/07 | 14 | @SEA | L 42-21 | 28 | 46 | 337 | 3 | 5 | 65.5 |
| 12/16/07 | 15 | @NO | L 31-24 | 19 | 30 | 233 | 3 | 1 | 106.7 |
| 12/23/07 | 16 | ATL | W 30-27 | 35 | 52 | 369 | 3 | 0 | 107.0 |
| 12/30/07 | 17 | STL | W 48-19 | 23 | 39 | 300 | 3 | 2 | 87.6 |
Rushing Stats
| | | | | | | | |
| --- | --- | --- | --- | --- | --- | --- | --- |
| DATE | WK | OPP | RESULT | ATT | YDS | TD | FMB |
| 9/10/07 | 1 | @SF | L 20-17 | N/A | N/A | N/A | N/A |
| 9/16/07 | 2 | SEA | W 23-20 | N/A | N/A | N/A | N/A |
| 9/23/07 | 3 | @BAL | L 26-23 | 0 | 0 | 0 | 0 |
| 9/30/07 | 4 | PIT | W 21-14 | 1 | 0 | 0 | 1 |
| 10/7/07 | 5 | @STL | W 34-31 | 3 | 0 | 1 | 1 |
| 10/14/07 | 6 | CAR | L 25-10 | 0 | 0 | 0 | 1 |
| 10/21/07 | 7 | @WAS | L 21-19 | 1 | 0 | 0 | 2 |
| 11/4/07 | 9 | @TB | L 17-10 | 0 | 0 | 0 | 0 |
| 11/11/07 | 10 | DET | W 31-21 | 4 | -2 | 0 | 1 |
| 11/18/07 | 11 | @CIN | W 35-27 | 2 | -2 | 0 | 0 |
| 11/25/07 | 12 | SF | L 37-31 | 0 | 0 | 0 | 2 |
| 12/2/07 | 13 | CLE | W 27-21 | 1 | 0 | 0 | 1 |
| 12/9/07 | 14 | @SEA | L 42-21 | 0 | 0 | 0 | 0 |
| 12/16/07 | 15 | @NO | L 31-24 | 1 | 0 | 0 | 2 |
| 12/23/07 | 16 | ATL | W 30-27 | 1 | 0 | 0 | 1 |
| 12/30/07 | 17 | STL | W 48-19 | 3 | 19 | 0 | 0 |
All stats, unless otherwise indicated, courtesy of Pro Football Reference