Kurt Warner's 2005 Season: Stats, Game Log, More From His 1st Year With the Arizona Cardinals
After voiding the second year of his contract with the New York Giants, Kurt Warner hit the free-agent market and signed a one-year, $4 million deal with the Arizona Cardinals in March 2005.
Arizona head coach Dennis Green, coming off a 6-10 season during his first year in the desert, clearly liked the idea of having a two-time NFL MVP on a team that hadn't made the postseason since the 1998 season and quickly named Warner the starter over Josh McCown, who'd started 13 games for the Cardinals the previous year.
In Week 1 of the regular season against the team for whom he'd played the previous year, the New York Giants, Warner completed just 58.7% of his passes for 264 yards with a touchdown and an interception in a 42-19 loss.
In Week 2, he played his other former team, the St. Louis Rams, and was more efficient, connecting on 69% of his 42 targets for 327 yards. But he failed to throw a touchdown and tossed another interception in a 17-12 defeat.
During a 37-12 loss to the Seattle Seahawks in Week 3, Warner was forced to leave the game after injuring his groin.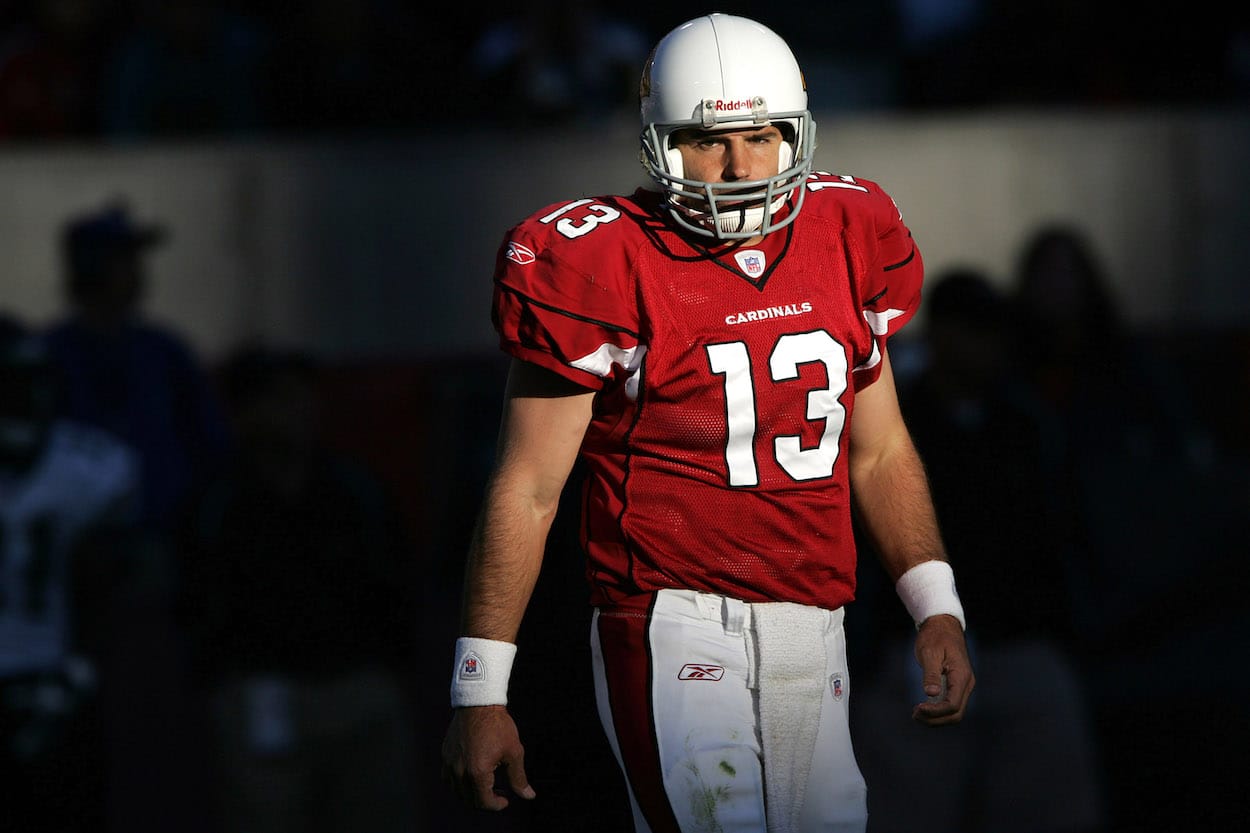 Despite Warner being ready to return following a two-game absence, Green chose to stick with McCown, at least until McCown struggled for a couple of games. Warner took his job back in Week 9 and remained the starter until he partially tore his MCL in Week 15 against the Houston Texans, ending his season. Prior to the injury, he'd completed all 10 of his pass attempts for 115 yards and a touchdown.
The highlight of his season was easily his return to St. Louis in Week 11. Playing in front of the fans who cheered him on for six seasons, Warner completed 27 of 39 passes for 285 yards with three touchdowns and zero interceptions in a 38-28 victory.
He received quite an ovation when he stepped on the field for the first time, which clearly meant a lot to him. Afterward, he commented on how he wasn't sure how his return would be received: "You just never know, you're on the other side of the fence, and you're wearing a different uniform now."
Warner waved to the crowd before settling in and taking down his old club.
The good feelings couldn't last, though. The Cardinals finished with a 5-11 record and missed the playoffs for the seventh consecutive time.
Read more about Kurt Warner's NFL career:
Kurt Warner 2005 Stats
Passing Stats
| | | | | | | | | | |
| --- | --- | --- | --- | --- | --- | --- | --- | --- | --- |
| G | GS | CMP | ATT | CMP% | YDS | TD | INT | SACKS | RTG |
| 10 | 10 | 242 | 375 | 64.5 | 2,713 | 11 | 9 | 23 | 85.8 |
Rushing Stats
Kurt Warner 2005 Game Log
Passing Stats
| | | | | | | | | | |
| --- | --- | --- | --- | --- | --- | --- | --- | --- | --- |
| DATE | WK | OPP | RESULT | CMP | ATT | YDS | TD | INT | RTG |
| 9/11/05 | 1 | @NYG | L 42-19 | 27 | 46 | 264 | 1 | 1 | 73.1 |
| 9/18/05 | 2 | STL | L 17-12 | 29 | 42 | 327 | 0 | 1 | 82.1 |
| 9/25/05 | 3 | @SEA | L 37-12 | 8 | 13 | 105 | 0 | 0 | 87.0 |
| 10/2/05 | 4 | SF | W 31-14 | N/A | N/A | N/A | N/A | N/A | N/A |
| 10/9/05 | 5 | CAR | L 24-20 | N/A | N/A | N/A | N/A | N/A | N/A |
| 10/23/05 | 7 | TEN | W 20-10 | N/A | N/A | N/A | N/A | N/A | N/A |
| 10/30/05 | 8 | @DAL | L 34-13 | N/A | N/A | N/A | N/A | N/A | N/A |
| 11/6/05 | 9 | SEA | L 33-19 | 29 | 48 | 334 | 1 | 3 | 62.3 |
| 11/13/05 | 10 | @DET | L 29-21 | 29 | 45 | 359 | 1 | 0 | 96.4 |
| 11/20/05 | 11 | @STL | W 38-28 | 27 | 39 | 285 | 3 | 0 | 115.9 |
| 11/27/05 | 12 | JAX | L 24-17 | 29 | 46 | 315 | 2 | 1 | 88.6 |
| 12/4/05 | 13 | @SF | W 17-10 | 29 | 45 | 354 | 1 | 2 | 77.5 |
| 12/11/05 | 14 | WAS | L 17-13 | 25 | 41 | 255 | 1 | 1 | 76.8 |
| 12/18/05 | 15 | @HOU | L 30-19 | 10 | 10 | 115 | 1 | 0 | 147.9 |
| 12/24/05 | 16 | PHI | W 27-21 | N/A | N/A | N/A | N/A | N/A | N/A |
| 1/1/06 | 17 | @IND | L 17-13 | N/A | N/A | N/A | N/A | N/A | N/A |
Rushing Stats
| | | | | | | | |
| --- | --- | --- | --- | --- | --- | --- | --- |
| DATE | WK | OPP | RESULT | ATT | YDS | TD | FMB |
| 9/11/05 | 1 | @NYG | L 42-19 | 3 | 11 | 0 | 0 |
| 9/18/05 | 2 | STL | L 17-12 | 1 | 0 | 0 | 3 |
| 9/25/05 | 3 | @SEA | L 37-12 | 1 | 13 | 0 | 0 |
| 10/2/05 | 4 | SF | W 31-14 | N/A | N/A | N/A | N/A |
| 10/9/05 | 5 | CAR | L 24-20 | N/A | N/A | N/A | N/A |
| 10/23/05 | 7 | TEN | W 20-10 | N/A | N/A | N/A | N/A |
| 10/30/05 | 8 | @DAL | L 34-13 | N/A | N/A | N/A | N/A |
| 11/6/05 | 9 | SEA | L 33-19 | 0 | 0 | 0 | 1 |
| 11/13/05 | 10 | @DET | L 29-21 | 1 | 0 | 0 | 1 |
| 11/20/05 | 11 | @STL | W 38-28 | 2 | 1 | 0 | 2 |
| 11/27/05 | 12 | JAX | L 24-17 | 1 | 5 | 0 | 1 |
| 12/4/05 | 13 | @SF | W 17-10 | 3 | -5 | 0 | 0 |
| 12/11/05 | 14 | WAS | L 17-13 | 1 | 3 | 0 | 1 |
| 12/18/05 | 15 | @HOU | L 30-19 | 0 | 0 | 0 | 0 |
| 12/24/05 | 16 | PHI | W 27-21 | N/A | N/A | N/A | N/A |
| 1/1/06 | 17 | @IND | L 17-13 | N/A | N/A | N/A | N/A |
All stats, unless otherwise indicated, courtesy of Pro Football Reference