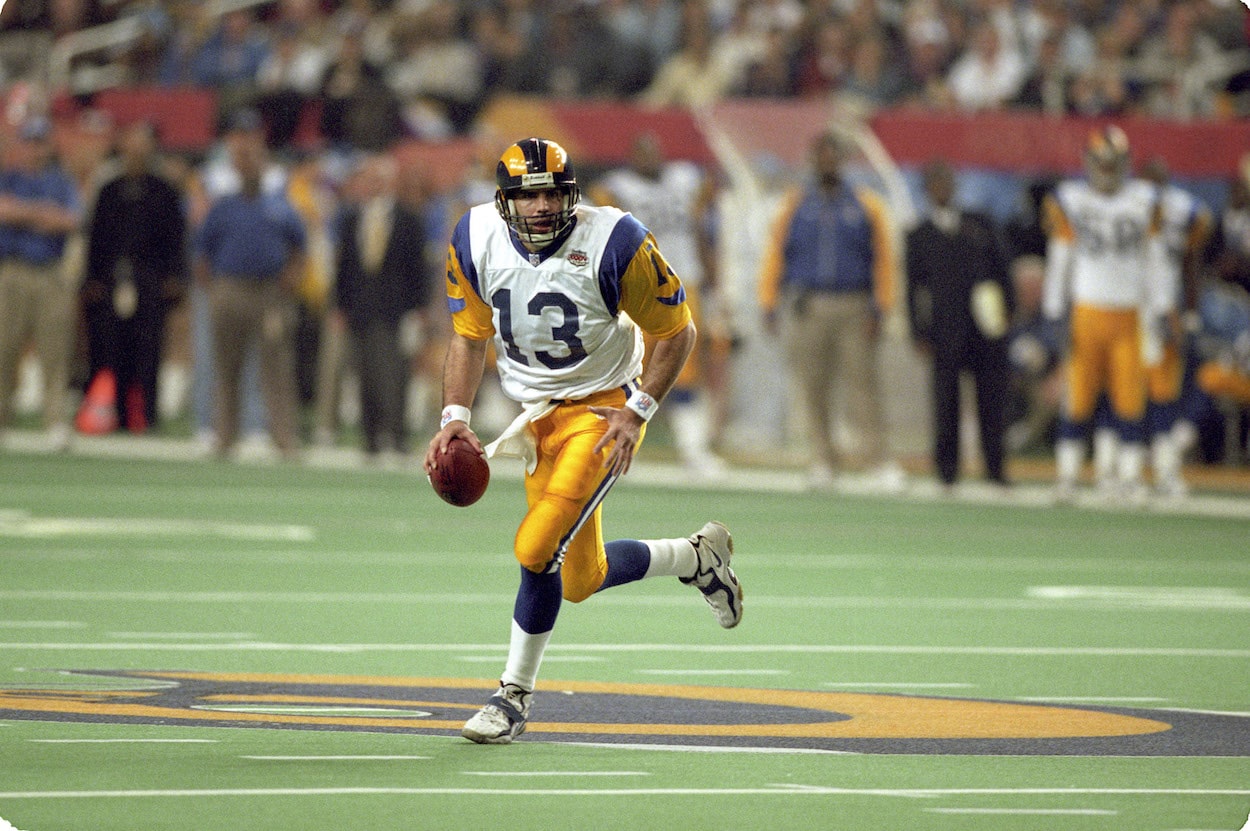 Kurt Warner's 1999 Season: Stats, Game Log, More During MVP-Winning Breakout Campaign with St. Louis Rams
Going from unprotected in an expansion draft to winning NFL MVP and Super Bowl MVP in a calendar year simply shouldn't have been possible. But it was for Kurt Warner.
Even after a nearly invisible rookie season in which he made just one appearance for the St. Louis Rams, the legend of Kurt Warner, former grocery store clerk and Arena Football League/NFL Europe quarterback, wasn't fully set to take off.
Take off it did, but not before the Northern Iowa product was actually left unprotected by the Rams in the 1999 NFL expansion draft. They declined to protect center John Flannery, running back Jerald Moore, center Tom Nutten, defensive tackle Joe Phillips, and the future Hall of Fame quarterback, and the reborn Cleveland Browns turned down each member of the quintet.
Cleveland spent its first five picks on Detroit Lions center Jim Pyne, Dallas Cowboys defensive end Hurvin McCormack, New England Patriots offensive tackle Scott Rehberg, Cincinnati Bengals wide receiver Damon Gibson, and San Francisco 49ers center Steve Gordon. The only signal-caller it took with any of its 37 selections was Scott Milanovich.
Another undrafted quarterback, Milanovich was the Tampa Bay Buccaneers' third-stringer in 1996 and had been inactive ever since. He never played for the Browns, who handed the reins to Ty Detmer before letting Tim Couch, the No. 1 overall pick of the 1999 NFL Draft, begin his short-lived career as a starter in Week 2.
Undeterred, Warner began the preseason as St. Louis' backup quarterback after the organization let Steve Bono walk to the Carolina Panthers in free agency, traded Tony Banks to the Baltimore Ravens, and signed Trent Green as the presumptive starter. He didn't last long as the backup, though, as Green took an unfortunate hit from San Diego Chargers defensive back Rodney Harrison and suffered a season-ending torn ACL.
Rams head coach Dick Vermeil was also undeterred — at least on the surface level. As he famously stated, "We will rally around Kurt Warner, and we will play good football."
The Rams didn't play good football. They played great football.
Bolstered by the presence of newly signed running back Marshall Faulk and wide receivers Isaac Bruce, Torry Holt, Az-Zahir Hakim, and Ricky Proehl, Warner immediately became the conductor of "The Greatest Show on Turf," recording 309 yards, three touchdowns, and two interceptions in his debut as a starter, which came in a 27-10 victory over a Baltimore Ravens outfit that would eventually finish as the sixth-ranked defense in the NFL.
Not even an opening-drive three-and-out that featured a Ray Lewis sack kept him from excelling. Nor did his first career interception, which Lewis took 60 yards after picking off a ball intended for Proehl at the end of the first quarter.
Warner threw his first career touchdown on the subsequent drive, hitting Roland Williams for a six-yard score, and he found Bruce and Holt for points later in the proceedings.
"I know this is the NFL and a lot of people want to make it a big deal," the first-year starter said afterward, per the Associated Press (h/t ESPN). "But I've played football a long time, and I felt like I was just playing another game out there."
Then came three more touchdown passes in a Week 3 victory over the Atlanta Falcons, this time with no interceptions. Then came three more in a Week 4 road victory over the Cincinnati Bengals in which Warner became the first — and only — quarterback in NFL history to record a perfect passer rating (158.3) in one of his first five starts while throwing at least 20 passes. Then he topped that with five touchdown passes (four in the first half) against the San Francisco 49ers to break a 17-game losing streak to the NFC West juggernaut.
And he just kept going.
At the end of the regular season, he'd racked up a Sports Illustrated cover ("Who Is This Guy?") and been named the NFL MVP while ending a decade-long playoff drought and leading the league in completion percentage, QB rating, and passing touchdowns.
Up to that point in league history, only Dan Marino (48 in 1984 and 44 in 1986) had ever topped his 41 scoring throws in a single season. Only Milt Plum (110.4 in 1960), Joe Montana (112.4 in 1989), and Steve Young (112.8 in 1994) had ever bettered his 109.2 passer rating while making at least 10 starts at quarterback.
And he just kept going.
Warner threw five touchdowns in his postseason debut to take down the Minnesota Vikings, rode a standout defensive performance past the Tampa Bay Buccaneers in the NFC Conference Championship Game (also connecting with Proehl on a 30-yard score with 4:50 left to take the lead for good), and then torched the Tennessee Titans for a then-Super Bowl-record 414 yards and two scores in a 23-16 title game victory.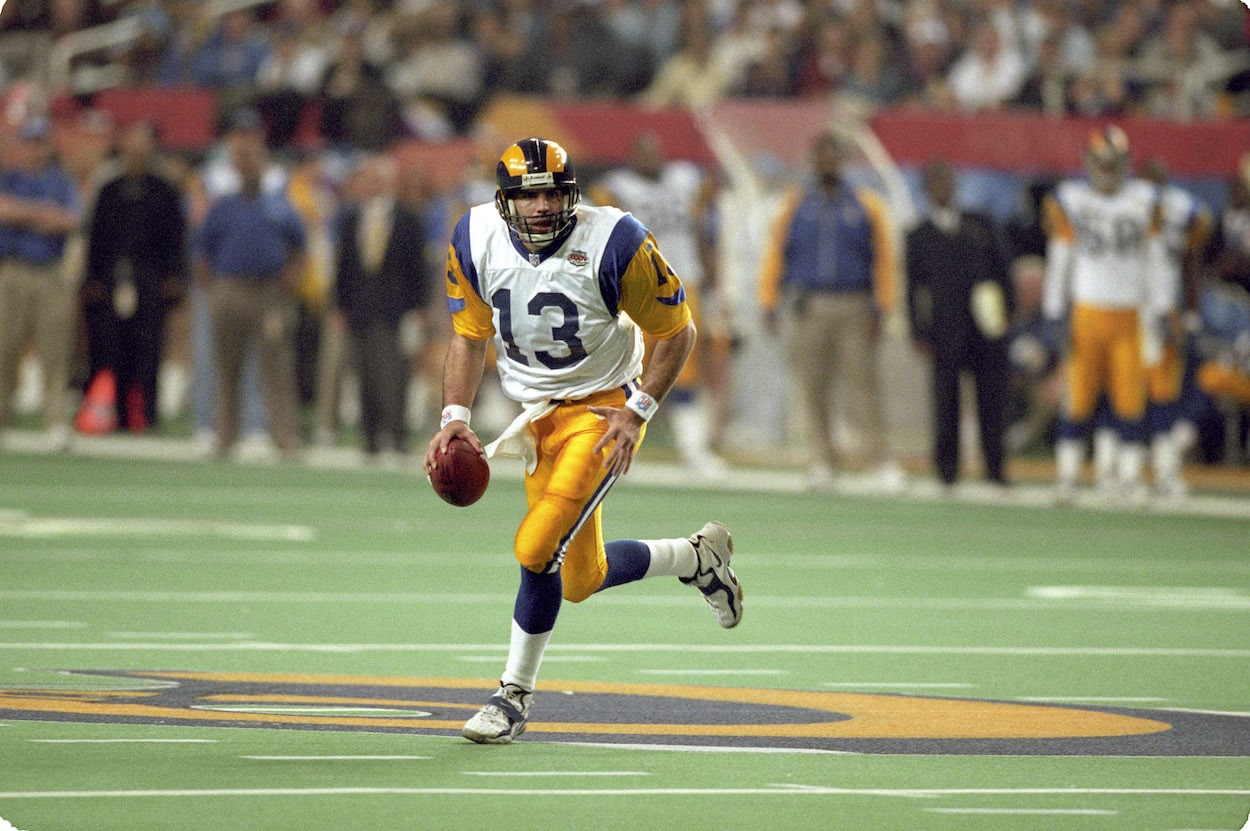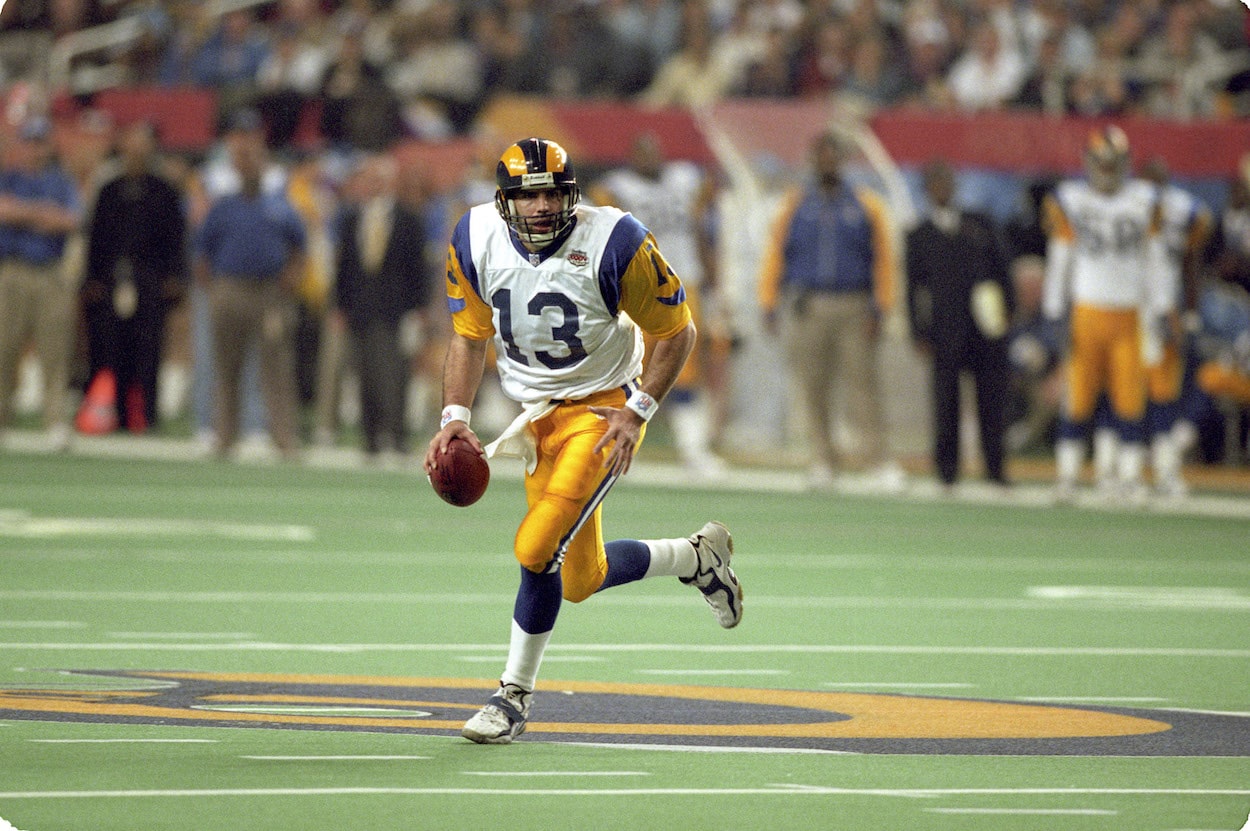 The highlight came when he hit Bruce for a 73-yard go-ahead touchdown with just 2:04 left and then watched from the sideline as Kevin Dyson infamously came up inches shy of the goal line on the game's final play.
He remains the most recent player to win NFL MVP and Super Bowl MVP in the same year, joining Bart Starr, Terry Bradshaw, Joe Montana, Emmitt Smith, and Steve Young.
Read more about Kurt Warner's NFL career:
Kurt Warner 1999 Stats
Passing Stats
| | | | | | | | | | |
| --- | --- | --- | --- | --- | --- | --- | --- | --- | --- |
| G | GS | CMP | ATT | CMP% | YDS | TD | INT | SACKS | RTG |
| 16 | 16 | 325 | 499 | 65.1 | 4,353 | 41 | 13 | 29 | 109.2 |
Rushing Stats
Kurt Warner 1999 Game Log
Passing Stats
| | | | | | | | | | |
| --- | --- | --- | --- | --- | --- | --- | --- | --- | --- |
| DATE | WK | OPP | RESULT | CMP | ATT | YDS | TD | INT | RTG |
| 9/12/99 | 1 | BAL | W 27-10 | 28 | 44 | 309 | 3 | 2 | 88.2 |
| 9/26/99 | 3 | ATL | W 35-7 | 17 | 25 | 275 | 3 | 0 | 144.2 |
| 10/3/99 | 4 | @CIN | W 38-10 | 17 | 21 | 310 | 3 | 0 | 158.3 |
| 10/10/99 | 5 | SF | W 42-20 | 20 | 23 | 325 | 5 | 1 | 140.2 |
| 10/17/99 | 6 | @ATL | W 41-13 | 13 | 20 | 111 | 1 | 0 | 96.0 |
| 10/24/99 | 7 | CLE | W 34-3 | 23 | 29 | 203 | 3 | 0 | 130.3 |
| 10/31/99 | 8 | @TEN | L 24-21 | 29 | 46 | 328 | 3 | 0 | 106.1 |
| 11/7/99 | 9 | @DET | L 31-27 | 25 | 42 | 305 | 3 | 2 | 85.9 |
| 11/14/99 | 10 | CAR | W 35-10 | 19 | 29 | 284 | 2 | 1 | 106.1 |
| 11/21/99 | 11 | @SF | W 23-7 | 22 | 40 | 201 | 1 | 1 | 66.8 |
| 11/28/99 | 12 | NO | W 43-12 | 15 | 27 | 213 | 2 | 0 | 105.9 |
| 12/5/99 | 13 | @CAR | W 34-21 | 22 | 31 | 351 | 3 | 2 | 113.8 |
| 12/12/99 | 14 | @NO | W 30-14 | 21 | 31 | 346 | 2 | 1 | 113.1 |
| 12/19/99 | 15 | NYG | W 31-10 | 18 | 32 | 319 | 2 | 0 | 111.3 |
| 12/26/99 | 16 | CHI | W 34-12 | 24 | 35 | 334 | 3 | 1 | 115.7 |
| 1/2/00 | 17 | @PHI | L 38-31 | 12 | 24 | 141 | 2 | 2 | 61.3 |
| 1/16/00 | Div | MIN | W 49-37 | 27 | 33 | 391 | 5 | 1 | 143.0 |
| 1/23/00 | Conf | TB | W 11-6 | 26 | 43 | 258 | 1 | 3 | 56.2 |
| 1/30/00 | SB | TEN | W 23-16 | 24 | 45 | 414 | 2 | 0 | 99.7 |
Rushing Stats
| | | | | | | | |
| --- | --- | --- | --- | --- | --- | --- | --- |
| DATE | WK | OPP | RESULT | ATT | YDS | TD | FMB |
| 9/12/99 | 1 | BAL | W 27-10 | 1 | -1 | 0 | 1 |
| 9/26/99 | 3 | ATL | W 35-7 | 2 | 7 | 1 | 0 |
| 10/3/99 | 4 | @CIN | W 38-10 | 1 | 0 | 0 | 1 |
| 10/10/99 | 5 | SF | W 42-20 | 1 | 10 | 0 | 1 |
| 10/17/99 | 6 | @ATL | W 41-13 | 2 | 3 | 0 | 0 |
| 10/24/99 | 7 | CLE | W 34-3 | 0 | 0 | 0 | 0 |
| 10/31/99 | 8 | @TEN | L 24-21 | 2 | 22 | 0 | 4 |
| 11/7/99 | 9 | @DET | L 31-27 | 3 | 26 | 0 | 1 |
| 11/14/99 | 10 | CAR | W 35-10 | 1 | 2 | 0 | 0 |
| 11/21/99 | 11 | @SF | W 23-7 | 2 | 12 | 0 | 0 |
| 11/28/99 | 12 | NO | W 43-12 | 2 | 0 | 0 | 0 |
| 12/5/99 | 13 | @CAR | W 34-21 | 2 | -3 | 0 | 0 |
| 12/12/99 | 14 | @NO | W 30-14 | 2 | 4 | 0 | 0 |
| 12/19/99 | 15 | NYG | W 31-10 | 2 | 10 | 0 | 1 |
| 12/26/99 | 16 | CHI | W 34-12 | 0 | 0 | 0 | 0 |
| 1/2/00 | 17 | @PHI | L 38-31 | 0 | 0 | 0 | 0 |
| 1/16/00 | Div | MIN | W 49-37 | 3 | 3 | 0 | 1 |
| 1/23/00 | Conf | TB | W 11-6 | 2 | -1 | 0 | 1 |
| 1/30/00 | SB | TEN | W 23-16 | 1 | 1 | 0 | 1 |
All stats, unless otherwise indicated, courtesy of Pro Football Reference