Kurt Warner's 2001 Season: Stats, Game Log, More During the QB's Second MVP-Winning Campaign
Leading the NFL in completions, completion percentage, passing yards, passing touchdowns, quarterback rating, and plenty of advanced stats is quite the recipe for success, and Kurt Warner provided all the necessary ingredients during a sensational 2001 season for the St. Louis Rams.
Coming off playoff disappointment against the New Orleans Saints, Warner bounced back with aplomb even if he started off shaky with two interceptions in a Week 1 victory over the Philadelphia Eagles.
Over the next three outings, he reminded everyone why he'd gone from grocery store clerk to one of the highest-paid athletes in professional sports, tossing 313.3 yards per game with 10 touchdowns and one lone interception — a pass intended for Ricky Proehl that wound up in the hands of San Francisco 49ers defensive back Ahmed Plummer in the second quarter of an eventual victory.
"I don't want to tell anyone how to play us," offensive tackle Orlando Pace said in September 2021, per ESPN's Len Pasquarelli. "But if you sit back and try to cover us, Kurt is going to pick you apart. And it doesn't matter if you put a dozen defensive backs on the field. Those receivers will find some holes."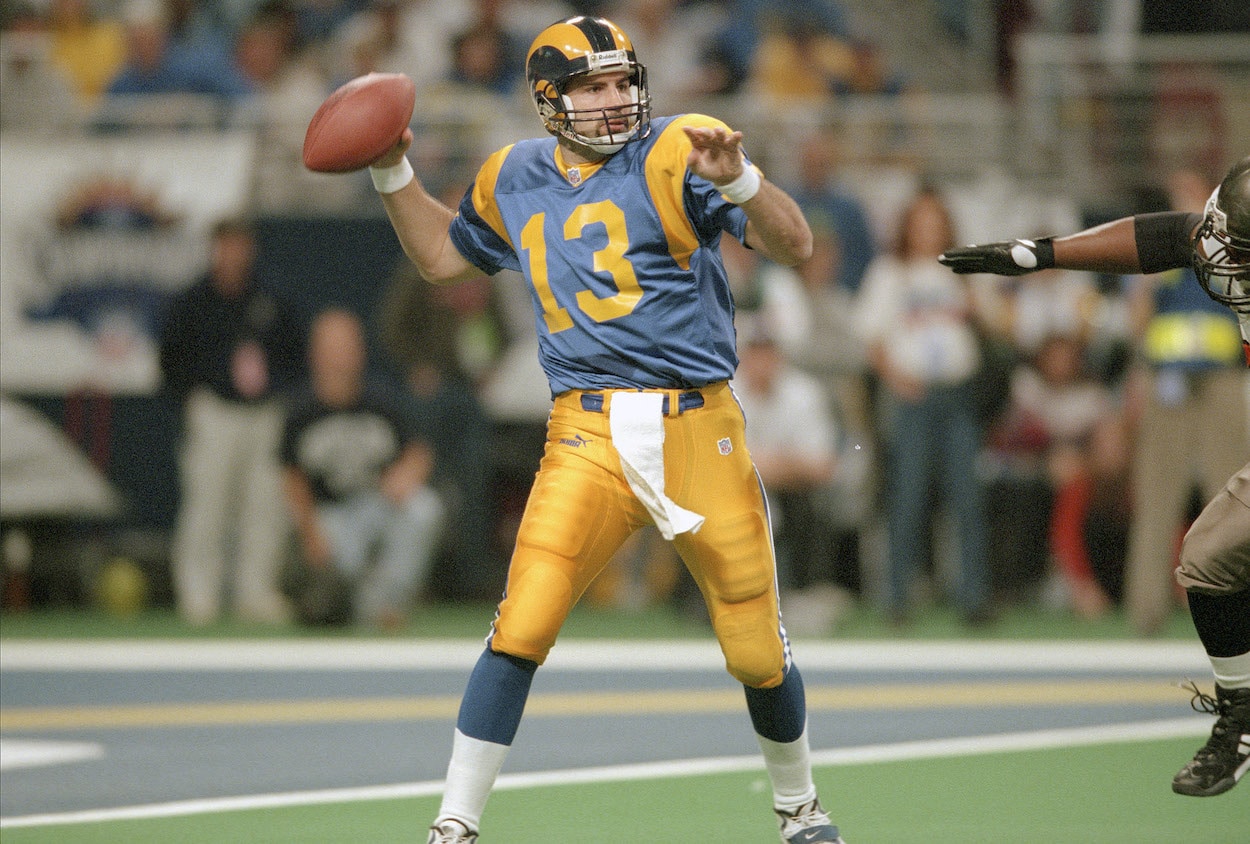 Warner's aggressive style while targeting Torry Holt, Marshall Faulk, Isaac Bruce, Proehl, and Az-Zahir Hakim did lead to a career-high 22 interceptions, but the mistakes didn't exactly hinder the Rams' performance. They went 14-2 while scoring a league-best 31.4 points per game and further justifying the "Greatest Show on Turf" moniker. The next-best scoring offense belonged to the Indianapolis Colts (25.8 points per game).
The 30-year-old quarterback did suffer a throat contusion in the regular-season finale that left him under doctors' orders not to talk for seven days, but his second career MVP-winning performance helped his own cause because he was able to recover during the Rams' bye week to open the postseason.
Three pick-sixes of Brett Favre, who tossed six interceptions during the Rams' 45-17 blowout of the Green Bay Packers in the Divisional Round, helped create a low-stress outing for Warner, who had to be far sharper in an NFC Conference Championship Game against Donovan McNabb and the Philadelphia Eagles. He was indeed sharper, though he was also able to lean on Faulk's legs and only needed to record 212 yards and a single touchdown in the 29-24 victory.
Then came Super Bowl 36.
Warner went 28-of-44 for 365 yards, one touchdown, and two interceptions, and he sparked a 14-point comeback in the fourth quarter with a quarterback sneak for a score and then a 26-yard touchdown pass to Ricky Proehl with just 1:30 remaining. But Tom Brady Tom Brady-ed en route to his first career Super Bowl MVP, marching down the field and setting up the Adam Vinatieri game-winner that split the uprights with no time left on the clock to give the New England Patriots a 20-17 win and the title.
The Rams had entered the game as two-touchdown favorites over the Bill Belichick-led upstarts, but disappointment came instead. A game that could've sparked a dynastic feel — two titles in three years — instead became the beginning of the end for the Greatest Show on Turf.
Read more about Kurt Warner's NFL career:
Kurt Warner 2001 Stats
Passing Stats
| | | | | | | | | | |
| --- | --- | --- | --- | --- | --- | --- | --- | --- | --- |
| G | GS | CMP | ATT | CMP% | YDS | TD | INT | SACKS | RTG |
| 16 | 16 | 375 | 546 | 68.7 | 4,830 | 36 | 22 | 38 | 101.4 |
Rushing Stats
Kurt Warner 2001 Game Log
Passing Stats
| | | | | | | | | | |
| --- | --- | --- | --- | --- | --- | --- | --- | --- | --- |
| DATE | WK | OPP | RESULT | CMP | ATT | YDS | TD | INT | RTG |
| 9/9/01 | 1 | @PHI | W 20-17 | 28 | 42 | 308 | 1 | 2 | 76.3 |
| 9/23/01 | 2 | @SF | W 30-26 | 24 | 35 | 321 | 3 | 1 | 114.1 |
| 9/30/01 | 3 | MIA | W 42-10 | 24 | 31 | 328 | 4 | 0 | 150.3 |
| 10/8/01 | 4 | @DET | W 35-0 | 29 | 37 | 291 | 3 | 0 | 126.5 |
| 10/14/01 | 5 | NYG | W 15-14 | 28 | 46 | 316 | 0 | 1 | 72.4 |
| 10/21/01 | 6 | @NYJ | W 34-14 | 18 | 27 | 215 | 1 | 0 | 103.2 |
| 10/28/01 | 7 | NO | L 34-31 | 29 | 47 | 385 | 1 | 4 | 59.3 |
| 11/11/01 | 9 | CAR | W 48-14 | 14 | 20 | 144 | 1 | 3 | 67.5 |
| 11/18/01 | 10 | @NE | W 24-17 | 30 | 42 | 401 | 3 | 2 | 105.4 |
| 11/26/01 | 11 | TB | L 24-17 | 19 | 39 | 291 | 1 | 2 | 61.0 |
| 12/2/01 | 12 | @ATL | W 35-6 | 17 | 23 | 342 | 4 | 0 | 155.3 |
| 12/9/01 | 13 | SF | W 27-14 | 26 | 42 | 294 | 2 | 1 | 88.8 |
| 12/17/01 | 14 | @NO | W 34-21 | 23 | 32 | 338 | 4 | 0 | 145.6 |
| 12/23/01 | 15 | @CAR | W 38-32 | 18 | 23 | 217 | 2 | 2 | 98.7 |
| 12/30/01 | 16 | IND | W 42-17 | 23 | 30 | 359 | 3 | 1 | 135.3 |
| 1/6/02 | 17 | ATL | W 31-13 | 25 | 30 | 280 | 3 | 3 | 99.3 |
| 1/20/02 | Div | GB | W 45-17 | 18 | 30 | 216 | 2 | 1 | 90.4 |
| 1/27/02 | Conf | PHI | W 29-24 | 22 | 33 | 212 | 1 | 0 | 94.5 |
| 2/3/02 | SB | NE | L 20-17 | 28 | 44 | 365 | 1 | 2 | 78.3 |
Rushing Stats
| | | | | | | | |
| --- | --- | --- | --- | --- | --- | --- | --- |
| DATE | WK | OPP | RESULT | ATT | YDS | TD | FMB |
| 9/9/01 | 1 | @PHI | W 20-17 | 0 | 0 | 0 | 1 |
| 9/23/01 | 2 | @SF | W 30-26 | 3 | 9 | 0 | 1 |
| 9/30/01 | 3 | MIA | W 42-10 | 1 | -1 | 0 | 1 |
| 10/8/01 | 4 | @DET | W 35-0 | 0 | 0 | 0 | 0 |
| 10/14/01 | 5 | NYG | W 15-14 | 3 | 6 | 0 | 1 |
| 10/21/01 | 6 | @NYJ | W 34-14 | 0 | 0 | 0 | 0 |
| 10/28/01 | 7 | NO | L 34-31 | 0 | 0 | 0 | 0 |
| 11/11/01 | 9 | CAR | W 48-14 | 0 | 0 | 0 | 0 |
| 11/18/01 | 10 | @NE | W 24-17 | 6 | 3 | 0 | 2 |
| 11/26/01 | 11 | TB | L 24-17 | 1 | 0 | 0 | 2 |
| 12/2/01 | 12 | @ATL | W 35-6 | 1 | 3 | 0 | 0 |
| 12/9/01 | 13 | SF | W 27-14 | 4 | 19 | 0 | 0 |
| 12/17/01 | 14 | @NO | W 34-21 | 3 | 2 | 0 | 1 |
| 12/23/01 | 15 | @CAR | W 38-32 | 3 | 13 | 0 | 0 |
| 12/30/01 | 16 | IND | W 42-17 | 1 | -1 | 0 | 1 |
| 1/6/02 | 17 | ATL | W 31-13 | 2 | 7 | 0 | 0 |
| 1/20/02 | Div | GB | W 45-17 | 4 | 0 | 0 | 0 |
| 1/27/02 | Conf | PHI | W 29-24 | 2 | 2 | 0 | 1 |
| 2/3/02 | SB | NE | L 20-17 | 3 | 6 | 1 | 1 |
All stats, unless otherwise indicated, courtesy of Pro Football Reference