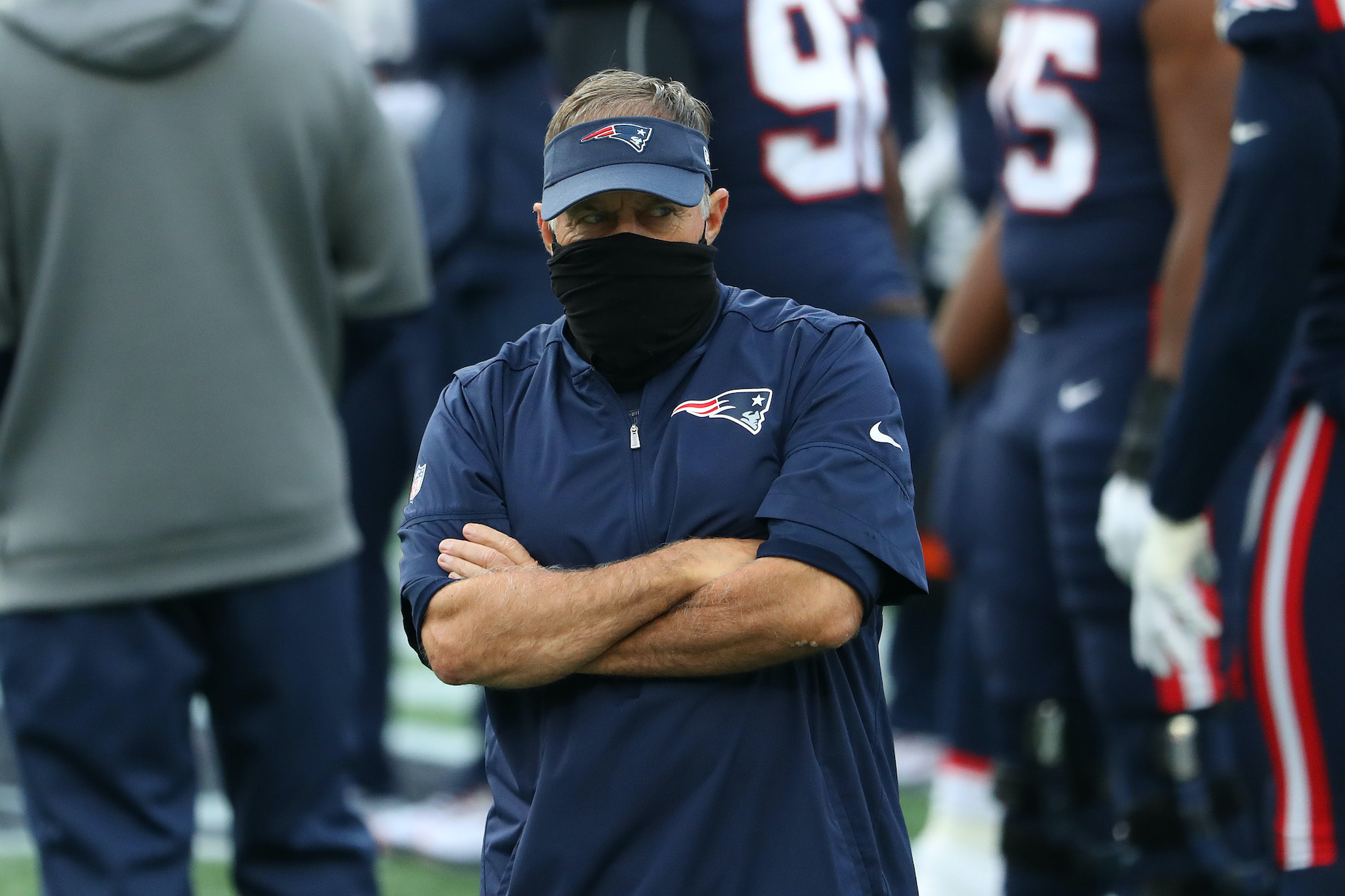 Bill Belichick Could Have Found the Patriots' Next Secret Weapon in the Form of Failed Head Coach
Adding a failed head coach to your coaching staff may be a bold move, but Bill Belichick has earned the benefit of the doubt.
After an impeccable career in New England, Bill Belichick had to take his lumps during the 2020 NFL campaign. Without Tom Brady, the Patriots looked like a shell of their former selves; the club missed the playoffs for the first time in what feels like forever, and Belichick himself seemed to be unable to solve the problems in front of him. The 2021 offseason, however, has already been quite a bit different.
In an attempt to get his New England Patriots back to the promised land, Bill Belichick has splashed out the cash in free agent, bringing plenty of talent to Foxborough. Behind the scenes, though, he may be getting an assist from a failed former head coach: Matt Patricia.
Bill Belichick has made a splash in free agency after a tough 2020
For years, Bill Belichick refused to spend big money in free agency, preferring to build his roster via the draft and carefully selected reclamation projects. Desperate times, however, call for desperate measures.
As every NFL fan knows, the 2020 campaign didn't go according to plan for the New England Patriots. Without Tom Brady, everything came crashing down; Cam Newton struggled during his first season in Foxborough, and there wasn't enough talent around him to pick up the slack. One season out of the playoffs, though, was apparently all it took for Belichick to learn his lesson.
Armed with plenty of financial flexibility, the Patriots made a massive splash in free agency. The team brought in two legitimate tight ends—Jonnu Smith and Hunter Henry—along with receivers Nelson Agholor and Kendrick Bourne. There were also some big-time additions on defense, like linebacker Matthew Judon.
As the Patriots' de facto general manager, Bill Belichick deserves quite a bit of credit for those free agency deals. It seems, however, that he may have had some help from a familiar face behind the scenes.
Matt Patricia failed as a head coach, but he apparently pitched in for the Patriots during free agency
In recent years, Matt Patricia's NFL stock has plummeted. During the 2021 NFL offseason, though, he's apparently played a role in the Patriots' rebuilding efforts.
Patricia, of course, made a name for himself in Foxborough, working his way up the Patriots' coaching ladder and rising to the ranks of defensive coordinator. He eventually struck out on his own in 2018, taking over as the head coach of the Lions. That, unfortunately, is where the problems began.
The team struggled, and Patricia seemed to lose the respect of his locker room; he eventually got the ax during the 2020 campaign, leaving Detroit with a 13-29-1 record.
The coach has since returned to New England where, despite not appearing on the Patriots' website, he's apparently been helping Bill Belichick out during free agency.
"When Matt Patricia returned to the Patriots this offseason as an assistant to Belichick and his coaching staff, it was natural to wonder what his role would be," ESPN's Mike Reiss explained. "That should continue to evolve, but in recent weeks, he has been helping finalize contracts (his name appears on some of them) with free agents and getting involved in negotiations in certain spots as a salesman of sorts. In that sense, he truly has served as an added layer of support to Belichick."
Bill Belichick might have found the perfect way to use Matt Patricia
From a cynical perspective, you could argue that Matt Patricia wasn't too necessary during NFL free agency; playing for the Bill Belichick is an appealing proposition, and, by and large, the Patriots were willing to pay top dollar. With that being said, though, Bill Belichick isn't stupid. So what does he have in mind for his former assistant?
While there's no telling what Belichick is planning, it's possible that he's trying to convert Patricia into his next Nick Caserio. Although he might not be a household name outside of Foxborough, Caserio was somewhat of a secret weapon for the Patriots, with duties ranging from assisting the coaching staff to more traditional front office work. Despite that importance, he left town in 2021, however, to become the general manager of the Houston Texans.
At this point in his NFL career, we have a decent idea of what Matt Patricia can and cannot do. As a coordinator, he clearly knew how to run a defense; it's also well established that he's a pretty smart guy. As a head coach, however, he seemed out of his depth and unable to lead an entire organization. Putting him in a Caserio-style role, therefore, could make sense as he's able to talk to agents, coaches, and the front office without having to directly manage (or mismanage) any players.
After his stint in Detroit, bringing Matt Patricia anywhere near your organization probably seems pretty crazy. Bill Belichick, however, has earned the benefit of the doubt; in this case, he may be crazy like a fox.