Bobby Phills Found a Special Place in Hornets' History After His Tragic Death
Bobby Phills was a coach's dream as an NBA player in the 1990s. With all-time great guards such as Michael Jordan, John Stockton, and Reggie Miller dominating the league at the time, Phills was never shy to guard the best player on the opposing team.
In his nine NBA seasons with the Cleveland Cavaliers and Charlotte Hornets, Phills was an ever-improving scorer who offered so much more than the stat sheet indicated. However, Phills tragically got into a fatal car accident in 2000 that shocked the basketball world. The Hornets honored Phills with a special honor after his death not once, but twice.
Bobby Phills' NBA career
Bobby Phills rarely filled up the stat sheet with his scoring ability, but he was a player every coach wanted on their team. Phills played tremendous on-ball defense and did all the little things the NBA's biggest stars usually neglect.
Over his nine-year career, Phills averaged 11.0 points per game. His best scoring year came in 1995-96 with the Cavaliers. Phills scored 14.6 points per game on 46.7% shooting that season. He also added a career-high 3.8 assists per game and 1.4 steals per game.
After spending his first six seasons in Cleveland, Phills moved on to the Hornets in 1997. He went three straight seasons in Charlotte scoring over 10 points per game, but a tragic car accident during his ninth season ended Phills' life far too early.
Bobby Phills' tragic death in 2000 shocked and saddened the basketball world
Jan. 12, 2000 was just another practice day for Bobby Phills and the Charlotte Hornets. After the team's morning session, Phills and David Wesley decided to race home from the Hornets' facility. It wasn't a rare occurrence for the two teammates, but this time it ended differently.
At some point during the race, Phills lost control of his 997 Porsche 993 Cabriolet and swerved into oncoming traffic. Phills collided with another car and died in the accident. He was just 30 years old.
According to Charlotte police, Phills was going 75 miles per hour in his car when the crash occurred.
"This is the ultimate tragedy, and our immediate thoughts and prayers are with his wife, Kendall, children, and family," Hornets owner George Shinn said at the time. "Not only was Bobby a tremendous person, but a great husband, father, and role model that everyone respected and admired. He was someone that you would want your children to be like."
Phills was a beloved member of the Hornets organization and the NBA as a whole. Charlotte honored Phills by retiring his jersey a month after his death.
Phills' No. 13 jersey is the only number retired by the Charlotte Hornets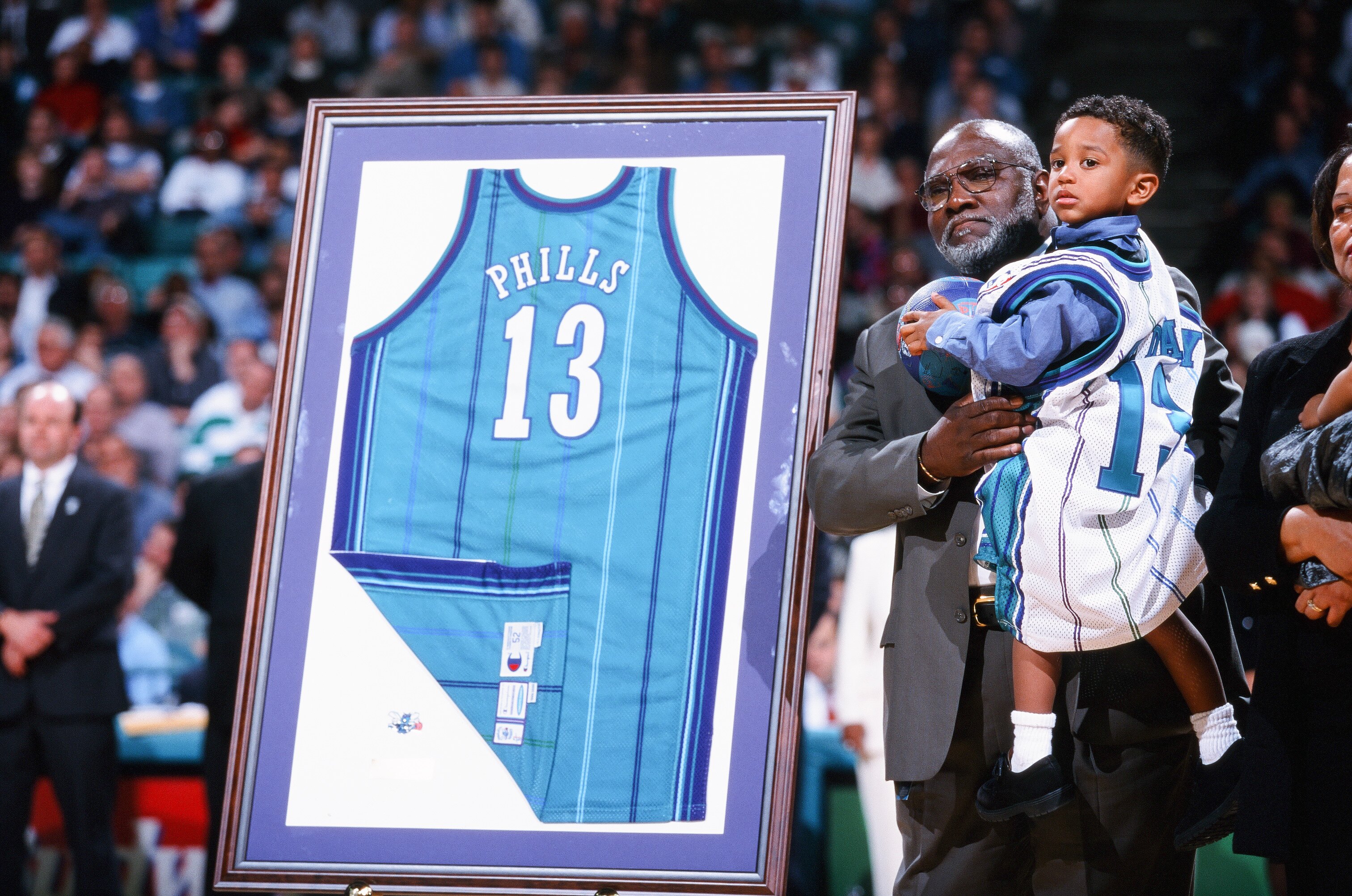 A month after Phills' tragic death, the Hornets honored him by raising his No. 13 jersey to the Charlotte Coliseum rafters. It was an emotional moment for Phills' family and teammates, but it showed how respected and loved he was as an NBA player.
The franchise moved to New Orleans in 2002. But when the Hornets returned to Charlotte in 2014, the No. 13 was raised a second time.
"During the process of bringing the Hornets name back to Charlotte, one of the most important elements to us was to once again honor the retired jersey of Bobby Phills," Hornets President & COO Fred Whitfield said.  "It is our responsibility to appropriately recognize the legacy of a man who impacted so many people with his contributions both on and off the basketball court."
Phill's No. 13 was the first number retired by the franchise, and it's still the only Hornets jersey in the rafters today.
All stats courtesy of Basketball Reference