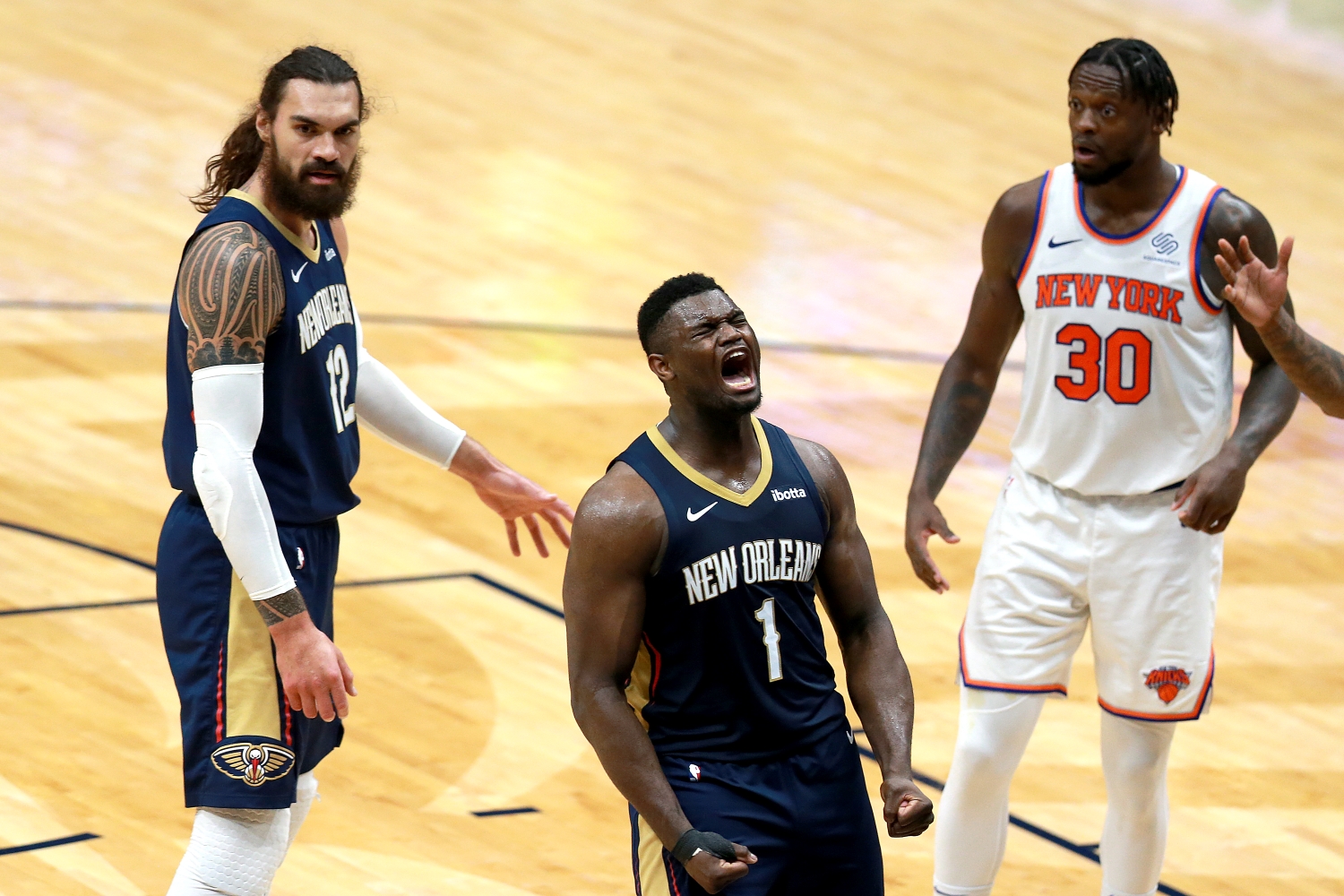 Bombshell Report on Zion Williamson and His Family Sounds Like a Nightmare for Pelicans Fans
Pelicans fans better prepare for some potential heartbreak. If the latest report about Zion Williamson and his family is true, it might just be a matter of time before he leaves New Orleans.
The New Orleans Pelicans lucked out by winning the NBA draft lottery two years ago. Thanks to the way the ping pong balls fell, the franchise earned the No. 1 pick and the chance to build around one of the most impressive prospects of all time: Zion Williamson.
Unfortunately for Pelicans fans, the latest report on the former Duke star doesn't paint an optimistic picture about his future with the team. But even if Williamson and some members of his family take issue with how the franchise has handled matters in the past, the Pelicans still have the power to change the tenor of the conversation moving forward.
The only question is: What is the front office willing to do to ensure Williamson remains a long-term fixture in New Orleans?
New Orleans still looks like a directionless franchise despite landing the No. 1 overall pick two years ago
Winning organizations keep a key concept in mind: stability.
Unfortunately for Williamson, the Pelicans apparently don't understand what that word means.
The franchise has employed five head coaches since the 2004-05 season. Byron Scott got fired nine games into his sixth year at the helm. Monty Williams lasted five years before the team decided to move in a different direction. Alvin Gentry began coaching the Pelicans in 2015, but like his predecessors, he didn't last long in New Orleans, either.
Though Williamson provided plenty of exciting moments during his rookie season, the team limped to a 30-42 record. Gentry got fired and subsequently replaced with Stan Van Gundy.
However, the veteran NBA coach didn't even make it to the second year of his contract.
On Wednesday, Van Gundy and the Pelicans mutually agreed to part ways. By moving on from yet another head coach, New Orleans ensured Williamson will play for his third in as many seasons. That's not exactly a recipe for success, and it's certainly not a way to keep your most important player happy or confident about the direction of the franchise.
The latest report on Zion Williamson and his family sounds like a nightmare for Pelicans fans
Unfortunately for Pelicans fans, the latest report on Williamson and his family only casts more doubt about the future of pro basketball in New Orleans. According to Shams Charania, Joe Vardon, and William Guillory of The Athletic, "Certain family members want Williamson on another team."
While Van Gundy's exit could be viewed as another sign of dysfunction within the organization, the Williamson situation carries far bigger ramifications for the Pelicans.
"Most of the attention, however, from numerous sources across the league, has centered on Williamson's family members' thinly-veiled unhappiness with the Pelicans, and whether those feelings seeped into the player's own views," The Athletic reported. "Among the targets of their criticism was Van Gundy, who they felt was too rigid and demanding as head coach, but also with the organization, which they claim did not live up to what they felt should be the standard for a star like Williamson."
Williamson was reportedly "irritated" by the Pelicans' decision to trade veteran guard J.J. Redick to the Dallas Mavericks in March. Plus, he expressed his frustration about losing during his end-of-season press conference.
"It's disappointing. I'd be lying to you if I said anything else," Williamson said. "It's very disappointing. But the best thing we can do is regroup, come together as a team, come together as coaches this offseason, talk and do what we need to do to be better next year. It's not much to it, we just got to be better."
What can the Pelicans do to convince Williamson to change his tune?
Williamson's family may want him to star for another NBA franchise, but that dream may not come true for quite some time. The Pelicans control his contract for at least three more years, so he doesn't have an easy way out.
In an ideal world, New Orleans would figure out a way to get Williamson (and his loved ones) back on board. How can the franchise accomplish that tall task?
It all starts with finding a head coach who meshes well with one of the league's most exciting young stars. Current Pelicans assistants Fred Vinson and Teresa Weatherspoon could be in the mix, but it might make more sense to let an external candidate like former Detroit Pistons star Chauncey Billups establish his own culture. Either way, it's imperative for New Orleans to get it right with its next hire.
Most importantly, the Pelicans must surround Williamson with a championship-caliber supporting cast. He's already lobbied for the franchise to retain Lonzo Ball, who's set to become a restricted free agent this summer. Even if he comes back, though, the team still needs to add more shooters, especially if veteran Eric Bledsoe gets traded in the coming months.
The Pelicans clearly have a ton of work to do this offseason. And if they don't make the right decisions, they might cause permanent damage to their relationship with Williamson.
And if that happens, Pelicans fans may have to say goodbye to another No. 1 overall pick.